Senator Dick Durbin, the senior Democrat from Illinois, held a historic hearing last week on "The State of Muslim Civil Rights in the U.S." The hearing, called by Durbin as the Chair of the Senate's new Subcommittee on the Constitution, Civil Rights and Human Rights, took place on March 29, 2011 – and it was reportedly the first-ever Congressional hearing on these issues. Durbin said that he called the hearing because of recent increasing bigotry against Muslims, including the massive outcry the Park51 community center in lower Manhattan, which coincided with a steady increase in hate incidents at mosques around the country. Witnesses at the historic hearing included Assistant Attorney General Tom Perez, Cardinal Theodore McCarrick, former US Attorney Alex Acosta, and Farhana Khera, the President of a leading Muslim American organization, Muslim Advocates. The hearing was set up as a wide-ranging discussion of what Mr. Perez called the "steady stream" of anti-Arab, Muslim, Sikh, and South Asian discrimination, but the most important instigator of that discrimination -- the Department of Homeland Security's and Department of Justice's discriminatory counter-terrorism policies – were not discussed at Sen. Durbin's hearing.
Durbin insisted that this hearing was not about terrorism or extremism – it was a hearing dedicated to the issue of civil rights for Arab, Muslim, Sikh, and South Asian Americans who (because of racialized bigotry) are often perceived to be dangerous and unworthy of their constitutionally protected civil and human rights. Many in the media, however, couldn't help but notice that Durbin's civil rights hearing came less than a month after Representative Peter King's controversial hearing in the House on "Radicalization of American Muslims." Sure enough, Durbin referred to the New York Republican and that earlier hearing, although Durbin was careful not to credit Rep. King by name. There was a fair amount of political point-scoring from all the Senators involved in the hearing, as should be expected in Congressional hearings.
Despite the inevitable political point-scoring, the hearing provided a useful venue for a discussion of the painstaking work of enforcing civil rights statutes as they apply to Arab, Muslim, Sikh, and South Asians in the United States. Mr. Perez's testimony in particular described the ongoing work of the Department of Justice's Civil Rights Division to prosecute cases of discrimination. Senator Durbin himself noted the harrowing statistic that anti-Muslim discrimination was reported in 25 percent of all the many employment discrimination complaints officially filed with the Equal Employment Opportunity Commission (EEOC) in 2008 and 2009. These reports are part of a 150 percent increase in anti-Muslim employment discrimination since 2001, according to the EEOC. Mr. Perez went on to describe shocking reports of bullying in schools, violent crimes, incidents of vandalism, and other hate crimes. When asked about the Civil Rights Division's capability to respond to these crimes, Perez credited the work of the Obama Administration and congressional Democrats for enacting the Matthew Shepard and James Byrd, Jr. Hate Crimes Prevention Act while also increasing the budget for fighting civil rights violations.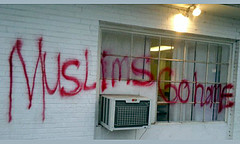 The discussion of these anti-discrimination efforts by the Department of Justice (DoJ) was helpful, but there is another side to the DoJ's actions since 2001: federal policies that clearly contribute to discrimination and disparately impact Arab, Muslim, Sikh, and South Asian Americans. The many programs and policies, from the PATRIOT Act to warrantless wiretapping, secret evidence and special registration – these policies went unmentioned during the hearing. Congress should be in the business of providing oversight for these programs that violate civil rights – and, indeed, the Subcommittee on the Constitution, Civil Rights and Human Rights would seem to be the perfect place for a discussion of these harmful federal policies.
Since Durbin's hearing didn't shine a light on these problematic policies, let's take a moment to review some of the worst.
After the September 11, 2001, attacks, federal law enforcement agencies, with the help of local police forces across the country, initiated at least seven distinct programs that had a disparate impact on Arab, Muslim, Sikh, and South Asian American communities. None of these policies and programs was discussed at Senator Durbin's hearing on Muslim American civil rights.
First, in the immediate aftermath of the 9/11 attacks, the federal Immigration and Naturalization Service (INS) quickly developed a list of more than 7,000 people who had characteristics that matched those of the hijackers. Specifically, INS created the list by locating immigrants in the United States who shared the ethnicity, gender, nationality, and immigration status of the hijackers. The FBI then ordered local police forces across the United States to conduct "voluntary" interrogations of these immigrants. Under this clearly discriminatory program that singled out only Arab Muslims, more than three thousand interviews took place between 2001 and 2002, according to a report filed by the General Accounting Office (GAO). The "voluntary" interviews were widely perceived as mandatory; the program was highlighted by advocacy organizations including the ACLU and Council on American Islamic Relations (CAIR) as a blatantly discriminatory use of racial and ethnic profiling.
Second, on November 5, 2001, the DOJ reported that it had detained 1,182 people as part of the official investigation into the 9/11 attacks. Since that announcement, the government has failed to give any further accounting of the number of people it held for purposes of investigating the 9/11 attacks. The perception that Arab, Muslim, Sikh, or South Asian Americans could be instantly "disappeared" by the federal government under the pretense of the 9/11 investigation created a great deal of panic and disruption, according to advocacy organizations like CAIR. The actual number of people detained without criminal charge as "material witnesses" to the 9/11 investigation, almost all of whom are presumably Arab, Muslim, Sikh or South Asian, is unknown. In 2009, a federal court ruled (in Al-Kidd v. Ashcroft) that former attorney general John Ashcroft may personally be held liable for wrongful detention as a result of these policies. The Supreme Court took up this case in 2010 and is expected to rule shortly.
Third, in January 2002, the DoJ began a new program, Absconder Apprehension Initiative, which made it a priority to find and deport undocumented immigrants in the United States from countries that who had violated immigration laws. Specifically, this program was designed to deport people from countries where al Qaeda was thought to be active – in other words, Muslim-majority countries. There were widespread reports of sudden arrests and raids in communities across the United States in 2002. (Some frightening accounts of raids and arrests in the middle of the night were reported by Anny Bakalian and Mehdi Bozorgmehr's comprehensive study.) Muslim immigrants were singled out for this Absconder Apprehension Initiative in a clear act of discriminatory profiling.
Fourth, on September 10, 2002, the INS set up a "special registration" program for immigrants almost exclusively from Middle Eastern nations that it named the National Security Entry-Exit Registration System (NSEERS). This program required Customs to keep additional records (including photographs and fingerprints) on certain immigrants as they entered the United States. For those immigrants already in the United States, NSEERS required them to re-register with an INS office to complete additional recordkeeping. The immigrants subject to this special registration were nationals from Muslim-majority nations in Asia and Africa and also North Korean nationals. Some non-immigrant, permanent residents and US citizens also mistakenly registered under the NSEERS program due to widespread confusion over who was required to register. The program remained in effect despite persistent criticism that it was a blatant form of racial and ethnic profiling that did nothing to aid counterterrorism but succeeded only in needless disruption of immigrant communities.
Fifth, in 2002 the FBI, with assistance from the Department of Energy (DoE), began a clandestine program to monitor nuclear radiation levels at hundreds of hand-selected Muslim sites in at least six American cities. The program saw the DoE's elite Nuclear Emergency Support Team deployed to observe radiation levels at mosques and private homes from a list of potential terrorism-related locations developed by the FBI. No search warrants were issued, and the legality of the program was questioned after it was uncovered by US News and World Report in 2005. By singling out Muslim sites, the program also is another clear example of discriminatory profiling.
Sixth, Immigration and Customs Enforcement (ICE) conducted a secret program to discover any terrorist threats that might disrupt the 2004 Presidential Election. This program, called "Operation Front Line" internally and dubbed the "October Plan" by the media, was designed to operate prior to and during the 2004 Presidential election season. The program's existence was kept secret until 2008, when a Freedom of Information Act Lawsuit brought by the American-Arab Anti-Discrimination Committee (ADC) and Yale Law School forced ICE to release a statistically relevant sample of its Operation Front Line case files. Contrary to assertions by ICE that they did not intentionally target any specific ethnic or religious groups, ICE's own data show that Operation Front Line specifically targeted Muslim immigrants. Operation Front Line used data from the NSEERS program (which is itself comprised entirely of immigrants from Muslim-majority nations) to identify specific people of interest, and then these persons of interest were investigated or placed under surveillance. An analysis of ICE's data conducted by Yale Law School discovered that 79% of foreign nationals targeted in the Operation Front Line dragnet were from Muslim-majority nations. None of the cases in the sample ICE released for analysis produced any national security or counterterrorism related evidence. Operation Front Line ended after the 2005 Presidential Inauguration, but whether ICE maintains other secret programs, similar to Operation Front Line, that single out Muslim and Middle Eastern immigrants, is unknown.
Seventh, the federal government has systematically blocked funding for many of the largest Muslim American charities under the pretense that the charities sponsor terrorist activity. Several Muslim American charities were officially named as "terrorist" organizations under the authority of the 1996 Anti-Terrorism and Effective Death Penalty Act (and related legislation). By December 2001, the three largest Muslim charities in the United States were shut down and their funds seized by the federal government. To date, six nationally prominent Muslim American charities have been shut down in this way. Further, an additional six charities were publicly raided by federal officials, and another nine local charities in several states have been shut down by the government. In addition to seizing funds, federal officials have conducted sweeping investigations of names appearing on the donor lists kept by these charities. Whether evidence exists that some of these charitable organizations may have sent funds that contributed to terrorist violence is somewhat irrelevant, because the vast majority of donors to these charities donated in good faith belief that their donations were going to actual charity programs. The focus on donors to these organizations itself marks a clearly disparate impact on Muslim Americans. While many Muslim American charities remain active, the strongly perceived possibility that donors will be subject to investigation has had a "chilling effect" on charitable activity among Muslim Americans. The "chilling" of Zakat, the religious obligation for Muslims to give annually to charity, violates Muslim Americans' right to the free exercise of religion, according to an exhaustive study conducted by the ACLU.
These seven policies represent only part of a long list of discriminatory policies and practices that has continued to grow. The newest federal policy – which is still not officially acknowledged – is the apparently ongoing "sting" operations that have been accused of entrapping terrorism suspects – almost exclusively Muslim suspects -- into committing fake plots they would not otherwise commit. The lack of scrutiny of these policies by Congress is unsettling, especially in light of Senator Durbin's hearing, which purported to open the door to a wide ranging discussion of these issues.
Senator Durbin's hearing remains a welcome step forward in Congressional action to strengthen anti-discrimination law. Mr. Perez and the other witnesses at the hearing showed that the Justice Department works arduously to enforce civil rights laws. But, in a deep irony, that same Department of Justice has simultaneously pursued these seven discriminatory policies. The first-ever hearing didn't consider it, but maybe the historic second-ever hearing on the "Status of Muslim Civil Rights in the US" will consider this stark and troubling irony.