He was very sincere. We are like soulless bodies since he left.
–Basma Bouazizi, sister

If Brad Manning, 22, is the Collateral Murder and Garani massacre whistleblower then, without doubt, he's a national hero.
–Wikileaks
He may be a mutilated trunk dismembered all about, the spirit removed all around and separated from the limbs, yet he lives and breathes the vital air.
–Lucretius, De Rerum Natura
Bradley Manning and Mohamed Bouazizi's names have become known because they galvanized world attention through what has been perceived as incalculable personal sacrifices. By comparing the respectively imprisoned and immolated bodies of two of the most prominent hero-victims of the past year, we can connect the ways the US has shouldered (and skirted) responsibility for the global "war on terror" and support for despotic regimes overseas. There are remarkable similarities between the two frustrated, previously unknown men in their early twenties. Juxtaposing the consequences of their actions—from initial civil disobedience to bodily incarceration and suicide—may shed light on the post-9/11 ontology of personhood.
Discipline and Publish
It is hard to downplay the level of exposure and visibility—particularly the "Collateral Murder" video and the release of thousands of diplomatic cables—that document US atrocity and hypocrisy. Wikileaks' concept of "leakage"—draining ultra-powerful, abusive systems of their secrets and bald-faced double standards—was not novel, but its ability to monkey wrench political systems through simultaneous electronic self-distribution and publishing press partnerships was. While few if any leaks contained actual top-secret information, the consequence of massively divulging them was hypervisibility and deep embarrassment for the US government.
This hypervisibility contradicts the prior condition of Spc. Bradley Manning, the alleged (and still neither tried nor convicted) Army intelligence analyst who leaked some of the most explosive findings to Wikileaks. As published this month in Greg Mitchell's Bradley Manning: Truth and Consequences, Manning's military life was characterized by soulless routine. The information that he supposedly supplied to Wikileaks was not only available to three million personnel, but was carelessly guarded by bored army officers and their neglectful superiors.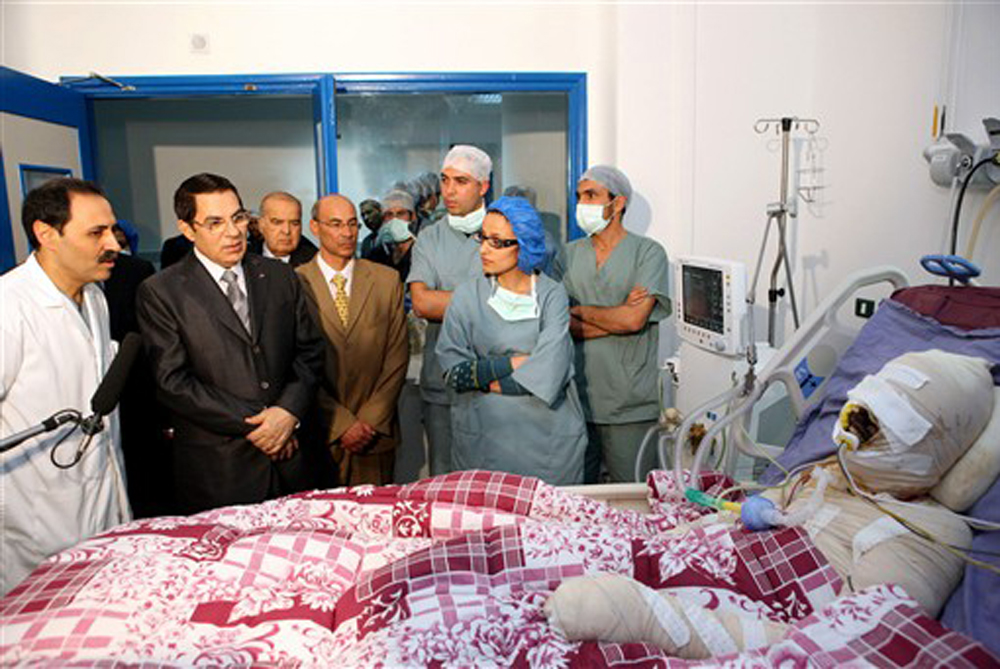 [Ben Ali visiting Bouazizi in hospital after he immolated himself. Image from Agence France Press (AFP)]
In the chat logs of Adrian Lamo, the ex-hacker who turned Manning in to the FBI, Manning's repulsion and conscientious objection to American abuses could not be clearer. He declared that information "belongs in the public domain… [I]nformation should be free… I want people to see the truth regardless of who they are because without information, you cannot make informed decisions as a public."
Manning described the incident that spurred him to action:
i think the thing that got me the most… that made me rethink the world more than anything was watching 15 detainees taken by the Iraqi Federal Police… for printing "anti-Iraqi literature"… the iraqi federal police wouldn't cooperate with US forces, so i was instructed to investigate the matter, find out who the "bad guys" were, and how significant this was for the FPs… it turned out, they had printed a scholarly critique against [Prime Minister] Maliki…


i had an interpreter read it for me… and when i found out that it was a benign political critique titled "Where did the money go?" and following the corruption trail within the PM's cabinet… i immediately took that information and *ran* to the officer to explain what was going on… he didn't want to hear any of it… he told me to shut up and explain how we could assist the FPs in finding *MORE* detainees…

everything started slipping after that… i saw things differently… that was a point where i was a *part* of something… i was actively involved in something that i was completely against…
Manning, whom his superiors had at best ignored, now found himself at the center of willful obstruction of justice by the US military of which he was a part. He said it "wrecked" him, using the word several times.
The treatment of Manning at the Marine Corps brig at Quantico, Virginia, is by now infamous. But the episode that led to a regime of forced nudity could easily find itself in a Kafkaesque narrative. Manning had requested to be moved from "Maximum" custody (i.e., 24-hour solitary confinement), having endured seven unimaginably dark months. When Quantico commander Col. Daniel Choike claimed that he was considered at risk of self-harm, Manning remarked on the absurdity of that logic since he could "conceivably do so with the elastic waistband of his underwear or with his flip-flops." In other words, Manning tried to reason (even joke) with the Quantico commander after months of notably exemplary behavior. Almost immediately, Manning's forced nudity was enforced and was ordered to continue "indefinitely" as a "precautionary measure." He was also required to stand naked outside his cell during inspection. David Coombs, his attorney, wrote that a "sarcastic quip [w]as justification to increase the restrictions imposed on him under the guise of being concerned," noting that the designation of Suicide Risk Watch would have required a psychologist recommendation (which Choike had not obtained). Psychologists for Social Responsibility wrote an open letter to the Pentagon stating "unequivocally that removal of clothing is not an accepted or reasonable procedure for avoiding self-injury."
Manning's body was stripped of every article of clothing in front of prison guards, a "suicide-proof sleeping garment" later issued to cover his icy nakedness at night. Manning has since been transferred to the Midwest Joint Regional Correctional Facility at Fort Leavenworth, Kansas, presumably due to public pressure, although it is still unclear how the move will bring his case closer to a court date. But, as I will describe shortly, the shivering discipline of the law does not point merely to a cruel and empty inanity, but highlights the law's actual ubiquity. Compare the words of Candidate Obama in October 2007 ("When I'm President, we'll reject torture—without exception or equivocation") to President Obama explicitly defending Manning's treatment as "appropriate and meet[ing] our basic standards," later denouncing him as guilty before any legal proceedings had taken place by flatly remarking, "He broke the law" at a San Francisco fundraising event in April 2011. Attorney Kevin Zeese, who serves on the steering committee of the Bradley Manning Support Network, cited "undue command influence" in the US military justice code:
Can you imagine if the Supreme Leader of Iran, Ayatollah Khamene'i, pronounced an Iranian military whistle blower "guilty" before any trial was held? Khamene'i is the commander-in-chief of all armed forces in Iran, just as President Obama is the commander-in-chief of the US armed services. Would anyone in the United States think that a trial before Iranian military officers that followed such a pronouncement could be fair? The US government would use the situation to make propaganda points about the phony justice system in Iran.
In an open statement published in The New York Review of Books, not only did 250 highly respected American legal scholars condemn Obama's rubber-stamping of Manning's "degrading and inhuman pretrial punishment," but Obama's own former mentor, Harvard constitutional law professor Laurence Tribe told the Guardian he signed the letter because Manning's treatment was "not only shameful but unconstitutional." In a scathing admonishment to Obama (who one month before signed an executive order for indefinite detention at Guantánamo) the scholars chided, "He was once a professor of constitutional law. The question now is whether his conduct as commander in chief meets fundamental standards of decency."

Man on Fire
Equally explosive was the account of the self-immolation of Mohamed Bouazizi in the Tunisian town of Sidi Bouzid. Bouazizi's act of setting himself ablaze forced world attention to the crisis of entrenched power in Tunisia and acted as the inarguable ignition of ongoing Arab uprisings in Egypt, Libya, Syria, Yemen, Bahrain, Jordan, Mauritania, Algeria and Morocco. As Greg Mitchell remarks about the Tunisia Wikileaks cables, "The US knew about massive corruption in Tunisia back in 2006 but went on supporting the government anyway, making it the pillar of its North Africa policy."
I would like to believe that it is still possible to avoid the trap of assigning facile and wholesale credit to Wikileaks for the successive grassroots revolts across the Middle East and North Africa and still fasten Manning and Bouazizi's acts together as serving a parallel political purpose. As Manning had mused in the chat logs about the eventual release of the cables, "god knows what happens now…hopefully worldwide discussion, debates, and reforms." In the aftermath of their isolated acts and the seismic consequences, these ends and more were arguably achieved. Manning had discussed that what made him finally turn was the detention of Iraqi scholars for their criticism of US-enabled Nouri al-Maliki, who as of December 21, 2010, simultaneously held the positions of Prime Minister, Interior Minister, acting Defense Minister, and acting National Security Minister.
The iconic Agence France Press photo of Mohamed Bouazizi at a hospital in Ben Arous—white bandages covering his entire flame-engulfed face and body—was taken exactly one week after al-Maliki's whopping concession of power, on December 28, 2010. The photo practically wrote its own caption, as a team of doctors and nurses stood cross-armed facing Tunisian President Zine El-Abidine Ben Ali staring at Bouazizi's unrecognizable body, their eyes gleaming, You did this. Bouazizi may have been mutilated and dismembered, as the opening Lucretius quote described, but his spirit was firmly affixed to the animus of cronyism and embedded power shared between Middle Eastern and North African rulers and their US benefactors.
Bouazizi's father died when he was three. At the age of ten, he had become the head of his family, and his sacrificial streak would continue for another decade as he stalled his own studies so that five younger siblings could stay in school. Unsuccessful in his effort to join the army, his family and friends said that the only option left to him was selling vegetables and fruit from a street cart. This humble plan could not protect him from daily humiliation and mistreatment from local police and bureaucratic officials. It was reported that a slap by a policewoman finally set him off. But what actually took place was that he was refused a meeting with a municipal officer after receiving an enormous fine for operating a street cart without a permit.
Bouazizi's failure to seek redress is reminiscent of a scene in Franz Kafka's The Trial, when K. demands to see the warrant issued for his arrest by showing his identification papers. "What are your papers to us?" the tall warder mocks.
You're behaving worse than a child. What are you after? Do you think you'll bring this fine case of yours to a speedier end by wrangling with us, your warders, over papers and warrants? We are humble subordinates who can scarcely find our way through a legal document and have nothing to do with your case except to stand guard over you for ten hours a day and draw our pay for it.
The rate of unemployment for university graduates in Tunisia (Bouazizi was never able to go to college) is nearly 25 percent. The US Bureau of Labor Statistics estimates that the unemployment rate for college graduates is at 10 percent but is actually 25 percent if one considers teenagers, a figure higher than it has ever been since 1970. The rate of "idle" youth—a term used to describe economically disadvantaged young people in the Middle East and North Africa—could be expanded to include those working in the service industry, in the military, or the chronically underemployed. Seen in that light, American and Tunisian statistics are stunningly similar.
Bouazizi was both mistreated and made unseen as an impoverished street merchant. By turning him away from seeking redress (since he and his family's welfare were at the mercy of the law), the bureaucratic officials further negated his civil personhood. Days after his self-immolation, 24-year old Hussein Nagi Felhi climbed an electric pole to his death, shouting "no for misery, no for unemployment" as the fence pummeled his body with 30,000 megawatts of electricity. The act was repeated at least 14 more times in the region over the subsequent months.

Losing One's Skin, Or Guantánamo and Beyond
As Colin Dayan traces in her new book, The Law is a White Dog (2011), rightless persons, who have lost the right to have rights, are never outside the law. Although accounts of Guantánamo Bay, Abu Ghraib and secret and known US prisons cite a '"legal black hole" as being "beyond the law," today legal boundaries are equated with the legitimacy of the government's goals. US systems of discipline and punishment parallel the history of American slavery; the aggressively legalistic nature of personhood in this system points to "not an absence of law but an abundance of it that allows government to engage in seemingly illegal practices."
I argue that this "hyperlegal negation of civil existence" is in collusion with "official secrecy," the foundation of K.'s legal nightmare in The Trial, not to mention the procedural designation of "enemy combatant" to prisoners in Guantánamo and tens of other GWoT (global "war on terror") extraordinary rendition sites. In other words, the dissolution of personhood, rather than depending on a vacuum of law, co-exists with both hyperlegality and pro-forma secrecy. K.'s defense counsel reminds him that the proceedings in his case will not be made public:
The legal records of the case, and above all the actual charge-sheets, were inaccessible to the accused and his counsel, consequently one did not know in general, or at least did not know with any precision, what charges to meet in the first plea; accordingly it could be only by pure chance that it contained a really relevant matter.
In receiving "special permission" to visit the Arizona prison complex where she began research in 1995, Dayan notes the "overuse of the word special"—special operations team (executioners), special isolation units (solitary confinement), special management units, special treatment units, special housing units, and even the listing of visitors as special persons. Special personhood and official secrecy go hand-in-hand. Kafka's Trial again: "For the Defense was not actually countenanced by the Law, but only tolerated, and there were differences of opinion even on that point, whether the Law could be interpreted to admit such tolerance at all" (my emphasis). The Law preserves negligible tolerance for the defense of the accused along with its "official secrets." (In The Trial, these are quite literally kept in desk drawers.) Therefore, the realm of that which is always pending and always in legal limbo defines the category of the special, dutifully consigning "specialness" even to those who act in defense of the "special," whether they be Dayan as a visitor to an Arizona jail or Bradley Manning's supporters who were subpoenaed by a grand jury in Alexandria, Virginia.
To be clear, the special body that is summoned can have speculative personhood conferred to it. In Latin, the word evocatio (from e—"out of, from" and vocare—"to call") is at once a "calling forth" and a "summoning away." It originated with military proceedings that either threatened or took hold of those who surrender. In the Western mystical tradition, this calling forth or evocation relates to the conjuration of ghosts. Dayan writes, "When ghosts come before the law they are sometimes treated as if real insofar as they have legal effect. What seems supernatural or even extraordinary, once in the presence of judges becomes merely unusual." The Law spooks by deracinating the summoned from their skin and flesh, turning "humans into things, ghosts into persons, and corpses into spirits." Even if the Law does not leave physical scars—in fact, especially if it does not—the practice of solitary confinement evokes imaginary non-beings out of thin air, whispers delusions in a prisoner's head, and neutralizes all traces of individuality. An inmate in Arizona SMU (an ultra-maximum security prison that, from the outside, looks like a "nuclear waste storage facility") told Dayan:
If they only touch you when you're at the end of a chain, then they can't see you as anything but a dog. Now I can't see my face in the mirror. I've lost my skin. I can't feel my mind.
This erasure of personhood is the subject of physician Atul Gawande's essay, "Hellhole," where he records the physical damage of forced social isolation: "EEG studies going back to the nineteen-sixties have shown diffuse slowing of brain waves in prisoners after a week or more of solitary confinement. Without sustained social interaction, the human being may become as impaired as the one that has incurred a traumatic injury." On the radical erasure achieved by the CIA's "debilitation, disorientation and dread" program of scrambling human selfhood, another inmate wrote Dayan: "I get to watch as my mind gets disfigured beyond anything I can recognize."
We might conjure K.—who I imagine to be Kafka's precursor to Mohamed Bouazizi just before he faces the rawness and inhumanity of his bureaucratic inferno, the singular hell that drives him to visible combustion—for whom the weightiness and corporality of the law reveals a viciously intractable system nearly immune to reform:
Almost every accused man, even quite simple people among them, discovered from the earliest stages a passion for suggesting reforms which often wasted time and energy that could have been better employed in other directions. The only sensible thing was to adapt oneself to existing conditions. One must lie low, no matter how much it went against the grain, and try to understand that this great organization remained, so to speak, in a state of delicate balance, and that if someone took it upon himself to alter the disposition of things around him, he ran the risk of losing his footing and falling to destruction, while the organization would simply right itself by some compensating reaction in another part of its machinery—since everything interlocked—and remain unchanged, unless, indeed, which was very probable, it became still more rigid, more vigilant, severer, and more ruthless. One must really leave the lawyers to do their work, instead of interfering with them.
I emphasize losing one's footing in this excerpt because earlier, when K. glimpsed into the lawyer's room at the Law Court offices, he noticed "a hole in the floor, not so big that you could fall through the floor, but big enough to let a man's leg slip through." Conditions for defense lawyers—the "special persons" of "special persons"—were kept this way in order to "eliminate them as much as possible."
As for actual prisoners, such as those Dayan visited in "special security units," one can often find a searing display of bodily mutilation. "Row after row of slit wrists, first-degree burns, punctured faces, bodies smeared with feces, eyes pouring blood. A sign above the photo exhibit reads, 'Idle Minds Make for Busy Hands.'" Dayan recalls Descartes' "Second Meditation": "I have no senses. Body, shape, extension, movement and places are chimera… I have no senses and no body. So what remains true?" Whether in the sardonic drama of Bouazizi's hell or the solitary confinement of Arizona's SMU prisoners, the accused is first made to lose his mind, then to lose his skin.
In that vein, the question is not merely whether legal procedure has been stalled in determining Bradley Manning's guilt or innocence; the question of innocence no longer seems grounded in any legitimate concern. Wikileaks' latest release of the "Gitmo Files" proved without a shadow of a doubt that the US knowingly imprisoned at least 150 men officials knew to be innocent. The files reveal the same incarcerator mentality as the Arizona prison complex and the reports of US-buttressed torture cells overseas despite the legal consensus that confessions made under torture are inadmissible. Take the Detainee Assessment Brief (DAB) on Ridah Bin Saleh al-Yazidi, a Tunisian national who the US Naval Station/Joint Task Force memorandum to the US Southern Command identifies as an "al-Qaida [sic] member, head of Tunisian faction in Afghanistan." Under Prior History, al-Yazidi's file reads: "Detainee did not complete high school. Detainee traveled from Tunisia to Mazzarrone, Sicily, Italy and worked in a vineyard until the end of 1987. He traveled to Milan, IT, planning to continue his education. Due to financial difficulties…"
Despite a clear admonition that the "detainee remains careful to avoid associating himself with al-Qaida [sic] or any senior extremists [and] avoids implicating himself in any type of leadership or management role." The memo recalls 40 Reports of Disciplinary Infraction, including hostility, "provoking words and gestures,: and perhaps the most surreal admission, that al-Yazidi "returned his library book with defacements."
I am tempted to ask, sincerely and not rhetorically, what the way out of this quagmire might be. In doing so, I point to Gawande's acerbic questioning of American society:
Neither Barack Obama nor John McCain [a prisoner of war for five and a half years in Vietnam] addressed the question of whether prolonged solitary confinement is torture. This would have been political suicide. The simple truth is that public sentiment in America is the reason that solitary confinement has exploded in this country, even as other Western nations have taken steps to reduce it. This is the dark side of American exceptionalism. In much the same way that a previous generation of Americans countenanced legalized segregation, ours has countenanced legalized torture (my emphasis).
Less than 150 years since the end of legal slavery—the primogenitor of a system that churned out special bodies and speculative personhood—and less then 45 years since the end to de jure racial discrimination, the US still must make a choice: either it willfully tortures or it does not, either it supports regimes it knows to carry out torture or it does not, either it mass incarcerates or it does not, either it turns persons into shells of their former selves or it does not. No true political progress is possible without this examination.