Salt of this Sea [Milh Hadha al-Bahr]. Written and directed by Annemarie Jacir. Palestine/Belgium/France/Spain/Switzerland, 2008.
Salt of this Sea (Milh Hadha al-Bahr), released in 2008, is Annemarie Jacir's first feature film, and her second work to debut at the Cannes Film Festival. An epic work, the concerns of Salt of this Sea are also the concerns of Palestinians across the globe; the film constitutes a sustained cinematic critique of Oslo and the Palestinian Authority, and places the Right of Return center stage. Reading – or watching – Salt of this Sea against its explicit messaging, however, the Right of Return that emerges in the film is not without its problems. In light of Jacir's previous film, like twenty impossibles – which shows she is an artistic force to be reckoned with – the failures of Salt of this Sea are somewhat surprising.
Before embarking on a critical reading, a brief synopsis of the film is in order. Even before the film's titles start, we see archival images from 1948 of refugees leaving Yaffa (Jaffa) by boat on the sea of the film's title. The film occurs almost in the shadow of this image. Following on from archival images of the refugees' expulsion, sixty years later we see a Diaspora refugee, Soraya (Suheir Hammad), being questioned at the airport in Tel Aviv as she tries to enter. Salt of this Sea follows Soraya, a working-class Palestinian woman, born and raised in Brooklyn, who is visiting Palestine for the first time. In Ramallah, Soraya's attempts both to extend the two-week visa granted to her by the Israelis and to recover the money her grandfather left in the bank before 1948 come to nothing. She is frustrated and angry, and with Emad (Saleh Bakri), a waiter she falls in love with, and Marwan (Riyad Ideis), one of his filmmaker friends, she robs the bank and they cross over to Israel in a car, passing as settlers.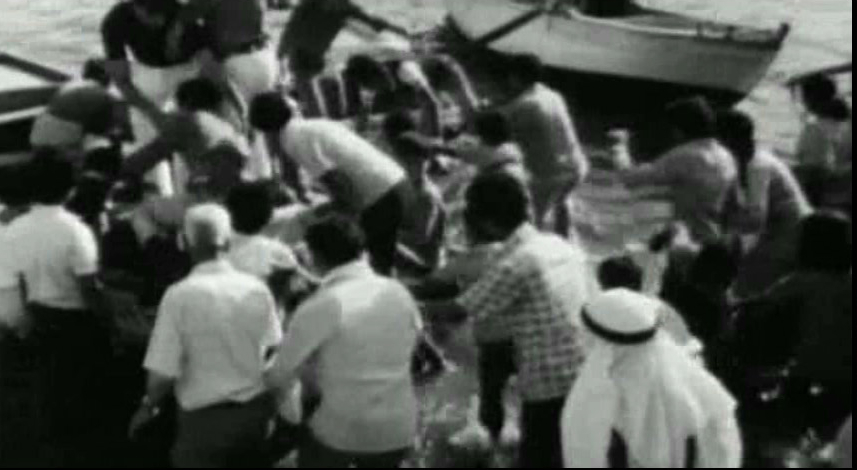 [Still Image from Salt of this Sea]
In Israel, the friends explore, aware all the while that they are living on borrowed time, aware of the vicious irony that the indigenous Palestinian must try to pass as a Jew from abroad to avoid deportation or arrest. They walk around Jerusalem, they visit the sea, they go to Soraya's familial home in Yaffa. And after leaving Marwan behind to fall in love with the current occupant of the house, Soraya and Emad find Emad's village, Duwaima, a destroyed village now part of a "national park." Salt of this Sea is part road-movie, part epic-drama, with a love story bridging the first part of the film in Ramallah and the second part in Israel and tying the themes together. It is a love story between two Palestinian refugees: Soraya, a Diaspora Palestinian with her American passport, who can go and live anywhere except where she wants to, in Palestine, and Emad, a refugee in Ramallah, who cannot leave to take up his scholarship to study in Canada because his visa has been denied four times. The film is a kind of tracking of a history of fragmentation since the declaration of the state of Israel – the force fragmenting the Palestinian nation – both a geographical and a social fragmenting.
Salt of this Sea deals with life under occupation, with the capitulation of the Palestinian leadership to the Israelis, with the "peace process" and its failures, with exile, with the Right of Return – with Palestinian trauma and loss and hope. In other words, the fundamentals of the Palestinian experience of the past sixty years are all incorporated into the narrative. One of the outcomes of the desire to do this unambiguously, however, is that engaging storytelling gives way to something else. Rather than characters with developed personalities, the film is populated by archetypes. Everyone represents something, a type or class of people; each character conforms to a role and is functional to the narrative. As archetypes, not only are they unbelievable as characters or personalities, but also, from the outset, complexity and ambiguity is foreclosed. While there is much more to say about Salt of this Sea, we will focus specifically on this issue of archetypes, as we believe this to be the fundamental "method" of the film's messaging.
Soraya and Emad
The story develops and reveals its messages through the character and encounters of the protagonist, Soraya. She is enlisted to represent The Diaspora Palestinian, and as such represents not only the thoughts, hopes, and dreams of the Diaspora, but also the very idea of the Right of Return. The Oslo peace-process oversaw the creation of structures, institutions, and classes that would be directly connected to and invested in the peace process. The film delivers its critiques of these classes and their political corruption through Soraya. Not long after she arrives in Ramallah, two smartly dressed men who Soraya is dining with ask what brings her to Palestine. Her reply that she is claiming her Right of Return opens up a discussion about the refugees and a possible "solution." One of the men propounds that there must be two states, "one for them and one for us." This of course means no return for the millions of Palestinian refugees. She disassociates herself from The PA Officials and Bureaucrats – represented by the men in this scene – and chooses to identify herself instead with The Ordinary People and The Refugees – represented here by the waiter, Emad. In the course of the conversation, the men are gratuitously rude to Emad, while Soraya smiles at him. In this smile, Soraya is positioning herself as apart and different from the rich men dining at the restaurant, and is thus allying herself – and the audience – with the mistreated waiter.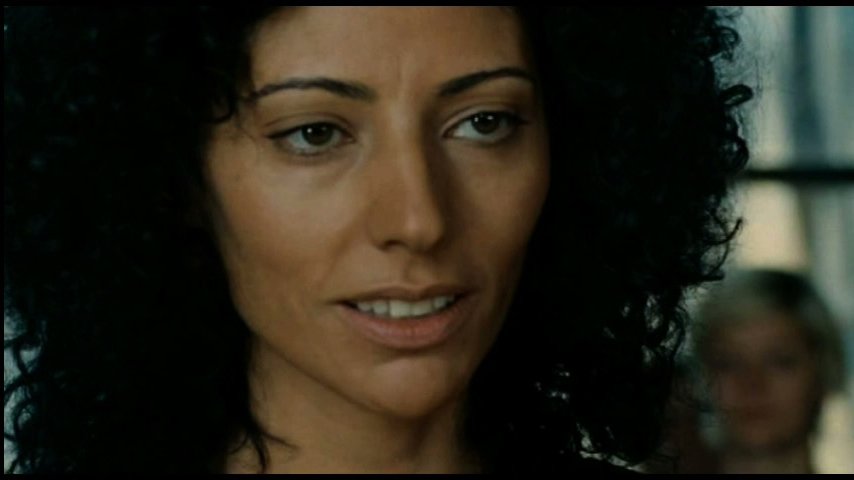 [Suheir Hammad as Soraya. Still image from Salt of this Sea]
The exchange about the Right of Return is the first of several scenes that takes place at Darna, a lavish restaurant where PA officials take international visitors. It is to this restaurant that we return several times as we watch Soraya situate herself in Ramallah society. Later, as Soraya joins Emad as one of the restaurant's waiters, the recipe for a class scene is set: the hard-working waiters not getting paid while the wealthy and gluttonous obliviously wine and dine in an opulent restaurant. Soraya's identification with The Ordinary People and The Refugees is sealed when Emad fights with the manager about not being paid, and Soraya enters the fray.
The film's quest to both highlight and symbolically overcome fragmentation takes its most obvious form in Soraya's blossoming relationship with Emad. While Soraya stands in for The Disapora Refugee, Emad in turn represents another class of Palestinians – The Ordinary People and Refugees. Living under occupation in the PA territories, they contend with the daily traumas and horrors of occupation, and are exhorted to forget their homes in historical Palestine, because after Oslo they are living in the future Palestinian state. When Soraya meets Emad's family, their reaction to her is starkly different from that of the hostile Israelis and the bemused and hapless PA Officials and Bureaucrats – "Welcome to your country," they tell her simply. Unlike those from the PA, they understand her desire to return. Emad and his family are thus contrasted to the elite, and revealed to us as humble, simple, pure even.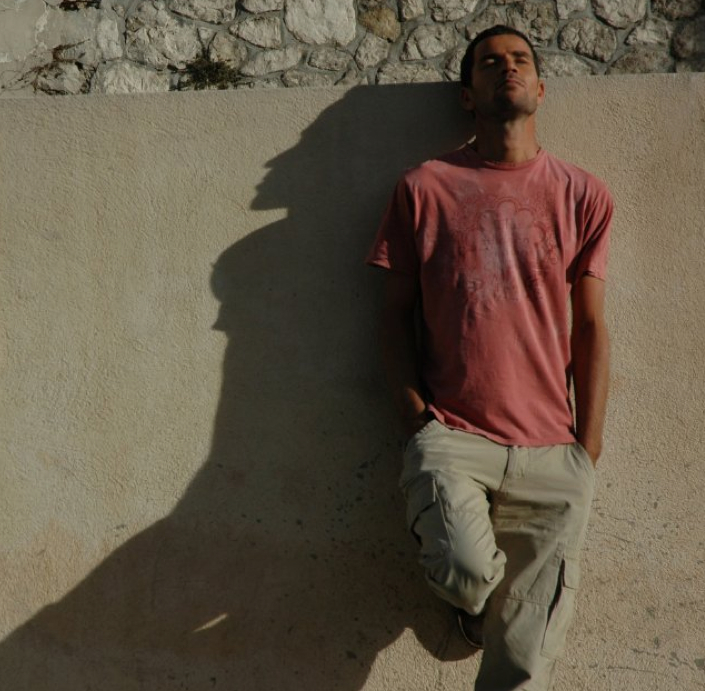 [Saleh Bakri as Emad. Still image from Salt of this Sea]
We watch Soraya's efforts to identify, her drive both to reify her own story and to collapse it into a generic Palestinian story of which she can be a part. Soraya's naiveté and self-absorption are unceasing: as she reminisces about pre-1948 Palestine, through her parents' and grandparents' stories, she seems to think she is the only one with a story. We learn so little about Emad, and she does not seem curious. Of course there is nothing wrong with the protagonist of a film being so naïve. But this naiveté is never undercut. Indeed, Emad could play the role of a sort of foil to Soraya, in terms both of his situation and his character, but he does not. If he did, we might have some real dialogue between people coming from different fragments of the splintered Palestinian body politic. Here we see that the crux is not that the characters are archetypes, but that the nature and content of those archetypes is problematic and undermines both the film's promise and its objectives.
With Emad and Soraya, we have the ingredients for an artistically and politically engaging film: Salt of this Sea attempts to explore the desire of the exile to return in the context of the desire of the occupied to escape. Instead, it is in the film's depiction of this romantic alliance that the economy of archetypes only proves itself the poorer. Soraya arrives in Ramallah with little more than idealism and lyrical words about pre-1948 Palestine, while Emad tells her that the Israelis have won. Through Soraya's encounter with Emad, she might have explored or reworked her conceptions, or we might have watched as she struggled to hold onto them. But Emad's role as a counterpoint to Soraya is not developed. When he tells her that Palestine is not just sea and oranges, when he tells her about dignity in the face of constant humiliations, clearly he is speaking from his experience, a world that is foreign to her. But again, her character does not allow her to listen.
When Emad talks about being unable to leave Ramallah in the last seventeen years or the repeated refusal of his student visa, Soraya lacks humility; Soraya's commitment to her right of return should not need to be based on a denial of Emad's reality. Instead of listening or reflecting, Soraya asks him if he is finished, and then after declaring that she is a Palestinian, not a foreigner, and that she does not need a lecture, she stomps off. After this, she does not apologize. Rather it is Emad who apologises – with a box of oranges, no less. But what most clearly marks Emad's capitulation to Soraya's naiveté – and thus the film's capitulation as well – is his agreement to join with Soraya's plan to rob the bank and reclaim her money.
Return
Soraya is claiming her Right of Return – she has, she says, dreamt her "whole life of coming here, there's no going back." However much she may have dreamt and yearned for return, she seems to have had little time to consider or find out about occupation, Israel, the way the world works – indeed, Soraya is remarkably clueless. For instance, she seems not to know that it will be difficult to reclaim her grandfather's money. When The Bank Manager tells her that in 1948 everything was lost, she retorts that the bank was not lost, that it is now opening branches in Ramallah. Soraya is genuinely shocked. She is similarly shocked that The PA Officials and Bureaucrats cannot help Soraya with her request to stay longer than the two weeks granted to her by the Israelis. For all their offices and finery and trappings of proto-statehood, the PA is shown to be utterly useless and unable to do anything for Soraya, although after her experience at Tel Aviv airport this should not come as a surprise for her.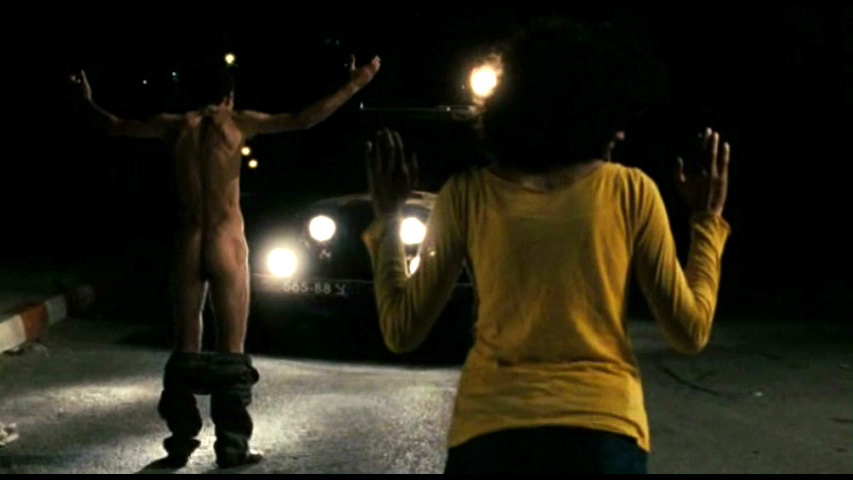 [Still image from Salt of this Sea]
The Israelis whom Soraya and Emad encounter in their ancestral homes are also less people than archetypes – in Soraya's home they encounter The Liberal Zionist, and in Emad's what we might call The Textbook Zionist. In Soraya's home, the Israeli occupant welcomes Soraya in. With her "End the occupation" mugs, her marvelling that there are filmmakers in Ramallah, her wistful wish that the Palestinians had stayed, her abdication of responsibility, we see a certain kind of Israeli: the liberal, soft, or "left" Zionist. She blames "the leaders on both sides," welcomes Soraya in, and understands this as an act of generosity. Through this, a certain kind of liberal and hypocritical Israeli position might have been explored, and an understanding of what soft Zionism means for Palestinian rights might have been unpacked. Instead, the potential is squandered, and Soraya can speak only in slogans. In Duwaima, Emad`s village, Soraya talks to a very different kind of Israeli – The Textbook Zionist. He is visibly relieved when Soraya says that she is Jewish, and tells her he is showing his students the "ancient ruins" so that they "learn about their roots, about how we turned this Biblical land into life again." Once more, something is simply stated to the audience, rather than explored.
When Soraya and Emad are in the remains of Dawaima, fantasizing about having a child, both are misty-eyed, both have a dreamy tone in their voices. Soraya waxes lyrical that their child would be the first born in Duwaima for sixty years, that he would play in the beauty of the village – that he would be free, unlike Soraya. Emad also imagines that their child would be free and know a freedom that he has not known – he would have a baby American passport. Though the scene itself is somewhat trite and superficial, here we have the shoots of something interesting, but it does not go anywhere. Though it is in such an exploration that the potential of the film lies, the film seems surprisingly uninterested in exploring – rather than simply juxtaposing – its protagonists' dreams of life beyond Israeli oppression.
The reliance on archetypes throughout Salt of this Sea, and Soraya's forced naiveté, forecloses nuance, ambiguity, and movement between and within characters. Each figure or archetype plays a functional role in the narrative and political messaging, but we should question how effective such political messaging, which does not invite the audience to engage, can be. Though Salt of this Sea might have offered a troubled portrait of a singular woman, Soraya instead comes to represent The Diaspora Palestinian and the Right of Return. The ultimate danger of the film is that with Soraya as signifier, the Right of Return is reduced to little more than blind sloganeering by the ill-informed and politically dislocated, the temper tantrum of an over-grown child.