Jadaliyya was launched officially a year ago (see cheesy launching moment below) on September 21st, 2010 (yes, we missed the bday by one day. Oh well). However, we started posting two months prior, on July 2nd, so we would launch with some content (see early screenshots below). We were fortunate enough to have a dedicated and volunteer-based team of Co-Editors as well as an extremely supportive and resourceful network. Within a few days, we developed a steady readership of 500 to 1000 readers daily, which continued to rise steadily along with the number and quality of articles we posted. We gradually started to build pages and sections and to expand our categorization and tagging to provide a varied and searchable publication. We were happy and satisfied, even if overworked.
Then came the Arab uprisings in December/January to change the region and catapult Jadaliyya into the forefront of electronic publications/websites covering the region. We were overtaken by the uprisings on the streets and overwhelmed with the volume of contributors and visitors who found in Jadaliyya a refuge from mainstream reporting and a new reference point for contextualized analysis. To our shock, we were attracting 10,000-14,000 visitors a day. Jadaliyya came close to colonizing our lives just as following the uprisings had done. We were all better for it.
To date, Jadaliyya has never paid a penny to an editor or a contributor. In line with the development of the Arab Studies Institute, Jadaliyya`s parent organization, all operations are based on volunteer labor and resources, following the principle "from each according to their capacity . . ." As time goes by, and as Jadaliyya and its sister organizations develop (namely Arab Studies Journal, Quilting Point, and FAMA-Forum on Arab and Muslim Affairs), we are finding it necessary to seek institutional funding and support. We hope to be able to continue our journey based on the same goals and principles that we put forth since the early 1990s when we launched the Arab Studies Journal (1992).
Thanks to everyone who supported us in one way or another (a proper thanks is coming soon!), but mostly thanks to you, our readers, for keeping us all motivated to do what we do.
More soon!
[First screenshots of our baby!]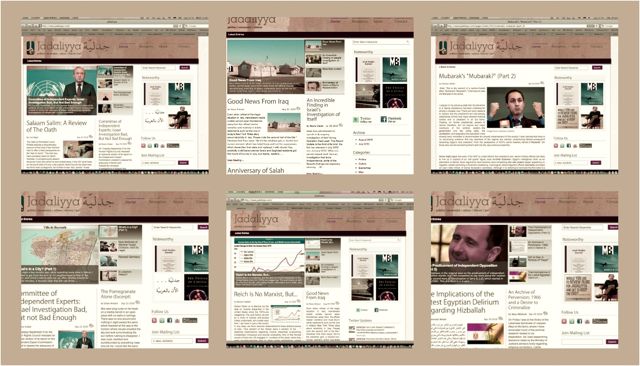 [1 minute after launching Jadaliyya on September 21, 2011]