Generation Rev, the revolutionary generation that has overtaken the world stage, whether in Tahrir Square or on Wall Street, has arrived at a critical juncture. This group of twenty-somethings has been experimenting for five to six years with novel ways of doing politics. They are known for horizontal organizing, persistent civil disobedience, and networking and mobilizing across lines of difference—ideological and otherwise—all of which have been greatly facilitated by new media and mobile communication tools. In Egypt, this generation contributed in no small measure to the success of the first stage of the revolution, namely the toppling of the President/Dictator Hosni Mubarak. But in this post-Mubarak period, young politicized Egyptians are being put to the test about how to achieve their democratic aspirations. As Gen Rev, and indeed all groups of society, encounter obstacles and setbacks, they are grappling with questions about how to move forward.
This is a moment when new ideas, combined with action, are urgently needed to overcome the hurdles the old power establishment continues to erect. Critical and creative ideas are likely to spring from Gen Rev. Their very political cognitive structure has been formed according to a different set of modalities and logics than former generations. Generational change, institutional reform, and the recent incidence of violence at the Maspero Egyptian television building were among the topics that framed an animated conversation with twenty-seven-year-old Aly El-Raggal, revolutionary, researcher, and rhizome theorist at the Bibliotheca Alexandrina's Unit of Futuristic Studies. In addition to his position at the Library, Aly is well known in Alexandria for the pivotal role he played in the 25 of January Revolution as a local coordinator and leader, something that has earned him a great degree of street credibility. He is currently completing his MA at the University of Innsbruck in Peace, Development, Security, and International Conflict Transformation Studies.
Aly and I started our conversation at his office on the grounds of the Library in July 2011 and continued our exchange over email. We initially spoke across the stacks of books piled about his desk to discuss these extraordinary times that are ripe with opportunity and fraught with uncertainty. To kick off our discussion he dug out one of his favorite volumes, Multitude: War and Democracy in the Age of Empire, by Michael Hardt and Antonio Negri, and read out the first line: "The possibility of democracy on a global scale is emerging today for the very first time." He closed the book and affirmed, "I believe this statement to be true; this is really happening." But he also acknowledges that this period is pregnant with risks, since the hoped-for democratic outcomes of the revolution are far from inevitable.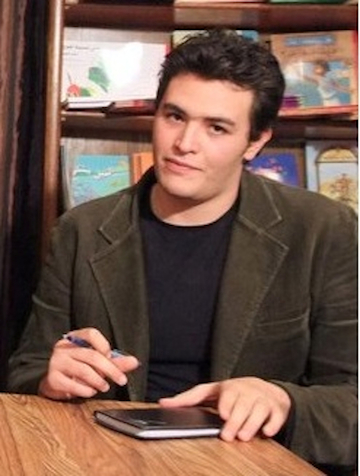 [Aly El-Raggal. Photo via the author.]
Linda Herrera: What kinds of generational divides are emerging in the post-Mubarak period?
Aly El-Raggal: A difference between us and the older generation is that their mental structures are part of the old system. They still want to plant the tree, have that single, identifiable leader to put forward. We are at a critical moment now in the revolution because the revolutionaries cannot lead the state. The older generation has stepped in to provide leadership. I accuse the older generation of being responsible for much of the mess we find ourselves in now.
My generation is used to dealing with difference and accepting the idea of the other. But the older generation is another story. Just look at the Communist Party (Hizb al-Tagammu`). If you are a Marxist your main goal for the last twenty years has been to keep fighting the Islamists, as if they're the only enemy. They fight other groups instead of fighting poverty, injustice, and unemployment. In this way many groups [of the older generation] cooperated and connected with the state because they felt so threatened by the Islamists. They ended up legitimizing the violence of the state.
LH: Why do think we are witnessing global movements for democracy, initiated and organized by your generation, appearing now? What is unique about this moment?
AR: Like Hardt and Negri say, we are living in a time of multitude. Huge masses of people can connect [through new media] and organize struggles like never before. This has a high potential to lead us to democracy, a real democracy. We are seeing massive democratic movements everywhere—throughout the Arab states, in Spain, Greece, on Wall Street, and they are all connected to each other.
LH: What is the nature of these spreading democratic movements?
AR: In my research I have been using the concept "rhizome," a term taken from agriculture studies, to understand the nature of these new political movements. A rhizome refers to grass roots like ginger, potatoes, and bamboos. They link together underground through strong roots that intertwine and spread horizontally, not vertically. You cannot break down a rhizome unless you exert a huge amount of violence. These new movements are rhizomatic in nature and their roots keep spreading and forming strong horizontal links.
LH: In what ways have the Arab revolutions operated as rhizomatic struggles?
AR: The Arab revolutions are rhizomatic struggles because they don't have a clear chain of command or a single point of reference. They have been successful as small entities linking together. The rhizome is a complex form of interaction. Even groups that used to be in opposition to one another, like the Muslim Brotherhood and different political parties, are connecting. The former [Mubarak] regime was defeated because it only knew how to break down the tree structure, which is vertical. It just cut down the tree, or cut off the head of the leader. But a rhizomatic structure cannot be broken down. If you rupture one area, it just picks up in another area.
LH: When did a new kind of politics based on the principle of rhizomes, or horizontal connections, emerge in Egypt?
AR: In 2004 we saw the early uprisings against the Mubarak regime under the umbrella of the Kefaya ["Enough"] movement. This happened because different entities [leftist, liberal, Islamist] connected with each other. I joined Kefaya in 2004 and was on its Coordination Committee. Kefaya was a good start but not capable of answering how we, in practical terms, were going to unite all the groups in the longer term. After a couple of years it became an exclusive entity. Political parties didn't join it and internal clashes along ideological lines began to take place, leading it to lose some of its dynamism. In 2007 we started to witness the labor strikes in al-Mahalla al-Kubra. The young people picked up the struggle from this point. The 6 of April Youth Movement was formed and it succeeded to use [the communication tools of] globalization to widen the struggle.
LH: How have your own political activities and choices been a reflection of how your generation has been "doing politics?"
AR: The older generation's politics were grounded in the media, not the society—they were trying their best to be globalized; the new generation uses globalization to be grounded in the society. We have been involved in initiatives that aim to change the political mentality of the youth. For instance, from 2005 I co-founded different youth initiatives, the most magnificent one being Adwar Youth Initiative. It helped to make youth aware of the role they could play in society. It was founded by young people, led by young people, and tried to be democratic. It was like a small state. Its slogan was "awareness, participation, creativity." The aim was to encourage young people to participation in development, cultural life, and political life, to learn how to be an active member in society, how to be an initiator. We embarked on a lot of self-reflection. Any member of Adwar could establish their own political, economic, or social program.
Adwar was established from the heart of dissent and there were tensions having to do with ideology and outlook. As a group we were so different and diverse; we had Islamists and secularists and everything in-between. We were always facing questions about how to manage things, about which ideas would be the dominant ones.
LH: How did you manage with such a diversity of ideological positions?
AR: As an activist and academician I saw the crisis of society and its tensions in Adwar. I recognized that if a change was to come about, it would not happen by those grounded in ideology. The post-ideology camp started to come together.
LH: What do you mean by "post-ideology" and how did you see its value for revolutionary change?
AR: Before 2005 they [the older generation] operated along lines of rigid ideological frames. After 2005 things started to dissolve. We [the youth] started to dissolve these boundaries. This generation is more into ethics than morals. We broke down all these binaries and dichotomies. Remember something; during the revolution, the youth who went to the streets on the 25th and the 28th [of January 2011] didn't call for an Islamic state or a secular state. During the eighteen days you wouldn't find demands [for a specific political platform]. Our demand was, "I don't want this kind of power to be practiced on me. I want my body and soul to be respected. I want to be who I am. I want my dignity." That's why I tend to disagree with people who say this revolution doesn't have a direction or a compass. It has one, but it's a new one; it's a revolution on the form of the revolution itself.
In Adwar, for instance, we went behind the mask [of ideology]. After some time we came to learn that it was not that important if someone was Islamist, leftist or liberal. What was important was what one did. For instance, if I tell you that I'm an Islamist, you might stop listening to me, Aly, and hear everything I say through this classification. You are going to categorize me according to your mental structure, to how it was built. The same principle applies if I tell you I am a secularist or a liberal, and so on. When you pull off this mask and deal with me for who I am at the moment, for the ideas and arguments I produce, for my actions, this allows us to come together. All these strong boundaries and edges will be dissolved.
LH: You outline the strategic advantage of a rhizomatic struggle. What are the disadvantages?
AR: A rhizomatic struggle cannot lead a war of positions because there is no one to take the lead. Who has the legitimacy to speak for the whole? In the case of Egypt [Mohamed] El Baradei was about to split the struggle apart. Even Essam Sharaf was a point of controversy. He was selected [to be Prime Minister] from the heart of Tahrir Square, but he was not f the choice of Alexandria or Suez. We have a multitude of groups. The movement can surround the structures of the state, break them down, exert pressure on them, but it cannot replace them. We defeated Mubarak, the police, the thugs, but not the structure. The structure can easily survive this revolution.
LH: How can a decentered and leaderless movement move forward?
AR: A revolution is a very acute moment of binary oppositions. But now the question of who "we" are and who "they" are is more complicated. There are so many connections within the power structure, marriages between the judiciary, military, business classes. Do we need violence to break down this structure, as Frantz Fanon would advocate? I don't think so. We have started to form other rhizomatic chains of resistance to surround these structures, to suffocate them. But we cannot achieve this second phase through more sit-ins. It is very important to keep up the pressure and show the military council that we are here, to let them know we didn't go back home and go to sleep. But we should not use this tactic of sit-ins to the point that it will become ineffective. Different groups from my generation have started to get into public and private institutions to try to fulfill the aims and objectives of the revolution.
We need to create different institutions and connect them together. Since the revolution I joined a lot of groups and initiatives. These groups have a high tendency to cooperate with each other. We recognize that we have a lot of commonalities and can do something together. Young political groups have been able to integrate, connect together, and establish an amazing network.
LH: Do you think the society and its institutions have changed in any significant way since the revolution?
AR: Let's be very honest. The revolution didn't drastically change the society. Why would things change if you still have the same state and the same social order? There are a lot of groups who don't want to realize the revolution. They are trying to reproduce the same power structure.
On the other hand, there has been an ongoing attempt in different institutions and factories to start realizing the revolution. We've been hearing many voices within institutions calling for more democratic systems that would improve the economic situation and change the relations of power. In Cairo University and Alexandria University there have been demands to hold the deans and professors accountable. There was a strong revolt by researchers and teaching assistants. We have seen a lot of strikes in factories, in schools, among workers, teachers, doctors, bus drivers, and other groups. But the revolution is stuck in a certain place. We are still waiting to understand how things are going to develop.
Anyone who looks inside of the institutions will find that they are still functioning in the same way; nothing has changed with how power operates in these smaller systems. Even within the police apparatus, we are finding business as usual. We did witness police fear of the masses, which was good. But on a more structural level nothing has changed. Some of the known corrupt police officers even got promotions. There are tensions and people are irritated. Sometimes I'm concerned about the high potential for things to turn violent. It didn't take a lot of time to witness some violence between security forces and the masses. The masses have had several confrontations with the Supreme Council of the Armed Forces [SCAF].
But we need to see this period from a more comprehensive perspective. The SCAF is not primarily responsible for everything, for all aspects of change. There is work that has to be done inside of our institutions. Right now our institutions are telling us: "I'm here, I`m still as I am." The structures of domination returned right back where they had been. Our struggle is not only against the SCAF because sooner or later they will leave power because they don't have political interests. They have other interests. Though our struggle is not against them we can criticize them as a political authority. Our struggle is against the state that continues to function in the old way.
LH: One front of the post-revolution struggle has been the institution. The Bibliotheca Alexandrina where you work, similar to many other Mubarak era institutions, has suffered from a reputation of being deeply entrenched in regime cronyism, for being elitist, and for operating in less than transparent ways. How are you applying your ideas about participatory, horizontal democracy in the Library in the post-Mubarak period?
AR: I'm working at the three levels of structure, practice, and relational. What I'm trying with my colleagues here in this small unit at the Bibliotheca is to provide new academic and cultural practices, real revolutionary ones. First, we are trying to widen and integrate more young people from different backgrounds and classes within the game. The cultural institutions have a tendency to be exclusively for elites. But we want these institutions to be for the people, young people to share ideas, use them for expressing themselves, formulating their strategies and expressing their aims and objectives. They are responsible for the new Egypt. This should be an empowerment place. The idea is to open the institution to the street and open the street to the institution.
LH: What exactly is the Futuristic Unit?
AR: In 2010 Hossam Tammam founded the Unit. It began as a unit to look at religion and society and the interaction between different religious groups with society. The idea was for these groups to study themselves. I was hired here [on February 15, 2011] just after the revolution because of my academic potential and youth political background. I was brought in to attract more young people and make the work more youth-oriented. We are trying to establish new relations between the unit and the masses based on cooperation and sharing in real cultural and academic projects. Training is an important thing, training and providing places to speak.
LH: What kinds of youth projects does the Unit support?
AR: We have partnerships with youth initiatives in Alexandria. We invite people to our activities and deal with our guests and visitors as partners, whether they are young people or established academics. We are also trying to be inclusive and involve marginalized groups, Nubians, Bedouin, labor forces. The revolution will succeed if these groups join the social order. The logic of power can turn within the system.
On the relational level, we are changing the [hierarchical] form of relations. When we invite more established scholars, for instance, we come together to share and listen and explore things together. They don't come as experts in a top-down way. Our exchanges are interactive; we come to listen and learn from each other and take our ideas to the streets and communities.
Currently we are working on three research projects. One has to do with understanding the nature of the revolution and the struggle that is ahead of us. A second project, by Ismail Alexandrani, is trying to study the revolution through the concept of post-Islamism, to understand ways a new generation has emerged with new ideas regarding secularism and Islamism in Egyptian society. Another project pertains to the role of the state in the Egyptian revolution and deals with understanding how to influence it.
LH: How instrumental are youth in realizing the aims of the revolution?
AR: If you want to realize the aims of the revolution you cannot do it only with the young. You have to bring together groups with different interests. Here the idea of multitude and multiplicity comes into the game. The young people used new media to globalize and spread their cause. This is an important shift. They started to link to different entities, formed connections and bonds between them. We saw this in the "We are All Khaled Said" Facebook page [that issued the original call for the Revolution of 25 January], a movement where small and large entities that were not that well structured, organized, and with different identities, came together. They were a heterogeneous group but at the end of day formed very harmonized vibrations. When these different entities linked together, they formed a strong core of resistance. We can still all link together and continue to form this kind of network to answer the question of power. The Khaled Said movement broke down the structure of power and spread horizontally. It started as an idea. Ideas are powerful. This revolution should be understood in terms of power and knowledge.
LH: What do you mean by, "This revolution should be understood in terms of power and knowledge?"
AR: Revolutions take place first of all in our minds. The new cognitive maps we develop lead to new outlooks on the world. It is no wonder that the new generation led the call for the revolution in Egypt because we were the only ones who succeeded in making an epistemological rupture with the system—and I mean the general system, not only the political one.
That's why we are witnessing many revolts, not only against Mubarak and his regime, but across the board. Take, for example, the revolts within the Muslim Brotherhood, the leftist, and the Marxist parties. Under the surface of the political face of the Egyptian Revolution is a revolution on the structures of domination and oppression, whether political, social, economic, or ideological. We are witnessing a revolution against the old system. Youth movements are facing huge resistance in the society—from the schools, universities, families, and the older generation—because what young people are trying to do is penetrating far beyond just the political arena. It is a revolt against the society, against how it is organized and established from below.
For instance, I believe our urgent task is not only to force the SCAF to step aside from the head of power, but to de-militarize the society itself. Our struggle is not directly with them, but with society and its founding institutions. If we have a look at what is going on with all these security discourses in Egypt, we have to ask ourselves why these discourses are grounded in the mentality of the older generation but not the younger generation (I say this at the risk of generalizing the generations). This leads us to a critical point of the need to change our mentalities, change our cognitive maps. The Egyptian mentality should be de-securitized. And here comes the importance of the rhizomatic struggles; we need to eliminate and break down the system in our social, mental, cultural, political, and economic structures. Changing our mental structures is the key to real revolutionary change.
LH: On Sunday, October 9, Copts in Cairo demonstrated against a church burning in Aswan. Their protest moved to the Maspero television building in Cairo and resulted in a violent response by the army, which left twenty-six people dead and hundreds injured. What does this say about SCAF/society relations? In light of this violent turn of events, do you think the goals of the revolution are being derailed?
AR: It was a very sad night among most Egyptians, but I think these incidents are going to give a push to the revolutionary struggle, not lead to a regression from it. These events may very well lead the way for a structural transformation in the coming months because those in power will be forced to adapt new reforms to manage the situation. I argue that the Copts, who have been suffering for a long time from many sorts of structural violence, marginalization, and sometimes intimidation, will gain more rights. This is a good step in the general struggle and not only the Coptic one. And we should remember that the Maspero demonstrations included Copts, Muslims, children, youth, and old people. The victims who sacrificed their lives were Copts and Muslims. At the end of the day it was Egyptian blood, human blood, which colored the ground to reach freedom. I see what happened not as a sectarian incident, but as a strong revolt against the old system.
I am very optimistic about the near future regarding the [society's] relation with the SCAF. The SCAF will have to realize how dangerous things might turn, and I don't mean in the society, but on them. I don't believe they are going to resort to such violence again, or at least in such an extensive manner. Because if they continue in this way the army will have to redefine the enemy [as fellow Egyptians], which will threaten its continuity as an institution. Moreover, if soldiers adapt to fighting unarmed civilians they will lose their ability to lead real battles. I argue that the army is not like the police; they are not going to sacrifice their reputation and [the people's faith in them] in such a senseless way. What prevents extensive clashes with the army is that it is still an army, this institution we all know and believe we should back. And here I am speaking about the army and not the SCAF. Once it turns to a police force people will defeat it and break it down, like we did with the police on January 28th [the Day of Rage]. But I highly doubt this scenario will happen. The army and SCAF are not going to reach this brink.
[The October 9] incident also unveiled the corruption of Maspero [the state television] even after the revolution. It showed what a dirty role live media can play in such clashes. And it proved that nothing has changed in this institution. It is an important wakeup call that the government should be cleansed of corruption. I mean things would not have escalated to this point if the Governor of Aswan [the province where the church burning that sparked the October 9 protests in Cairo occurred] was fired or forced to step aside. These officials still do not realize that we are in a revolution and they cannot carry on like they did in the past. Egypt has changed. Those members of the National Democratic Party have to be eliminated from our political life because they simply ruin it by acting in the same old ways. Moreover, it is important for the struggle that we see, in clear view, the injustice and brutality of the system [as shown in footage of the Maspero scenes]. The whole revolution, in my point of view, was against this form of [militarized] power, against brutality of the system, and for human rights. Still, I am afraid about how both sides might use violence. I am aware that there is no emancipation without sacrifices, but still I pray to reduce the amount of sacrifices as much as possible.
[NOTE: The original interview took place on July 17, 2011 at the Bibliotheca Alexandrina, with additional email exchanges in October 2011.]