Women organize massive rally against military brutality following spate of violent acts against female protesters that have shocked millions; demonstrators call for an end to army rule.
Prompted by the image of three soldiers stripping a female protester naked and violently assaulting her, thousands of women marched on Tuesday from Cairo's Tahrir Square to the nearby Press Syndicate chanting, "Egyptian women are a red line" and "Down with military rule."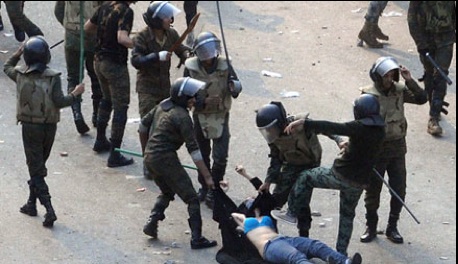 [Picture of the assault on a femaile protester which was part of what triggered the women`s protest. Image by Reuters.]
Women of all ages and backgrounds converged on the Mogamma administrative complex in Tahrir Square after calls went out on Facebook for a women's protest march to express condemnation of images – currently circulating on online media venues and in newspapers – of young women being harassed, beaten and stripped naked by military personnel.
Some marchers wore headscarves, others didn't; others still wore the niqab, or full Islamic face veil. Some Coptic-Christian women participating in the march also carried images of slain Coptic activist Mina Danial, who was shot dead during an attack on Coptic demonstrators by the military in October. Other marchers carried Egyptian flags bearing the cross-and-crescent symbol.
Older women were also among the demonstrators, braving the long march from Tahrir to the Press Syndicate despite weak health and obvious distress over recent events. Many mothers took part with their daughters.
"I came because I oppose violence against women; because I oppose violence against any Egyptian," said protester Noha El-Khouly, who learned of the march from her daughter.
"Women have been targeted since the Mohamed Mahmoud clashes last month, when men were sent in to systematically harass female activists," said protester Somaia Ahmed, a 17-year-old member of the 'No to Military Trials' campaign. "In the last sit-in, women were the military's primary target. These attacks are no coincidence."
Although Ahmed believes Tuesday's march is more humanitarian in nature than political – with most women coming simply to register their opposition to violence – several of the chants heard at the event bore deeply political overtones. Many condemned military rule, while others demanded a swift handover of executive power to an elected civil authority.
"Don't be scared, say it loud, the council must go," they chanted, along with, "We want a civil state, down with military rule."
Protesters also drew parallels between Egypt's ruling military council and the former regime of ousted president Hosni Mubarak. "The council transformed the army to become like the police," some chanted.
In 2005, several female protesters were similarly stripped naked and assaulted by police-linked thugs in an effort to terrorise women away from political participation.
Women at Tuesday's march carried banners depicting a woman's face and the arm of a soldier that read, "Your hand should be cut off."
As women marched from Tahrir Square to Talaat Harb Street in downtown Cairo, dozens of well-wishers waved in solidarity from surrounding balconies. Protesters called on those watching from their homes and offices to come down and join the march.
Numerous passersby, meanwhile, stopped to express their sympathy for the marchers' cause. A number of men, eager to help, surrounded the women, acting as human shields against any potential attack.
Protesters' numbers increased gradually until the march reached the Press Syndicate, where another demonstration was being staged by parliamentarians similarly protesting military violence.
By the time the women's march reached the syndicate, the number of demonstrators had exceeded some 10,000, after which they eventually made their way back to Tahrir Square.

[Developed in partnership with Ahram Online.]
[Click here for photos from the march by photographer Sarah Carr.]

---
From Jadaliyya Editors:
For more on Egypt Elections Watch (EEW) entries by category, click on the following links:
(1) Parties and Movements
(2) Actors and Figures
(3) Laws and Processes
To view all entries on one page, click on Egypt Elections Watch, and for EEW team members click here. Our Egypt Page can always be accessed here.