If you follow the news in the Middle East, you have probably come across the online sensation known as the "Israel-Loves-Iran" campaign.
The campaign, launched by Israeli graphic designer Ronny Edry and his wife Michal Tamir, emerges amidst rising tensions between Iran and the West over the country's nuclear program, as well as months of sabre-rattling between the leaders of Israel, the United States, and Iran.
What started out as a campaign to upload colourful posters with the slogan "Iranians, we will never bomb your country. We [heart] you" quickly turned into the second most-viewed video on YouTube in Israel, with around 740,000 views thus far. The irresistible video is a joy to watch. It is as though we are relieved of any and all responsibility by merely sharing and liking it.
And sure enough, Edry says that within forty-eight hours of posting the first picture, he received a response from the "the other side."
The online declarations of love would soon catch public interest in Iran and outside the Middle East. Its anti-war message was picked up by Iranian cartoonist Mana Neyestani. His recent work depicts the leaders of Iran and Israel making threatening hand gestures to each other from their respective podiums, while the people they claim to represent struggle to reach out to one another with flowers.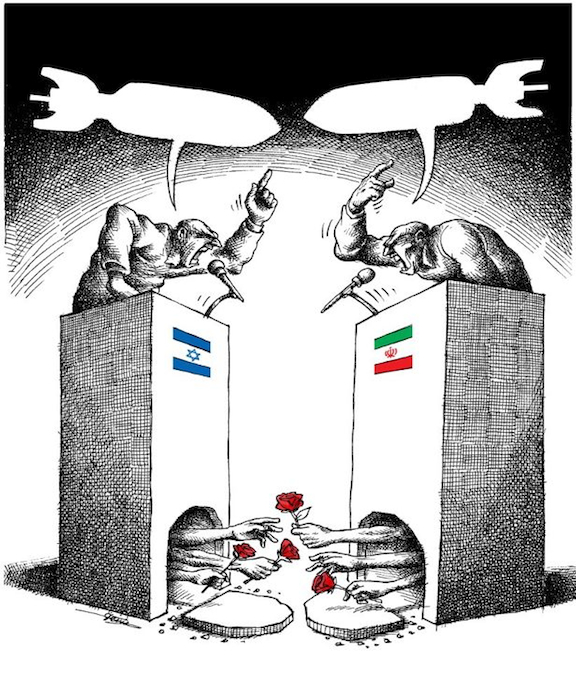 [Image by Mana Neyestani, via Mana Neyestani Fan Page on Facebook.]
Edry's initiative is commendable, especially in a country where expressing outrage at war is rare. On one of the few recent occasions when anti-war sentiment was expressed, it was because the prospect of a military showdown with Iran threatened to cancel a Madonna concert. This was enough to prompt Israeli fans to launch a Facebook page that pleaded with Prime Minister Benjamin Netanyahu to hold off on plans to strike Iran until the Queen of Pop had performed for them. "Bibi don't start a war with Iran until after Madonna's show on May 29," the group was called.
In the "Israel-Loves-Iran" campaign, by contrast, standing up to war, personalizing the idea of war, and expressing love are well-intentioned and moving. Indeed, it is hard not to feel touched when you stumble across Ronny's own poster for the campaign: It depicts him and the Edrys' young daughter, who is holding an Israeli flag in her left hand, looking into the camera. You would have to be quite cynical and guarded to disapprove of the whole affair. What could possibly be wrong with love and peace, you might ask.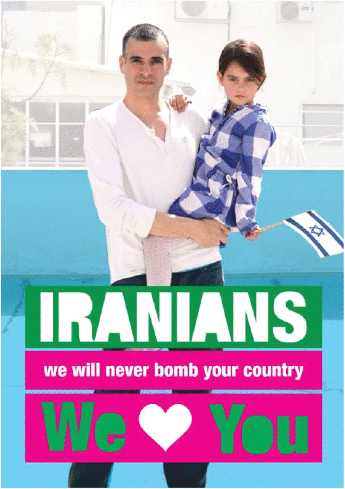 [Image by Ronny Edry, via "Israel-Loves Iran" Facebook group.]
In her piece in the New Yorker, Israeli writer Ruth Margalit writes that she was "surprised" by her compatriots' campaign of love. "I was as moved as I was surprised: one would be hard pressed to find a more sarcastic bunch than my fellow Israelis." "[C]all it naïve, but it felt pretty great," she added.
Yet as you tilt your eyes down to the bottom of the poster, you might notice a somewhat disturbing detail: The heart symbol in "We [heart] you" is right above the word "bomb," in "We will never bomb you."
There is something deeply disturbing about a message of "love" that includes the word "bomb" in it. One cannot help but recall the nauseating images of little Israeli girls, under parental supervision, writing messages of "love" on artillery shells destined for the villages of southern Lebanon in July 2006. Days later, similar images showed adult ultra-orthodox men doing the same, and also dancing with IDF soldiers before they volleyed more shells of love into Lebanon.
But perhaps this form of articulation is to be expected of a society as militarized as Israel's.[1] At the height of Israel's onslaught in the Gaza strip more than three years ago, Haaretz columnist Gideon Levy wrote that Operation Cast Lead exposed "the true deep veins of Israeli society" as its "impulse for revenge and the thirst for blood." Polls during the operation showed that ninety percent of Israeli Jews supported it. Indeed, a recent poll conducted by the Jerusalem Center for Public Affairs shows that sixty-five percent of Israeli Jews believe that attacking Iran to stop its nuclear program would be less harmful to Israel than living under the shadow of a nuclear Iran. Sixty percent agree that only military action can stop Iran's nuclear program.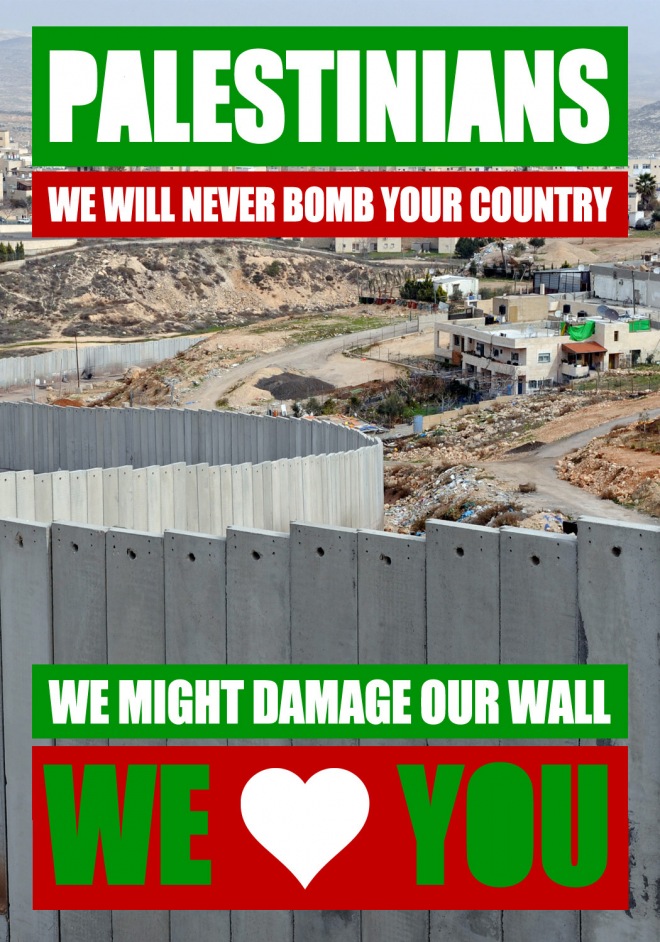 [Image via "Sixteen Minutes to Palestine."]
So Iranians on the receiving end of this barrage of "love" cannot be blamed if they are less than comfortable: We love you Iranians, but we also believe it is necessary to remind you that we have the capacity to annihilate you if we ever decide to do so. The Jerusalem Post seems to have realized the sickening irony in the poster: they have now replaced "We will never bomb you" with "NO TO WAR"!
Edry has spoken of his time in the Israeli military: "I was a soldier in a combat unit, I saw things, I know how it looks. Israelis are born ready. We are living in a state that is ready all the time."
He understands "how lucky we are to also have bombs and how lucky we are that we'll clean them out first." "It's not that we are not ready. Ahmadinejad, he knows that we have bombs," he admits.
And these bombs come in different shapes and sizes. Some are white phosphorous, others nuclear.
Israelis are very conscious of their country's military might. Iranians, not surprisingly, are conscious of their ancient heritage. "Iran is one of the most venerable civilisations on earth: it makes China look like an adolescent, and America look like a stripling," Martin Amis once wrote for the Guardian.
Iranians take great pride in their heritage. One need only look at the country's nuclear program to catch a glimpse of this pride: despite a broad spectrum of political views, there has been a consensus amongst the political elite about Iran's inalienable right to acquire nuclear technology, even if there are differing views on how to manage nuclear talks.
Prior to the 2009 presidential elections, when reformist candidate Mir Hossein Mousavi was asked whether he would agree to a suspension of uranium enrichment if he won the race, he responded with a firm "No." "No one in Iran would accept suspension," he added. Few could predict that just a few weeks later, Mousavi would be spearheading the opposition Green Movement.
Seven months before his arrest in February 2011, Mousavi poured scorn on the crippling sanctions against Iran over its nuclear program, maintaining that they would sooner or later make life difficult for Iranians. "The sanctions aren't merely aimed at bringing the government to its knees," he said. "The Green Movement must make use of its international capacity to show foreign powers that it will not permit them to take advantage of the current government's lack of legitimacy and to undermine the country's independence, territorial integrity, and prime interests."
It should come as little surprise, then, that despite Iran's inferior military prowess when compared with Israel, one Iranian user chose the following words to describe how she felt about the whole affair: "Israelis, we [heart] you, too. And we will never bomb you either."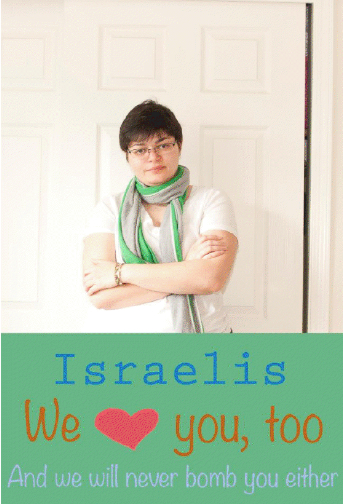 [Image posted on "Israel-Loves-Iran" Facebook group.]
The "Israel-Loves-Iran" Facebook group has attracted around 64,000 members thus far, and already, it has a Swedish spin-off too. But there have been differing Iranian reactions to the Facebook phenomenon.
One of the posts shared by the Facebook group's administrator is a link to Ali Samadi Ahadi's documentary The Green Wave, which provides a narrative of the post-election protests in 2009 and the Green Movement. This would suggest that the campaign sees itself as being sympathetic towards the Green Movement's aspiration: a free, just, and democratic Iran.
But the notion that a democratic Iran could have a normal relationship with Israel while the latter deprives the Palestinians of their rights is absurd. "We have a regime," Gideon Levy maintains, "that is no less tyrannical" than what Iranians have to put up with in their country.
Yet despite these principles, the pro-Israel lobby and the neo-cons' favorite Iranian hawks propagate the view that Israel will not find anything but a staunch ally in a free and democratic Iran. If a tyrannical Iran aids the Palestinians against Israel, then a democratic Iran must surely stand with Israeli apartheid. In contrast to the Green Movement's leaders, these individuals support sanctions on Iran, which ultimately devastate the livelihoods of ordinary Iranians. They even enjoy flirting with the idea of a strike on their homeland.
One such example is Amir Abbas Fakhravar, Secretary General of the Confederation of Iranian Students—an organization that boasts of being a "pro-Western" but at the same time "independent" organization. An "opportunist" and "reputed jailhouse snitch who was locked up for non-political offenses but reinvented himself as a student activist and political prisoner," according to an article in Mother Jones, Farkhravar recently appeared on Israeli television to announce to Israelis: "We love Israel, we love the Israelis and to be honest, our nation, the Iranians, we miss [being] friends with Israel. I hope it will happen [again] soon." For anyone who might still have doubted the depth of Fakhravar's affection for Israel, he added: "We love Israel, we love [the] United States…and honestly Israel can be the only friend and ally [for us] in the entire Middle East." As his closing statement, our Love Guru tells his Israeli audience, "Honestly, we love you." "I'm a Zionist too," Fakhravar declares on his blog. He adds that he is also "a big fan" of the newly imposed sanctions.
The Green Movement was born out of a nation's desire for peace, justice, democracy, and rule of law; it cannot preach humanity and justice but also turn a blind eye to the atrocities committed by Israel. If Iranians shouted "No Gaza, no Lebanon, my life is for Iran" in 2009, it was not a declaration of love for Israel. It was rather an assault on an ideological pillar of a political system that claims to champion the Palestinian cause while oppressing its own population. It was not, as some so barefacedly claim, a show of "respect for Israel."
The new generation of "Iranian Chalabis" opportunely forget to mention that another popular slogan chanted at the early stages of those demonstrations was "Madrom chera neshastin, Iran shode Felestin." "People, why are you sitting idly by, Iran has become Palestine," they chanted, attempting to draw parallels between the heavy-handed approach of the Iranian authorities in cracking down on protesters and Israel's inhumane treatment of the Palestinians.
A democratic Iran cannot go hand in hand with supporting Israeli apartheid. Owing to its very nature, a government that adheres to universal principles of human rights is far more threatening to Israel than the current government in Tehran. Such a government will not be able to cherry pick countries to criticize for human rights violations in order to fit its political agenda.
Ronny Edry, the man behind the seductive "Israel-loves-Iran" campaign, says he was intending to "try something else as people and say to the other side, guys, we don't want war with you."
It is difficult to estimate just how widespread the love salvo has been in the two countries. The Israelis who joined the campaign, as the Jerusalem Post observes, mostly "appear to be secular, good-looking, and healthy." Meanwhile, "Most of the Iranians posting appear to be expatriates living abroad, mostly young English speakers," thousands of miles away from home.
Ronny Edry has said: "I want to travel to Tehran and to have a coffee. I don't want to travel to Tehran in a tank or in a plane. I mean, you know, an air strike plane." I am convinced he will also be able to find people interested in "having coffee" and talking "about sports" in the small Palestinian village of Bil'in, around half an hour away from him and just a few minutes from the illegal settlement of Modi'in. And then, if the 470 miles of towering walls and the Jewish-only roads permit, Ronny and his newly found Palestinian friend could travel to Jerusalem, together. I am certain that a realization will dawn on him: that he loves his neighbors just as much as he loves Iranians.
"Iran is so, so far away," Edry observes.
"If the lantern is needed at home, donating it to the mosque is haram [forbidden]," an old and much-quoted Iranian proverb goes. Luckily for Israelis like Ronny Edry, their lantern of love is required, but in places much closer to home.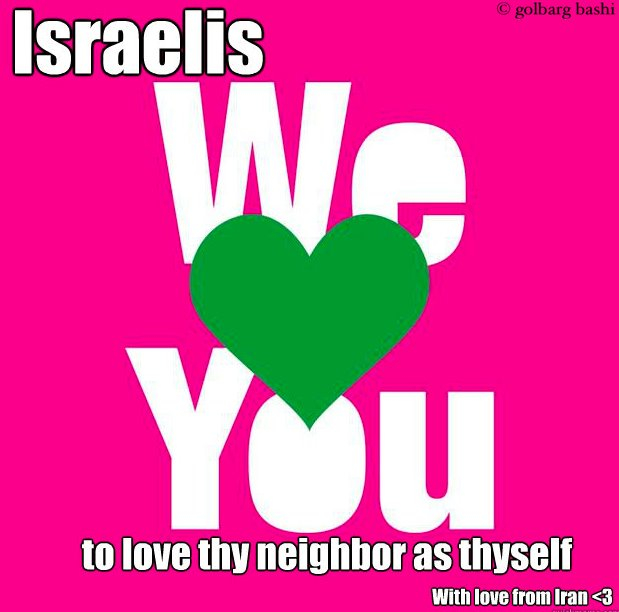 [Image by Golbarg Bashi, via Facebook.]
Notes
[1] See Norman Finkelstein, Image and Reality of the Israel-Palestine Conflict. London: Verso, 2003.