In the heated den of the Greek Club on Emad el-Din Street in downtown Cairo, sweating bodies heave and move to the infectious reggaeton fused with a tabla beat, as Amr Haha, DJ Figo, and Sadat swing their mics back and forth, bantering, ad-libbing, and cheering. One takes a swig out of his Stella, another dips the mic into the sea of eager hands as the jolly crowd sings along to the simple, lewd lyrics of "Aha el shibshib daa'!" or "F***, I've lost my slippers!"
Haha's lyrics are profoundly profane; his specialty of Arabic electronic music is called "mahraganat," which literally translates to "festival music." The high-pitched, auto tuned vocals are as vulgar as they are exciting, and together with the irresistible beat laced with a sample of a pop or rap song melody, they create an irresistibly energetic and raw sound. This music is the counter-attack to the likes of Tamer Hosny and Amr Diab, the other side of the coin of mainstream Arabic pop in all its clean-cut, generic, and bubble-wrapped glory. While Hosny and Diab spend millions on their music videos and perfectly tanned biceps, their lyrics follow generic themes that fail to address and engage the average man on the street the way that mahraganat songs do.
Just the fact that Haha and his friends use the lewd term 'aha' in their song's title is enough to garner shocked and fascinated attention—as well as over 2 million hits on their YouTube clip: it is outrageous, audacious to even consider swearing in a song—and in Arabic, at that—when Egyptian listeners have become so oversaturated with the same old lyrics about loving, longing, losing, wanting, etc. If anything, the lyrics are refreshing, the music is joyous, and mahraganat packages an alternative music scene that is more relevant, more real than Egyptian pop music.
This is the music of the streets of Cairo, of the taxi drivers and microbuses. It filters out from the colorfully lit boats over the Nile, and from the delivery motorbikes zipping through the spider web of stagnant Cairo traffic. It is the music played in street weddings, in Cairo suburbs that you may have never heard of like Matareya, Sabteya, and Amareya. While many hail these musicians as heroes and idols, you will not hear their songs on Nile FM or see their homemade music videos on TV just yet.
Haha and his crew of Sadat and Figo sing and dance all night long on uninhibited energy; synchronizing moves, dancing on the speakers, and hypnotizing their fascinated, writhing audience of tourists who have made their pilgrimage to Emad el-Din Street for an exciting night of festival music.
Increasingly, there is a migration of middle class listeners to the realm of mahraganat music; perhaps because it is refreshingly authentic and the other side to the coin of the revolutionary anthems saturating the airwaves in Egypt for the past fifteen months. Then again, perhaps it is the sheer simplicity of the music's formula: it distracts you, shocks you, and compels you to dance; but the lyrics have substance to them.
"Amr Haha and his friends are genuine shaabi singers; they have a high sense of aesthetics, beats, and sophistication," says twenty-nine-year-old Kareem, one of the audience members at the Greek Club.
Kareem's favorite part of Haha's performance is when the group intersperses their lyrics with the slogan "yasqut yasqut hokm al-'askar," or "down, down with military rule." Repeatedly and spontaneously, like a bout of tourette`s, they flit between lyrics about flirtatious girls and lewd, aggressive political chants that have the crowd enthralled and cheering with joy. Those eager for another dose of reckless singing and boundless energy make their way to After Eight every Saturday, where Haha and his collaborators have a regular gig in the dark, smoke-filled space.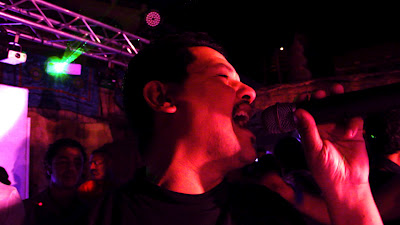 [Wezza performing. Image from "Underground/On the Surface."]
Haha is not the only name breaking onto the middle class's music scene. Twenty-three-year-old DJ Ortega and his friends Oka and Wezza call themselves "Tamanya Fil Meya," or eight percent. Tamanya Fil Meya are the subject of a documentary feature by Egyptian filmmaker Salma El Tarzi, "Underground/On the Surface/Raise Your Hand if You Love God," due out in early 2013. The film follows the singers in the Cairo suburb of Matareya as they talk about their struggles as artists and their identity that is completed embedded in their neighborhood.
Best known for their song "Haty Bosa Ya Bet," (also known as "Al-wesada al-khalya") Tamanya Fil Meya have a more sophisticated sound and structure to their music than Haha—at least, according to 34-year-old El Tarzi. Though she was first introduced to mahraganat music via Haha's famous "shibshib," she found Ortega's depth, humor, and modesty to be the more compelling ingredients for quality music.
In their lyrics, in their film with El Tarzi, and when they talk to me, they constantly reference their background and their neighborhood; both of which compel and shape their musical identity. They are completely aware that they are making class-based music; in this case, music by poor Egyptians for poor Egyptians.
In a short clip from the feature film, Ortega says: "We have four social segments in Egypt: poorer than poor, poor, middle class, and upper class. We are happy to be part of the poorer than poor, but we do and sing as we want."
"Do you know why they call it shaabi music?" his friend Oka asks, "it is because it belongs to the people, to the poor."
"They are who they are and they like where they come from," El Tarzi explains. "If they lose that or clean up their image, people will stop liking them. If Matareya stops listening to Ortega, then Zamalek will soon follow and stop listening. If they reject their roots they will lose what makes them special."
In their song "Ana Aslan Gamed," Tamanya Fil Meya members sing about their neighborhood, about faith and superstition, envy and the evil eye, and black magic. The lyrics flow like a conversation about an average day in their life as Oka, Ortega, and Wezza take turns in singing verses, while the others echo or call out to their neighborhood. In fact, the structure of their songs and the flow of their singing are very similar to rap music: street culture, roots, pride, ego, and prayer combined with a heavy rhythm and a raw energy.
"There's something salacious about listening to mahraganat music," says Twenty-seven-year-old Sarah, who first heard Ortega's music in a taxicab and bought it from the driver for ten Egyptian pounds. "The energy is contagious, but at the same time, you are very conscious that you are listening to music that is not meant for you. I feel a combination of guilt and intrigue when watching them sing or listening to their words. It is like a whole other world that I had no idea existed."
Despite the lack of sophisticated recording studios or high production videos, Tamanya Fil Meya have collectively over a million hits on YouTube with their various homemade videos or amateur footage of their festivals. In one video, Ortega raps freestyle "Everyone knows us from the bawab [doorman] to the beh [wealthy]" and that seems to be true today, as their most famous song "Haty Bosa Ya Bet" is increasingly played and embraced by many of the middle class Egyptians I meet. News of their concert at the DCAF music festival in downtown Cairo last April spread like wildfire through the intellectual crowd of artists, writers, foreign journalists, filmmakers, and activists, many of whom were eager to see a replication of the shaabi atmosphere at the concert.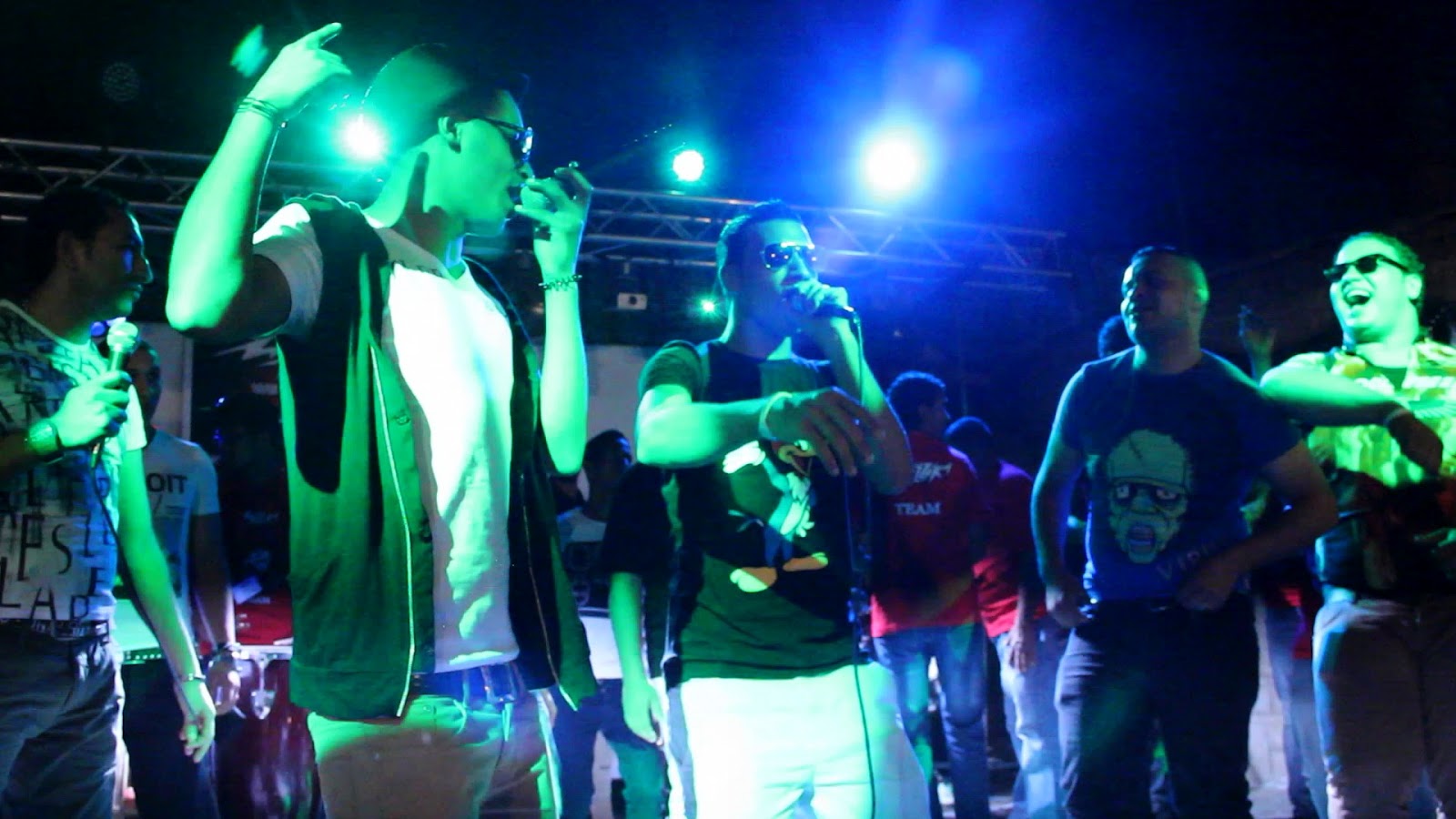 [Performance by artists Okka and Ortega. Image from "Underground/On the Surface."]
El Tarzi admits that a concert's atmosphere is completely different from a shaabi wedding. "Of course a wedding is more vibrant and alive. It is incredible; it is so energetic, it is close to a rave party. But I think DCAF was good exposure; they deserve to be introduced to new listeners but I would not want them to play regularly at After Eight. They are real artists, not just a fun weekly pastime."
Kareem disagrees with the concept of a shaabi concert, especially with musicians like Ortega or Haha.
"At DCAF, they found themselves on a stage separated from the crowd; that is obstructive to their music and energy," he says. "These musicians have to be immersed in the crowd, dancing, smoking, drinking, and feeding off the people's energy. It should have the same value and vibe as shaabi weddings."
"Mahraganat music is honest; you say whatever you want," Ortega explains to me. "We write songs specifically for the people we are performing for, whether it is a wedding or birthday; we personalize the lyrics. That is why people like us."
"I challenge anyone who makes mahraganat music to try to imitate our style," says Wezza, the eldest of the crew and the self-proclaimed older brother. "People steal our lyrics all the time and we know who they are; but no one can imitate our flow. We have substance to our songs."