After Tunisia and Egypt, it was Afghanistan's turn to be covered in the bold and beautiful colors of graffiti. It all became possible because of one young woman's unflinching determination. She stood up and vowed to help her country; she is Afghanistan's first female graffiti artist. Her cry for freedom is an example of the serious changes she wants to see across the Middle East.
But it was not an easy ride for the twenty-four year-old Shamsia Hassani—who highlights injustices against women in conservative Afghan society. Like all graffiti artists, she is no stranger to vitriolic criticism of her work, which highlights injustices against women. More importantly, she is well aware that she could be assaulted at any time for her work.
She became famous for her art in her hometown of Kabul, while living among the sounds of gunshots and bombs. Hassani says:
I always had a desire to do something unique and different. This is what I was hoping for. The real agenda of my work is to bring to light the sufferings of Afghans, especially women, that took place in the last three decades of war and sectarian violence. In fact, my work is a portrayal of Afghan women's strength which they haven't made use of to fight for their rights. But if they all come together, they can do so and achieve their goals.
Shamsia's parents fled to Iran to escape the Taliban's brutal rule. She was born in Tehran in 1988 and spent her formative years in Iran until about age ten. As refugees, she and her family suffered glaring discrimination and had few rights.
She learned to hold a paintbrush in her hand when she was just four years old. She experienced another blow to her refugee status when the teachers would tell her that art lessons were not meant for Afghans. "I was extremely fond of drawing, like all children my age back then. Unfortunately, there were no teachers around to guide me in this favorite subject of mine. What they did instead was to only discourage me. In the end I had to choose accountancy as a subject. It was a difficult decision for me." Though she studied accountancy, her heart and soul were fully into art.
Shamsia returned to Kabul with her family in the late 1990s. Now that she was finally back home, she realized that her dreams of becoming an artist could come true since the Taliban regime had been thrown out of power and there, progress was being made in the area of women's rights. Upon her return, she decided to enroll at the University art department where she learned the skills of contemporary arts like graffiti to make up for whatever she had missed. Thereafter, she joined Kabul University, where she finally started teaching sculpture as an associate professor. "I was very much elated deep inside. It all became possible because I was already familiar with painting on a canvas. So applying for the associate professor position at Faculty of Fine Arts was a foregone possibility for me, "she says. Along with her teaching life, she is also responsible for running a modern-day art group called ROSDH, which means growth. "When this group was started, it had three women as graffiti artists. Today it's only me. And the rest moved out because of the risks to their lives. It's simply in tatters."
She discovered contemporary art and realized she could excel if she were to concentrate more on it. She was already practicing graffiti as she made up her mind to explore this contemporary art form even more.
She got her first exposure to graffiti when Chu, a famous British graffiti artist, visited Kabul University in December 2010 to explore the possibility of organizing a week-long course on the splendor of street art. Ultimately, his visit paid off, as Shamsia took it from there and began to make statements about disparities against women and other social issues like people's participation in community dialogue which is considered illegal by the government. It all began when she started practicing her own graffiti. She had never painted a big wall before. "I felt quite good and it was great fun when I spray-painted a wall for the first time in my life, though, it required a great deal of handiness, "she says. Shamsia's greatest work has been a big hit in places like Kashmir and Hamburg, which she visited last year to partake in the Wash festival, an international festival of graffiti.
"Immediately after the course, I found out that people understood better when messages were expressed in graffiti form, as compared to a typical art exhibition, "she says. "Exhibitions are only meant for the elite to take pleasure in, leaving the common men and women in the street behind. Let's say those who aren't that well-read won't be able to enjoy it whereas art such as graffiti is widely available to every passer by irrespective of who they are. Therefore, I always try to make sure the entire city is awash with colorful waves of graffiti so that nobody could say they don't know about it."
The situation on the ground in Kabul was an unquestionably dangerous and hostile work environment because of the government's policy of zero-tolerance towards graffiti artists. Graffiti artists risk incarceration for a long period. On top of that, there are other forms of harassment and hardships that artists have to endure, like being stopped from spray-painting the walls. Because of the risks, many students were advised against pursuing Chu's course. But Shamsia braved the risks and went ahead to join his course. "There was hardly any interest left towards art as people paid more attention to catering to the daily needs of their families," she says.
"Now I can do graffiti straightforwardly, since I know so much about it," she says. "I want my work to send a signal that social changes can be brought about in my society which has been mostly black-and-blue as a result of war, segregation, and prejudice. On the whole, my aim is to make sure that the people of Afghanistan could breathe in fresh air and see the brighter side. In fact, I create graffiti in no time as each second is important to me so that I could say what I want to say within that short time and in so doing keep myself away from any trouble."
However, there are still big dangers that she cannot ignore. Besides the risks posed by the political groups and clerical elite, there is also the probability of the Taliban making a comeback out of nowhere to despoil the gains Afghanistan has been able to make. Her works shed light on the somber realities in which Afghan women live, surrounded by violence and injustice. For example, in one of her works, she has shown six svelte women in sky-blue burqas who seem to have become ghosts a result of their society inflicting wounds upon them. When asked why she uses the color blue so often, she said, "It's a symbol of freedom. But rather, it has constricted women's independence wearing this blue color. Therefore, I want to make people see burqa with respect, not hatred."
"I come from a society which is more conventional and thinks it's un-Islamic for men and women alike to be doing street art. This perception is widespread in Afghanistan. As a result, people in my community believe I am just a devotee of western culture. So it puts me at risk of being abducted and whatnot -- the Talibans are already against women's independence. More importantly, they aren't progressive in the same way as I am, and stigmas keep coming our way. We are labeled as deviants." It is clear that there is still a backlash against all sorts of subversive art irrespective of gender like cinema, music, and theatre.
For reasons of security or custom, Shamsia lives with her parents and works under cover along with her male friend and fellow artist Qasem Foushanji. While Shamsia's art tackles women's grievances, her fellow artist Qasem Foushanji's work touches upon social aspects of Afghan life and showing what is hidden beneath it (like women being beaten inhumanely). Most importantly, Shamisa`s work evokes the sense of disappointment felt by Afghan women upon being treated like second-class citizens by the patriarchal society.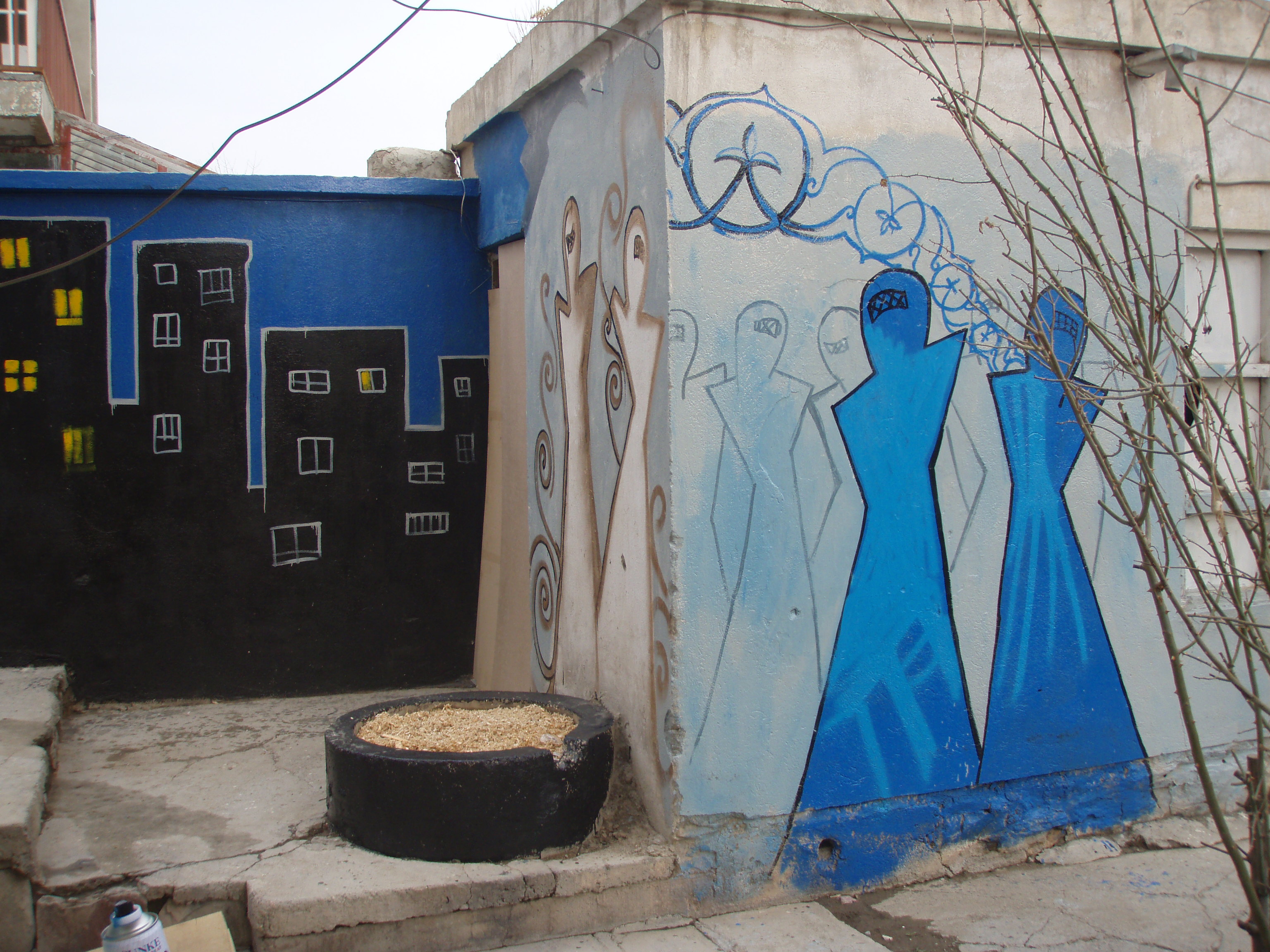 "That's why I don't step outside to work and do whatever I could within the confines of my house. I only move out to take pictures of sites that I like. As soon as this routine is finished, I return to my safe corridor to start giving them proper gloss with the help of Photoshop tools on a computer device. If it's not feasible, then I get print outs of the street and work upon them as graffiti using a paintbrush. Sometimes, I do graffiti on the walls of my house as well. If not at home, then I go out and make stencils inside decrepit industrial buildings away from the general public in order to avoid being noticed by others," she says. "Otherwise, there is hardly any day when I don't hear the loud sound of gunshots being fired from nowhere. Because of the government officials' ordained restrictions, we have to do graffiti at sites which the government or passersby cannot raise their objection, since they are empty almost all the time and it's safe. Therefore, we cannot take risks to go out in the middle of main streets and outdoor markets to spray-paint public buildings."
While conversing with her on the phone, she seemed proud of the contributions she is making to her society. The more she opened up to me, the more serious she appeared to be. Her art scrutinizes the pros and cons of the deteriorating scenario as it stands and where it is going. More or less, there was a great deal of urgency seen in her voice to set things right.
"Thanks to Allah, I have never been a victim of a gunshot. Yet, the risks still remain. Like everybody else, I also feel a bit frightened every now and then. But I try my utmost to never let these appalling episodes dampen my mood. I know what I am doing is so crucial to bringing about necessary changes in my country. That's why no obstacle can disrupt what I believe."
Not letting these threats intimidate her in any way, she said confidently that she feels more serious about her line of work than ever before, and in so doing hopes she is helping her people by convincing them to adapt to new thinking if they are to move ahead in life.
"I can only pray that my artistic gift brings Afghans close to the miraculous beauty of art and that they learn something from it so that they could change their lives for the better," she says. "My world is more meaningful now thanks to my work, giving me different perspectives about life as a whole. Earlier, I was unaware of the miseries that Afghan women had to endure for so long. We have been through several heart-wrenching blows in the last three decades. Now is the time to do what was never thought of."
Afghanistan was already overshadowed by its internal hostilities and the ruthless regime led by the Taliban. With the onset of the Afghanistan War in 2001, leading to the presence of foreign troops, the situation became more convoluted.
To make matters worse, in February of this year, Afghan clerics announced a set of oppressive rulings to restrict the freedom of women. According to these, women are nothing but inferior to men in everything and that is why they don't deserve the right to mingle at all. They even said that wherever they go, they must have men accompanying them. "I think this is outrageous. No society can make progress until its women have the liberty to take their own decisions without any pressure, "she says. "It emboldens me even further to take my work to everybody because women are still being mistreated in Afghanistan. Through my art, I want to help women behave boldly and stand up for their rights if they are to make their lives any better. All it comes down to is that they shouldn't allow fear to seep in. It's not just women."
Each Afghan deserves a better life. As she said with emotions in her eyes, "I have started a graffiti course at the University to make as many Afghans as possible familiar with art." Kabul University is the oldest and largest institution of tertiary education in Afghanistan. It was founded in 1930. Students from other neighboring countries also come here for getting admission in various courses such as Agriculture, Computer Science, Economics, Engineering, Geo Science, Journalism, Languages and Literature, Law, Pharmacy, Psychology, Science, Social Science, and Veterinary Medicine, including Fine Arts. Its faculty of arts division was founded by Prof. Amanullah Haiderzad as a drawing and statue designing course under the faculty of literature and human sciences in 1966. The faculty has six departments, namely: statue manufacturing, drawing, graphics, theater, cinema, and music.
"I indulged myself in graffiti to remove the silence hovering over women's issues in my country. Besides, we as women are at ease with being forced into things that are against universal values. But this is to change now as I am here to get them what they want," Hassani says.
Out of her murals, there is one which displays a woman in a burqa sitting on stairs with her head down and thinking whether she can stand up on her feet to move on or she will simply trip up. The other interesting thing to watch out for is that Shamsia often sums up the situation of her country by painting a fish with bubbles spread all over its body to reveal what it's like to live in Afghanistan. "This approach is based on my abstract thinking about feeling helpless to say what I want to say. The bubbles emerge only when its mouth is open but when it is closed, it's hard to see them. They talk about several things this creature wants people to listen. Unfortunately, it really can't since the bubbles aren't allowed to flourish. Likewise, our artistic expressions are restricted, " she says.
Almost every work of hers shows a woman wearing a burqa with hips and shoulders. "Afghan women really have had enough of sheer misery," she says. "It's a journey towards letting the whole world catch a glimpse of our lives and what we have been up to. Above all, my art is a means to revive the cultural aspect of Afghanistan so that the world could see we have something spectacular to feel great about."
[All photos courtesy of Shamsia Hassani]