On 19 August, leading Egyptian artist Amal Kenawy died from a battle with advanced leukemia. Globally recognized for a staggering body of work that explores the relationship of the individual to the incorporeal and physical nature of reality, Kenawy was respected among her colleagues for effortlessly combining video, installation, sound, and performance while challenging viewers to partake in deeply personal journeys that often venture into emphatic socio-cultural critiques.
Born in Cairo in 1974, Kenawy studied film and fashion design at Egypt's Cinema Institute and received an undergraduate degree in painting from the Faculty of Fine Arts in 1999. While a student, she began her artistic career through collaborations with her older brother, artist Abdel Ghany Kenawy, a partnership that resulted in nearly a dozen works in the form of sculptures, installations, and videos that garnered several international honors. In 2005, the pair received the Leonardo Global Crossings Award, which recognizes contributions to the "art-science-technology" field. Of their joint-practice, the Leonardo selection committee noted "the power of texture and image, and sensorial play with surfaces between spaces" that loosens an inside/outside schism. This polarity would remain central to her art even after she began to create independent performances and installations.
[ "The Inner Space" (1999) with Abdel Ghany Kenawy]

["Frozen Memory" (2003) with Abdel Ghany Kenawy]
As a solo artist she embarked on a more intimate direction, continuing to use her own body alongside loaded representations and fragile materials as conduits for transporting viewers through "universal feelings and experiences" (Amal Kenawy Talks to Gerald Matt, Darat al Funun, 2007). Animals and inanimate objects were also assigned symbolic meaning and became part of a familiar repertoire of affecting imagery as she explored conscious and subconscious expressions of pain, fear, hope, and desire through themes that reflect formative moments in the progression of life and memory.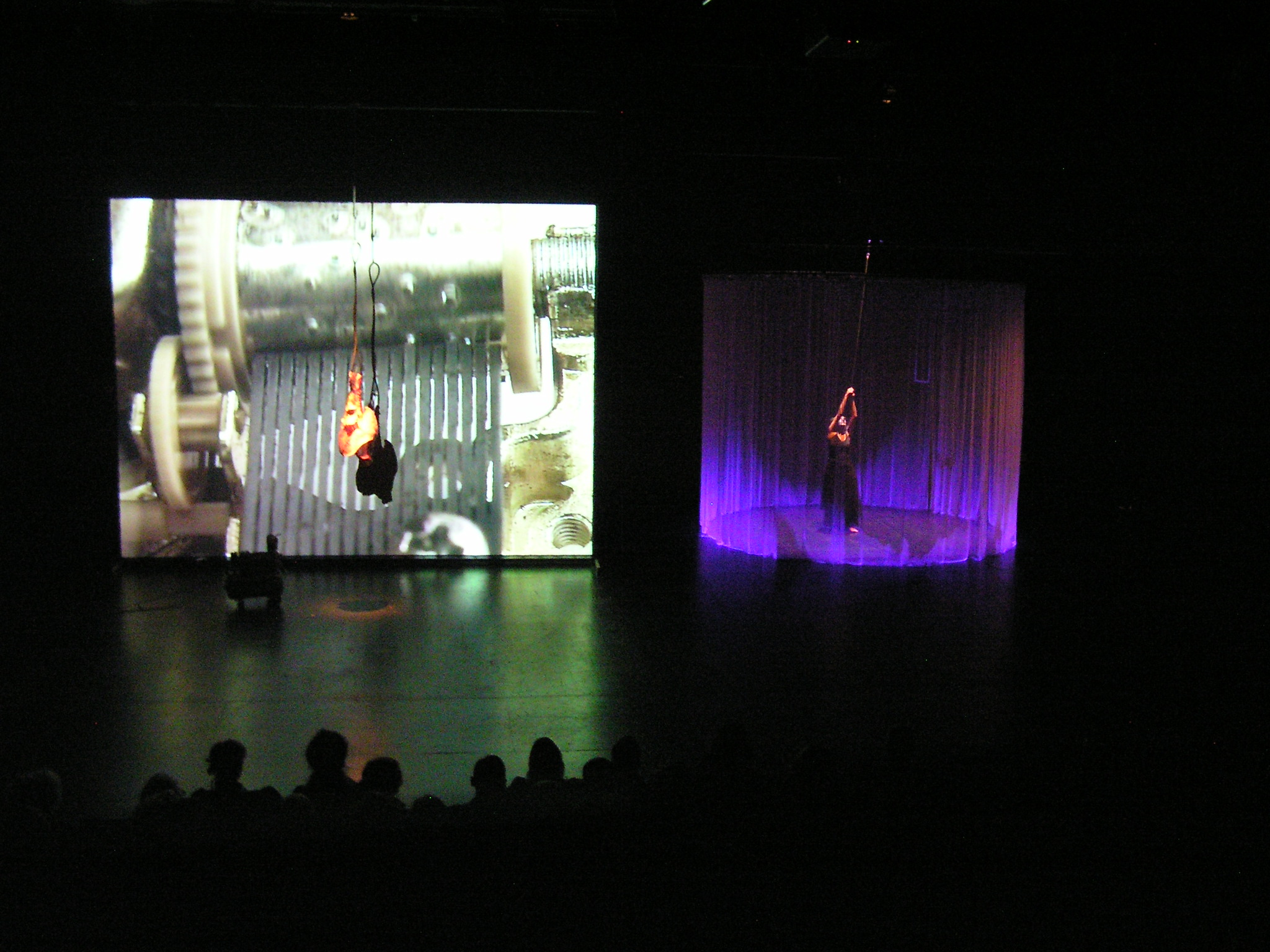 Although her untimely death came at the height of a relatively short career, with such accomplished formalism and layered conceptualism she was embraced by the international art scene at an early stage of her artistic development. In just fifteen years, she was a trailblazer of contemporary art in the Arab world, specifically in video and performance, and participated in shows throughout Europe, Africa, the Middle East, and Asia, most prominently the sizeable touring exhibition "Africa Remix: Contemporary Art of a Continent" (2004-07), the Venice Biennale (2005), the Sharjah Biennial (2007), and the Mori Museum of Art's "Arab Express: The Latest Art from the Arab World" (2012).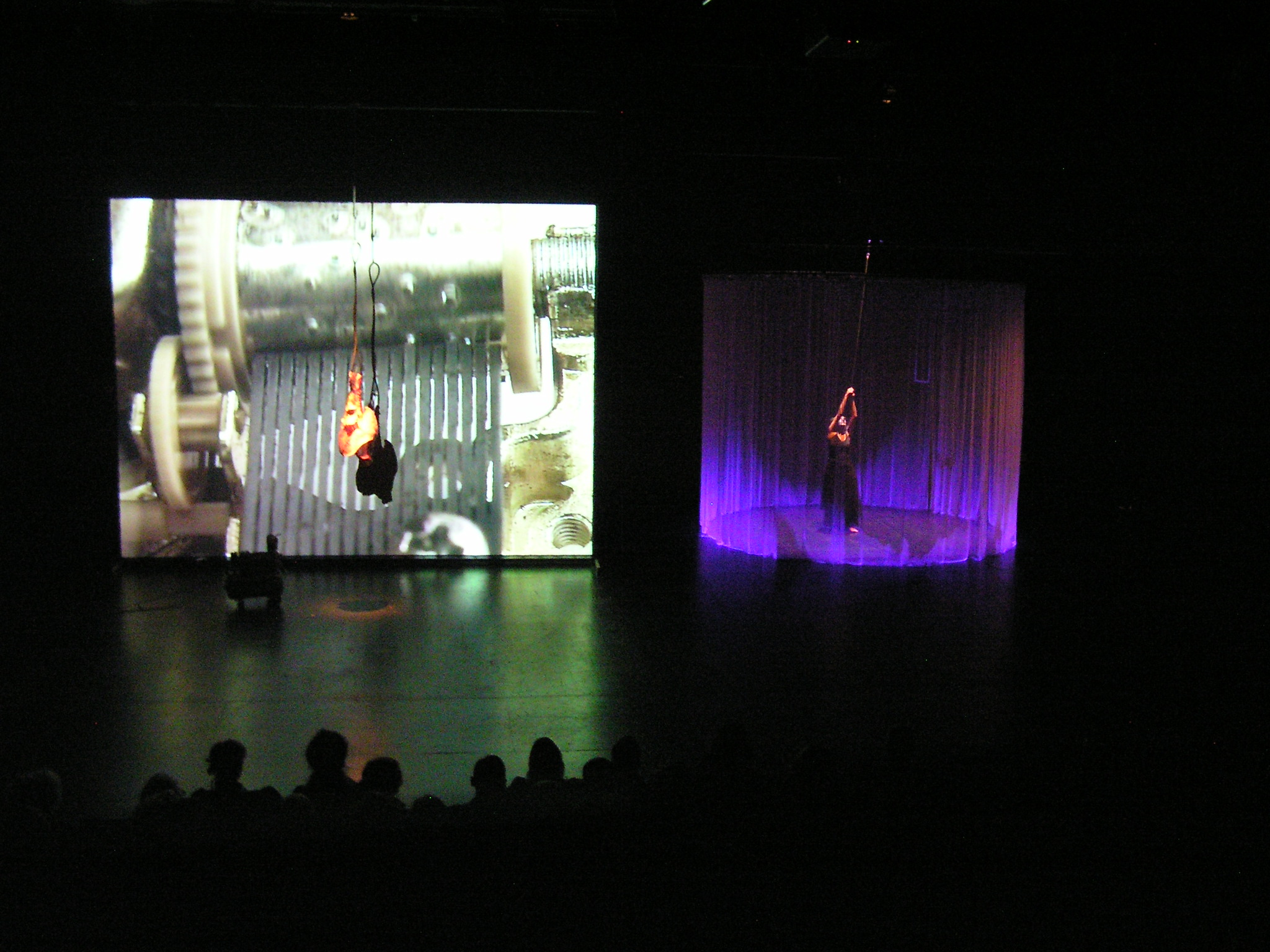 ["Cairo Eating Me" (2007)]
A live presentation of Kenawy's "The Room" (2003) at Darat al Funun's outdoor archeological site was one of the highlights of the year in art for Amman in 2007, receiving glowing reviews from local critics (see ArtAsiaPacific magazine's 2008 Almanac). First shown at venues in Egypt, including the Townhouse Gallery in Cairo and the Ismalia International Festival for Documentary, the multimedia work was also featured at the Dak'art Biennial of Contemporary African Art in Senegal and the Kunsten Festival des Arts in Belgium before appearing in the 2003 edition of the Home Works forum in Beirut.
In the catalog for Home Works II, Ashkal Alwan (the Lebanese Association for Plastic Arts) introduces the "The Room" as exploring that which is present behind the physicality of the individual: "less obvious rooms that exist outside the body, such as society, its customs, and its conditioning." A stop-animation video utilizing the metaphor of a withering tree that morphs into a beating heart (upon which lace-gloved hands sew tiny beads) is juxtaposed with the scene of the artist preparing a wedding gown. Combined with an evocative soundtrack that counts out her gestural movements and the rhythms of the adorned organ, "The Room" creates a space of confinement and transition (or fading time), tracing the transformation of a woman from a separate being to a codified companion through the ritual of marriage. Not long after the artist's image is shown as a still body that is outfitted for this ceremonial surrender, candles begin to pop up around her on a white bed, locking her into a black web while she remains immobile. At this juncture during the Darat al Funun performance, Kenawy then lit a fire at the base of the wedding gown that she had been altering on stage, causing the garment to ignite in billowing flames before the audience. Marking the ultimate break from the emotional matrix that had kept her in place, this act suggests an eventual point of renewal—a renewal that is evident throughout her work.
With "Non Stop Conversation" (2007), a site-specific performance/installation that she produced for the Sharjah Biennial 08, she insistently applied this cyclical theme to the subject of the Emirates' rapid growth and the ghosts of its past: "By sensing and exposing a metaphorical world that hides beneath the physical, I attempt to bring the unseen into a visual space" (Still Life: Art Ecology, & the Politics of Change, ed. Serene Huleileh). Wrapping a dilapidated building with a massive quilted covering, she carefully attached a protective coating to a disintegrating exterior. A ruined edifice was thus given new life and a reasserted presence.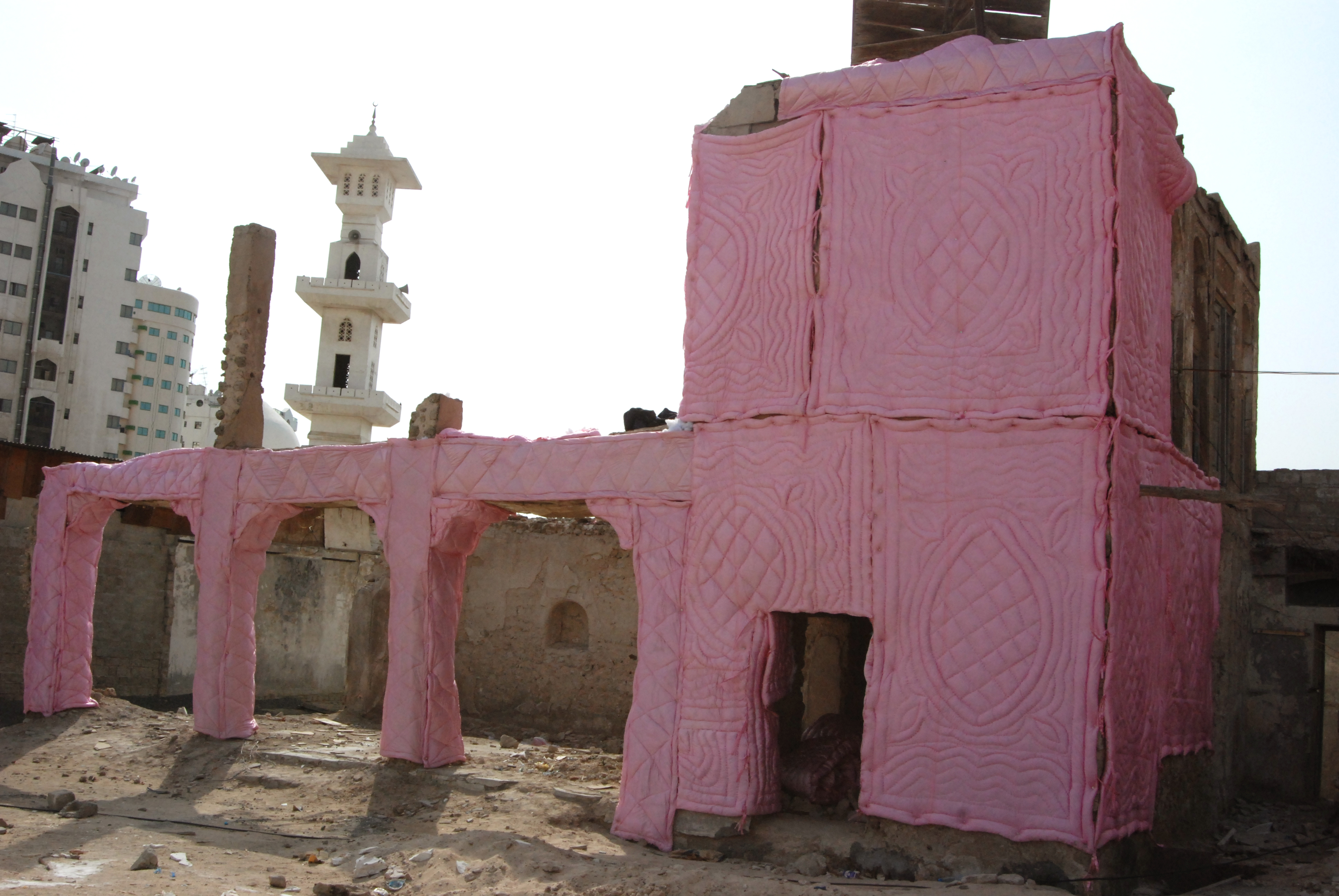 ["Non Stop Converstation" (2007)]
As she sought to uncover phantom recollections, forgotten or abandoned environments with mitigated histories were frequent locations of interest for the artist. Simon Njami, the curator of "Africa Remix," described the 'quiet uneasiness' of her art in an essay titled, "The Destruction Machine." This uneasiness is felt in such works as the video animation "You Will Be Killed" (2006), which is set in a former British military hospital in Egypt and includes a storm of graphic images that seem to attack her figure, and the 2009 performance "Silence of the Lambs," a controversial procession of artists and hired workers whom she led through downtown Cairo as they crawled on their knees behind her. Having the performance filmed as pedestrians gathered, she was arrested after being challenged and insulted by several onlookers who accused her of degrading and exploiting Egyptian laborers. This use of riveting symbolism seemed to hit a nerve—one that would explode onto the streets of Cairo a few seasons later.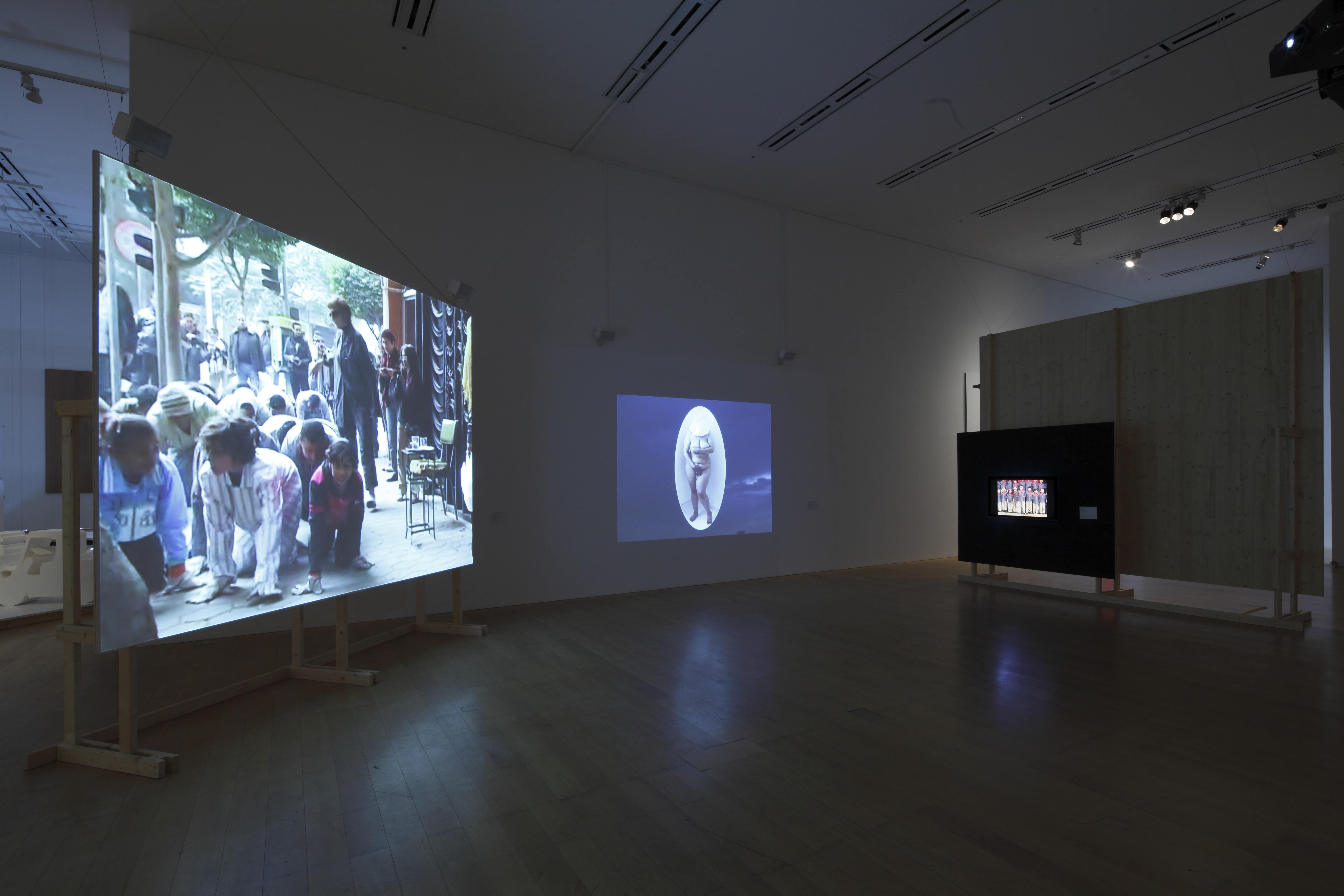 [Exhibition view of Arab Express at the Mori Museum of Art Tokyo with several videos by Amal Kenawy.
"Silence of the Lambs" can be seen on the far left screen. Image courtesy of the museum.]
In a moving tribute, artist and scholar Chika Okeke-Agulu penned the following poem upon receiving news of her passing:
For Amal
It does not matter
If the Nile weeps blood
Or the Aswan disgorges
Broken limbs of pharaohs
And Egypt drowns in flood
But there is calm
In the precincts of Tahrir
And the howls of Spring
And the din of cavalry
Tug our memory`s wing
It does not matter now
That a crowd of elders
Hulls our child into the abyss
At the rite of renewal
At the rite of coming
.................and going
Okeke-Agulu featured Kenawy in the groundbreaking publication Contemporary African Art Since 1980, which he co-edited with Okwui Enwezor.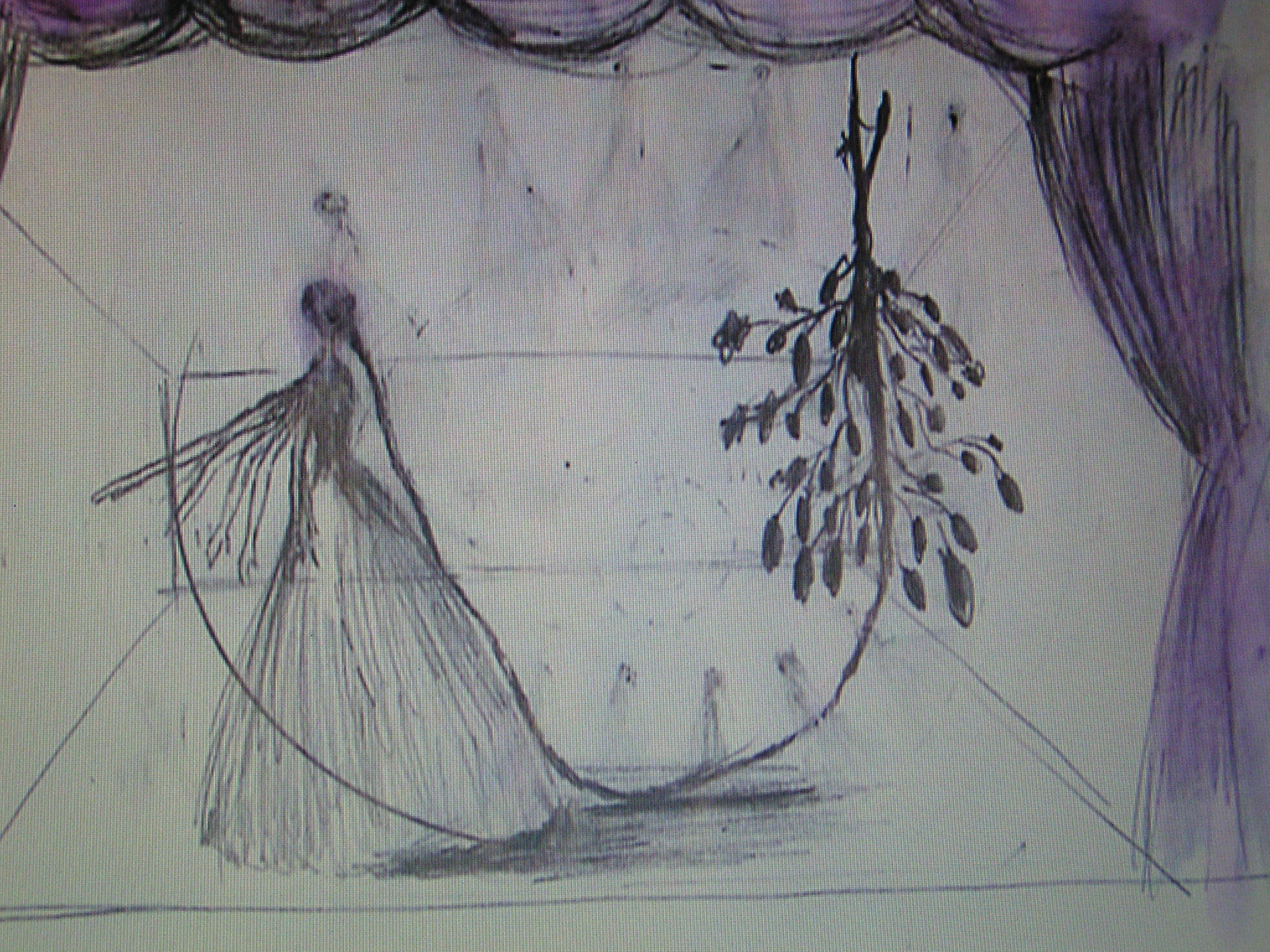 [Video still from "You Will be Killed" (2006)]
Amidst an outpouring of remembrances, Darat al Funun has organized an homage to the artist that will include the celebrated works that comprised her 2007 solo exhibition at the foundation. This month-long presentation will also feature archival footage of the performances and lectures that accompanied the event and will run from 4 September through 4 October.