Since the Israeli occupation of the West Bank and Gaza Strip began in 1967, Israel has demolished about 27,000 Palestinian homes and other structures crucial for a family's livelihood, according to Israeli government statistics (Compiled by the Israeli Committee Against House Demolitions). Almost half of these were carried out in just the last twelve years. So far this year, 702 people have been displaced and 140 homes demolished.
The government categorizes many demolitions as the consequence of not acquiring an Israeli building permit. However, in recent years, over ninety-four percent of all Palestinian permit applications have been rejected. Under Israeli zoning policy, Palestinians can build in only thirteen percent of East Jerusalem and one percent of Area C (the important connecting space between Palestinian controlled Areas A and B). Many other houses are demolished for "military" purposes (Source: http://www.icahd.org/node/242).
The overall effect of the policy of demolition, and the resulting displacement of Palestinians and influx of Israeli settlers, is fragmentation of the West Bank and isolation of Palestinian East Jerusalem, which will destroy (or has already) any chance of a viable Palestinian state.
Last month, an Israeli court exonerated the Israel Defense Forces of responsibility for Rachel Corrie's death in Rafah, the Gaza Strip, nine years ago. She was killed by an armored military bulldozer while defending a Palestinian home against demolition.
This photographic reminder of a practice that violates international law and human rights is in honor of all the Palestinians, Israelis, and internationals fighting to end it.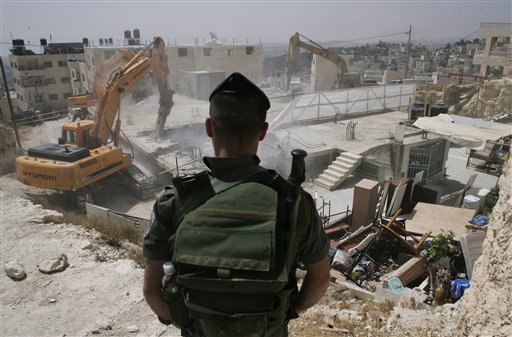 [An Israeli border police officer stands guard as municipality workers demolish a Palestinian house that according to authorities was built without a permit, in the East Jerusalem neighborhood of Atur, 21 May 2008. The household belongings can be seen in a jumble on the right. Image by Sebastian Scheiner/AP Photo.]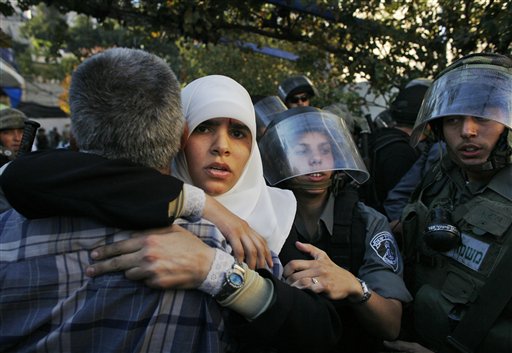 [A Palestinian woman embraces a relative as Israeli police officers push her away while issuing demolition orders for a structure at the family`s house in the Silwan neighborhood of Jerusalem, 5 Nov. 2008. An Israeli work crew earlier knocked down a Palestinian home in East Jerusalem, shortly after police subdued a crowd of stone-throwing protesters trying to prevent the demolition. There were no reports of injuries during the two-hour confrontation, but dozens of paramilitary border guards, along with police on horseback, surrounded the home. Image by Kevin Frayer/AP Photo.]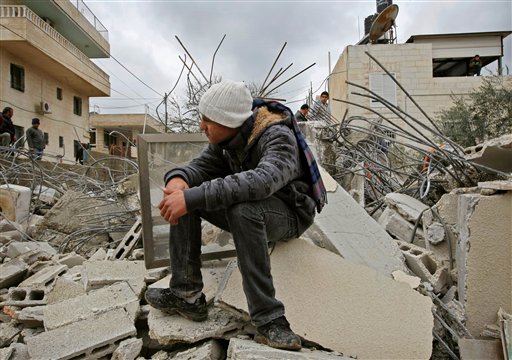 [A Palestinian youth sits on the remains of a house after it was destroyed in the neighborhood of Silwan in east Jerusalem, 2 March 2009. Since 2004, Israel has leveled more than 300 homes in Jerusalem`s Arab neighborhoods, citing a lack of building permits. However, critics say the permits are virtually impossible to obtain and consider the demolitions part of a decades-old policy to limit Palestinian population growth in the disputed city. Image by Tara Todras-Whitehill/AP Photo.]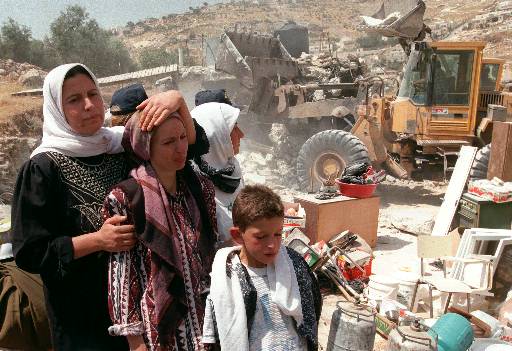 [Members of the Palestinian Shrikat family stand tearfully amongst their belongings, 15 June 1998, as their house in the village of Jabal Muqaber, outside of Jerusalem, is demolished by Israeli troops. The house was destroyed for lack of a building permit. Image by Mati Stein/AP Photo.]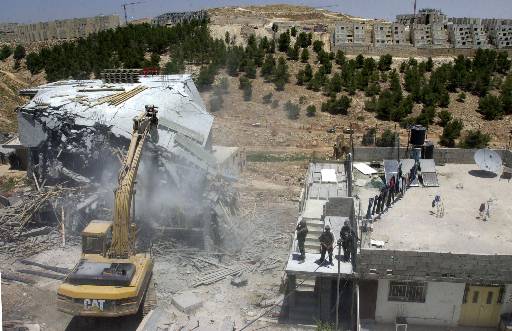 [An Israeli bulldozer demolishes a Palestinian house in the Shuafat refugee camp outside Jerusalem, 9 July 2001. Backed by hundreds of Israeli police, bulldozers razed a dozen Palestinian homes said to be built without permits in one of the largest demolition campaigns in recent years. The refugee camp directly faces the Israeli development Pisgat Zeev (houses at background right) on land Israel captured in the 1967 war and annexed to Jerusalem. Image by Enric Marti/AP Photo.]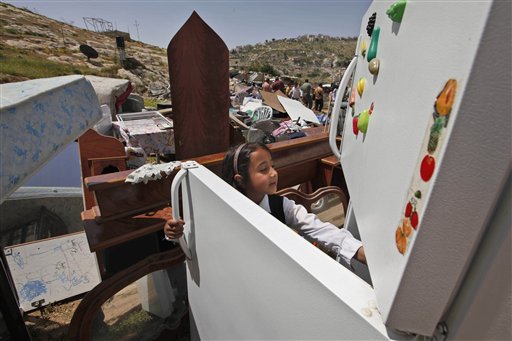 [A Palestinian girl gets food out of a refrigerator hours after her house was demolished by Israeli authorities in the east Jerusalem neighborhood of Jabel Mukaber, 22 April 2009. The UN`s top Mideast envoy Robert Serry inspected the ruins of a Palestinian home in Jerusalem, demolished just hours earlier by Israel, and said witnessing the distress of the now homeless family of seven was "pretty shocking." Serry called on Israel to freeze demolitions and said the international community is more determined than ever to push for a two-state solution to the conflict. Image by Tara Todras-Whitehill/AP Photo.]

[A Palestinian youth with his national flag draped over him lies blocking a bulldozer in the West Bank town of Nablus, Feb. 12, 1997. About 100 Palestinians tried to prevent bulldozers from flattening a Palestinian house that Israel claims was built illegally. Image by Nasser Isstayeh/AP Photo.]
[Photos selected from the Associated Press by Michelle Woodward.]