The cliché always reasserts itself as a truth: "as long as you are safe, that is all that matters." In the wake of a disaster, material things – buildings, possessions, money – fade away in importance, and we first worry about the safety of our friends and loved ones.
Yet, as Hurricane Sandy approached New York City, my initial, frenzied concern was for things material, yet valued in symbolic abstraction: the last historic structures of Washington Street in Lower Manhattan, chiefly St. George's Melkite Catholic Church (operating as an Irish pub for the last 30 years), a 1926 settlement house for immigrants, and an old 1885 tenement with still-occupied apartments. For the last year, under a campaign called "Save Washington Street," I have worked to coordinate a difficult engagement with the City of New York and its Landmarks Preservation Commission to prevent demolition of the Downtown Community House, a building that charitably served immigrants of this neighborhood once known to Americans as "Little Syria." Because of the construction of the Brooklyn Battery Tunnel and later the World Trade Center, most of this old downtown district, outside the miraculous "trinity" of contiguous structures, has been destroyed. And while the Western and Gulf Arab media have taken substantial and curious interest in the advancing extinguishment of the Lebanese and Syrian heritage in Manhattan, in practicality the campaign still faces a great struggle with so much money at stake in a transforming downtown real estate market.

In the late nineteenth and early twentieth centuries, Washington Street was the economic and cultural hub of Arabic-speaking life in the United States. It was the birthplace of the Pen League in literature and was the locus of operations for the many import-export businesses that supplied peddler armies and vast networks of stores. When asked why they chose to settle right there near the docks, some Lebanese would joke that "they wanted to remember how to get back" or that "they didn't have the nickel to go uptown."

Being in old New York and on the water near the financial district evidently gave the Lebanese and Syrian intellectuals a special vantage point to consider the meaning of America and the meaning of the modern megacity. In Ameen Rihani's The Book of Khalid, considered the first Arab-American novel, the two peddler characters Khalid and Shakib would on weekends "take the air in Battery Park, where the one would invoke the Statue of Liberty for a thought, or the gilded domes of Broadway for a metaphor, while the other would be scouring the horizon for the Nothingness, which is called, in the recondite cant of the sophisticated, a vague something." From this now forgotten neighborhood in the heart of downtown, Rihani and his cohort were able to look the monster of American financial and industrial might, with its foundational claims about freedom and liberty, directly in the eye.

And, as Sandy approached, the place where reporters began to congregate, Battery Park City, well, that is a landfill extension of Little Syria. Flooding has historically been such a problem in the neighborhood that Rihani chose to include this aspect in his novel. Khalid and Shakib's effort to protect their product becomes a metaphor for the immigrant obsession with money and material gain: "On the floor we laid our mattresses, on the shelves, our goods. And never did we stop to think who in this case was better off. The safety of our merchandise before our own."

Tracking Sandy inch up the mid-Atlantic, weather experts were increasingly confident that a massive storm surge could hit New York City, and Little Syria was right in the "Zone A" mandatory evacuation area declared by Mayor Bloomberg. As a self-appointed advocate for the neighborhood, I discussed the risks for our buildings with Carl Antoun (Carl Anthony Houck), a New Yorker and twenty-one year-old college student whose grandmother (the daughter of merchant Antonio Sadallah) grew up in "Little Syria" and with whom I had partnered in the campaign. Carl's ninety-three year-old grandmother had told him how the 1938 hurricane had created a mess for Washington Street, and, so, in the final days and hours as the storm approached, we tried to contact building owners and encourage them to install sand bags around the historic structures and to secure loose equipment at nearby construction sites. We also maintained contact with Washington Street residents who could alert us to any preparations they witnessed. Yet, since I lived in Washington, D.C., I felt largely impotent. But I did not think that it would be appropriate to head to a soon-to-be disaster area to make preparations on property that did not belong to me. Besides, Sandy was approaching my home as well.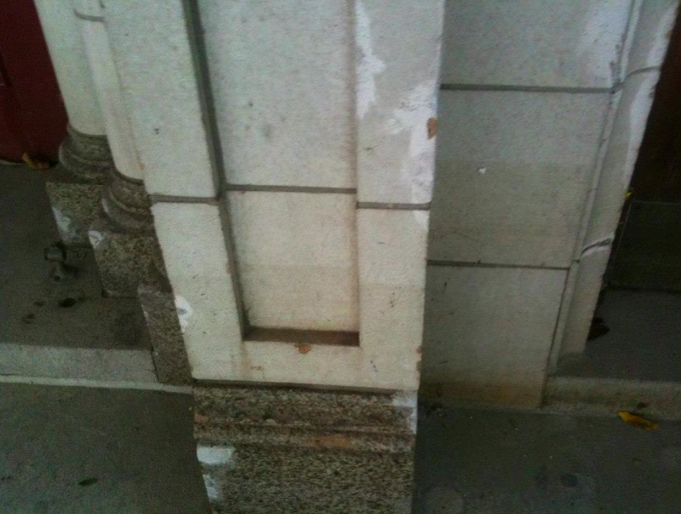 [An image of Little Syria post-Sandy. Image taken by Todd Fine.]

And Carl also became preoccupied. His Lebanese-German family lives in Belle Harbor, Queens, in the Rockaway Peninsula section that would likely face the brunt of a storm surge hitting at high tide. As I kept distracting him through talk of Lower Manhattan, it became clear that his own preparatory work was perhaps more urgent, and as he followed the storm spin up the coast, leaving destruction in its wake, he started to signal his nervousness. He and his family, however, had decided to stay on the peninsula during the storm in order to protect their house.

We also discussed something that in our passion for history was extremely important, the priceless array of artifacts – newspapers, photographs, books, documents, and objects – that Carl possessed through his mother's family. These objects anchor the collection of the "Washington Street Historical Society" we are initiating, and I was a little dubious about the notion of keeping his family artifacts in Belle Harbor (in fact, we had earlier discussed trying to locate space at another city historical society), but, at this stage, it was too late and he had to worry about his home itself. He moved the objects to higher-ground, and we just had to dance around the unutterable fear that damage could destroy the home itself, ruining everything.

As Monday night, 29 October, approached, windows of opportunity for action closed. Through tenement resident Esther Regelson, we gained reports of a few fortunate preparations on Washington Street, and power was cut in Little Syria and several other downtown neighborhoods as a preventative measure. We did our part, but, overall, our desperate attempts to protect Lebanese and other ethnic heritage from a major hurricane, on top of all of the money-based threats barreling forward, started to feel a little comical and absurd.

During the storm's landing, I checked Twitter constantly, searching for real-time information from "washington st," "washington street," "rector street," "west st," and "battery park." To my horror, there were reports of shaking cranes at construction sites near the historic buildings, anecdotal reports of waist-high flooding, and – incredibly, out of the void – pictures of flooded streets sent from mobile phones. The façade of St. George's Church is delicate, intricate terra-cotta, so damage from flying objects might not be repairable. My concern and anger about the risks facing the buildings started to grow, and once I even screamed curses in frustration from my bedroom, frightening my Palestinian flatmate and his visiting family.

In my apartment in Washington where we fortunately encountered a slightly kinder Sandy, the power did eventually cut out, and I had to monitor the developments in New York from my mobile phone, powered by a quickly depleting battery. And, laying on floor in the dark, as I turned to check on Belle Harbor, I was shocked at what I found on twitter: reports of uncontrolled electrical fires near Carl's home in the midst of enormous flooding. Belle Harbor, like many other seaside communities in the storm, was largely cut off from emergency services at landfall. As I felt that terrible flash of concern for the life of a compeer, Little Syria faded away, and I spent a few hours praying for Carl and for all of people going through hell in the wake of Sandy. Late at night, somehow from his own mobile phone, he posted a short and wild report on facebook about his experience, reassuring all of his friends of his survival.

After the storm was over, I tried to obtain reports from locals about the damage to Little Syria, but most Washington Street residents had abandoned buildings that would not receive power for days and weeks. And, for the city and the global media, the Arab heritage of Lower Manhattan was certainly not the top priority. On Tuesday night, I decided that I would have to go up to New York myself to document the flooding and the damage, and to make sure that the building owners were actively addressing things. Wednesday morning, I took a bus from Washington to New York, and, after getting off in midtown, I walked for over an hour by foot to Washington Street in subway-less New York, witnessing, along the way, the empty streets, the powerless rows of buildings, and the storm damage.

On Washington Street itself, most of the large buildings and their basements were being pumped of water, and you could see brown slimy residue from the flood on the sides of most of the structures. Fortunately, I could not identify any damage to the exterior of church, and the key problem in New York seemed to have been the flooding much more than high winds. I was also able to meet a resident of the tenement at 109 Washington Street who had remained, although he was uncertain which of the historic structures had been pumped. Walking around the perimeter, I further noticed that some of the parks in the neighborhood had received some damage in the storm, and I resolved that trying to persuade the Lebanese, Syrian, and Arab-American communities to help support the Department of Parks with repair could be a useful task in the coming weeks.

Now that things have settled down weeks later (although Washington Street is still lacking power in places), I am compelled to take stock of the meaning of this entire endeavor. We assume the buildings were relatively unharmed by nature this time (as long as the owners pump their basements appropriately), and yet we cannot be more confident that they will not be destroyed by man. Carl, the director of the Save Washington Street campaign, is overwhelmed with the damage to Belle Harbour and his family home, and, in such an uphill preservation struggle, every day lost increases the risk of failure. Moreover, the terrible crises facing modern Lebanon and Syria, which cruelly damage their own heritage as well, make the destruction of Little Syria seem trivial in comparison and create a collective despair that handicaps our efforts to build a response for Manhattan.

[An image of Little Syria post-Sandy. Image taken by Todd Fine.]
In this struggle, it can be tempting to think of the effort to protect the Little Syria neighborhood in blunt political terms: to show the world that Ground Zero was once a patriotic Arab-American neighborhood or that the Lebanese, Syrian, and Palestinian Americans should be respected for their contributions to the United States. However, for me, the storm damage emphasized the essential point that ultimately everything comes down to people and personal relationships. We should not save Little Syria to instrumentalize past people and affirmatively deploy them as weapons in the present; we should only tell the story of its residents to help us understand and respect them as they were. The past can teach us, but it is extremely risky to deploy it in a highly didactic way. Let Rihani and Kahlil Gibran and Mikhail Naimy speak for themselves; let us preserve their heritage so that people can find their own paths, inspired by the words and lives of these writers as they see fit.
Buildings of metal, wood, and stone will eventually be destroyed by nature without restraint, and it is possible, as we have been warned, that different cultures have varying perspectives on the value of physical heritage. Our struggle to protect Washington Street must move from a tenuous and debatable symbolic exercise to a collective mission in the present based on community, relationship, and love. We are fond of the buildings because we love the Lebanese and Syrians who came and embraced the American ideal, and because we love the present-day Arab-Americans who have struggled to explain their heritage during a present era of hatred, confusion, and war. Ultimately, as a community, the Arab-Americans – with the support of Lebanese, Syrians and other Arabs – will need to decide how they want to communicate and protect their history. The buildings require people to stand up and make choices, and Carl and I intend to advance our intellectual contributions to educate and persuade. Yet, we will not demand that others articulate their love in the same way.
And as long as saving these buildings could require millions of dollars and may seem out-of-reach, protecting the parks in Little Syria after Sandy could be a small gesture to show that the Lebanese and Syrians understand the importance of their neighborhood as, during the storm, it became the center of worldwide concern. Through discussions with the Department of Parks, we have now created the opportunity for admirers of Little Syria to "adopt a park" at Greenwich and Edgar Street and help the neighborhood recover and improve. New York City, for all of its atomization and monstrosity, connects to all corners of the world like no other place, and Little Syria maintains an outpost at its heart. I am thankful that Carl and his family are safe, and we will continue to sacrifice and will continue to fight together, so that the memory of the specific people we love and admire – the Antonio Sadallahs and the Ameen Rihanis – does not fade away.