In Daryle Halbert's 1987 painting "Leon" one encounters multiple things at once, as a history of painting is revealed—but not without being turned on its head. The portrait is deeply humane and complex. It is infused with weight and foreboding. Leon is but nine years old. The angst in his shoulders and body, in his clasped hands, are depicted with a stylization that is sustained throughout. One is reminded of Soutine's many quarter length portraits. Van Gogh is also very present. Cezanne, as in the painting of his wife at the Detroit Institute of Arts (DIA), is undeniably here. In "Leon", as in the work of the modernists, the illusionistic and philosophical lie in western painting is done away with. Daryle is wholly aware of the transformation of space, medium, and subject that materialize through Cezanne as a questioning. That such intense observation is at work surprises the viewer when the body shifts, beginning in one place only to end in another.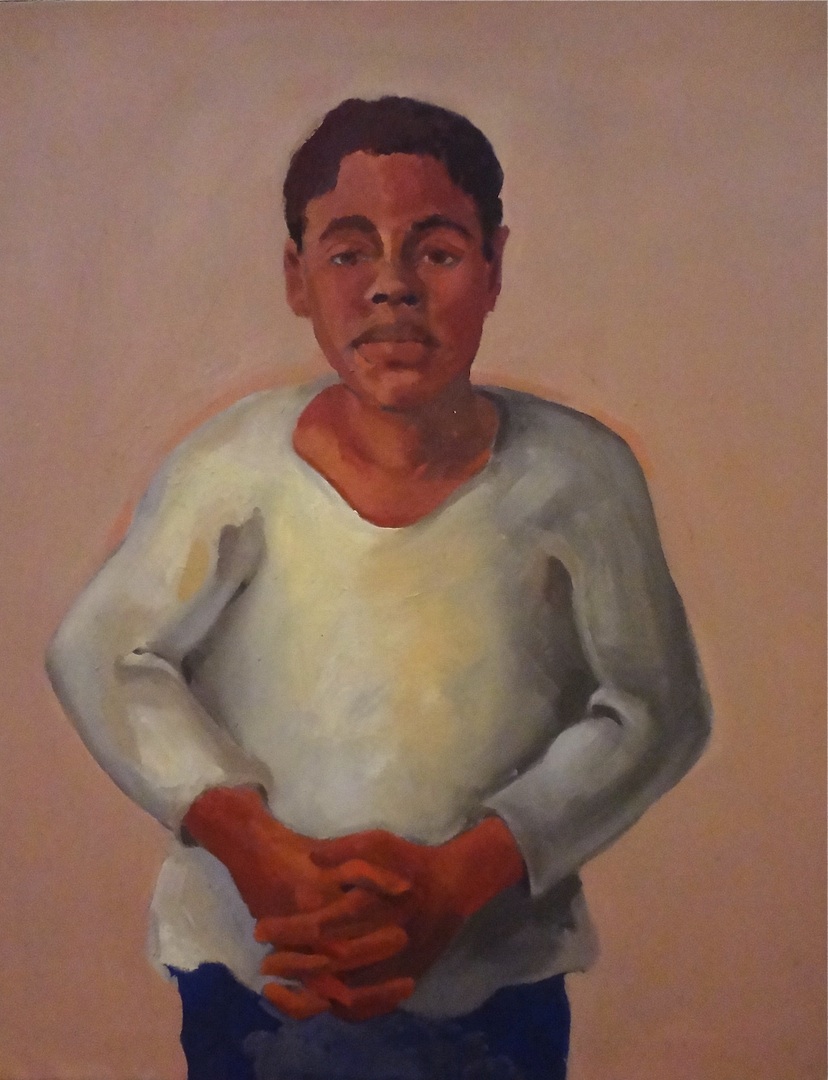 [Daryle Halbert "Leon" (1987). Image copyright the artist. Collection of Athir Shayota.]
The Center for Creative Studies (CCS), which is located behind the DIA, gave students immediate access to all the giants. At the center of the museum is Diego Rivera's Detroit Industry fresco cycle, which is based on his studies of the River Rouge Ford plant. No artist in Detroit is able to escape its shadow. The mural's grandness, with its allegorical affronts and simplification of forms amidst the theme of the everyday man (namely assembly workers), filled us with awe. In the color scheme of "Leon" and the feel of its surface, one thinks of early Renaissance frescoes and paintings, specifically Masaccio and Simone Martini. The world of Masaccio's Brancacci Chapel frescos begins with Adam and Eve, concluding in the perfect order of Christ as its center. Rivera's begins with four mothers, goddess figures of the earth; then places the autoworker as its altarpiece. While contrasting in scale, the very intimate "Leon" borrows from (and speaks to) this masterwork. In its psychology, however, "Leon" has more in common with the towering modern muralist figure, Jose Clemente Orozco, who influenced one of the seminal American painters of the twentieth century, Jacob Lawrence. Early on, Daryle acknowledged that Rivera and Lawrence, with Romare Bearden and Charles White, are the four major artists to impact his work.
In 1986, I began my undergraduate studies at CCS where I befriended Richard E. Lewis, whom I had met two years prior at a weekend high school art program at Wayne State University (WSU). Together, at CCS, we encountered "Leon."
In one of our college courses during this time, Daryle was criticized for not indulging in "universal" themes in his paintings. His portraits of subjects from his River Rouge community, in addition to still lifes that include objects such as an issue of Ebony magazine, were seen as lacking by a studio seminar professor.
Daryle's work made us insist on projecting the non-universal; my subject matter became more Iraqi. I painted dolma and mazgoof dishes, humble Iraqi breakfasts (a still life of bread, cheese, tomato, and cucumber), and family members playing cards and tawlee (backgammon).
It was at age twelve, in 1980, that I moved to Detroit from Iraq. Upon arriving, the family stayed a few months with my grandparents, bought a used car, and then rented a house a block away. In the Iraqi northern town of Telkaif we had been told by way of emphasizing the prosperity of the US that at the end of the day when sweeping the floor of one's business, one swept up money; we are immediately employed by our uncles, who made our transit from Iraq possible.
Not at home in the US, nor with the Chaldean community, I sought kinship and found it in black Detroit. The city had long been a tragic place. Its people, mainly African American, were under constant attack. The mounting effects of local and national policies throughout the whole of the twentieth century, culminating in the 1960s razing of neighborhoods such as Black Bottom and Paradise Valley, were to be calculated blows. Self-sustaining and commercially and artistically active communities were strategically cut apart by freeways and so-called redevelopment, making sure that African Americans, who had mainly come from the south seeking a better life, were to lose all agency while becoming increasingly disconnected and displaced. Although Arabs had also initially gone to Michigan for work—and later to escape wars and authoritarianism that was mainly US sponsored—they were allowed to achieve some autonomy and self-ownership through a corrupt system of banking that gave little to no loans to blacks but made concessions to Arabs with high interest and blatant bribes.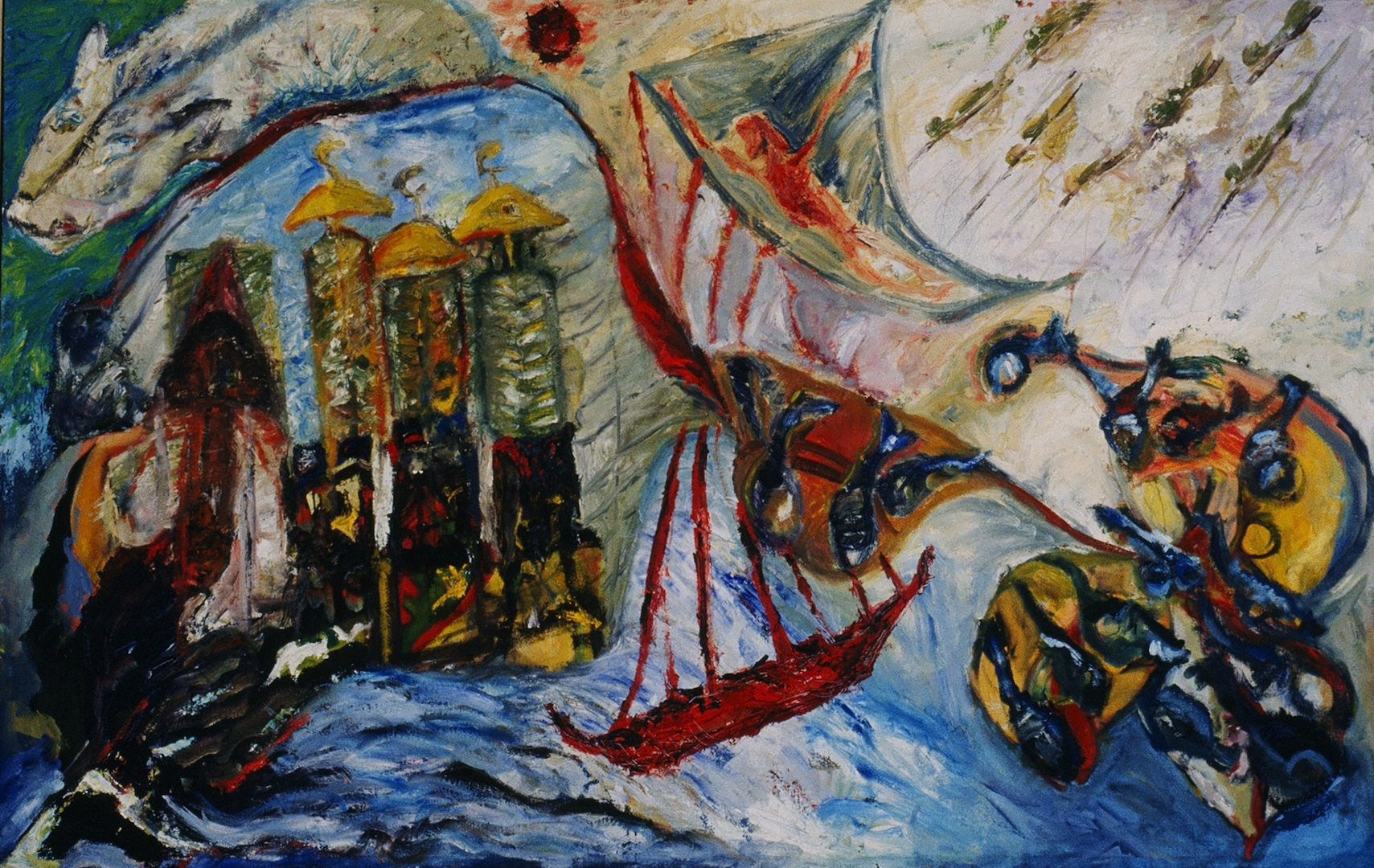 [Wafer Shayota "The City, River, and Minarets" (1991). Image copyright the artist. Collection of Athir Shayota]
Outside of a small group of artists that included Daryle and Richard, I painted in isolation with my eldest brother Wafer. As support for the arts in our community was nonexistent, we worked in family businesses, and painted the rest of the time, using the same basement corner of our Detroit family home as studio space. Since our schedules were different, we also came to share a large painter's palette. Our paintings, employing opposite projections of what are essentially the same sentiments, share resultant colors. The earth tones that Wafer would prepare for a section of his composition would find themselves into a section of my painting of the time, and vice versa. When first immigrating to the US, he continued his Iraqi paintings of fishermen and other folk themes: pan Arab modernist subjects that he was immersed in while training in Baghdad in the mid 1970s. The year that "Leon" was painted, Wafer's work took on a political tone with the start of the Palestinian Intifada, which intensified over the next three decades in his war series—throughout the monstrous US destruction of Iraq that rages on until this day. This very calm natured man began producing images that deal directly with catastrophes. His paintings exploded in color, becoming larger in scale; forms departed from their Iraqi modernist structuring. One thinks of, by way of paralleling and not associating, the Symbolist and the Surrealist, as in Roberto Matta, and even further, of the Mannerist El Greco. Possessing a different posture than Wafer, I took cue from "Leon." Simplifying the composition, I eliminate narratives, and attempt to freeze the figure in a non-descript space in order to contain a specific energy.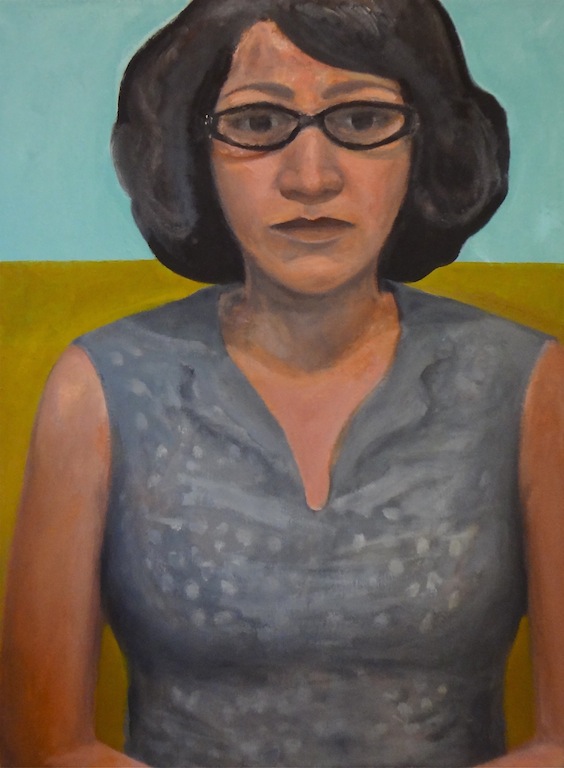 [Athir Shayota "Maymanah" (2012). Image copyright the artist.]
I continue to work in constant dialogue with Richard through an almost thirty-year friendship. In these decades, he has produced some of the most moving figurative works in American art, filling the void that was left behind by Alice Neel. Without verbalizing it, our paintings enter a continuous state of visual exchange; together, we consider the motifs of Islamic art, the painterliness of Rembrandt, Velasquez, Chardin, Courbet, and Manet, the aesthetic heroics of Nok and Yoruba cultures, and the temperament of Jazz. Richard creates shattering paintings, including numerous self-portraits.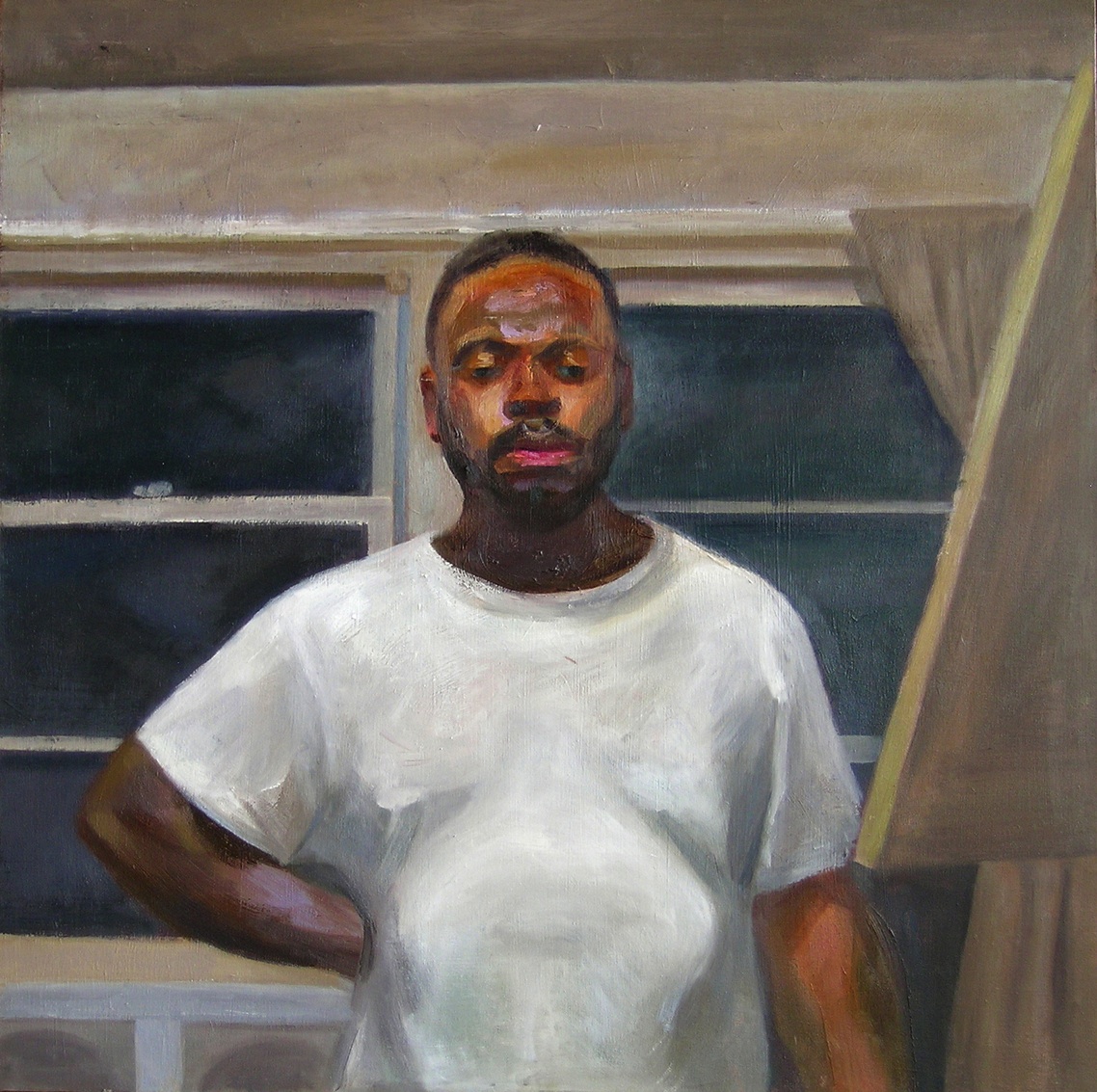 [Richard E. Lewis "Self-Portrait" (2004). Image copyright the artist.]
I first discussed moving to New York with Tracey M. Bozeman, a metalsmith, who, with an acute technical eye, produced stunning African-inspired sculptural weavings during the 1980s and 90s. She also challenged and helped direct the resolving of my Detroit paintings. I met Tracey in 1984 in the same WSU program. I visited Richard in New York in 1997, as he had moved earlier while in residence at the Studio Museum of Harlem after receiving his MFA from the Yale School of Art. I did not return to Detroit; not that one is any closer to home in New York. Haitham, an Iraqi artist friend whom I painted in 2003, once observed that, for many of us, exile began inside Iraq.
[The above post is part of Visuals in 1500, a new Jadaliyya Culture series on aesthetics.]