Zarina: Paper Like Skin. Art Institute of Chicago, Chicago, IL, 26 June – 22 September, 2013.
Zarina Hashmi has been based in New York City since the 1970s, producing a significant body of work over the decades that she stored in her densely packed home and studio in Chelsea. The majority of the work from the retrospective Zarina: Paper Like Skin came from the seventy-six-year-old artist's modest studio. The sixty-some impeccably kept works, ranging from woodcuts to paper reliefs, pin drawings, and paper pulp sculptures all belied their age due to the quality of the materials used, but perhaps too because they had been sitting undisturbed for so long. This retrospective of Zarina's work, which began at the Hammer Museum in Los Angeles, traveled to the Guggenheim in New York, and will continue on to the Art Institute of Chicago this summer, is the first museum solo show of the septuagenarian artist. The way in which the works of this prolific artist finally emerged from the studio, along with Zarina herself, into American art institutions and Western artistic discourse is an interesting one. Her relative obscurity in the West, until now, contrasts with the considerable visibility and recognition she has received in India and elsewhere in the non-Western world for some time.
The story of Zarina's rediscovery by the West actually begins in Delhi. Six years ago, in 2007, Gallery Espace mounted an impressive solo show of Zarina's titled Kagaz ke Ghar (Paper Houses). It was here that a curator at the Hammer Museum, Allegra Pesenti, first came into contact with the Indian-born American artist's work. At this time, Zarina had had no solo show of her work in the United States. After this show, the profile of the artist, who was then seventy-two and had been living in New York for three decades, rose considerably. That same year, Zarina was included in the group exhibition WACK! Art and the Feminist Revolution. Two years later, the blue chip gallery Luhring Augustine began representing the artist, and her work was included in the Guggenheim's The Third Mind: American Artists Contemplate Asia 1860-1989. In 2011, Zarina spoke as part of Hans Ulrich Obrists's Garden Marathon; Obrist introduced her by saying, "We asked artists again and again in India who were their heroes and Zarina was mentioned many, many times." Then in 2012 the long awaited, impressive retrospective Zarina: Paper Like Skin, curated by Pesenti, opened at the Hammer Museum last September. The show traveled to the Guggenheim this past February, where it has been met with great acclaim. It is now traveling to the Art Institute of Chicago, where it opens on 27 June.
Zarina was born in Aligarh, India in 1937, steeped in a particular Indian Muslim cultural context. She studied woodblock printing in Bangkok, Tokyo, and Paris, and settled in New York in the early 1970s, where she took part in the city's burgeoning feminist art movement. Heresies, a feminist journal published by the eponymous collective from 1977 through 1992, included artists and curators such as Lucy Lippard, Harmony Hammond, and Mary Miss as well as Zarina. Yet Zarina's particular class, race, and ethnicity set her apart. Race was primarily framed through the black/white dichotomy, and the "global," when it was considered, was determined by artists whose feminist politics suffered from the same insistence on universal terms that have since been challenged by post-colonial critiques and third wave feminism. Zarina was an educated Muslim woman from a recently independent country, which was actively disavowing the cultural, religious, and linguistic identity that Zarina represented; this tangle of issues was outside the purview of the group. The artist's work was even further outside this framework. Spare, exquisite, and painstakingly produced, her works on paper differed formally and aesthetically from the more process-based works that were the hallmark of the group at the time.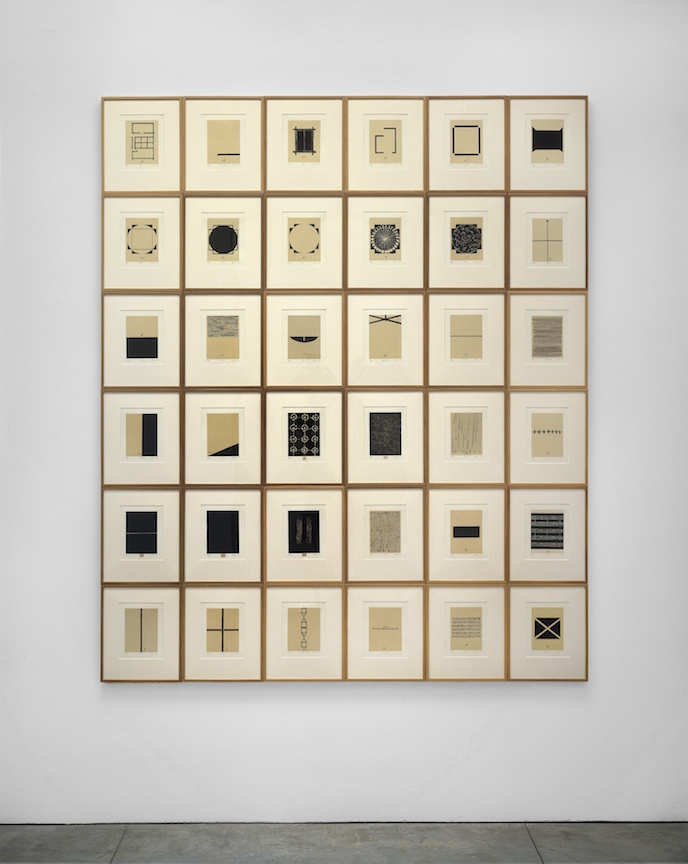 [Zarina Hashmi, Home is a Foreign Place, 1999. Portfolio of 36 woodcuts with Urdu text printed
in black on Kozo paper, mounted on Somerset paper. Edition of 25. Block size: 8 x 6 inches each.
Sheet size: 16 x 13 inches each. Image courtesy of Luhring Augustine Gallery, New York.]
While none of the works in the retrospective, save her first print, are figural, it is only Zarina's more recent work that is an archeology of home, loss, belonging, and exile. Home is a Foreign Place (1999) consists of thirty-six prints arranged in a grid of six by six. Each image arises from a word written in calligraphic Urdu. The first print, Ghar (Home) shows a house plan that locates the architectural space from which the rest of the work emerges. The architecture that itself framed the ceiling and sky, and on which shadows danced at the juncture between floor and wall, also functions as a frame for the artist's memories. In both Sobh (Morning) and Shaam (Evening), the page is cleaved into dark and light with the black text floating playfully in the light space. The difference between the two prints is only a matter of orientation, with Sobh oriented horizontally and Shaam vertically.
In another print, Dhoopair (Afternoon), the triangulated lines of a ceiling fan press against the top perimeter of the page, evoking a hot afternoon where, roused from sleep, the moving blades greet your eyes. The entire work indicates a larger cultural landscape and social geography, of habits and gestures associated with the movement of time, seasons, and bodies through space, moments that are burnt into the artist's memory, and ours as well after viewing these prints. The disruption of home is attributed to the changing borders that define belonging, in both the last print of the work Hudood (Borders) and in Dividing Line (2001), which speaks directly to partition. The laboriously carved negative space of the woodblock indicates the territories of India and Pakistan split by a jagged line that seems arbitrary and willful.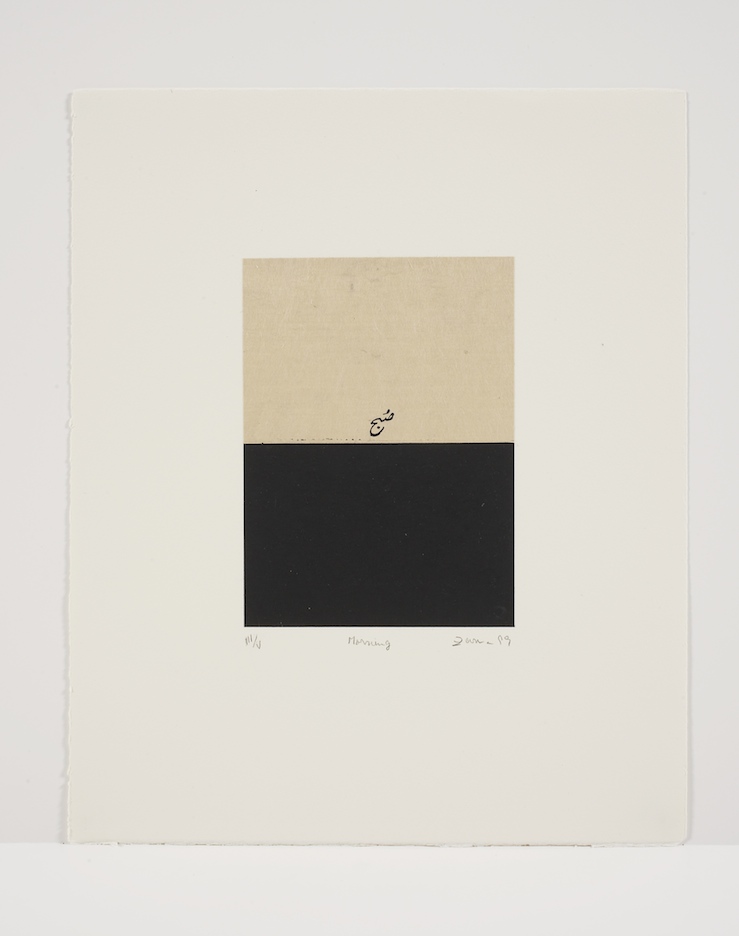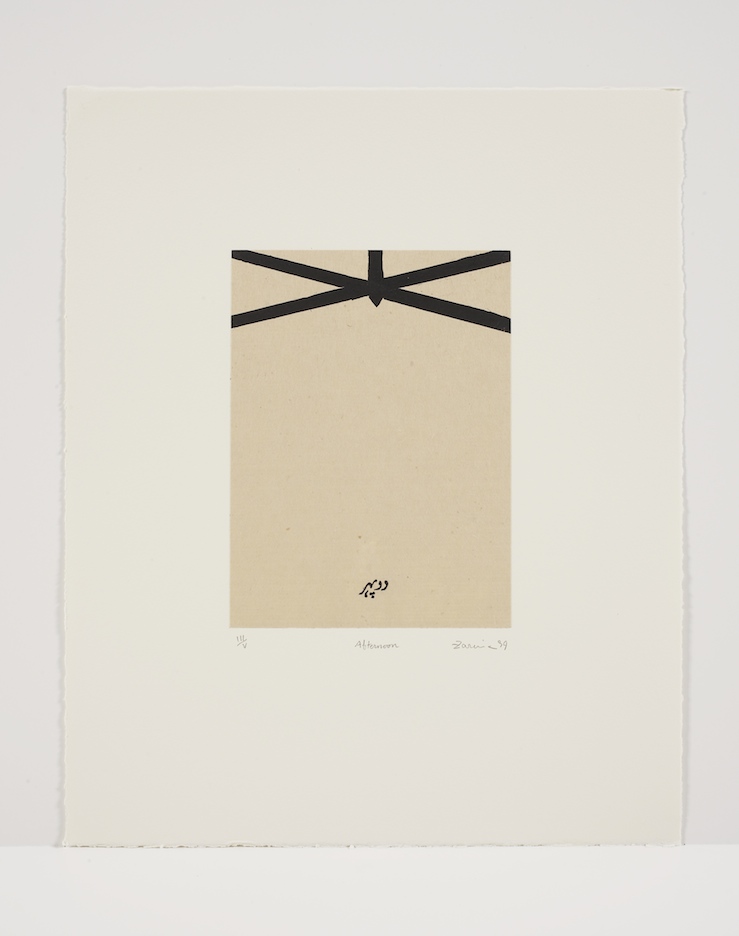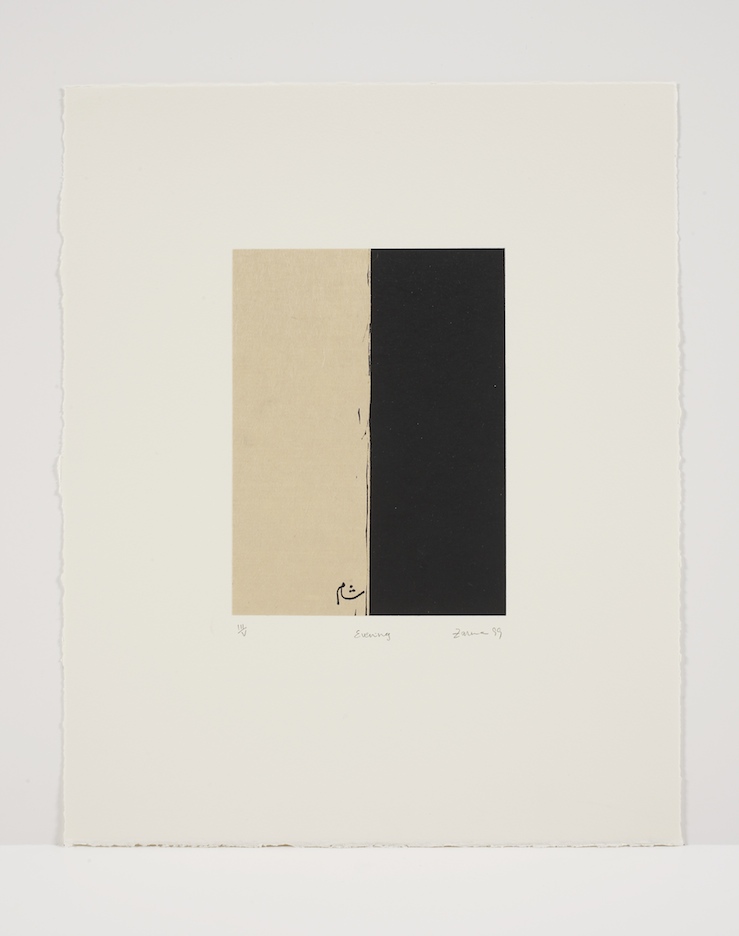 [Left to right: Zarina Hashmi, Morning; Afternoon. From the portfolio Home is a Foreign Place, 1999.
Portfolio of 36 woodcuts with Urdu text printed in black on Kozo paper, mounted on Somerset paper. Edition of 25.
Block size: 8 x 6 inches. Sheet size: 16 x 13 inches. Images courtesy of Luhring Augustine Gallery, New York.]
While Zarina's work is described alternately as minimalist, modernist, and abstract, these categories do not sufficiently encompass her work. The idea of multiple modernisms has taken root today within contemporary artistic discourse, where it is finally acknowledged that modernism was not a solely Western construct with derivative versions existing elsewhere in the world. Yet the idea that what we understand as "modernism" (and even minimalism) is itself variable and might not exist parallel to Western constructs of modernity is less discussed. To put it another way, Zarina made her work well before the Western art historical context within which her work could fit existed. Zarina's celebration in the United States, where she has resided for so long, is very well deserved, if embarrassingly belated. Perhaps it is only fitting that in tracing the origin of the retrospective Zarina: Paper Like Skin, a map of the artist's life emerges, with Delhi at its center.
[This article was originally published in ArtNow.]