Lara Deeb and Mona Harb, Leisurely Islam: Negotiating Geography and Morality in Shi'ite South Beirut. Princeton: Princeton University Press, 2013.
Jadaliyya (J): What made you write this book?
Lara Deeb (LD) and Mona Harb (MH): Leisurely Islam began as a series of conversations about how Dahiya—the area situated to the south of municipal Beirut, where we had each conducted our previous research—and the Shi'i Islamic milieu centered there were changing in the early years of this century. We had both written a great deal about the political, institutional, urban, and religious changes that had occurred in Dahiya, and were interested in expanding our foci to other aspects of life in the area. As researchers who had worked in the area since the late 1990s, we had witnessed the transformation of Dahiya's Shi'i Muslim community into a more middle-class and normatively pious one, and wanted to follow up on some of the ramifications of those changes.
In the wake of the massive destruction wrought by the 2006 Israeli war on Lebanon, we began to notice the emergence of a vibrant café sector in the area. This observation led us to narrow our focus to leisure and related ideas and practices of morality and space. It was at this point that the socio-spatial analysis came to the forefront of our project. We wanted to show the different ways that people—including pious people—can and do enjoy themselves in different parts of the city. We also wanted treat leisure as something that is, on the one hand, as disciplined as other aspects of life, and on the other hand, an arena for potential dissonance. As our research continued, we also began to map the networks of the production of leisure in Dahiya, and to gain a greater understanding of the urban transformations that went hand-in-hand with these social changes.
J: What is this book about?
LD and MH: Leisurely Islam is about many things: how and why cafes and restaurants proliferated in Dahiya in the twenty-first century; the growth of a solidly middle-class Shi'i Muslim community in Dahiya; the usually unsuccessful efforts of Hizbullah to control the new leisure sector in the area; the entrepreneurs investing in these new establishments; the views of religious leaders on leisure practices; the ways that pious young people draw on different ideas about morality as they piece together ways to have fun with a clear conscience; the ways that people navigate both Dahiya and greater Beirut as they seek places where they can hang out and enjoy themselves without violating their morals; and the ways café interiors and aesthetics facilitate different kinds of leisure practices and call upon an eclectic style that is related to the positioning of Dahiya's residents in relation to other Lebanese and transnational networks.
J: How does this book connect to and/or depart from your previous research?
MH: Leisurely Islam connects to my research on the institutions of the Islamic milieu, which I explored in my first book, and brings out the key role played by the private sector and middle class entrepreneurs in conceiving urban spaces and providing services. It also expands the urban geography dimension of my earlier work, and enriches it with an analysis of the changing geographies of Dahiya. We explored this by mapping the functions, attributes, and locations of leisure sites; by investigating how people's ideas about moral norms and behavior impact and change spatial practices and experiences in different parts of Dahiya and Beirut; and how spaces and places also contribute to the negotiation of morality. This dialectical relationship between morality and geography was a whole new arena we very much enjoyed exploring in the book.
LD: My first book closed with a question about what would happen to conscious piety in this community as a generation was raised to assume certain pious practices as social norms. Leisurely Islam focuses on that next generation, youth who take those norms for granted and are implementing them in creative ways in their lives, especially in relation to leisure. Rather than focus on piety, however, in this book we focus more broadly on morality, and are careful to note that ideas about morality are not necessarily rooted in religion, but can be related to other social and political ideas, as well as to spatial practices and the geography of the city. Unraveling those relationships was one of the wonderful challenges of this project.
J: Who do you hope will read this book, and what sort of impact would you like it to have?
LD and MH: In an ideal world, we would love it if our book reached a wide and varied audience, one that includes scholars, students, policy-makers, and a general educated public (though we aren't holding our breaths). We have tried to write in an accessible style that will engage undergraduate students and help them to think about morality and cities in more complicated ways. We hope the book shows students in the United States—and beyond—that Muslim youth share many of their concerns and desires, without downplaying the structural, political, and economic differences of the contexts in which they live. As political divides in Lebanon continue to deepen, we hope that our book might help those students who view the youth we write about as "the enemy" gain a greater understanding of the complex ways that shifting geographic, sectarian, and moral divisions are constructed and negotiated.
Working together on this book has been a phenomenal way to bring differing theoretical approaches together and address multiple literatures and scholarly audiences. We hope to reach colleagues in anthropology, urban geography, Middle East studies, religious studies, and urban studies. Specifically in relation to anthropology of Islam, our goal has been to highlight the socially-grounded and contextual nature of piety, as well as the complexity of the relationship between piety and morality. As we address our colleagues in urban studies, we hope our book impacts scholarship that theorizes the urban from cities in the global South, and challenges binary ideas about the differences between cities and their so-called peripheries.
Overall, we hope to push people to rethink how spatial practices and experiences within and between neighborhoods work and how morality works. We also hope to push people to rethink how ideas about geography and morality are dialectically linked and impact cities, people, and leisure. Finally, as our book's publication coincides with a moment when sectarianism is the key term through which the Middle East is understood in the policy realm, parts of academe, and in publics around the world, we hope that we are able to underscore the constructed nature of sectarian divisions and debunk some of the stereotypes about the Shi'i Muslim community in Lebanon and about Dahiya as a part of the capital city with which Beirutis have had an uneasy and historically complex relationship.
J: How have things changed since you completed your field research for this book?
LD and MH: We did most of the research for this book between 2007-2010, and a great deal has changed since then. While we were writing Leisurely Islam, daily life in Lebanon had not yet been altered significantly by the Syrian conflict. In the time between writing and publication, that has changed radically due to Hizbullah's open military support of the Syrian regime, more frequent and more intense incidents of violence in Lebanon, and huge numbers of Syrian refugees in Lebanon.
As the political situation in Lebanon has deteriorated, the country has polarized along sectarian lines in new and stark ways. That polarization has reinstated and continued a process of entrenching sectarian divides in Beirut. While the violence of May 2008 led to a moment of fear that had a similar effect in terms of sectarianized urban spaces, that fear was short-lived and localized, and it separated different areas of the city from one another.
Today's divisions are accompanied by a new discourse among Shi'i Lebanese that highlights the transnational dimension of the conflict and names Salafis and Takfiris as the enemy who presents a mortal threat. While Hizbullah never had unanimous support within Dahiya or full control over its population, the party's security apparatus has begun to fray at a more rapid rate than was visible at the time of our research. Recent bombings in the area—one of which took place very near two of the cafes we write about—are violent evidence of this unraveling of the party's control.
Today, the fears are not only about "other" neighborhoods, but also about "others" within Dahiya itself, as political differences within this part of the city have begun to show themselves overtly in new ways. In addition, Hizbullah's military participation on the side of the Syrian regime has lost them the support of many on the left. We would surmise that these changes have had an impact on the leisure scene we describe in our book. Fewer people from outside Dahiya are going there to shop or hang out, due to new fears of violence in the area as well as the loss of support for the Resistance—or at least the bursting of the romanticized bubble surrounding it. In the book, we describe how some young Shi'i residents of Dahiya were exploring leisure options in other Beirut neighborhoods in 2009 and 2010, and those excursions have probably been curtailed to a great extent by the political tensions and violence in the country.
Overall, the connections—however fragile—that were knitted in 2009 and 2010 seem to have dissolved, and Dahiya is on its way to reverting to a relatively isolated island unto itself within the city, albeit with potentially threatening punctures. Whether the moment of connection and possibility that we capture in Leisurely Islam will return or not is an open question at this point. If it does not, however, Dahiya's isolation will likely lead to an even greater emphasis on developing self-sufficiency for its residents, including in the realm of leisure, following the patterns we describe in our book.
J: What other projects are you working on now?
LD: I'm currently writing a book with Jessica Winegar that analyzes the politics of the discipline of anthropology through the lens of Middle East anthropology, in order to advance broad insights into the relationship between discipline and region, as well as between politics and academia in the post-Cold War United States. At the book's core lies an ethnography of a self-identified generation of Middle East anthropologists defined by the theoretical moment of their intellectual coming-of-age: the impact of the events of 11 September 2001. We examine the role this moment had on their early careers and professionalization into a discipline with established institutional structures. As it expands outward, our research includes the perspectives of scholars from multiple generations and institutional histories from archives such as those of the American Anthropological Association and its Middle East Section.
These institutional histories shed broader light on the shifting and sometimes fraught relationships of discipline to region, as well as on the presumed progressive politics of the discipline. Geopolitics are critical to our analysis of discipline-region relations, and we investigate the convergence of geopolitics and academic/disciplinary politics in three arenas: the tensions between academic and applied anthropology; the perceived and actual impacts of geopolitics (and American foreign policy more specifically) on scholarship, job security, and academic freedom; and the shifting relationship between funding and the production of academic knowledge. Our main goal is to track the relationship between anthropological work and politics by taking as our case study anthropologists working in the region that has, in the post-Cold War era, become the focus of political intervention and politicized discussion.
MH: I'm working on two research projects. In the first, I'm studying urban policies and public space in Beirut, focusing on civil society initiatives that have been emerging over the past few years, aiming to encourage spatial practices in the public realm and asking if these could be conducive to radical spatial politics. The second project explores decentralization and planning institutions in Lebanon, specifically the multiplication of strategic plans at the scale of local and regional governments – a process often encouraged by international donors. I am interested in exploring how these plans may provide new opportunities for socio-spatial and political change. The decentralization project is part of a larger comparative study I am undertaking with Sami Atallah, director of the Lebanese Center for Policy Studies (LCPS), investigating the performance of local and regional governments in the Arab world, as seen through the provision of urban services.
Excerpts from Leisurely Islam: Negotiating Geography and Morality in Shi'ite South Beirut
From "Introduction: Exploring Leisure, Morality and Geography in South Beirut"
It was a typical Thursday around three in the afternoon in late summer about a year after Bab al-Hara opened. We walked up a short flight of stone stairs and through a small outdoor seating area to the café entrance just above the level of the busy street. Two collection boxes for Shiʿi charitable organizations flanked the main door—one for Al-Mabarrat, the organization affiliated with prominent religious leader Sayyid Muhammad Hussein Fadlallah, and the other for Hizbullah's Emdad Foundation. We stepped into a large room, its faux stone walls graced with antique objects and photographs from the popular Syrian television series that is the café's namesake. Two television screens were tuned to Hizbullah's Al-Manar station, with the volume set so low that it was barely audible. Toward the back of the room, beside a staircase leading to the first floor, a young couple was seated on one of the low couches arranged in a rectangle around a low wood and glass table. The couch was upholstered in the red-and-black-striped fabric common to these cafés. The wall behind them held an old clock, a sword, and a lantern, with a set of brass coffeepots resting on a narrow shelf below. The couple looked like they were twenty at most. Both wore jeans and sneakers, his accompanied by a black T-shirt with something printed on it, and hers by a long, loose purple blouse and brightly printed matching headscarf, pinned at the side to cover her neck but not her chin. His arm was draped lightly around her, and they appeared to be engaged in an intense conversation.
We walked up the stairs and were greeted by a sudden shift in décor. Red, black, white, and zebra-striped leather chairs and sofas with metal legs were arranged around ceramic and metal tables, with checkerboard tops in the same colors under glass surfaces. Horizontal purple stripes along one wall framed a long poster of primarily red, black, and white computer graphic images ranging from a coffee cup and saucer to silhouettes of faces and bodies, with the English words "drink it" printed every so often. As it continued along the wall, the poster included enlarged photographs of groups of young people and more silhouettes, with the English phrase "I have something to tell you" accompanying them.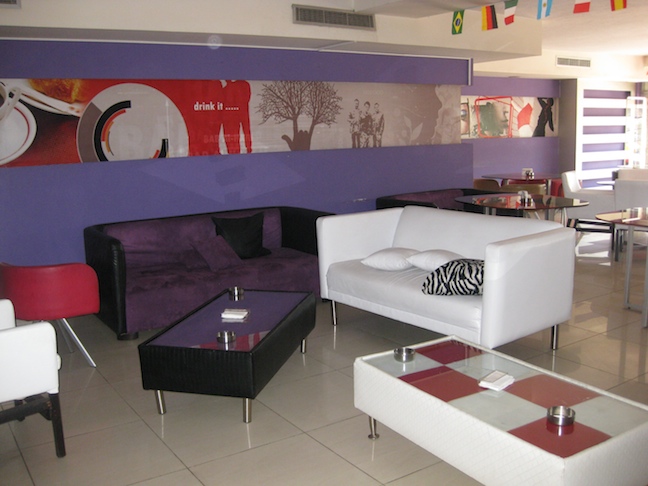 [Bab al-Hara café, first floor. Photo by Lara Deeb and Mona Harb.]
Besides our table, there were seven others with customers on this floor. A young man and woman, both wearing jeans and T-shirts, were drinking tall juices and having an animated conversation in one corner. Across the room sat another couple, drinking espresso. They looked a few years older, perhaps in their late twenties or early thirties, and were dressed more conservatively, he in slacks and a button-down shirt, and she in Islamic dress—a long, loose coatlike dress in navy blue with a blue and white printed headscarf. They seemed less familiar with one another; their conversation proceeded as though they were asking each another questions across the table. Scattered around the room were three tables of lone men sitting and smoking argileh (hookah); one seemed to be in his twenties, and the other two in their thirties or perhaps older. The coals for their argilehs were regularly replenished by men wearing two slightly different uniforms—one that resembled representations of Lebanese village dress during the Ottoman Empire, often seen on dolls or in folkloric performances, and the other that mimicked the outfits on the Bab al-Hara television series. One of the older men seemed quite familiar with the waitstaff and appeared at one point to be giving them instructions. Two tables were filled with groups of youths. Three young women and a young man pored over textbooks at one table, while three young men and two young women laughed and talked loudly at the other, making the most noise in the place….
On a trip to the restroom on the ground floor, a glance over to the couple sitting near the stairs caught them kissing passionately. They remained the only downstairs customers. Our table afforded us a view out the window to the main street of Sainte-Thérèse below. A steady stream of passersby walked along the road, sometimes interrupting the flow of traffic to cross. Two blond women wearing business suits with skirts above their knees and pumps walked by quickly, followed by a shaykh in his robe and turban, a group of teenage boys eating sandwiches, a woman in Islamic dress holding a small child's hand, and a young woman in a green sleeveless sundress carrying a book bag; this young woman turned into the café and joined the study group seated in front of us….
At around 9:15pm, one of the young men said loudly, "Muhammad, put on Al-Manar, now the Sayyid will begin." The waiter handed the guy the remote control, and he said "Merci" and changed the channel, turning his chair to face the screen. As he did so, he asked us, "Sorry, does this bother you?" to which we of course replied that it did not. Once Hizbullah's secretary general Sayyid Hassan Nasrallah began speaking, many of the young men became attentive. The customer holding the remote control quickly flipped through all the other Lebanese channels to assess which ones were airing the speech before settling back on Al-Manar. About five minutes into the speech, two young women wearing headscarves walked downstairs, stopping before they left to ask Douaa where she had bought her shoes. Two other young women continued to crack jokes and argue loudly about a fortune-teller. A few minutes later several groups of men, ranging in age from late teens to late thirties, walked upstairs, apparently here primarily to watch Nasrallah's speech. It was 9:30pm.
The above vignette describes a typical weekday afternoon and evening in one of the new cafés in the southern suburb of Beirut or south Beirut, an area often maligned in the US press as "the Hizbullah stronghold" and known in Lebanon as Dahiya. The Bab al-Hara café exemplifies many of the shifting features of leisure in south Beirut, and highlights many of the new ideas and practices of morality as well as geography that have emerged in this Shiʿi-majority area of the city over the past decade. The café is located at the eastern edge of the area, close to the Maronite-majority neighborhood of Hadath where the Free Patriotic Movement political party, led by Michel Aoun and allied with Hizbullah, dominates. Bab al-Hara's architectural layout provides varying rooms and seating areas for different customers, with an eclectic décor that draws on at least two popular aesthetic styles, which we call contemporary and heritage. The menu offers a wide selection of food, beverages, and argileh flavors, but no alcohol, and wireless Internet access is available. The waitstaff and manager interact in familiar ways with a diverse, often carefully dressed customer base, and sometimes control patrons' movements, all under the watchful eye of the café owner. Patrons include people of different ages, styles, dress, and behavior; they study, flirt, chat, make out, laugh, hold business meetings, show off their clothes and accessories, eat and drink, and check out the other customers.
These are activities typical of any café in Beirut, but Bab al-Hara is decidedly not part of the circuit of hip leisure places frequented by the cosmopolitan young jet set featured in New York Times travel section depictions of the city. If we were to ask a typical American University of Beirut student who grew up in Achrafieh or Verdun how they decide where to go out, they would probably list factors like who is going, what they're in the mood for, where the place is located, what sort of transportation they have, what they can afford, and what the general atmosphere of a place is like. And chances are, they would not decide to spend their evening in Bab al-Hara, opting for a café or pub in Hamra or Gemmayze instead. So why is this café so popular? Who goes to Bab al-Hara, and why would they go to this café over another in Beirut when many Beirutis and Lebanese would scoff at such a choice?
To answer these questions, we need to first understand that many young residents of Dahiya are more or less pious Shiʿi Muslims who would add a key idea to the list of factors affecting their decisions about where to go out: the legitimacy or appropriateness of the café in question—terms encompassing ideas about the reputation and morality of places, activities, and people. Bab al-Hara is one of the new cafés that have filled a particular niche produced by people who understand, however implicitly, the relationship between morality and geography when it comes to leisure choices and activities. These new cafés in south Beirut are often described as sharʿi ("religiously legitimate"), muhafiz ("conservative"), or simply munasib ("appropriate") by both their clientele and owners. The term sharʿi here refers to legitimacy in relation to Islamic precepts, though the precise details of some of those precepts remain debatable. The exceptions are alcohol and non-halal meat, neither of which is available in any of Dahiya's cafés. There is also debate as to whether it even makes sense to apply the term sharʿi to cafés, as some people believe that implies a formal religious approval that is beyond the bounds of jurisprudential purview. Conservative and appropriate refer to societal ideas about moral behavior, and the overlap and interchangeability among the three terms highlights the entanglement of social as well as religious ideas about what it means for a café to be a "good" or acceptable place. Also complicating this picture are the geographic and political aspects of "appropriate" cafés, as place has come to matter in crucial ways.
[…]
In this book, we unravel these ideas about what makes people comfortable in particular places, what they consider to be appropriate cafés and activities, and how leisure is related to their ideas about morality, geography, and status in the city….How do people negotiate morality in relation to different kinds of places and geography in relation to morality? How do ideas about being moral shape people's spatial practices and urban experiences? How is the city navigated and inhabited according to varying moral conceptions? How does leisure reconfigure both moral understandings and urban geographies?
[A full excerpt of the Introduction can be found here.]
[Excerpted from Leisurely Islam: Negotiating Geography and Morality in Shiite South Beirut, by Lara Deeb and Mona Harb, by permission of the publisher. Copyright © 2013 Lara Deeb and Mona Harb. For more information, or to buy this book, please click here.]