"Why would I teach my son Arabic, Ali? Iraq is gone, finished." This is what a friend from Iraq now living in the United States told me a while ago, and I really did not know what to say. Although the specifics of contact with Iraq may differ—it might be about visiting Iraq, talking about it, or about "the region" as a whole—this is not an uncommon sentiment in the Iraqi Diaspora. In the context of this widespread feeling of despair, what is shakomako.net, "an independent digital magazine about everything Iraqi," to do? What role can its emphasis on resilience play in a mainstream media landscape that speaks a very different language? And where exactly does this dominant perception of Iraq come from anyway? Finally, how do tired concepts such as "Iraqi fatigue"—a mainstream and even "alternative" media which feels it has covered Iraq enough—relate to Iraqis' self-erasure, their own reluctance to push for filling that silence?
Enter Iraqi writer Ahmed Habib, who serves on the editorial team of shakomako.net. Habib left Iraq in 1981 and has since lived in Toronto, among other places. Although he has not visited Iraq since 2004, he still calls Baghdad home. Ali Issa recently met him in New York City where he tried to get to the roots of some of these issues, namely, representations of Iraq in the media and how so many have come to believe that Iraq is forever a sectarian, bombed-out war zone: "gone."

Ali Issa (AI): How did the idea for shakomako.net begin?
Ahmed Habib (AH): Growing up in an Iraqi household in the Gulf, Baghdad was never far. It touched every part of our family life, from the way we spoke and the food we ate to the relationships we built. Even when we moved further from Iraq, across the Atlantic to settle in Toronto, Iraq was still very much present. It formed our identity as a family, embodied our yearning for home and represented our fear of what was in store. It was both a source of strength and a symbol of our displacement. We were neither here nor there. We needed to make sense of our shared experiences, to bridge the gap between us and ourselves. Rare flashpoints when Iraq was in the news made this need even more deeply felt.
Leading up to the first Gulf War in 1991—which put Iraq back on the map so to speak, and profoundly altered the geopolitics of the region—we wanted to understand the changes that were looming ahead. In the build up to the war of 2003, Iraq was everywhere again. Reminiscent of the media spectacle of Operation Desert Storm, "Iraq" had once again become a buzzword— detached from notions of home and the stories of our childhood. Instead, Iraq came to denote a purely militaristic target for those opportunists in Washington, DC and other global power centers.
It was a rude awakening for a lot of Iraqis in the diaspora. As millions of Iraqis lived in the relative comfort of cities abroad, millions more inside the country were suffering a slow death. The need for a means of reflection and communication among us, and that linked back home could not have been clearer. Rife with the contradictions of displacement, a group of Iraqi youth who had met in Doha in 2003 decided to create a platform to reclaim Iraq as it existed in the minds of people around the world. An online magazine, shakomako.net was thus born in the diaspora in 2004, and has since gone through several iterations.
The strength of the people of Iraq in the face of a massive and systemic attack that has destroyed the lives of millions of people through war, sanctions, and dictatorship: that was part of our story in the diaspora as well. Our e-zine paid homage to the resilience of Iraqis living inside the country, and the experiences of those no longer living there. It was the proverbial answer to the question, "Shakomako?" which means, "What's up?" in Iraqi slang.
Since the launch, we have tried to create an accessible space for both Iraqis and those interested in and inspired by Iraq. As such, we hope to feature voices that do not necessarily identify as Iraqi, but that have been fundamentally transformed by the experiences of Iraq. For example, we published a story by Nadia Daar, who spoke about how her political awakening arose in relation to resistance to the 2003 occupation of Iraq. We also actively try and reach out to writers and poets who live inside the country, to bring their stories to a wider audience. Recently, Mohammed Hazem, a young journalist who has lived in Baghdad all his life, wrote a poem that describes the farcical irrelevance of the Iraqi elections to him and others from his generation.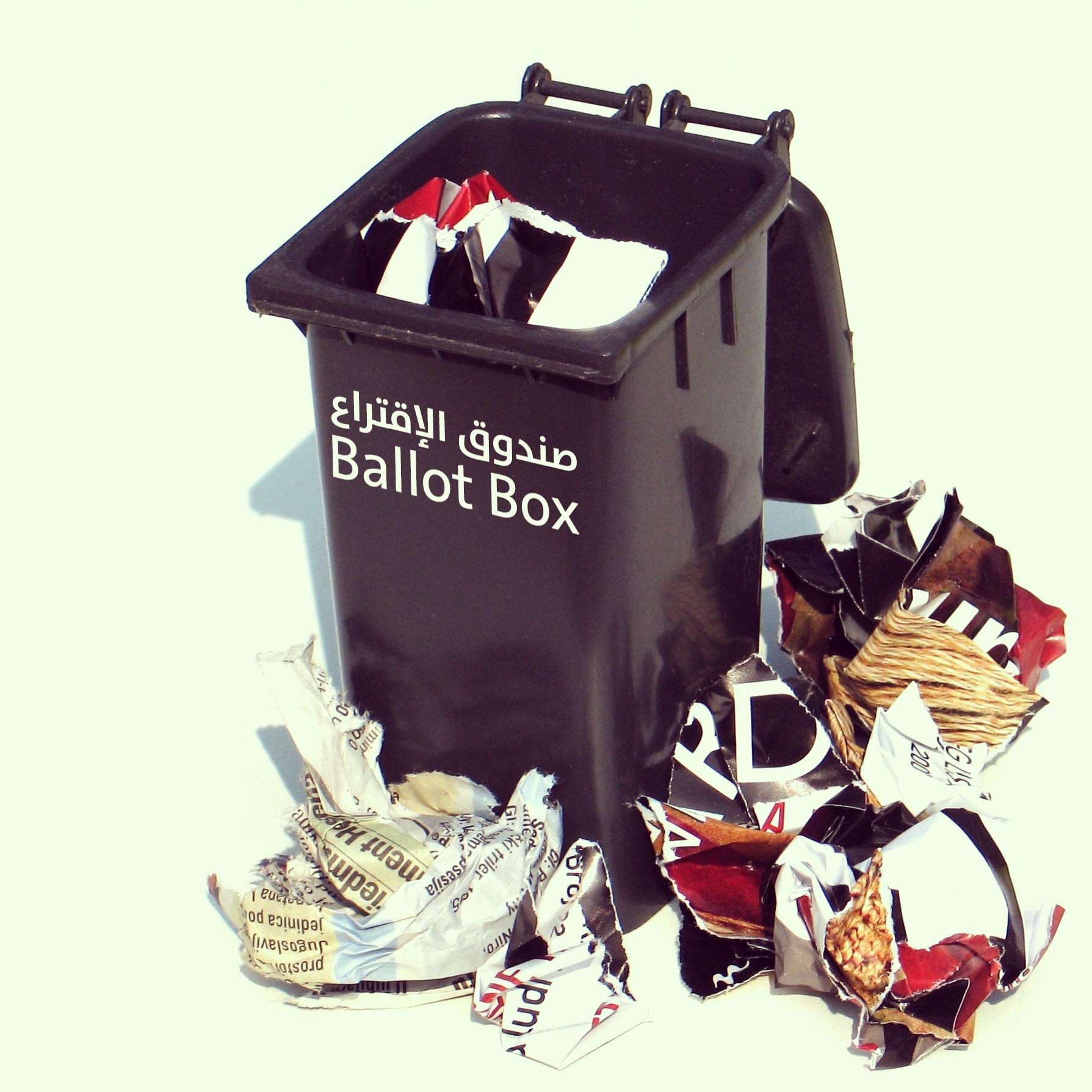 [Image from shakomako.com]

AI: What were the concrete goals of launching the latest version of shakomako, launched on 14 March 2013 on the eve of the ten-year marking of the US invasion?
AH: The magazine had been dormant for many years. Launching and operating independent media projects that do not rely on advertising or external funding sources is always a challenge to maintain. But that does not mean that they are impossible to conceive of and grow. The development of new web and media tools over the past several years has made self-publishing much more dynamic and accessible. We felt better equipped to re-launch and maintain our magazine in a more sustainable way. And we could not let the ten-year anniversary of the occupation of Iraq pass by quietly. One of the messages we want to convey to our readers is that the creation of independent and alternative media spaces, ones that are relevant to our respective communities, is easier than ever, and empowering.
We felt that there was an absence of any kind of substantial analysis on Iraq. All that we were hearing about Iraq either came from a racist over-simplification of the situation—a story of primitive violent Iraqis that have been killing each other for centuries—or an outdated "troops-out-of-Iraq" mantra that did not take into account the multiple layers of the attack on Iraq—the economic sanctions, the legacy of a brutal dictatorship, and regional isolation. More substantially, our identities as Iraqis were being increasingly fragmented. The stories that described us, and aimed to account for our destruction, were being developed along narrow definitions of what and who is Iraqi, and this was being done primarily along sectarian lines.
From day one of the invasion, US administrators of the new Iraq created a government that was divided by sect and ethnicity. The impact of that is felt today, with ministries and political parties identifying themselves according to which sect they pander to, and not by a political program that has any relevance to the deteriorating living conditions in the country. We want the magazine to tackle the pervasive issue of political sectarianism, but also to talk about Iraq through diverse lenses: political analysis, arts and culture, history and memory, and even football.
We want to present an analysis of Iraq that is accessible to people and that reflects the larger dynamics of what is happening there, and not of the trials and tribulations of one sectarian political movement versus the other. We also want to show that Iraq as an entity is not just a word on a news ticker at the bottom of a television screen, but that there are actual people behind Iraq. That Iraq is not just a term used to describe a larger imperialist or geopolitical project. Any analysis that does not put people at the forefront can be construed as superficial, simplistic, and at times even racist. It reflects the problematic ways we sometimes construct narratives of the Other, even if the intention is to show solidarity with an oppressed group. The word Iraq has been printed trillions of times, but very rarely does it reflect the human stories of that place. We must therefore resist the notion of turning the history of the destruction of Iraq into a catchphrase like "Don't Iraq Iran." We must engage on a much deeper level. That is why we try to show different layers of what Iraq is, how war and politics affect all aspects of life, such as culture and sports. In all our interviews with football players, for example, that was the one thing they all kept coming back to: how the unraveling world around them was reflected in the game itself, and how football can also be a unifying force in a country that is falling apart.
AI: An important point made in one of the original calls for shakomako.net content and support was from a Facebook note that said: "For many organizers, 2003 marked a critical period in the radicalization of political organizing. Millions took to the streets of major cities all across the world to demonstrate against the impending massacre of Iraqis." How then do you read this in the waning of Iraq-associated activism organizing globally in subsequent years, around 2008 for example?
AH: It is a real shame the way Iraq has disappeared from political discourse. It has been buried under the rubble of its own destruction. People are too afraid or lazy to sift through it and make linkages between Iraq and other developments in the region and in the world. In 2007-2008, Iraq was being ravaged by a civil war that claimed the lives of hundreds of thousands. There was a large influx of refugees into neighboring countries: almost five million Iraqis. The country was unraveling at the seams. People were being confronted with complexities that did not fit into neat analytical cubbyholes. Instead of engaging these complexities, people just switched off. In addition, international solidarity with Iraq was a casualty of the occupation itself. Civil society work around the world is continuously criminalized, undermined, and attacked. Iraq related activism was no exception.
It was frustrating to witness that. Many of the same people and corporations benefiting from the destruction of Iraq are actively engaged in destroying marginalized communities all over the world. We want people to make these connections. We hope that the magazine can offer a space for people to educate themselves about Iraq, and more importantly, use this information to confront war profiteers in their own communities. We recently published an article about the way the US military propaganda machine specifically targets young black men through their recruitment campaigns. The article came out during a time of concerted resistance in Chicago against gun violence and school closures ordered by none other than Rahm Emanuel, the city's mayor and former senior advisor to Presidents Clinton and Obama. This is the very same Rahm Emanuel who repeatedly justified the war on Iraq. The connections are endless, and exist in communities all over the world.
AI: Shakomako pieces are often framed by the idea that Iraqis have shown and continue to show dignity in the face of destruction, or as the title of a piece by Nidal El Khairy puts it, "Strength In The Face Of Fighter Jets." Why has this emphasis been so important and what implications does this framing give for other societies often portrayed as destroyed, such as Afghanistan, Syria . . . the list could go on?
AH: Societies rarely see themselves as destroyed. They are cognizant of the colossal size of the destruction that surrounds them, but their resilience is what keeps them alive. The notion that an entire people has been destroyed is part and parcel of the dehumanization that drives war and occupation. In Iraq, the level of destruction brought on by decades of war, dictatorship, sanctions, and occupation is larger than life. Living conditions, basic services, and infrastructure are in fact destroyed, but the drive to live and resist remains the true legacy of Iraq. Nidal's piece captures the strength of everyday people in the face of killing machines. It is a story that weaves itself through Afghanistan, Palestine, Syria, and other sites of tremendous violence and death.
AI: What is next for Shakomako?
AH: We are a very small publication run by a group of volunteers and we are always looking to widen our circle and engage more people, whether as contributors or those who want to take a more active role in running the magazine. We work with writers from different backgrounds and skill sets and want to share our platform with people who might otherwise be intimidated to write a story, or edit a sound piece, or make a film. We are also going to be releasing a more dynamic platform to accompany the main magazine and the more in-depth pieces we offer on the site.
From Diyala to Dearborn, the stories of Iraq are endless.

[To contact shakomako with questions or story ideas please e-mail: shakomako@gmail.com]