Under the auspices of ongoing negotiations between the Iranian state and the P5+1 over the former's nuclear program and the crippling economic sanctions unleashed by the latter on Iran and its citizens, Moharram proceedings are nonetheless underway full-force in Tehran. Even in Meydoone-e Kajj of Tehran's Saadat Abad, at the center of the capital's northern upscale edge and green-turned-purple core, and even against an internationally engineered seventy per cent currency devaluation, one is faced with countless Moharram celebration booths, serving passers-by refreshments and vocalizing captivating recitations days away from Ashura in Tehran. As once traffic-clogged streets are converted to venues of flash open-air concerts, visually and audibly stunning ritualistic elegies dedicated to Hazret-e Hossein, Hazret-e Ali, and others of Ahl-al-Bayt continue to overwhelm one at 11:30 in the evening.
Some of them high on a variety of stimulants, from hashish to crystal meth (or shishe in Persian), many souls pour onto Tehran's streets to "find themselves," in the figurative and/or literal ecstasies of commemorative ritual—which also happens to be one of the very few occasions in Iran to occupy public space without the scrutiny of the state. Some in attendance, meanwhile, admit they regret not having visited Syria before the country's historical heritage, including the Seyyida Zainab Shrine near Damascus, came under heavy bombardment and rocket attacks. While a woman in her late forties sends one elegy Zainab's way and laments her own inability to venerate Hazret-e Zainab in Syria, Gaziantep-based merchants in the Iranian Bazaar in Turkey are lamenting the cutting off of their access to that very elegist as a potential customer. The sanctions have led Iran's national economy into a self-perpetuating cycle of exponential inflation and increasing unemployment. From undertaking transnational religious journeys to accessing medicine to treat the chronically ill, Iranians have felt the arresting effects of the sanctions across a variety of sites in their social lives. To put it crudely and in hard sociological numbers: the percentage of Iranian families living under the poverty line has increased from twenty-two percent to more than forty percent prior to Rohani's election.
As Tehran's streets continue to fill up with ecstatic bodies of commemorative ritual, the merchants' stores in Gaziantep's Iranian Bazaar remain empty. While Iranians—now unable to visit Syria for both security and financial reasons—reinvent connections between leisure and religious ritual (particularly ziyarat) anew, the merchants of the Bazaar have to reinvent themselves as economic actors: they are now both without international customers and without transportation for smuggled goods. What follows is a story of arrested mobilities from this fugitive market, lost on a transnational route of Shi'a piety and economic informality, itself suspended between Iran and Syria via Turkey—and one that is no more. I have two aims here. First, taking the now-deserted Iranian Bazaar as my vantage point, I want to sketch out the social production of a pilgrimage and contraband route through its contemporary absences. Then, commenting on how cross-border informal economies come together with "Islamic" modalities of leisure in passing, I offer a theoretical commentary on political economic approaches to contraband in minor urban environments forged through modern state borders among the Levant, Anatolia, and Persia.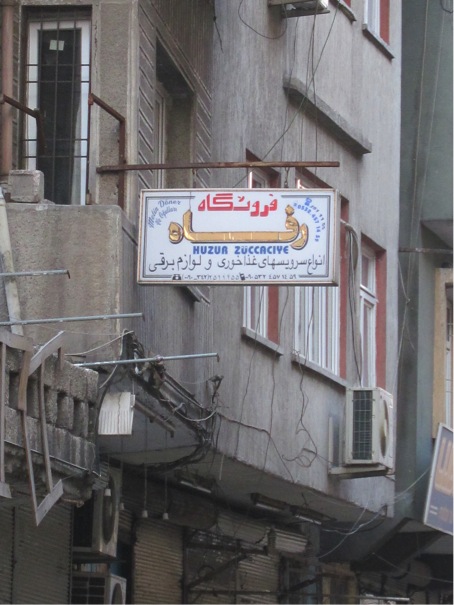 [A Kitchen Appliances Store in the Iranian Bazaar, in Gaziantep, Turkey. Image by Emrah Yıldız.]

Dispatches from the Iranian Bazaar: Bordered Economies on the Edge of Syria and Rojava
Approached from the intersection of Türkmenler Avenue, a major street with bustling traffic, the shops and booths of Gaziantep's Iranian Bazaar appeared as the shiny arches of a passageway to post-pilgrimage consumption only two years ago. Iranian pilgrims on their way from Seyyida Zainab's shrine near Damascus to Iran not only gave the bazaar its name, but they also imbued it with a fifty-million-dollar market value, according to Gaziantep government officials. The bazaar itself comprised three hundred stores and many more cart-shops, surrounding the Iranian pilgrims literally from all directions. If the huge window displays, overflowing with high-tech Turkish coffee machines as well as hand-crafted silk and cashmere scarves, appeared as the constitutive fillings of one arch, the self-packaged nylon bags of sugar, tea, and cigarettes, and last but not least the fire-red thong-bra lingerie sets (with little Christmas style-lamps carefully sown into the tips of the bra) exquisitely assembled on top of mobile tezgahs (carts), filled the other arch—the one of contraband goods.
Built on the grounds of the Eski Otogar, Gaziantep's old main bus station, the Iranian Bazaar's development has been both a result and cause of the remarkable growth of the pilgrimage route that it has fed and fed off of: Hajj-e Fuqara', or "The Pilgrimage of the Humble." Seyyida Zainab's shrine near Damascus, Syria, the destination of this route, began to gain in importance as a site of veneration after the Iranian Revolution and during the Iran-Iraq war of 1980-88, when Shi'a and Iranian access to the closer and more sacred Iraqi shrines in Karbala and Najaf was denied. The biggest part of the ongoing renovation of the Shrine was only completed in early 1990s. Meanwhile, the numbers of pilgrims rose steadily from 27,000 in 1978 to over 1.5 million in 2010. Culminating in an overwhelming traffic of fifty buses a day during the high season of the pilgrimage—approximately three months beginning with Nowruz, the Persian New Year, on 21 March—Iranian pilgrims as well as cross-border merchants covered approximately 790 miles, comparable to a bus ride between Chicago and New York, on the route. During the journey to Damascus or on their way back, pilgrims also visited Veysel Gharani's tomb near Baykan, Siirt, as well as Balikli Gol (an ancient madrasa associated with Abraham and Nemrod) in Urfa, and the Iranian Bazaar in Antep—all of which lie within Turkey's borders. Yet large business deals—with as many as four trucks full of steel kitchen appliances being traded at once, according to some of the seasoned merchants of the Bazaar—were cut only in Gaziantep, where most contraband goods such cigarettes, sugar, and tea also exchanged hands.
A Traffic in Pilgrims: Venerations, Infiltrations, and Abductions of Piety
The pilgrimage, and the bustling trade it produced, all took place before the Syrian crisis, with its countless atrocities committed in a multiplicity of directions: leaving more than 100,000 people dead and nearly five million people internally, and more than two million externally, displaced. Within the larger framework of the crisis, the pilgrimage of the humble was abruptly suspended, while mostly Lebanese bus-shuttled pilgrims continued to visit Iran. The Iranian Bazaar in Gaziantep, stripped not only of its main customer base but also of its main movers of goods, the buses, came to an absolute halt as well. When the area surrounding the Sayyida Zainab Shrine turned into a battleground between Sunni and Shi'a brigades during the Syrian crisis, the shrine itself was deliberately and repeatedly targeted with bombs and explosives by Salafi and Sunni brigades. Competing brigades of Shi'a orientations have set up camps to guard the shrine against attacks.
On 25 January 2012, a pilgrim bus was stopped in Hama, Syria and twenty-two male pilgrims were kidnapped and then later released by a brigade associated with the Free Syrian Army. The abduction was meant to send a warning to the Iranian state not to collaborate with the Assad regime, which in turn prompted the Iranian state's ban on all road travel to Syria, effective as of 4 February 2012. Despite the road travel ban, however, Iranian "pilgrims" continued to visit the Seyyida Zainab shrine by flying to Damascus. On 4 August 2012, another bus carrying forty-eight Iranian pilgrims to the Seyyida Zainab shrine from the Damascus airport was stopped and all passengers on board were abducted. Free Syria Army fighters who claimed responsibility for the abduction stated that they had captured five Iranian snipers operating in the high-rises of Hama, and alleged that military personnel connected to the Revolutionary Guards of Iran were entering the country as pilgrims en route to Seyyida Zainab. Only after five months of captivity and in exchange for 2,100 prisoners, including twenty Turkish nationals held by the Syrian state, the forty-eight Iranian pilgrims were released as a result of a diplomatic deal brokered by Qatari and Turkish diplomats. At least seven guard commanders, including Abedin Koram, the current commander of the Revolutionary Guards' division in Orumieh, were confirmed to be among those released, according to non-state media in Iran.
Meanwhile, pilgrim abductions continued, with Shi'a Lebanese pilgrims being kidnapped on the Turkey-Syria border by the Sunni extremist brigade Asifat al-Shamal ("The Northern Storm"), and not released until very recently, after more than ten months. Two Turkish Airlines pilots were abducted by a competing Shi'a armed group named Zuwwar Imam al-Ridha ("Visitors of Imam Reza") in Lebanon in retaliation. A deal, once again brokered by Qatari diplomats, ensured the exchange of the abductees, while the Syrian State released over sixty jailed women as of late October 2013.
The Iranian Bazaar, meanwhile, was left with a newly finished but completely deserted Ataturk Pasaji ("shopping mall") to host Iranian pilgrims in air-conditioned spaces. But there is one thing missing: Iranians are nowhere to be found in Gaziantep. Out of the three hundred officially registered stores in the broader Bazaar itself, only ten were in operation in late 2013. The cart-shops were nowhere to be seen either: they have found another corner for themselves within the city. The budding hotel industry around the Bazaar that once catered to Iranian pilgrims, on the other hand, has been converted to host Syrian refugees fleeing the violence. The inflated prices of renting hotel rooms as "studios" to Syrians seemed to be working well for property owners near the Bazaar, effectively doubling the property and rent prices across the board in Gaziantep.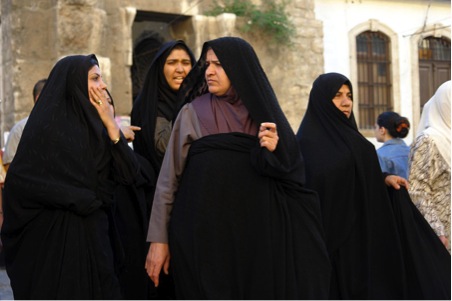 [Iranian Shi'a Pilgrims near the Sayyida Zainab Shrine, near Damascus, Syria. Photo via Wikimedia Commons.]
On Informality and Value Across Bordered Political Economies
There has been, however, no easy fix for the absence of Iranian pilgrims, or the goods smuggled by their buses between borders at the Iranian Bazaar in Gaziantep. Mehmet Abi, a fifty-year-old merchant, owned a profitable shop in the Bazaar, selling kitchen appliances to Iranian pilgrims, when we first met in early May 2009. On the other side of the sidewalk, Mehmet Abi had hired a mobile seller with his cart to work as his apprentice in the bazaar. The apprentice was to learn Persian and the "business" and, while he was at it, run Mehmet Abi's side business: selling smuggled cigarettes—Iran-produced Bahmans brought over in the same buses that shuttled the pilgrims. Gaziantep locals, too, frequented the cart to buy cigarettes, sugar, and tea. While the locals wanted to pick up their kaçak / قاچاق (literally "fugitive," but here meaning "contraband" in both Turkish and Persian) sugar, tea, and tobacco, Iranian pilgrims were after silk scarves, and as well as the red underwear-bra sets, which were known in Gaziantep as a particularly Syrian design specialty.
According to the Bazaar's seasoned tüccar (merchants) and hopeless çıraks (apprentices), the specters of capitalism have settled in Gaziantep's Iranian Bazaar for good. Bazaar laborers point out that even with the swiftly-repaired relationship between Iran and Iraq, the number of Iranians visiting Karbala and Najaf has remained well below the expected numbers. Iranian buses are still continuously targeted with bomb and arson attacks abroad. The economic sanctions linked with Iran's nuclear program also play a role in the declining numbers of Iranian pilgrims throughout the Middle East.
In the meantime, in Gaziantep, the Ataturk Pasaji, erected to greet its Iranian customers with shops named after Tehran hotspots, remains mostly empty. In addition to more than two hundred and fifty stores shut down, fifty merchants have declared bankruptcy, as they were unable to pay off loans to the Turkish banks taken out to be part of the new Pasaji. Of course, compared to atrocities such as the Roboski massacre committed by the Turkish state, and the Reyhanli bombings on the Turkey-Syria border, let alone the situation in Syria, fifty merchants in Antep going bankrupt or a bazaar of some three hundred stores closing might not seduce the anthropological or the journalistic appetite. Nonetheless, even in the brief sketch I provide here, the Iranian Bazaar provides some vital grounds to rethink political economic approaches to informality and the bordering of economies.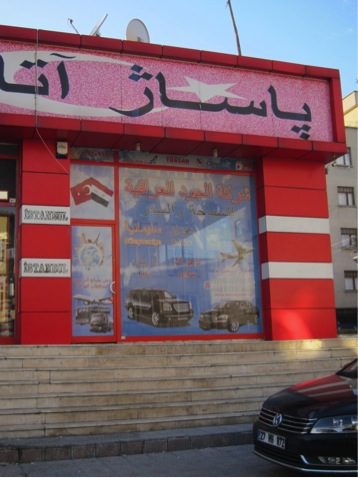 [The Newly Opened Travel Agency/Logistical Firm at the Ataturk Pasaji in Gaziantep, Turkey. Image by Emrah Yıldız.]
The fugitive and fragile infrastructures of informal economic spaces such as Gaziantep's Iranian Bazaar are not mere instantiations of how fleeting late capitalism and its narratives of success find a history of deindustrialization in built spatial form. Beyond providing grounds to rethink various alignments of capital accumulation and land development in minor urban environments and across modern state borders, the Iranian Bazaar has many other stories to tell as well, whether it be those of Gaziantep's real estate agents, those of Iran's Revolutionary Guards, or those of pious Shi'a pilgrims. Villager yükçü (loaders) or resan (guides)—primarily Kurdish—who are once again called upon to carry contraband goods across the borders in the absence of pilgrimage buses are now forced to negotiate and align with brigades of the Nusrah, the ISIS, or the PYD—the Kurdish Liberation Movement's armed wing in Rojava, Syria`s Kurdistan.
The ever-evolving cracks of the Turkey-Syria and Turkey-Iran borders leave some room for movement, even in their contemporary configurations. Arrested mobilities and tectonic interruptions of "global flows" are thus better approached not merely as sites of informal economies interlinked with global markets at an "awkward scale," but also as mobile social arenas of dissident politics and social action in general (which always already includes economic activity) on the post-Ottoman and post-mandate borders of the Levant and Anatolia. The conversion of the Iranian Bazaar into something other than a haunted "de-commercialized" space also marks late capitalism's spatially and historically grounded articulations and the very pragmatic convertibility of value (across different regimes, registers, and territories) that underpins these articulations: like the hotels turned into long-term "studios" for Syrian refugees, logistical firms and travel agencies operating between Gaziantep and Iraq are now moving into the Ataturk Pasaji. In other words, arrested mobilities forge fugitive markets and trans-border connections anew.