Car horns, screeching tires, motorists' blaring music, motorcycle accelerations, sirens—official and unofficial, construction jack hammers, grinding electricity generators: all these create a deafening din of background noise in Beirut. Noise is an important issue affecting the quality of life. Research in other parts of the world has demonstrated the link between noise and damage to hearing, and problems with concentration, memory, stress, sleep, cardiovascular health, and immunity to disease (Stansfeld and Matheson 2003; Ising and Kruppa 2004, Babisch 2011). Despite the growing international literature from the medical, environmental health and psychology disciplines, remarkably little has been done to describe noise as an urban problem, or to document its causes and its effects on well-being, in Beirut or other cities of the region.
In 2012, the American University of Beirut (AUB) Neighborhood Initiative asked all AUB faculty members whether they "longed for a little silence in the city," and if they would like to join forces in a project about urban noise. The Neighborhood Initiative encourages AUB faculty and students to work on issues of concern to its neighbors in Ras Beirut. Research and outreach projects address issues ranging from congestion, greening, walkability, gentrification, well being, the oral history of the neighborhood, and the aspirations of older neighbors. Strengthening the university's connections to its neighborhood is mutually beneficial. The work aims to engage with neighbors and benefit the neighborhood in multiple, explicit ways. In addition, a focus on the neighborhood in research and teaching promises to enrich AUB's core academic mission by offering local, "real world" examples for analysis and debate.
Faculty from every school of the university responded to our "silence in the city" call. As our first major action as a group, we plan to create noise maps for selected areas of Ras Beirut. In preparation, we conducted trial noise measurements on campus. Noise measurements were recorded four times a day over a period of a week, using standard handheld meters at sixty-five points with GPS coordinates, in or around the campus. Students from the Environmental Club took the measurements and entered them into a data log, supervised closely by staff from the Environmental Health Safety and Risk Management Department. The following maps provide an illustration of the findings at a time of day with comparatively high noise levels (3pm) and when there is less noise (6pm).

[Noise levels measured on or near the AUB campus and AUB Medical Center on Tuesday 16 April 2013 at 3pm.
Map by Lina Ghaibeh. Click on image to view larger map]



[Noise levels measured on or near the AUB campus and AUB Medical Center on Friday 19 April 2013 at 6pm.
Map by Lina Ghaibeh. Click on image to view larger map.]

The results are not surprising. The noisiest areas (>70 dBA) were near construction sites and at the southern and northern edges of campus, Bliss Street and the seaside Corniche. The quietest spots were in the campus interior (53-57 dBA). To put this in perspective, health research has found that exposure over a period of time to noise levels above 42 dBA affects sleep and above 55 dBA is a major concern for cardiovascular health (EC/WHO 2010).
The proposed neighborhood noise mapping is likely to involve almost everyone in the group because it has many vital dimensions: the technicalities of measuring sound through more traditional fixed meters and newer crowd-sourcing techniques using smart phones, linking sound data not just to place and time but other variables—one-off events, regular building functions—through semantic web analysis, using the graphic arts to create compelling and clear reporting of results. A subjective survey will, in addition, explore perceptions of noise: perceived levels and sources, levels of annoyance, and the possible effects on well-being and health, including hearing loss, the quality of sleep and productivity.
The group is also contemplating other actions in addition to the noise mapping and survey. First, during Fall 2013, students in performing arts and theater set design courses created installations and performances for the public around noise and silence, recorded here. Building on these projects and reusing some of the props, we plan to organize an awareness-raising campaign at AUB about the problem of noise in the city. We may take the campaign, with leaflets about the levels of noise in the city and the impact of noise on well being, to the streets of the neighborhood too. Eventually, the group also hopes to advance policy advocacy with public agencies responsible for environmental pollution and the construction industry.
We recently discussed creating a name and a logo for the project to give our work a clear identity. We settled on a combination of something catchy visually and phonetically, employing both Arabic and English, and ultimately reflecting who we are—academics who are both serious and light-hearted. We are: صوت و صمت The AUB Noise and Silence Research Group. The work of our group "صوت و صمت" offers the potential for mutual benefit—benefit to academic knowledge and, we hope, eventually, to make a real difference in our neighborhood too.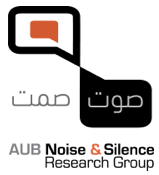 References:
W. Babisch, "Cardiovascular Effects of Noise," Noise and Health 13, no. 52 (2011), 201-204.
European Commission/World Health Organization, "Science for Environment Policy," Environment News Alert Service (2010).
H. Ising and B. Kruppa, "Health Effects Caused by Noise: Evidence in the Literature from the Past 25 Years," Noise and Health 6, no.22 (2004), 5-13.
S.A. Stansfeld and M.P. Matheson, "Noise Pollution: Non-auditory Effects on Health," British Medical Bulletin 68 (2003), 243-257.