The Issam Faris Institute (IFI) at the American University of Beirut (AUB) has released a report, authored by Rabih Shibli, the associate director for Development and Community Projects at AUB's Center for Civic Engagement and Community Service. The report investigates the impacts of the Syrian refugee crisis in Lebanon, and advocates the reform of current relief mechanisms along more decentralized mechanisms.
The report suggests establishing a new governance system at the level of the eight Lebanese mohafazat (governorates). It supports the establishment of a "Council of Mohafaza" which task would be to coordinate relief mechanisms comprehensively and efficiently, as explained below.
The Council of Mohafaza Team (CMT) will chair coordination meetings with donors and relief agencies, and will allocate defined tasks to its supportive units to implement relief projects in partnership with the municipalities that host refugees. Due to their extensive knowledge in the field of relief and crisis management, UN agencies will have a significant role in the establishment of the units and in building personnel capacities. In order to respond to the escalating refugee crisis, seven units are required in order to set up a comprehensive and an efficient response mechanism:

Unit (1) Information Management and Coordination: This unit will follow up on the registration of refugees, collect data from local authorities and coordinate with Lebanese security divisions to facilitate the works of relief-working groups.

Unit (2) WASH (water, sanitation, hygiene and shelter): This unit will be responsible of implementing infrastructural works, rehabilitating unfinished buildings, and providing basic services in Informal Tented Settlements.

Unit (3) Child Protection and Gender Based Violence: This unit will curb violent practices against the most vulnerable groups among the refugees, and secure mental health assistance to traumatized victims.

Unit (4) Distribution of Food and Non-Food Items: This unit will handle the listing of all refugees according to age and gender groups in order to ensure smooth and transparent distribution of clothes, food rations, and the like.

Unit (5) Education: In addition to the formal educational process, literacy programs will be offered to refugees at all ages.

Unit (6) Health: Syrian physicians will assist locals MDs in the diagnosis and treatment of refugees needing medical treatment. Abiding by the Lebanese rules and regulation for medical practice, special permits will allow specialized Syrian MDs to carry out operations to refugees.

Unit (7) Supporting Host Communities and Alleviating Tensions with Refugees: This will be achieved by engaging refugees in municipal public works along ecological lines. Universities will have a key role in conceptualizing strategies that will enable the implementation of this agenda.
The report suggests this schematic diagram for the proposed institutional structure overseeing this comprehensive relief mechanism.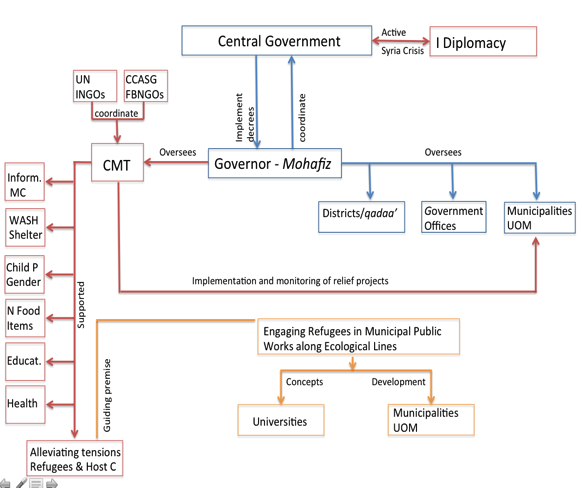 [Proposed institutional structure overseeing the proposed relief mechanism. Diagram by Rabih Shibli.]
In addition, the report "recommends engaging refugees in municipal public works along ecological lines, as a means to highlight self-reliance among the refugees' communities and to alleviate rising tensions among refugees and the host communities." The full report entitled Reconfiguring Relief Mechanisms: The Syrian Refugee Crisis in Lebanon is available here.