The World is With Us is a groundbreaking cinema and gallery series exploring rare political film and graphic art created during the volatile heyday of the Palestinian revolution.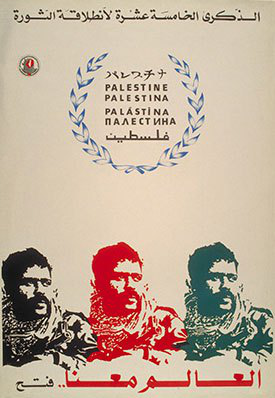 [Muwaffak Mattar, "The World is With Us." Poster designed for the Fatah movement, 1980.
Text at top: "The Fifteenth Anniversary of the Launching of the Palestinian Revolution."
Scan courtesy of the Palestine Poster Project Archives (PPPA).]
The project takes its name from a 1980 poster designed by Muwaffaq Mattar (above), one of 30 works reproduced in the exhibition.
The series takes place from May 16th and June 14th. An inaugural weekend at the Barbican Cinema presents some of the most distinctive film works of the era, accompanied by daily screen talks (May 16-18). A gallery show at Rich Mix follows, with some 20 hours of rare, newly-subtitled, and recently re-discovered films installed alongside reproductions of 30 posters produced by Palestinian and international designers (May 19 to June 14). Panel talks, contemporary artists' interventions, and an irreverent psychedelic film scoring accompany the exhibition.
The World is With Us casts new light on rarely seen works by a Palestinian and international avant-garde inspired by revolt in Arab world. It poses timely questions about the politics of radical art and of international solidarity in revolutionary times.
Curatorial Statement and Project Rationale
The Palestinian Revolution erupted in 1965 as a momentous project in reform stressing popular armed struggle, political self-reliance, and national liberation. It rapidly became a touchstone for cultural and political revolts spanning the Arab world. A generation of activists, artists, and idealists gravitated to the revolution's creative impulse, composing a vibrant field of political creativity.
The liberation movement's cinema elements expression as part of a global struggle against capitalism and injustice meant its appeal was far-reaching. Before long, a worldwide avant-garde of artists and militants seeking radical change were turning to the revolution as both vanguard and inspiration.
The revolution's syncretic and iconoclastic qualities made for a uniquely lively artistic scene. In the visual arts, posters served as a primary tool for popular mobilization. But they also formed a crucial site for visualising new identities and ideals as artists translated the revolution's repertoires of dignity, vitality, and community into potent graphic forms. Less widely seen, but just as innovative, militant film emerged from 1968 in close contact with poster and photographic arts. Palestinian and international filmmakers often quoted directly from posters or evoked their motifs through composition and tone. In dialogue throughout the revolutionary period, these two realms of political expression shared a spirit of militant vigour and stylistic adventure.
The World is With Us explores this confluence of political creativity, offering an exceptional survey of rare film and graphic art made by Palestinian and international artists inspired by the revolution.
Cinema Elements
Despite their number and diversity, barely a handful of films from the era are still widely known. Drawing on extensive archive research, The World is With Us brings together over 30 highly distinctive works from the period. Many are newly subtitled; most have not been shown publicly for decades. In all, work from a dozen countries is represented, ranging in origin and style from demagogic Soviet newsreels to Iraqi film-poems via Argentinean feminist essays and the earliest Palestinian works.
The World is With Us opens with a showcase of the most striking films of the period (Barbican Cinema, May 16-18). This begins with an unprecedented UK presentation of seminal Palestinian militant work, With Soul, With Blood (1971), shown with a selection of radical experiments by Iraqi director Kais al-Zubaidi (in attendance). A triple-bill of internationalist cinema assembles work by Dutch documentary master Johan van der Keuken (The Palestinians, 1975), Russian auteur Vladimir Kopalin (Palestinians: The Right to Life, 1978), and the Maoist militants of the US Revolutionary Union (Revolution Until Victory, 1973).
Italian directors Luigi Perelli (Al-Fatah, 1970) and Ugo Adilardi (The Long March of Return, 1970) present and contrast their stunningly photographed portraits of the revolution's early rise. Christian Ghazi's Hundred Faces for a Single Day (1971) illustrates some of the most radical formal experiments of the era. And a selection of key works by the Palestine Film Unit (formed in 1968) and its successor organisations traces the changing form of Palestinian filmmaking over the course of the revolution.
Gallery Elements
The exhibition at Rich Mix (May 19 – June 14) is designed to echo cinema depictions of early PLO information bureaus, with their clutter of communication technologies and walls plastered with posters or newspapers. Some 20 hours of film material is installed on vintage television sets, alongside a carefully chosen selection of 30 reproduction poster prints.
Posters have been selected to illustrate the extraordinary breadth of rhetorical, aesthetic, and thematic concerns taken up by artists over the tumultuous years from 1968 to 1980. They have also been chosen to emphasise the dialogue that occurred between film and poster forms, with several works featuring prominently in the exhibition's film content. Aesthetically, the work ranges from fine art by renowned Jordanian, Cuban, Syrian, and Palestinian figures, to crude photo-montage produced by unknown party cadre, and promotional designs related to film festivals or exhibitions of the period.
The show is accompanied by a calendar of events animating its archive content in informative and challenging ways. Highlights include a live performance on May 30th by psychedelic rock band MUGSTAR, accompanying the militant cinema classic Red Army / PFLP Declaration of World War (Masao Adachi, Koji Wakamatsu, 1971). An artists' colloquium on May 24th invites contemporary artists and writers including Basma Alsharif and Adania Shibli to present creative responses to work from the exhibition. A panel talk and film screening on May 26th looks at the interplay of film and posters in depth, with speakers including Mona Saudi (founder, PLO's Plastic Arts Section) and Dan Walsh (founder, Palestine Poster Project Archive).
The exhibition opens on Monday May 19th with a reception at Rich Mix and is free throughout.
Dates

Friday, May 16 – Sunday May 17: Barbican Cinemas Cinema series: 16 signal films over 7 sessions, daily screen talks.
Monday, May 19 – Saturday June 14: Rich Mix Gallery show: 20 hours of film installed alongside 30 iconic posters, regular public events.
Monday, May 19: Rich Mix Exhibition opening reception
Saturday, May 24: Rich Mix Artists' colloquium: New artistic encounters with the militant record.
Monday, May 26: Rich Mix 'An Aesthetic Revolt': Panel talks on graphic art in the revolution + rare film screenings.
Friday, May 30, Rich Mix 'A Psychedelic World War': MUGSTAR perform live to Red Army / PFLP Declaration of World War
Trailers
TWIWU Web Trailer from Palestine Film Foundation
Mugstar vs Red Army PFLP Declaration of World War from Palestine Film Foundation