["A Profile from the Archives" is a series published by Jadaliyya in both Arabic and English in cooperation with the Lebanese newspaper, Assafir. These profiles will feature iconic figures who left indelible marks in the politics and culture of the Middle East and North Africa. This profile was originally published in Arabic and was translated by Mazen Hakeem.]
Name: Sayyed
Last name: Qutb
Father's name: Qutb Ibn Ibrahim
Date of birth: 1906
Date of death: 1966
Nationality: Egyptian
Category: Author
Profession: Writer and journalist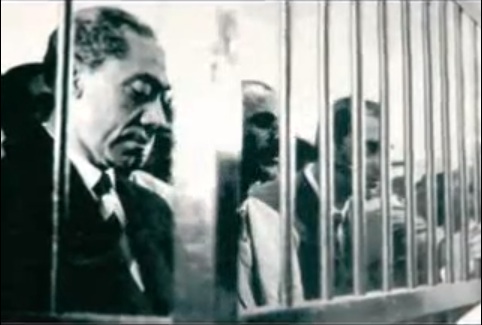 Sayyed Qutb

Full name: Sayyed son of Al-Haj Qutb son of Ibrahim son of Hussein Shathly.

Born in 1906 in the village of Qaha located in Assiut Governorate, Upper Egypt.
His father, Al-Haj Qutb Ibn Ibrahim, was a religious man and a member in the National Party Committee, which was headed by Mustafa Kamel. His mother was a religious woman and from a decent family.
Went to the village school when he was six. He learned the entire Koran by heart when he was ten.
In 1919, he remained in his house for two years after the eruption of the revolution.
In 1920, he travelled to Cairo and completed secondary school. He joined House of Science (dar al-o'loom) College.
After graduating from college in 1934, he worked in Al-Ahram newspaper. He wrote in Al-Risalah and Al-Thaqafa magazines. He worked as an Arabic teacher, then as an employee at the Council of the Ministry of Education, and after that as a technical supervisor at the ministry.
During this time, he became proficient in English. He also apprenticed under the writer Abbas Mahmood Al-Aqqad and took his side in the quarrel between him and Mustafa Sadiq Al-Rifaa'i.
Was deeply shocked at the start of his intellectual glory due to the sudden death of his mother in 1940. This incident left an indelible mark on him.
In 1946, he published an article entitled "Schools for Handwriting." This is considered the actual beginning of his intellectual commitment to Islamic ideology as he sharply criticized the situation of the Egyptian society. He called upon Muslim believers to be active in the public reform domain.
In late 1946, he criticized contemporary civilization and described it as being "material and deprived of spiritual values." At the end of 1948, his book, Social Justice in Islam (al-a'dala al-ijtima'ia fi al-islam), was published. In it, he deemed that "true social justice, which is the anticipation of humankind, cannot be achieved unless it is under Islamic order; we ought to have literature that stems from Islamic perceptions."
In 1949, he received a government scholarship to study "education programs" in America where he stayed for two and a half years in Washington and California. He sent a letter to his friend Twafiq Al-Hakeem in which he mounted an offensive against American civilization. He deemed that this civilization "does not care for spiritual values." He also criticized Al-Hakeem's book Oedipus, stating that he would have preferred that the book had been approached in an Islamic manner rather than a Greek one.
During his stay in America, he realized what he called the "falsity of the Western civilization," he also observed the desire for revenge in Western media and political circles following the aftermath of the assassination of Hasan Al-Banna.
Right after he came back from America in 1951, he criticized Egyptian curriculums and claimed they were put in place by the British government. He demanded curricula conform to Islamic beliefs and submitted his resignation in 1953 in protest of this matter.
Joined the Muslim Brotherhood shortly before the July 1952 Revolution in Egypt. It was not long before he became the intellectual of the party and the one to be reckoned with despite the fact that he never held a leading post.
Elected as a member of the Guidance Office and appointed the head of the Daawa (Preaching) Division in the General Directorate of the Muslim Brotherhood. On 5 July 1954, the party leadership appointed him editor in chief of the Muslim Brotherhood magazine. However, the magazine was closed down on 10 September 1954. At that time, he was arrested along with others. This marked the start of his journey in prisons (Al-Kal`a Prison, Military Prison, Abu Za'bal Prison, and Liman Torah Prison). A court sentenced him to fifteen years in prison on 13 July 1955. He spent ten years in prison before being paroled due to the mediation on part of one of the Arab rulers, President Abdul Al-Salam Aref, who was close to President Gamal Abdel-Nasser.
During the time of imprisonment (1954 -1964), he devoted himself to writing and publishing books. He wrote his interpretation, In the Shadows of the Koran (fi zilal al-Qoran) and other books: Characteristics of Islamic Perception (khasa's al-tasawor al-islami); This Religion (hatha al-deen); Islam and Problems of Civilizations (al-islam wa moshkilat al-hadara); The Future is for This Religion (al-mostaqbal lihatha al-deen); and Islamic Studies (dirasat islamiyah).
After his release from prison, his book, Landmarks on the Road (maa'lim fi al-tareeq), came out and he was arrested once again alongside a group of other Muslim Brotherhood members on the charge of conspiracy to overthrow the ruling government by force. The Supreme State Security Court in Cairo sentenced him to death on 22 August 1966. The execution was indeed carried out on the 29th of the same month alongside his compatriots: Muhammad Hawash, Yusuf Hawash, and Abdul Al-Fattah Ismail.
Literary and Intellectual Works


The Poet's Mission in Life (mohimmet al-sha'ir fi al-hayat).
The Unknown Beach (al-shati' al-majhool)--poetry.
Criticism of Taha Hussein's Book: The Future of Culture in Egypt (naqd kitab mustaqbal al-thaqafa fi masr li taha hussein).
Artistic Perception in the Quran (al-tasweer al-fanee fi al-Qoran).
A Child in the Village (tifl fi al-qarieh).
The Enchanted City, (al-madinah al-mashoorah).
Books and Characters, (kotob wa shakhsiyat).
Thorns (ashwak)--novel.
Scenes of Judgment Day in the Koran (mashahid alqiamah fi al-Qoran).
Religious stories, a collection of religious books for children (co-authored with Abdul-Hameed Joudeh Al-Sahhar).
Literary Criticism, Its Origins and Methodologies (al-naqd al-adabi, osooloh wa manahijoh).
Social Justice in Islam (al-adalah al-ijtima'ia fi al-islam).
Battle of Islam and Capitalism (ma'rakit al-islam wa al-ra'smaliyah).
Global Peace and Islam (al-salam al-a'lami wa al-islam).
Islamic Studies (dirasat islamiyah).
This Religion (hatha al-deen).
The Future is for This Religion (al-mostaqbal lihatha al-deen).
Characteristics of Islamic Perception and Its Components (khasa's al-tasawor al-islami wa moqwimatoh).
Landmarks on the Road (maa'lim fi al-tareeq).
Joys of the Soul (afrah al-rouh).
Towards an Islamic Society (nahwa mojtami' islami).
In History, Ideas and Methodologies (fi al-tareekh, fikrah wa minhaj).
Our Battle with the Jews (ma'rakatona ma' al-yahood).
In the Shadows of the Koran (fi zilal al-Qoran), which is a new genre in interpreting the Quran. It centers around the faith of absolute worship to God.