[This interview is the result of a month-long email conversation between the activists of Gulf Ultra Luxury Faction (G.U.L.F.) and Jadaliyya`s Arabian Peninsula page editorial team.]

Nate Christensen and John Warner (NC and JW): Can you give us a brief introduction to your work as artists and activists and to the political actions of G.U.L.F.? Can you describe how your work with G.U.L.F. fits in with your broader artistic visions?
Global Ultra Luxury Faction (G.U.L.F.): G.U.L.F. stands for Global Ultra Luxury Faction. Our name is important to emphasize at the outset as our artistic vision does indeed have a global dimension that both encompasses and surpasses migrant workers as bonded labor in Abu Dhabi which our recent actions highlight. A coalition of groups, including Tidal, Occupy Museums, MTL, NYU Fair Labor Coalition, and members of Gulf Labor, established G.U.L.F. as an autonomous offshoot of the ongoing Gulf Labor Campaign (GLC). For the past three years, GLC has targeted the Guggenheim museum over concerns about the working and living conditions of the tens of thousands of migrant workers involved in the construction of the cultural district on Saadiyat Island, where a new branch of the Guggenheim franchise will be located.
Since February 2014, G.U.L.F. has undertaken two performative interventions within the walls of the museum in New York City, both of which generated highly visible coverage in the global media. These were punctuated by a guerilla projection onto the facade of the building and the launching of globalguggenheim.org, a platform that mimics the appearance of the Guggenheim`s own website and which announces the cancellation of Frank Gehry's current design for the museum in favor of a visionary design competition open to the public and based on principles of sustainability and social justice. The coming weeks and months will likely involve further disturbances and escalation from G.U.L.F. At the same time, we will be developing and promoting the Global Guggenheim competition-platform in advance of an autumn offensive targeting the museum. This will be undertaken in alliance with a network of artists, architects, writers, and curators that has grown exponentially since we started our action-sequence in February. Unless it demonstrates a good faith effort to use its immense cultural and economic power to reshape labor conditions in Saadiyat and thus set a standard for the region and beyond, the Guggenheim should expect G.U.L.F. to remain on the offensive.
With this recent sequence of interventions, we wanted to introduce an element of creative direct action to the original GLC campaign. Doing so would amplify the campaign's message and turn up the heat on its target. Importantly, it would incorporate the campaign into a larger narrative concerning the role that artistic and cultural institutions play in neoliberal globalization whether in Abu Dhabi, Berlin, New York, or Brazil. The ultimate target of G.U.L.F is thus not just the Guggenheim or its subcontractors in Abu Dhabi, but the economic and political system in which museums play an important role—a system that is geared toward the interests of the global one percent.
The artistic vision of G.U.L.F. is not only a matter of negative critique or protest. G.U.L.F. is also about affirming the power and beauty of art, though we understand this term to mean something rather different than the way that, for example, the Guggenheim would. For us, the most relevant forms of art involve direct action, unsolicited interventions, and political organizing that challenge the institutional frames of museums, galleries, festivals, and academic establishments. This is a spirit that many of us encountered during our work in Occupy Wall Street, in which the boundary between art, media, and organizing dissolved in the same way it did in other situations of political rupture around the world—including the occupations of Tahrir Square and Gezi Park. For G.U.L.F., art in the broadest sense can involve forms of collective creativity that open space for alternatives to the privatized and exploitative cultures of neoliberalism.

NC and JW: Does G.U.L.F. build on a longer tradition of artistic engagement with the migrant workers in the Arab Gulf states? How have your strategies of transnational activism been negotiated within G.U.L.F. and how have you built solidarity between G.U.L.F. and workers in the Arabian Peninsula?
G.U.L.F.: Yes. G.U.L.F. would not be possible without the longer-term work of the GLC referred to above, in addition to the work of legitimate independent monitoring groups such as Human Rights Watch and Migrant Rights. The original GLC initiative involved the participation of more than one hundred prominent artists from all around the world in a boycott of the Guggenheim Abu Dhabi. The boycotters now number more than two thousand. This boycott campaign has been supplemented by the 52 Weeks campaign, which involves a weekly email blast of a new art project that engages the Guggenheim conflict and its attendant issues. A number of the artists participating in GLC hail from South Asia and work alongside labor rights organizations to pressure the Indian and Bangladeshi governments, for instance, to enforce regulations against the illegal recruitment fees that form one link in the chain of exploitation of these workers. Each of the labor source countries has a long history of militant and creative labor organizing and mobilization that we hope to better engage. An important point of reference is the government of the Philippines, which has been much more proactive in cracking down on exploitative recruiters because of pressure by migrant worker organizations in the country, and advocates for better treatment and better pay on behalf of its citizens in the receiving host countries.
There is still much for us to learn from workers themselves about the operations of the system in both source and receiving countries. We hope that the combined efforts of G.U.L.F. and GLC amplify the voices of workers as well as to form critical connections with other artists and activists in source countries such as India, Bangladesh, Nepal, and the Philippines. The problems that workers are experiencing on Saadiyat Island are not unique to that location, and part of our work is to help connect worker struggles across the globe.

NC and JW: From the work you have produced for Gulf Labor's 52 Weeks campaign, it seems that transnational debt is central to your analysis of exploitation in the art world. Can you further elaborate on the connections between debt, labor exploitation, and global artistic production?
G.U.L.F.: Indebtedness is central to the international chain of exploitation that we are targeting. Most immediately, we are concerned with the sponsorship [kafala] system of debt-bondage in which migrant workers from South Asia are entangled. The privatization of land and the displacement of subsistence or small farms, along with skewed neoliberal economic policies that have favored urban elites across South Asia over the last two decades have put enormous pressure on workers betting on higher paid foreign jobs. They enter the Gulf economies most often as doubly bonded. First, they are in debt to their recruiters at home, and they are then indentured to the host country employers on whom they depend for their work visas. Thus, most of their meager income goes to service the debt they incurred by coming to work in Abu Dhabi in the first place, with no redress regarding their labor and living conditions. Once they are in the Gulf debt trap, the migrants are put to work building the kind of overleveraged, speculative developments that have made the United Arab Emirates a major node on the landscape of high finance.
As suggested by No Debt Is An Island, a contribution to Gulf Labor`s 52 Weeks series by the group MTL, the debt-servitude of the migrant workers is only the most brutal end of the spectrum of the global debt-based economy at work in Abu Dhabi and other locations of cultural development throughout the world. In the Global North, we have generations of young people going into a lifetime of debt-service in order to pursue the dream of higher education, including that of becoming an artist—a field of activity associated, ironically enough, with freedom and self-determination. The conditions of students in the Global North, while not equivalent to those of migrant workers in the Gulf, are nevertheless quite precarious and governed by ruthless forms of market competition. The great majority of students do not "make it" into the exclusive top-tier of the galleries, museums, and academic institutions that would ever pay them enough to make ends meet, and they are instead forced to turn to consumer credit and part time service work to support themselves, becoming debtors two-times over. First to the school—with yearly tuitions as high as fifty thousand dollars—and second, to the personal debt industry that has exploded over the past few decades in tandem with the stagnation of wages and chronic underemployment. The dynamics of precarity and debt certainly do not only affect students and artists, who are by and large relatively privileged when we think of education and cultural capital. The legions of security guards and janitorial workers—primarily people of color—that maintain the spaces of the institutions in which we contemplate artistic treasures are themselves low wage, precarious workers for whom predatory credit is an essential part of their lives.
Yet another level in which debt intersects with the cultural field is that of governmental debt-service and its associated processes of structural adjustment. A prominent example in the US is the bankruptcy of Detroit and the Emergency Management austerity plan that had been set up there to pay off municipal bondholders. Vital social resources—ranging from education to electricity and even to the holdings of the Detroit Institute for the Arts—are hemorrhaging upwards from the population to Wall Street. This makes way for new rounds of what David Harvey calls "accumulation by dispossession." As the city is broken down and cleared out by austerity, the bohemian cultural sector is already creeping into the ruins of Detroit as the avant-garde of "urban revival." An important countervailing force in Detroit are groups and institutions like the Boggs Center, which understand art and culture as having an important role to play in cultivating neighborhood-based communities of resistance, survival, and liberation in the face of Wall Street's "disaster capitalism."
Finally, we should not neglect to mention the perennial fact that the collection, display, and sponsorship of art has long played an import role in the public self-legitimization of economic elites throughout the history of capitalism, including the one percent financiers who preside over our contemporary debt-economy. Along with cultural prestige, art is also a storehouse of speculative investment. It is both a matter of conspicuous consumption and wealth creation for Wall Street.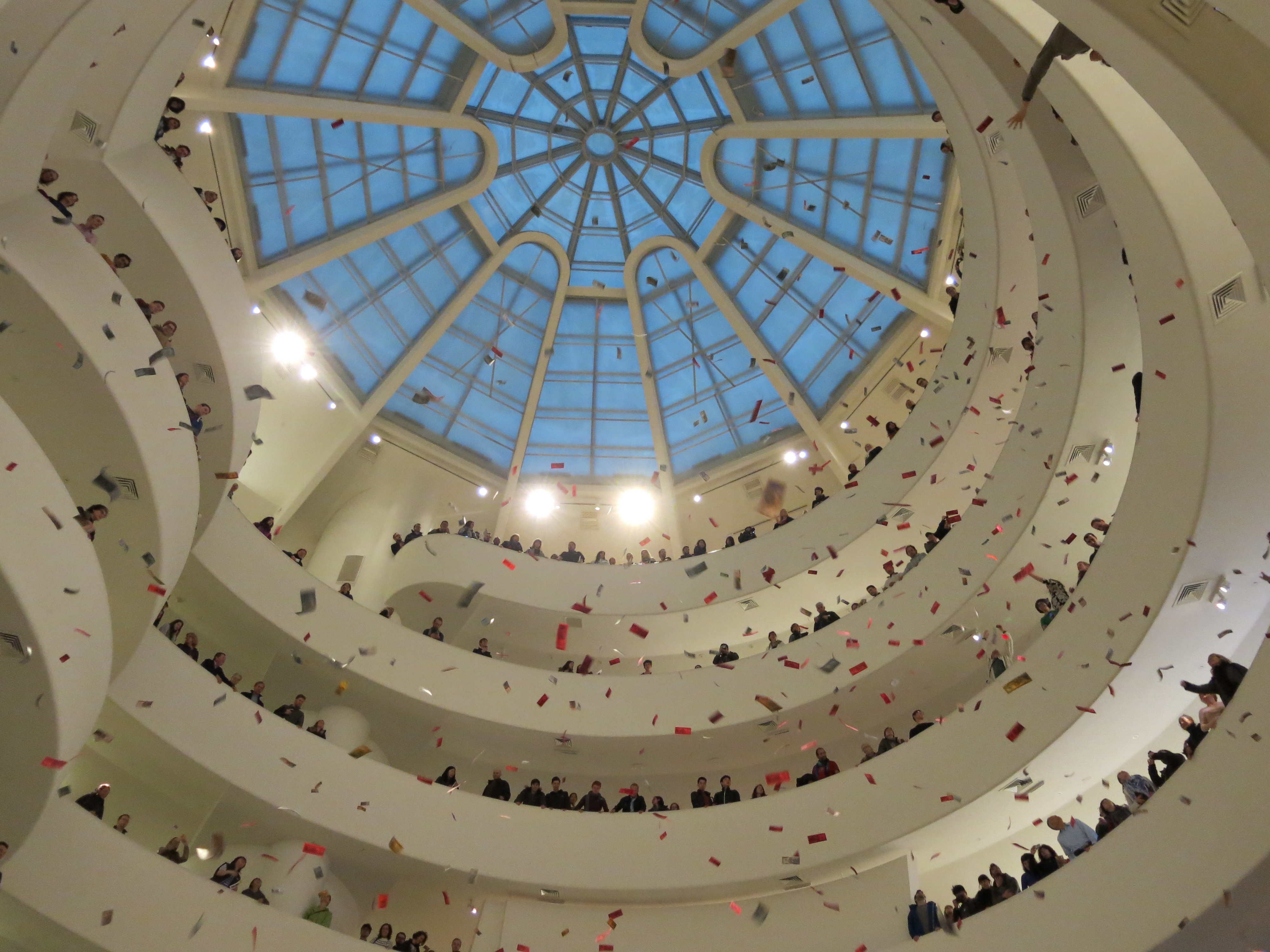 [G.U.L.F. action in the Guggenheim Museum in New York. 29 March 2014. Image from G.U.L.F.]

NC and JW: Cultural institutions, such as museums and theaters, are often seen as key components for the construction of knowledge economies. Can you speak to the ways in which particular forms of artistic consumption relate to late capitalist economic development?
G.U.L.F.: The mainstream world of the arts involves a central contradiction. On the one hand, art is supposed to exemplify cultural values that transcend the calculations of profit and loss that otherwise characterize capitalist society. On the other hand, those who control the art system at an economic and political level treat art as a cold, hard asset. Museums such as the Guggenheim are factories for the production of this contradictory value, which is what fuels the speculative economies of auctions, art fairs, and ultimately large-scale cultural extravaganzas such as Saadiyat island. The museum or the theater thus continues to proclaim the values of public service, education, and enlightenment, which after all are the source of their legitimacy in the eyes of the public. Yet they are also increasingly happy to embrace the other side of the coin that they have traditionally hidden or disavowed: the role of the arts as financial investment, economic instrument, and recreational amenity for capitalist elites. The collective histories, ideas, and expressions embodied by works of art thus become the exclusive purview of a global ultra-luxury faction, otherwise known as the one percent, for whom a place such as Saadiyat is custom designed.
Whether one thinks of the Sydney Biennale boycott, the protests at the Istanbul Biennial, Rising Tide UK's Art Not Oil, or the "blockupy" intervention at the Basel Art Fair, we have found that mainstream artistic institutions can provide a platform that is both highly visible and highly vulnerable for direct action. Such institutions—ranging from Documenta to the Sharjah Biennial—claim to represent the cutting-edge of culture, and to their credit, in recent years they have become more hospitable to work that explores political themes. However, they almost always draw the line at being politically challenged on their own complicity in issues concerning, for instance, labor abuses, gentrification, and environmental destruction. Museums, festivals, and mega-exhibitions want to display politics without seeing themselves as part of the picture. But any person with access to the Internet can quickly discover that the most powerful individuals and corporations in the world often affiliate themselves with museums, using art to clean their reputations and even to launder money—with the art world constituting one of the largest unregulated markets in the world.
Furthermore, a very tangible economic process with which artistic consumption is often involved is that of gentrification, which we referred to above in the case of Detroit. It may sound like an old story, but in recent years it has intensified and accelerated: artists and other workers in the cultural field often function as the unintentional vanguards of real estate valorization in areas traditionally inhabited by the poor and working classes, leading to rent hikes, evictions, and overall displacement of neighborhoods (and ultimately the artists themselves). Artistic consumption is one part of a broader spectrum of culture-led urban "redevelopment" encompassing luxury cultures of architecture, food, fashion, and media, laying the groundwork for the real estate and construction industries. This is a process at work around the world in urban centers from Mumbai to Johannesburg to Bilbao to Istanbul. It is especially pronounced in New York City, where, as elsewhere, it embodies deep dynamics of racial and ethnic inequality as well. The antagonisms of gentrification are simmering just below the surface in New York, and they are likely to burst forth in the near future. The key when that moment comes, however, is to see such a struggle as part and parcel of the capitalist accumulation by dispossession that is happening worldwide.
Artists are both complicit in the process of gentrification, and victimized by it in turn as they find themselves pushed out of the neighborhoods in which they had once sought refuge. Many people organized around this narrative in the 1980s in New York, which saw the use of independent art spaces as both hubs of resistance and anchors for the expansion of the art market.
All too often these days, gentrification becomes a matter of agonized moral handwringing: people feeling bad, but at the end of the day throwing up their hands in the face of a seemingly inevitable urban pattern. But with the right analysis and the right spirit, artists could play a proactive role in fights against displacement by devoting their skills, resources, time, energy, and passion to local struggles. Doing so, however, involves an often difficult process of what Gayatri Spivak calls "learning to unlearn privilege," in which the good intentions and progressive aspirations of the well-educated and the privileged are productively put into question by the voices of the marginalized people with whom they claim to express solidarity. This is the case not only at the level of, say, a gentrifying neighborhood in Brooklyn or Berlin, but also at the intra-group level of organizers themselves. White supremacy, patriarchy, and class inequality are ingrained structures of social life around the world—including the worlds of art, academia, and activism—and it is essential for us to stay vigilant in combatting these forces. This combat—both external and internal—is an ongoing and constant struggle that is at once a political necessity, a learning experience and (what Spivak refers to as) training in the practice of freedom.
We were confronted with these questions in the context of our recent actions at the Guggenheim. Our immediate target was the museum as a corporate institution that is complicit with the hyper-exploitation of subaltern workers in Abu Dhabi. We launched the solidarity initiative by mapping out transnationally the entire chain of debt (as a mechanism of wealth extraction) involved in building Guggenheim Abu Dhabi. This included the debts of migrant workers, students, and artists. We wanted to hold the Guggenheim in New York accountable for its overseas global activity and, simultaneously, question the economic orbit in which museums operate and the labor practices they follow irrespective of geography.
We were devoted to disrupting its operations in a highly visible manner and reframing the museum in the process as an exemplar of the global one percent more generally. In planning our actions, we were mindful that it could create a certain amount of work and stress for the security and janitorial staff of the museum, which is made up of low-wage workers of color. After several conversations on this point, we chose to proceed with the action with the intention that any points of conflict are to be converted in points of community construction.
Our encounter with the workers was indeed tense, but also instructive and promising. As they escorted us out of the building following the action, they seemed understandably annoyed by the temporary inconvenience we had created. But a much deeper chord was also struck. A member of the museum's security team repeatedly said: "We would be with you if you had done this differently! You're talking about workers? You're talking about debt? Most of us make ten dollars an hour! How do you raise a family on that?" A day after the first action, G.U.L.F. used the media attention to issue a statement that states in part, "As for the underpaid Guggenheim guards' wages in New York, passing off culpability to a subcontractor is no longer an acceptable practice, even in the corporate world. The Guggenheim should pay all employees at least a living wage, even if they are on a contractor's payroll."
The conversation with the guards was difficult to be sure, but it did not make us regret or agonize about our action. It was a learning experience. It helped to connect the dots between the material conditions of life on the ground in New York with broader structures of race and class at a global level. Needless to say, ten dollars an hour is hardly a living wage in New York City, where gentrification is making life less and less livable for the great majority of the population, especially people of color and immigrants. A robust campaign was launched last year by labor groups in the city to unionize low-wage workers, especially in fast-food sector. Imagine such a campaign extended to cultural institutions and their often shady labor subcontractors? Connecting these dots between local and global, home and abroad is a crucial part of our analysis, and it will inform our actions moving forward as we hone in on new targets in the global ultra luxury in New York.

NC and JW: While the exploitation of migrant labor in the Arabian Peninsula is a particularly brutal and visible exemplar, labor exploitation exists at the heart of virtually all artistic production, from the mining of raw materials for paint pigments in Brazil to the securitization of exhibition spaces in France. Is there a danger that actions targeting artistic institutions in the Arabian Peninsula might exceptionalize them, thus obscuring these broader structural relations? Does it risk pardoning, or even sanctifying, relations of artistic production in one place (e.g., New York) while demonizing those in another (e.g., Abu Dhabi)? How do current and future G.U.L.F. actions address these concerns?
G.U.L.F.: This is a crucial question. Despite our work to locate the structural circuits of debt, exploitation, and violence in the global context, it is true that our critiques and actions might run the risk of seeming to resonate with racist presumptions quick to shift all blame on "Middle Eastern despots" and "traditional cultures of servitude" (in South and Southeast Asia). We are opposed to any version of human rights activism that would focus myopically on the middlemen of the murky kafala economy (themselves often beholden to larger financial predators) or indeed the easily demonized oil sheikhdoms of the Gulf. Saadiyat is a local magnifier of the structural dynamics of neoliberal globalization, which across the world can combine many forms of power from oligarchy to theocracy and indeed to certain version of "democracy," exemplified by the right-wing populism in the United States funded by the Koch Brothers (whose names grace the face of Lincoln Center in New York City).
But here is the twist when it comes to Saadiyat. Working in New York, we have direct physical access not only to major media outlets, but also to the iconic flagship building of the Guggenheim brand. The art world of New York is a force and voice amplifier, and it would be irresponsible for us to pretend otherwise. We are provided a unique opportunity to leverage the visibility of a major cultural institution, forcing a juxtaposition of the stated aspirations of the liberal art world against the brutal reality of its material conditions and geopolitical ties. This is a basic tactical insight that we can imagine extending to other struggles in the future, such as the Boycott, Divestment and Sanctions (BDS) around Israeli apartheid, a movement that is beginning to gain traction on US university campuses, but has yet to strongly hit in the art world.
A final point about our focus on the Guggenheim. The Guggenheim is unique among other institutions on Saadiyat island in that it claims that work on its Saadiyat campus is not ongoing and thus it cannot be held accountable for any alleged violations. First of all, this claim is misleading—thousands of pilings and foundation work were completed in 2011, island infrastructure to service the museum site is being built, and contractor tenders were put out several months ago for work to re-commence soon. Second, the claim by the museum that work has yet to begin ironically provides an opportunity for us all to demand that they do the right thing before the project supposedly gets started. Now would be the time to pressure the museum to make a brave and principled move before it gets locked into the facts on the ground. It is not too late. This is where the Global Guggenheim design competition will play an important role in moving forward. The competition will open space for all manner of visionary images that not only contest the global ultra luxury economy, but also serve as a platform for embodied direct action that will bring people together to build our collective power.