["A Profile from the Archives" is a series published by Jadaliyya in both Arabic and English in cooperation with the Lebanese newspaper, Assafir. These profiles will feature iconic figures who left indelible marks in the politics and culture of the Middle East and North Africa. This profile was originally published in Arabic and was translated by Mazen Hakeem.]
Name: Imam Muhammad
Last Name: Issa
Father's Name: Ahmed
Date of Birth: 1918
Date of Death: 1995
Nationality: Egyptian
Place of Birth: Abu Al-Nanomros
Category: Artist
Profession: Composer – singer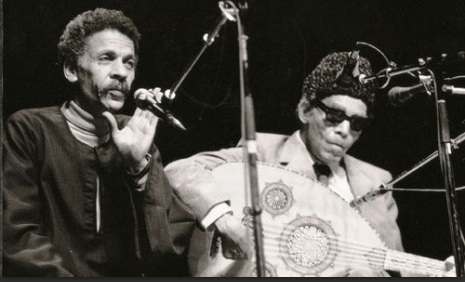 [Sheikh Imam and Ahmed Fouad Negm]
Sheikh Imam

Born to a poor family in Abu Al-Nanomros village on 2 July 1918. He lost his sight when he was five months old.

In 1929, his father took him to Cairo to study at the Sunni Religious Association in Al-Azhar Mosque. He stayed there for five years, in which he learned the Qu`ran and recite it at funerals and gravesites. By the age of twelve he had memorized the Qu`ran by heart. Then, and for many years to come, he became a "professional" who recited the Qu`ran at events where he was invited to perform.
He was expelled from the Religious Association after he was caught red-handed listening to the Qu`ran on the radio, which was considered a heresy by the association at that time. When his father learned of this, he forbade him from returning to the village. This forced him to look for another place to live.
In the mid-thirties, he met Sheikh Zakaria Ahmed through Sheikh Darwish Al-Hariri. Sheikh Zakaria used to seek his help in the tunes he composed for the famous singer Um Kalthoum, before she sang them. However, he soon abandoned him after he noticed that the tunes he wrote for Um Kalthoum leaked to the public before she sang them.
Learned to play the lute at the hands of Kamel Al-Homsani.
In 1945, he studied the principles of music and Andalusian Arabic poetry. He started to sing and play music as a hobby, but he kept on reciting the Qu`ran professionally.
Employed as a singer at the Egyptian State Radio in 1945, he soon quit because he did not feel that he was being himself there.
Got married because of his mother's will and insistence. However, he separated from his wife one month after his marriage and never remarried after that.
Deeply affected by events in the late King Farouk era, he started to sing against corruption and the ruling class that was robbing people. He was also moved by growing problems like hunger, occupation, and detention.
In 1962, a major breakthrough changed his life when he met the poet Ahmed Fouad Negm. The duo started to work silently and patiently to develop political songs in a folk style that were committed to the concerns of the poor and working masses. They were successful in developing their own style, which appealed to the people who started listening to and recording songs by Sheikh Imam and the poet Ahmed Fouad Negm.
Negm and Imam presented a television show called Negm's Poetry and Imam's Tunes.
The war of 1967, also known as "Al-Naksa" (the setback), had an obvious impact on the duo's songs, which they used to express the state of despair and disappointment that the Egyptians and Arabs felt at the time.
When Nixon came to Cairo, they received him with a song that became very popular at the time:
Oh, what honor Papa Nixon, the Watergate guy
The sultans of the fava beans and olive oil gave you value and worth
They paved the widest road for you from Ras Al-Teen to Mecca
From there you will go to Acre and they will say you went to Hajj
The festival is ongoing .. it is a heavy weight, oh homeowners
In 1968, the Journalist's Union held a musical and poetic festival in honor of the duo to which the country`s most famous critics and artists were invited. The next morning, Egyptian newspapers wrote about that evening, elaborating and praising their performance. Much of the press coverage called for further support of the arts and this particularly unique form.
In 1969, a series of frequent arrests began for both Imam and Negm. On one occasion, it was on the charge of drug abuse; and on another, a few months later, it was due to a song called Thank God He Hit Us Under Our Armpits. The beginning of the song goes:
Thank God, thank God he hit us under our armpits
Oh, how nice it is when our officers return from the line of fire
***
Oh, people of Egypt that is protected by thieves
The fava beans and falafel are abundant, and construction fills the land
Life is sturdy, and everything is going well
So long as his excellency and his entourage are bellied and plenty
***
Do not tell me Sinai, we have not forgotten anything
Don't give me a headache
There are six hundred buses traveling and loaded with people
So what if a million or the whole universe dies
Life is never guaranteed and people are lifetimes…
They were sentenced to life in prison. The Palestinian leader Nayef Hawatmeh mediated their release with president Gamal Abdul Nasser. However, Nasser refused, and it was said that he told him: "Do not trouble yourself. These two in particular will not be set free from prison as long as I am alive."
They were imprisoned for only three years, as President Anwar Sadat released all detainees, including Imam and Negm, after the death of President Nasser in 1971. However, they were detained once again after they directed their musical criticism towards Sadat, only to be released in celebration of the October War victory.
Then came the student uprising in 1972. Sheikh Imam and Negm had been in close contact with the student and labor vanguards since 1968. On 8 January 1972, the students assembled in Tahrir Square. Negm joined them and delivered some of his passionate and critical poems. That day, Sheikh Imam composed the music for the following poem:
The students have gone back
Oh, Uncle Hamza
Once again to being serious
Oh, Egypt
You are everlasting
And our high hopes
In 1976, and with the start of the economic openness, President Sadat set the economic foundations that support the rich proprietary at the expense of the poor. Negm and Imam retaliated with songs that mock the new economic policy and incited workers and farmers against it and in defense of social justice and their rights. Thus, the duo were arrested one more time only to be released after spending a year in detention.
In 1981, Sheikh Imam was arrested for the last time. He was released straight after the assassination of President Sadat. He was not arrested during Hosni Mubarak's presidency. Perhaps it is due to the fact that political songs in Egypt were no longer as they had been.
While in prison, Negm used to write the songs. And because each one of them was in a separate cell, Sheikh Imam used to walk by Negm's cell during breaks to hear what the poet wrote and he repeated them to himself so he can memorize the poems. Then, he would go back to his cell to compose the tunes.
Sheikh Imam and poet Negm were prohibited from leaving Egypt up to 1984, after which they traveled to Paris and held several performances and festivals in France.
In October 1984, they arrived in Beirut and participated in the festivities of the Lebanese Communist Party and held many performances in Lebanon.
Participated in the Global Youth Conference in Moscow in July 1985.
Imam died on 6 June 1995.
Some of Imam`s Famous Songs


Oh, Egypt rise up and be strong
Oh, Palestinian woman
Egypt, you glorious mother