[This interview explores the rising phenomenon of diaspora Armenians traveling throughout Anatolia, following their ancestors' footprints. Specifically, it focuses on the following questions: What is the meaning of Armenian diaspora tourism to Turkey? Is it a return to the homeland? What emotions do travelers share along the trip? What are typical encounters between the tourists and the locals?]
Sinem Adar (SA): You have been travelling with other Armenians from the diaspora to different parts of Anatolia since 2009. Let's begin with what made you decide to undertake these travels.
Anny Bakalian (AB): Like most Armenians, I grew up with stories about the places where my ancestors came from. My paternal grandmother and her sister talked often of Kayseri, its fruits, going to the vineyards in the summer, and so on. Interestingly, I realized recently that they were born and grew up in Adana, but they still identified with their parents' native town, Kayseri. My paternal grandfather Sarkis Bakalian, who I never met, was born in Kayseri, and then during his youth, he moved to Adana because of its booming economy. Apparently he was a successful businessman, though not schooled. He partnered with his sister's husband in several ventures, including the importation of an electric flourmill from Zurich in 1908. As the factory supplied flour to the Turkish army during World War I, Sarkis Bakalian and his extended family survived the genocide. My father was born in Mersin in late December 1913, but his parents fled to Cyprus in 1919, having received a tip from a Turkish officer. Searching for a place to settle, Sarkis Bakalian took a boat that stopped in Beirut, Alexandria, and Marseille. He chose Beirut because he found the culture familiar and Turkish was spoken in the marketplace.
My maternal grandmother was from Kayseri but her family moved to Istanbul before the genocide. My maternal grandfather's family was also from Kayseri. He escaped to Russia during the genocide and settled in Istanbul after the 1918 Armistice. My mother was born and raised in Istanbul; she moved to Beirut when she married my father. I was their first-born, next came my brother and then my sister. In addition to Armenian, Turkish was spoken frequently in our extended household; as a result, we learned Turkish by rote. While my paternal grandmother and her siblings had learned Armenian at school, their mother only spoke Turkish. Likewise, Sarkis Bakalian was a Turkish speaker. Effectively, Turkish was the mother tongue of Armenians from Cilicia as well as Yozgat and Ankara in the nineteenth century. After the death of my great grandmother when I was eighteen years old, I did not practice Turkish until I started traveling to Turkey again. Today, I understand simple Turkish sentences, but have difficultly engaging in conversation.
As children, mother took us to Istanbul to visit her parents. They lived on Bozkurt Caddesi in Kurtuluş, near the pasaj where my mother bought me barouches from Sevim. During the summers, I remember being in Büyükdere, Emirgan on the Bosphorus, and once at Kartal. When I was in college, twice I traveled by car to Turkey, once to Cappadocia for a long weekend; on the other trip, we reached Istanbul by hugging the Mediterranean coast and visiting Antioch, Alanya, Antalya, İzmir, and Bursa. In the summer of 1976, I wanted to visit my grandmother at Kınalıada, but I could not get a visa on my Lebanese passport because the ASALA [Armenian Secret Army for the Liberation of Armenia] was killing Turkish diplomats.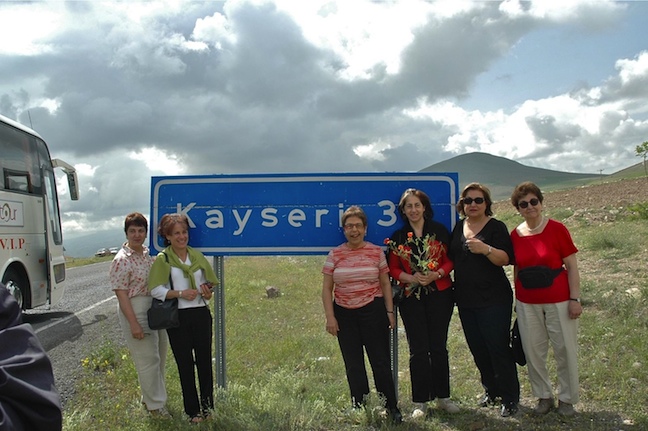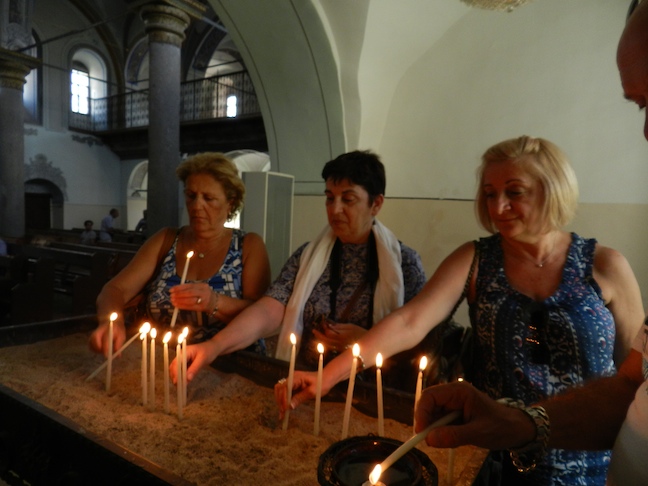 [Left: travelers take a photo in front of the sign for Kayseri (Kesaria in Armenian), remembering their
ancestors who were natives of this city and region (2009); right: travelers light candles in the Church
of Gregory the Illuminator in Kayseri (Kesaria in Armenian) (2014). Images by Anny Bakalian.]
Since I studied Armenian Art History and Architecture with Professor Dickran Kouymjian at the American University of Beirut, I wanted to visit Ani and Akhtamar. After decades, I returned to Istanbul in April 2008. I was a bit uneasy at the beginning, but then I realized that the Turks I interacted with treated me as any other tourist and did not care that I was Armenian. In June 2009, I joined the National Association for Armenian Research (NAASR) tour to Cilicia, visiting Kayseri and Adana where my ancestors lived. That trip was my rite of passage. To date, I have been on four trips to visit Armenian remains in Turkey. In 2009, we also went to Saimbeyli (Hadjin), Kozan (Sis), Antakya (Antioch), Musa Dagh, Gaziantep (Antep), Süleymanlı (Zeytun), and Elazığ (Kharpert). Traveling with me was my sister, my brother-in-law, and my cousin from Beirut as well as a couple of friends. In 2011, I traveled with my sister's family and friends to Diyarbakır, where an Armenian church was being reconstructed with local Kurdish support and funds. We met with the mayors of Sur Belediyesi (Municipality) and Büyükşehir (Metropolitan) Belediyesi and members of the Surp (St.) Giragos Parish Council. Then we went to Van, Kars, Ani, and Trabzon on the Black Sea. The following year, I joined a NAASR tour that started in Istanbul. We stopped in İzmit, İzmir, Bodrum, İskenderun, Maraş, Urfa, and Kharpert. My last trip was in June 2014. We visited Sivas, Amasya, Muş, Malatya, Kharpert, Erzerun, Ani, Van, and finally we reached Diyarbakır, where we participated in the two-day festivities at Surp Giragos.
SA: How did the idea of diaspora tourism first emerge?
AB: Armen Aroyan is the tour operator who guides diaspora Armenians to reconnect with their roots in Turkey. Born in Egypt, he emigrated to the US following the nationalization of the Suez Canal, which resulted in a minority exodus, including Armenians. He ended up in California working for McDonnell Douglas as an engineer. In his memoir (not published yet), Aroyan describes how he found his calling. He was in Germany on business in 1983 when he noticed travel ads to Istanbul at cheap prices. In spite of his feelings of apprehension—a common sentiment among diaspora Armenians, especially at that time—he convinced himself that it was an opportunity not to be missed. The following weekend Aroyan arrived in Istanbul, where local Armenians welcomed him warmly and took him to Armenian churches, cemeteries, schools, and other markers.
Emboldened by his initial experiences in Istanbul, Aroyan visited his ancestors' city Antep (now Gaziantep) in 1987. There he met Ayfer Tuzcu Unsal, a smart, inquisitive, and perceptive journalist at Sabah Gazetesi who has become a close friend. Aroyan writes that Ayfer was stunned when he told her that he was from Antep. At that time, diaspora Armenians were fearful of Turks and believed that Anatolia was forbidden territory and that Turkish citizens knew very little of Armenian history. Eventually, Armen visited Cibin, a village northeast of Antep, where his grandfather Armenag Aroyan was born and became the first native to attend Central Turkey College. Armen discovered his second and third cousins and others that we now call Islamized Armenians. He was also taken to his ancestors' pistachio orchard that is still called Aroyan. According to his autobiography, Armen could not contain himself and burst into tears. He left Cibin with some soil and pistachios to distribute to the Armenian descendants of this village. Back in California, Aroyan shared his adventures through talks and slide shows within Armenian communities. This prompted people to ask him to take them to their ancestral villages and towns. Armen Aroyan led his first group tour in the fall of 1991. At Ayfer Tuzcu Unsal's recommendation, he hired a driver, Cemal Kökmen. As more people wanted to visit Anatolia, Cemal brought in his son Seljuk in the business. To date, Armen Aroyan and the drivers, with their comfortable Mercedes Benz Sprinter vans, have taken about two thousand diaspora Armenians to their patrimony.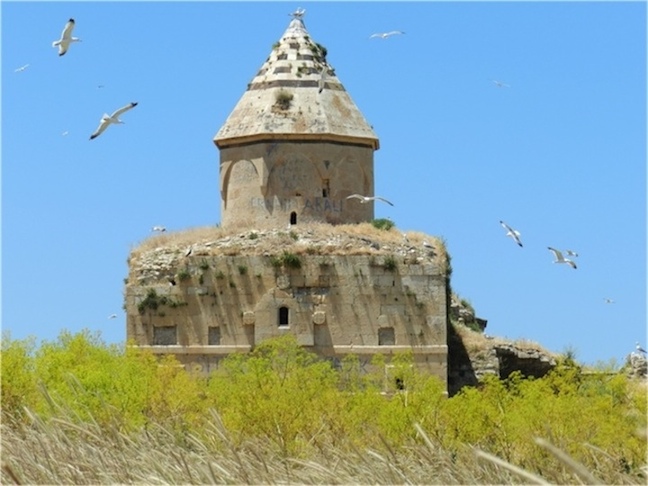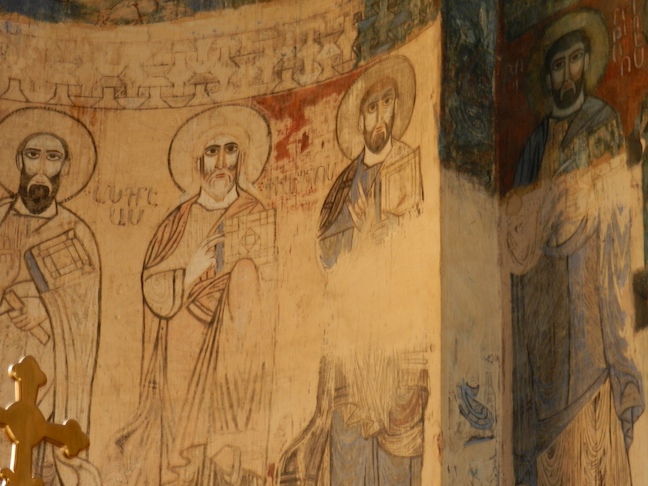 [Left: Monastery of St. John (twelfth-fourteenth century, restored circa 1700 and abandoned in 1915) on
Çarpanak Island (Ktuts in Armenian) in Lake Van (2011); right: frescoes of the Church of Holy Cross
in Aghtamar depicting Jesus's apostles (2014). Images by Anny Bakalian.]
Armenian diaspora tourism is different from conventional sightseeing vacations. Religious pilgrimages are somewhat closer to Jews and Christians who endeavor to reach the "Holy Land," or Catholics who flock to the Vatican and Muslims who make the Haj to Mecca. However, in these cases, the host state—be it Israel, Saudi Arabia, or Turkey—enforces its meta-frame by training certified guides to present the national history to the tourists and offers the regime's perspective on contested issues. Furthermore, the pilgrims' journey is highly staged through the itinerary, the rituals, and encounters with locals and history.
By contrast, Aroyan's experiences in Antep and Jibin—the cathartic moment when he witnessed the pistachio grove that still carries his surname—have become the template for the "pilgrims" he leads. Five features characterize this voyage. First, group travel is suitable for this type of journey because there are no maps or guidebooks that help diaspora Armenians or direct them to their ancestral villages and towns. Many of the old names have been changed; some villages have been razed; and in cities, old building have been replaced with new structures. On the other hand, during the past couple of decades, Aroyan has been increasing his knowledge of Armenian history and the topography of Turkey, and has been marking the changes to Armenians vestiges over time through photos and film. He travels with a variety of reference books, such as a publication that lists the name of each village, town, and city in 1915 and now. At the same time, the father and son drivers have memorized the roads that Armenian customers would request to see.
Second, the tour challenges the official Turkish narrative regarding the genocide. Armenian diaspora tourism offers a subaltern or minority history. Depending on the size of the group and the budget, either a scholar accompanies the tour as a guide or Armen Aroyan is responsible for explaining to his charges what they are seeing and offers historical context. For example, Richard Hovannisian, Professor of History at UCLA, was on two NAASR tours I joined. Every day, these experts narrate the "Armenian" history of the villages and towns the group are going to see. In 2014, we did not have an official historian on board, but my sister had prepared our own guidebook by copying histories, photos, and other information for each site we visited. The folders were circulated among the travelers.
Third, the exilic characteristics of diasporas—separation, heartache, longing—makes Armenian tourism to Turkey poignant and extraordinary. No Armenian decides to go to Turkey for the first time without considerable soul-searching. Some even wonder about the probability of Turkish authorities harassing or even arresting them. These circumstances are by no means unique to Armenians traveling throughout the Republic of Turkey. Diasporas produced from forced displacement—for example, Iranian, Burmese, or Palestinian members of the diaspora—consider the trip emotionally taxing and even physically threatening if they go to Iran, Myanmar, or Israel, respectively. In summary, group tours are ideal for those who are taking their virgin voyage to their ancestral "home."
Diaspora Armenian tourism to Turkey generally takes generally about two weeks. First-time travelers to their ancestral homeland undergo a rite of passage. These novices may feel fear, anger, anxiety, and sadness. The process begins with detachment from their normal, everyday lives. The daily rhythm of the journey centers on visiting Armenian landmarks, communal meals, and long bus rides. This transitional stage is termed liminality; it is characterized by ambiguity and disorientation, but also absorbing of new learning. At the end of the trip, the pilgrims are transformed into connoisseurs. The process produces communitas as everyone makes an effort to share and socialize and friendships are developed. The group fosters a sense of solidarity and emotional support and healing. Collectively they mourn their forebears and enact rites to commemorate their losses as a people and a culture. Performances and rituals punctuate the journey, as each participant on the trip reaches the village and town of at least one parent or grandparent. Ironically, the Turkish state's denial of the genocide sustains the rupture in Armenian genealogy and the attachment to ancestral land and promotes Armenian historiography.
Fourth, there are rewards for the diaspora Armenians who visit Turkey; they reconnect with their lineage, patrimony, and national narrative. Each participant reclaims his/her family's memory and collective memory. Armenians leave Turkey with empirical knowledge of their ancestral lands, the conditions of their legacy—churches and monasteries, a few houses in cities, and villages razed to rubble. They also interact with local Turks, Kurds, Hemshin, Islamized Armenians, and others. The rituals are partly in memoriam of their dead and partly subversive of the Turkish state's denial of the genocide.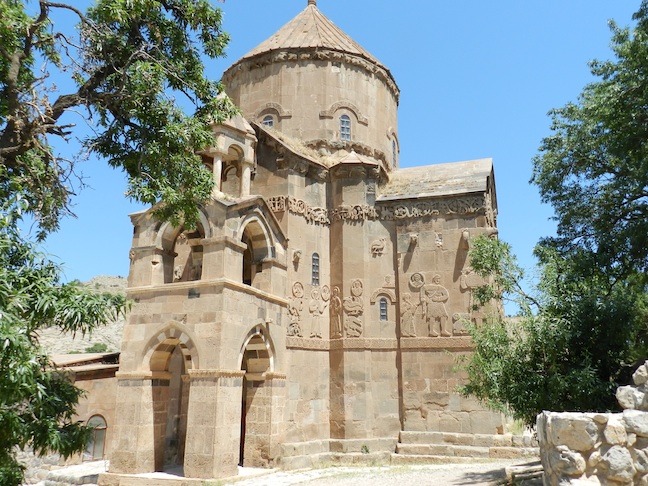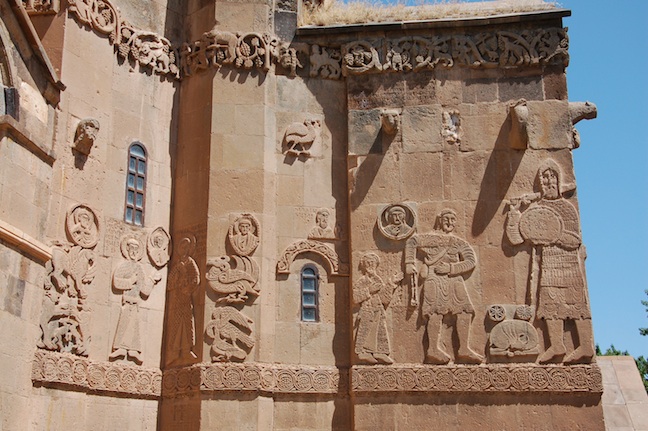 [Left: Akdamar Island (Aghtamar in Armenian), Lake Van, built by architect Manuil between 915 and 921 for King
Gagik Artsuni of the Vaspurakan dynasty. After 1915, the church was vandalized and significantly damaged from
neglect. Extensive restorations started in 2005, and in 2007 it was opened as a museum (2014); right: detail
of Aghtamar Church reliefs depicting the story of David and Goliath (2014). Images by Anny Bakalian.]
Fifth, witnessing the villages, towns, and cities of their parents, grandparents, and great grandparents reconnects travelers with their roots and heals displacement. The trip is psychologically therapeutic not only for the travelers, but also for diaspora Armenians back home. When the pilgrims return to their everyday lives, they share their experiences and impressions with their family, friends, and community. While family stories of Turkish atrocities are not forgotten, the new narratives offer the promise of closure.
SA: Can you give some examples of the rituals that diaspora Armenians perform on these tours?
AB: Outside Istanbul, I have visited all the functional Armenian Apostolic Churches that are not in ruins and still under the auspices of the Armenian Patriarch of Constantinople. Surp Asdvadzadzin (Holy Mother of God, built in 1997) in Vakıflı (Musa Dagh/Hatay); Karasun Manuk (Forty Martyrs) in Iskenderun; and Surp Kevork (St. George) in Derik (near Mardin) are small, modest sanctuaries. Surp Krikor Lusavrich (St. Gregory the Illuminator) in Kayseri maintains the original structure erected in 1856, and Surp Giragos Church in Diyarbakır was rebuilt and consecrated in October 2011. None of these churches have a resident priest and all the churches, except of Vakıflı, are walled in and locked and a guardian lives within. At least once a year, a priest, deacons, choir, and worshipers fly from Istanbul to celebrate the saint name of each church. My fellow travelers lit candles, sang Hayr Meyr (the Lord's Prayer in Armenian) or Der Voghormia (Lord Have Mercy) and crossed themselves every time they entered one of these five churches. I also witnessed Armenian pilgrims chanting in former Armenian churches that have been turned to museums or mosques; however, this was possible because our group happened to be alone in that space for a short time. While many were emotionally moved when Der Voghormia was sung in a former cathedral, now a museum, some protested the Hayr Meyr in a mosque. Whether this is considered legitimate or dissident behavior, for a few minutes the participants reclaimed their faith and churches.
In 2011 and 2014, our route passed by Mount Ararat. When we stopped for photos, travelers wearing red, blue, and orange t-shirts lined up for snapshots with Ararat in the backdrop. Both the tricolors and Mount Ararat are highly symbolic for diaspora Armenians. According to the Bible, Noah's Ark landed on Ararat and Armenian mythology posits that Mount Ararat was the home of Hayk/Haig, the legendary patriarch who founded the Armenian nation. Since the turn of the twentieth century, Ararat has been within Turkish borders though its snowcapped summit is clearly visible from Yerevan. It connotes the nation's losses and yearning to become whole. A photo or painting of Mount Ararat is displayed in many Armenian homes in the diaspora symbolizing their heritage. Red, blue, and orange were the colors of the flag of the first Armenian republic (1918-1920) as well as the present Republic of Armenia (since 1991). For a people whose ancestral lands were occupied by foreign rulers for centuries, autonomy in 1918 was liberating but short-lived. Thus, the tricolor denotes autonomy and pride. The travelers staged a fleeting tableau signifying that Ararat belongs to the Armenians.
According to historians, Ani was the thriving capital of the medieval Armenian Bagratuni dynasty along the Silk Road until it fell to the Byzantines, Turks, and Mongols, respectively. Eventually, the remaining population abandoned the city after several earthquakes. Ani's fate today is similar to Ararat's. It is located within the borders of Turkey, literally separated from the Republic of Armenia by the width of the Akhurian, a small river that becomes parched every August. Anı Örenyeri ("Anı ruins") is the Turkish name for Ani (incidentally, anı in Turkish means memory or recollection). Two participants in the 2011 trip added the dot to Ani with Band-Aids and a pen on a signpost directing traffic to Anı. This simple yet noteworthy political act restored the original spelling of the medieval Armenian metropolis.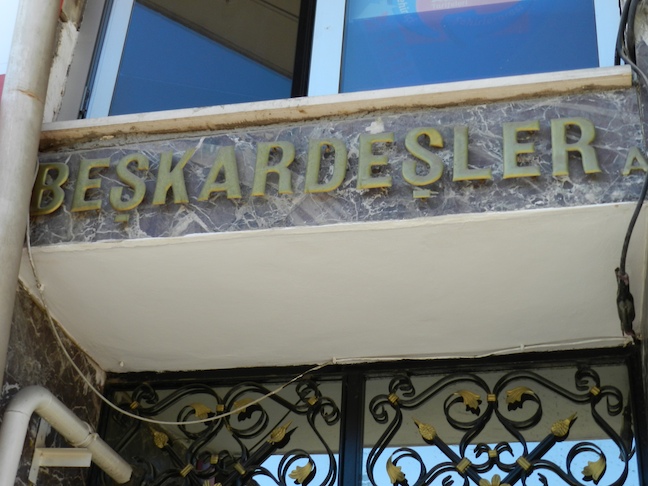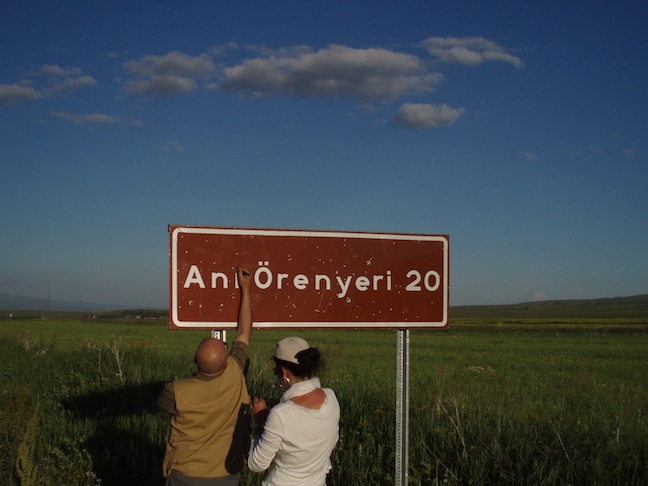 [Left: an apartment in Elazığ (Kharpert in Armenian) is called "Beşkardeşler" after the five Armenian brothers who enriched
their city with their silk textile industry before 1915. The five brothers' houses have been demolished to replace them with
new buildings (2014); right: the medieval Armenian city of Ani is Anı Örenyeri ("the ruins of Anı" in Turkish). Two travelers
reclaim the Armenian name of Ani by putting the dot back on the Turkish letter "ı." This simple yet significant political act is
achieved using a couple of Band-Aids and a pen (2011). Images by Anny Bakalian.]
Examples of personal rituals include the son who traveled to Diyarbakır carrying a photo of his dad. This was in 2011, when Surp Giragos was still under construction; the photo was buried within the structure, representing closure: a native had come back home. Another participant reversed the journey by gathering dirt from his father's village and scattering it on his grave in California. One more traveler put her grandfather's letters under a stone in his native village. I witnessed a daughter who spit at a memorial for Turkish soldiers who were martyred, supposedly by Armenians. She told me that this was for her father, who was a Tashnag (member of the Armenian Revolutionary Federation). While all the travelers in the group found the memorial insulting, her performance was more defiant—like father, like daughter.
Experiences with locals varied from awesome to disappointing. My cousin and I were having breakfast in Antep in 2009 when some women sat at our table. One of them asked us where we came from. My cousin said she was from Beirut. "Oh, you are Arabs," they said. "No Ermeni," my cousin replied, "our grandparents were from Kayseri." One of the women—a physician, practicing in Bursa, about our age—came to my cousin when she was alone, shook her hand, and said: "My father was from Kayseri, the Armenians taught him how to be a shoemaker. I am very sorry for what we have done to the Armenians." This was an epiphany for my cousin; this apology was one of the most meaningful moments of her life. But in another encounter, a family—parents and adult offspring—arrived at their grandparents' and great-grandparents' city with photos from about 1915. Their ancestors were five brothers, prominent business and industry owners, who owned five houses on one street. While modern apartment buildings had replaced the early 1900 villas, the street and one of the buildings were still called "Beş Kardes" (Five Brothers). Armen Aroyan, the family, and others from the group entered one of the shops on Beş Kardes Street. After sharing photos, the shopkeeper pointed to a chandelier hanging in his shop and said that it was from one of the five houses. The sons suggested that they should buy the light fixture, but the owner noted that he would never sell it even if they give him a million Liras. His harsh tone was heartbreaking and added insult to injury.
It is fair to say that our welcome in Diyarbakır was unlike all other places. As guests of the local government and the Surp Giragos Parish Council, the travelers in 2011 were invited to a scrumptious breakfast in the yard of the church; then we visited mayors Abdullah Demirbaş (Sur Municipality) and Osman Baydemir (Diyarbakır Metropolitan Municipality) in their offices, and in the evening we were invited to a banquet in an open-air restaurant by the Tigris. I must add that the presence of my brother-in-law was essential for the VIP treatment. In 2009, Hirant returned to his native Diyarbakır for a few hours for the first time since his childhood. He witnessed Surp Giragos in ruins, met Abdullah Demirbaş, and identified his father's iron shop in the old market—this was his cathartic moment! Since then, he has developed strong relationships with the mayors and hosted both of them in New Jersey at formal fundraising dinners for Surp Giragos.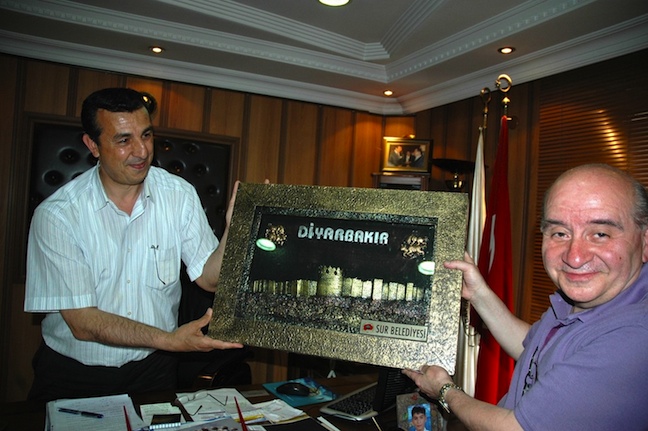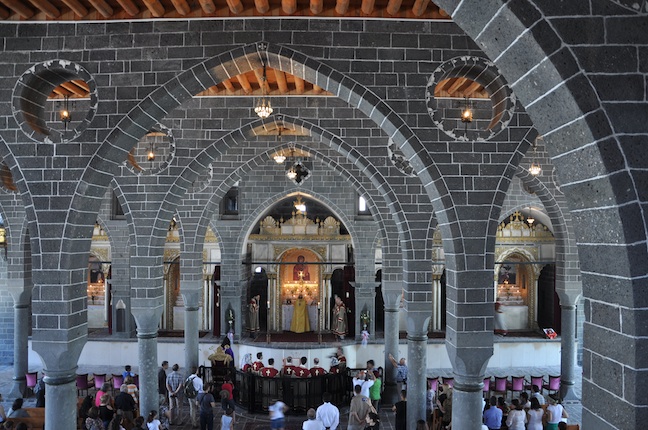 [Left: Mayor Abdullah Demirbaş of Sur Belediyesi (municipality) offers a picture of the walls of Diyarbakır to Hirant on his return
to his native city for the first time since his childhood (2009); right: Surp Giragos Church in Diyarbakır, re-constructed and
re-consecrated in 2011. The photo was taken on 29 June 2014 for the saint's name feast. Images by Anny Bakalian.]
In 2014, there were new mayors, but we had police escorts around town for security. One of our missions was to discover Hirant's childhood house in Sur Municipality. He had recruited his older cousin, who stayed in Diyarbakır until the 1970s, to join the tour from Australia. After the Badarak (liturgy of the Armenian Apostolic Church) at Surp Giragos, the Armenian diaspora travelers followed Hirant, his cousin, and the chief of police through the narrow alleys of the old city until we found the house where both families and grandmother lived. Today, the building has been renovated and belongs to the Municipality. It is used for women's league activities.
SA: Do diaspora Armenians who travel to Turkey consider Anatolia home?
AB: Armenian diaspora travelers in Turkey are attached to their heritage—Historic Armenia and what material culture remains. They find a lot of characteristics that they share with the locals; their warmth, their hospitality, and the importance of families. A lot of the dishes that Armenian grandmothers cooked are on the menus of traditional restaurants in Anatolia. Likewise, both Armenians and Turks enjoy similar music, folkloric dances, and Nasrettin Hoca stories. In contrast, Western Armenians in the diaspora find Eastern Armenians (in the Republic of Armenia and the Russian diaspora) different. A lot of Russian words have infiltrated their dialect; their food is not recognizable, for example having sour cream for breakfast. The Soviet Union significantly changed their values and behavioral patterns. Nevertheless, the Republic of Armenia is the only independent country that Armenians have since 1920—and even that was short-lived. As I mentioned already, the flag of the Republic connects Armenians in the world right now symbolically. On the other hand, the Republic of Turkey continues to deny the genocide and has amassed a century of aggression against Armenians, both Christian and Islamized, and what is left of their legacy.
To cite just a few examples, in the last one hundred years, the Republic of Turkey initiated a new alphabet purging Arabic, Persian, and other words, developed a national historiography, issued the Turkification policies of the 1930s, including speaking Turkish and adopting Turkish surnames, and tried to erase Armenian vestiges through destruction, negligence, and restructuring. Nonetheless, my co-travelers and I still found Armenian remains. In Van, as visitors enter the small garden of the archeological museum, they find steles on the left with Urartuan script; on the right, there are gravestones with Ottoman Turkish inscriptions. For people who look on the rear of the Urartuan steles, they discover crosses carved on the original writing. I know that humans reuse stones and other materials from their predecessors. The question is, why did the museum curators hide the crosses? The museum also has Armenian tombstones and inscriptions hidden in the back of the building.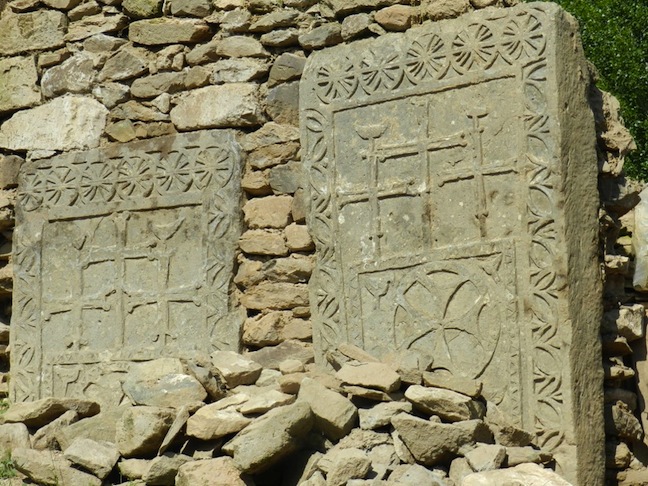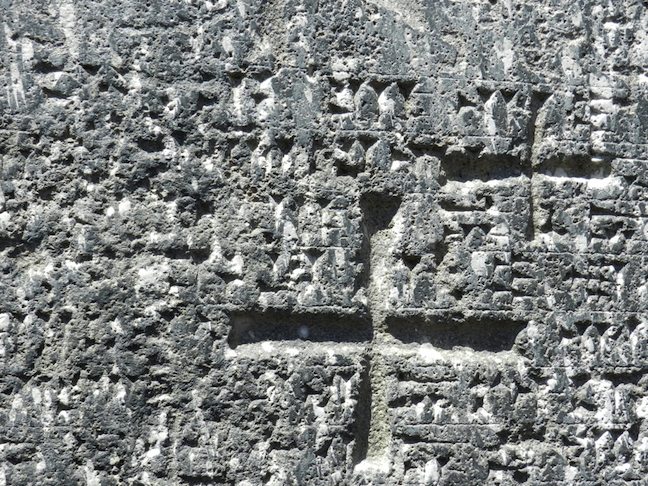 [Left: khatchkars (carved decorative stele) from the fourteenth-fifteenth centuries are functional walls for a farm and its owners in
the small village of Degirmenalti (Por in Armenian) between Tatvan and Bitlis in the Van district (2011); right: Urartuan script
and a cross, engraved later on the posterior of a stele in the courtyard of the Van Museum (2011). Images by Anny Baklian.
Khatchkars (Khatch is cross and Kar is stone) are carved memorial stele bearing a cross and other motifs. They were typical medieval Armenian ecclesial art throughout Historic Armenia (today's Republic of Armenia, Turkey, Azerbaijan, and Iran). In 2010, UNESCO added Khatchkars to the Intangible Cultural Heritage list for their representation and craftsmanship. Between Tatvan and Bitlis in the Van district, there is the small village Degirmenalti (formerly Por). The remains of Surp Anania (named for Ananias of Damascus, a disciple of Jesus) is now a manger for sheep and goats. The barrel vault roof is from the fifteenth century, but the foundation dates from the sixth century. Throughout this working farm, there are Khatchkars, a large number of them dating to the fourteenth and fifteenth centuries. I am sad that world heritage objects are being ignored because they are Armenian.
Outside Trabzon, there is another working farm; its address is Kaymaklı Manastırı. It used to be Surp P'rkich (St. Savior) Monastery, dating to the fifteenth century. I was touched by the intricate frescoes depicting the Last Judgment and other biblical scenes. They reminded me of the paintings of Hieronymus Bosh in their details, with imaginary creatures and the faces of disciples and the donors who financed the work. Again, I found invaluable art at risk of being destroyed or damaged.
Armenian diaspora travelers in Turkey are attached to their heritage—Historic Armenia and what material culture remains. They find a lot of characteristic that they share with the locals; their warmth, their hospitably and the importance of families. A lot of the dishes that Armenian grandmothers cooked are on the menus of traditional restaurants in Anatolia. Likewise, both Armenians and Turks enjoy similar music, folkloric dances and Nasrettin Hoca stories. In contrast, Western Armenians in the diaspora find Eastern Armenians (in Republic of Armenia and the Russian diaspora) different. A lot of Russian words have infiltrated their dialect; their food is not recognizable, for example having sour cream for breakfast. The Soviet Union significantly changed their values and behavioral patterns. Nevertheless, the Republic of Armenia is the only independent country that Armenians have since 1920—even that was short-lived. As I mentioned already, the flag of the Republic ties Armenians in the world right now symbolically. On the other hand, the Republic Turkey continues to denial the genocide and has amassed a century of the aggression against Armenians, both Christian and Islamized, and what is left of their legacy.
SA: As the centennial anniversary of the genocide is approaching, do you think that diaspora tourism has impact on Turkish-Armenian relations?
AB: Some two thousand members of the Armenian diaspora touring in Turkey is so minuscule compared to the huge volume of tourism the country receives annually, even just tourists traveling to Cappadocia, Ephesus, or Antalya. No, Armenian travelers are insignificant.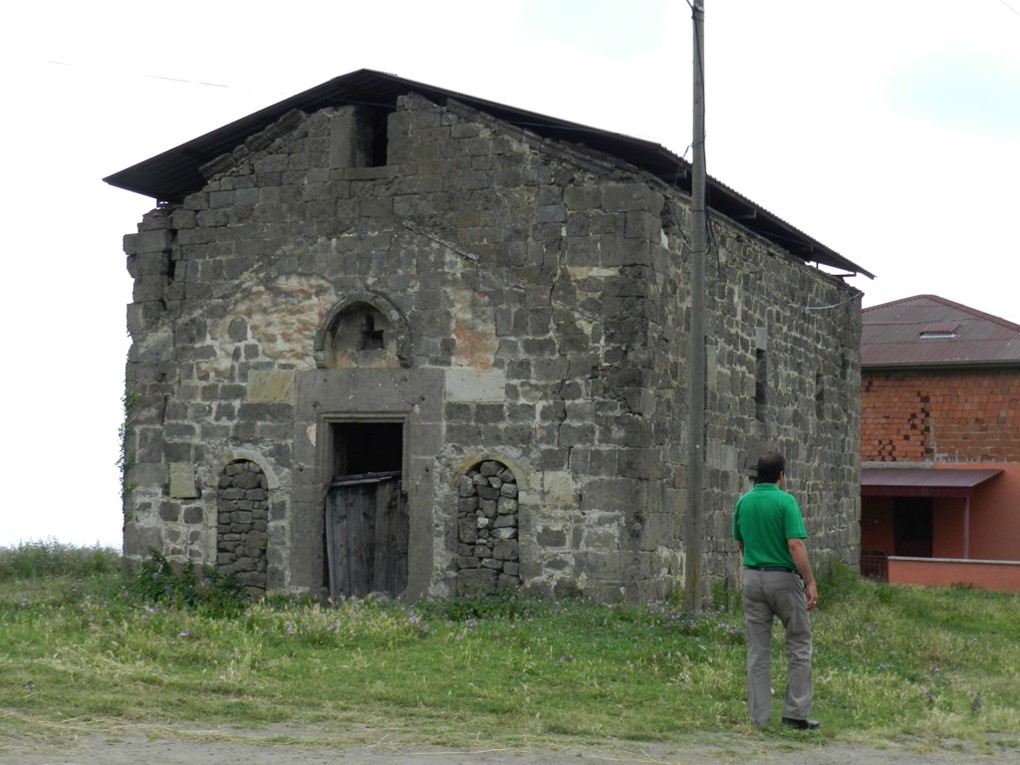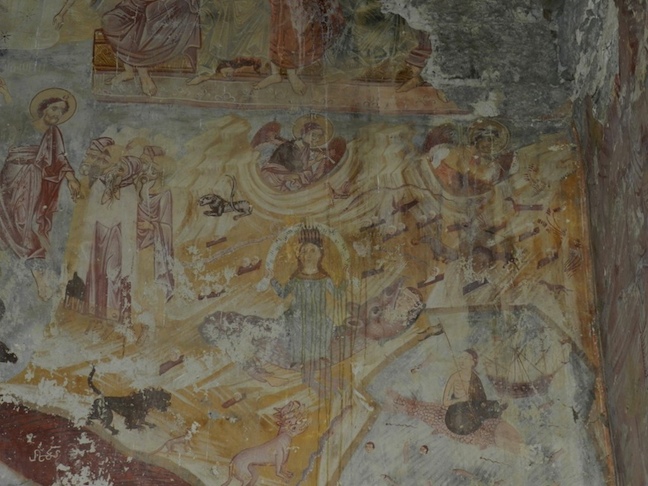 [Left: the Monastery of Surp P'rkich (Saint Savior) from the mid-fifteenth century, known as Kaymaklı Mahali
in Trabzon, is now a working farm (2011); right: frescoes have survived inside the Kaymaklı Monastery.
One wall represents the Last Judgment (2011). Images by Anny Bakalian.]
It seems to me that until the 1990s, Turkey was a closed society. Few middle class people studied abroad or enjoyed tourism; only the elite knew English, French, German, and other languages; Turkish Gastarbeiters (guest workers) in Europe were focused on basics and not ideologies; furthermore, the Turkish education system has been very nationalistic and the media was tightly controlled. The Internet can reach Turkish homes with Armenian history and perspective, but little has been translated into Turkish. Today, there are more people learning foreign languages, receiving higher education, and increasingly befriending and even marrying persons from other ethnic, religious, and national backgounds. There is hope for the future.
Some Armenians really want an apology from the Turkish government. Some people would be happy to receive a personal expression of regret, like the doctor from Bursa who satisfied my cousin. Neither Armenians in the diaspora nor the Republic of Armenia can pressure the Republic of Turkey to acknowledge the regime's heinous conduct in 1915 and since. However, if the Turkish citizens lobby their government to change the policy of genocide denial, they may eventually achieve this. Ultimately, the onus is on the Turkish people, beginning with the intelligentsia.