[The following report presents the status of localization efforts in Qatar`s labor force and proposes recommendations to achieve better results based on an ongoing Qatarization study supported by the Qatar National Research Fund (QNRF). The study, which is carried out by FIKRA Research and Policy, aims to understand the experience of young Qataris as they transition from education to employment, and how youth choices contribute to the labor market in Qatar. While the report has not been published elsewhere, the FIKRA research team is in the process of publishing its analysis in multiple publications and presenting results at international/regional events. Authors of the note are: Samantha Constant, Edward Sayre, and Nada Abdelkader.]


Implications of Qatarization: Qualitative Assessment and Possible Policy Responses
Samantha Constant, Edward Sayre and Nada Abdelkader1

Summary
In 2000, Qatar's leadership announced its first-ever Strategic Qatarization Plan that established a quota requiring fifty percent participation of nationals in the energy, oil, and gas sector. Since then, there have been extensive efforts to promote Qatarization across the board, with a particular focus on ensuring at least twenty percent participation of Qataris in all private and semi-private entities. Results have been mixed. A qualitative assessment of the experience shows that while employment trends among Qataris are improving, the long-term feasibility of achieving such high levels of quality participation in the private sector will be challenging. This brief presents the legal backdrop of Qatarization, its qualitative impact based on employer experience as well as possible policy responses to increase Qatar's competitiveness in the global labor market.
Introduction
Qatar holds vast supplies of natural gas reserves and its small native population enjoys the highest GDP per capita income in the world. Over the last two decades, the Qatari economy has seen dramatic changes when leadership undertook a series of reforms that capitalized the hydrocarbon market resulting in an increase in foreign investment and a wider redistribution of wealth among citizens. Investments in human capital and the creation of new educational opportunities in support of economic diversification have further contributed to the country's transformational growth and global competitiveness.
Despite privatization efforts, the state remains the largest employer and main driver of the Qatari economy. Al Horr refers to Qatar's economy as the "developmental state" whereby the government exercises considerable influence on employment practices through its direct intervention in the labor market (Ashton et. Al 2000, Ashton 2004, and Al Horr 2011). In this context, the state is ultimately responsible for the social welfare of its citizens ensuring there are opportunities for nationals in the labor market at competitive wages and benefits. As part of this guarantee, Qatar launched a Qatarization program that enforces quotas requiring fifty percent participation of nationals in the energy, oil and gas sector and twenty percent participation of Qataris in all private and semi-private entities. Consequently, such localization efforts have resulted in segmentation in the local labor market. Qatar's labor market is primarily segmented according to the following categories: i) between private and public sectors,2 and ii) between the native population and expatriates (Al Horr 2011).
Reich, Gordon and Edwards define labor market segmentation as "the historic process whereby political economic forces encourage the division of the labor market into separate sub-markets or segments, distinguished by different labor market characteristics and behavioral rules" (Reich et al. 1971). Dickens and Lang point out that these differences in rules across segments determine wages and impact employment policies (Dickens and Lang 1992). In the case of Qatar, such differentiation manifests most prominently when comparing compensation (salaries, benefits, career development opportunities and rewards) between nationals and expatriates in the private or public sector. For example, companies must compete against public sector salary increases in order to recruit and retain national staff, often times incurring a substantial financial burden especially in medium and small-sized companies. Expatriate staff may feel demotivated if the wage gap between them and national employees is too large in the same way that differences in pay between private and public sector ages among nationals may compromise productivity.
Therefore, although segmentation is implemented as a functional tool to stimulate employment, there are long-term social and economic implications to a country's economy. This brief will focus on the backdrop of segmentation in both the public and private sectors, complimented by qualitative analysis of the perceived impact by employers/human resource (HR) managers on the ground.
Methodology
The analysis draws from literature review combined with qualitative research work conducted in Qatar during March—September 2014. The qualitative research is based on eleven long-form interviews with staff responsible for human resources, personnel management, and recruitment in a combination of company types and sizes.3 Further, a closed-door stakeholder workshop took place on 17 September 2014 to test preliminary results of qualitative work among select organizations. The selection process for the long form interviews uses convenience methodology. All results informed the development of the brief, shedding light on current understanding of the employer's perspective from the vantage point of employers/HR managers and those responsible for Qatarization efforts.
The Legal Backdrop4
Outcomes in localization efforts are determined by the rules and regulations stipulated in the national labor laws and human resource related doctrines. Laws related to employment policies and employer-employee relations depend on citizen status and apply differently between the public and private sectors.
In the private sector, a broad scoping of major companies reveals that there is a wide range of company types in Qatar. The most common among key industries (hydrocarbons, real estate, and manufacturing) are established as a result of joint venture agreements with the Qatari government or in collaboration with a government-owned entity. These companies are referred to as shareholding, private joint stock companies in accordance with Article 68 of the Commercial Companies Law. Also common is the establishment of branches whereby a foreign entity enters into a contract with the government or a government-owned institution for a specific term project and will operate in country until the completion of the project.
Institutionally, there are three main laws that pertain to Qatarization: Labor Law No. 14, which targets private sector and mixed; 2009 Human Resource Administration Law No. 8, which targets the public sector and pension; and Law #24 of 2002 (as amended by Law No 33 of 2004) targeting all Qataris. Almost all companies formed under Article 68 as well as the branches established in Qatar enforce Labor Law #14 which details employment practices and relationships in the private and mixed sector. However, given the wide range of operational models that exist within the private sector and exemptions depending on the industry, there remain questions about the enforcement of laws and provisions on the ground and how this ultimately impacts Qatarization.5 Box 1 presents highlights of the laws and main provisions. In summary, the following points stand out:
Detailed provisions can result in rigidities and additional costs adding a burden to the private sector;
Social benefits and pensions extend to Qataris regardless of whether they work in the public or private sector incentivizing greater participation rates;
However, the public sector provides a substantial retirement package for Qataris making it difficult to incentivize nationals working in the public sphere to leave or diversify into other sectors once they have joined (see Figure 1); and
Qatar Petroleum and its subsidiaries (established as joint stock/shareholding companies) are exempt from both public and private sector laws. As a result, such companies can provide niche incentives, substantial benefits, higher salaries and more employment flexibility than private competitors, attracting more nationals to the sector and slowing diversification beyond the hydrocarbon market (see Figure 2).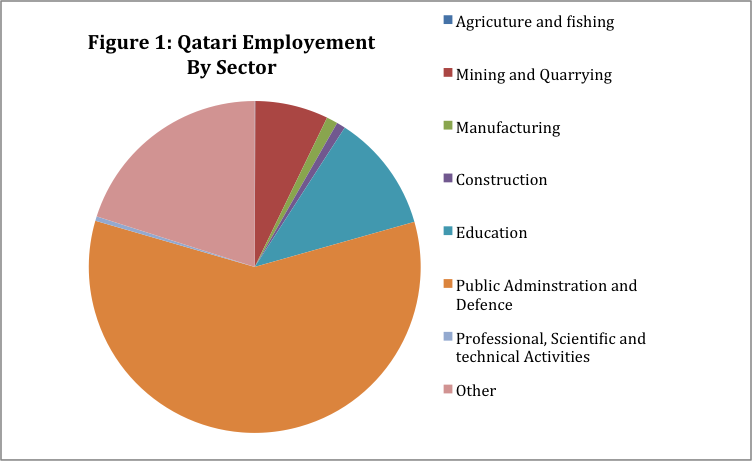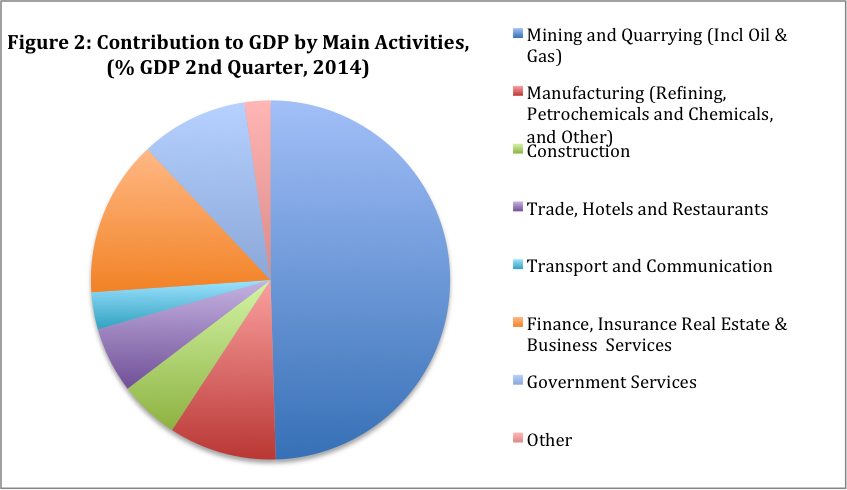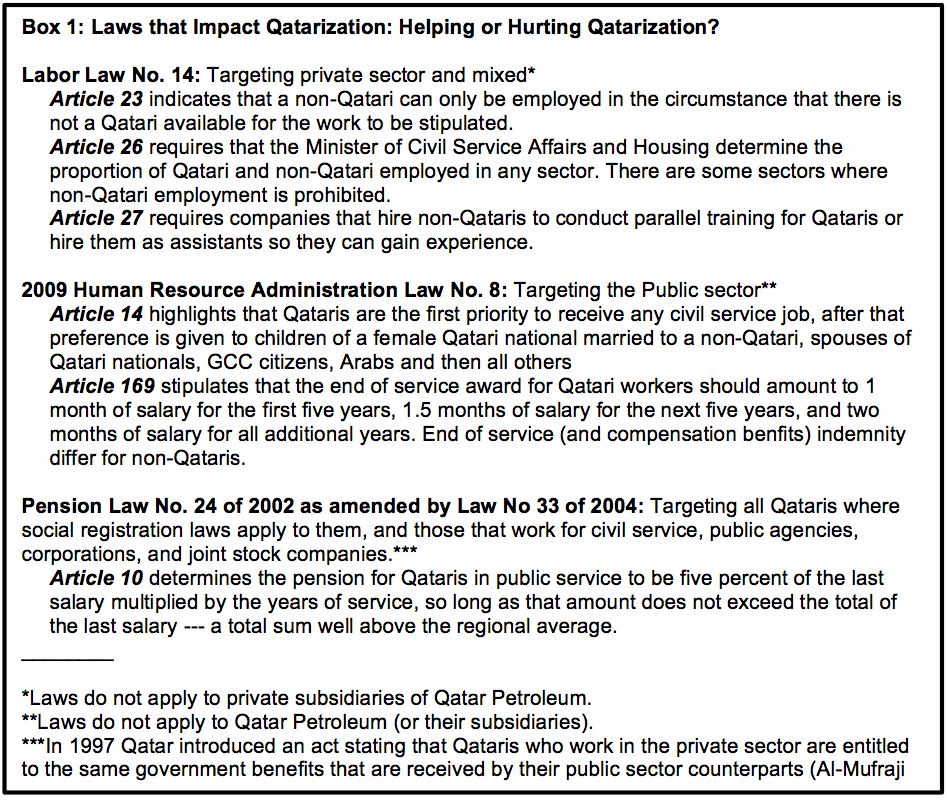 Status of Qatarization
Despite the growing private economy, Qataris constitute only eight percent of private sector employment in comparison to fifty-eight percent in public administration and services (Qatar Social Statistics 2014 and CSA 2014). Qatarization, defined "as the identification and development of quality, competent Qatari males and females to assume permanent positions" is to boost the share of Qataris in the labor market with a particular focus on the private sector (Al Horr 2010:). More recently, the term quality Qatarization is used to encourage the development of Qataris to standards comparable to international counterparts (Al Horr 2011).
To date, Qatar does not have a systematic approach to implementing Qatarization hence enforcement of policies is ad hoc and understudied (Hertog 2014). Qatar's main instrument for localization has been setting quotas. Companies recruit national staff to fill the quota regardless of the candidate's ability to fulfill the job responsibilities, increasing overhead costs without reaping the results and potentially compromising the quality of the company's work. This is not unique to Qatar alone and has taken place across the GCC. Nonetheless, there are examples of market-based approaches that have worked. For example, Kuwait carries out its localization using a combined approach: the government enforces quotas as well as a wage subsidy program for nationals working in the private sector. The subsidy amounts vary according to family status and education level, and are competitive with public sector wages (Manpower and Restructuring 2014, Hertog 2914). Results of this approach have resulted in positive benefits despite setbacks.6
In Qatar, the implementation of Qatarization is delegated to the HR departments (Al-Horr 2011). In this context there are four main phases of Qatarization that follow the basic guide for HR management and administration (See Figure 3). Each phase has with it key areas that are essential to supporting its overarching goal:
Figure 3: Four Phases of Qatarization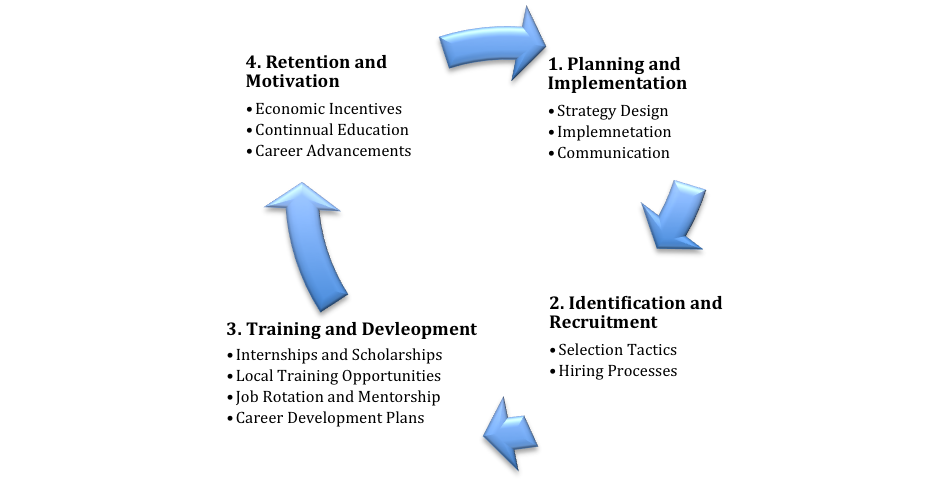 Based on the available literature and qualitative research, the planning and implementation process is most advanced in the oil and gas sector. These tend to be the large-sized companies affiliated with Qatar Petroleum. While companies in other sectors, such as construction and real estate, offer customized programs for national recruits and detailed career development plans, limitations exist due to budget constraints. The organizations where Qatarization appears to be least developed tend to be the small-sized organizations.7
To date, Qatar is at the discussion rather than the decision-making stage and Qatari policy makers are implementing a more relaxed quota system (Kapiszewski's 2001). Implementation and monitoring procedures for localization have yet to be determined. Overall, legislation has been limited to enhancing localization through obliging business owners to hire more nationals especially in sectors where nationals are underrepresented. However, the incentives for civil service work, such as high wages, flexible hours, retirement benefits, and job security make it difficult for Qataris to opt for jobs in the private sector as their first choice or leave their current position in the public sphere.
Results from the Qualitative Analysis: Perceived Impact of Segmentation
There is little evidence documenting the impact of Qatarization but growing debate on its perceived success by HR practitioners and employers working with staff on the ground. The study interviewed a range of organizations, from small-scale private initiatives to medium sized Qatari companies to Qatari branches of larger international corporations, primarily in the oil and gas sector. The objective of the overall study was to understand the experience of young Qataris' experience as they transition from education to employment, and how youth choices contribute to the labor market in Qatar. The objective of the long form interviews was to assess employment practices across the private sectors and efforts underway by companies to meet the goal of Qatarization.8
The implementation of Qatarization is linked to two factors: (i) size of corporation portfolio/budget and (ii) sector. The large and medium sized companies interviewed offer career development plans and advancement opportunities while smaller initiatives were less equipped to implement Qatarization or efforts were carried out more informally.9
Key findings point to potential obstacles that counter Qatarization's long-term goals:
Recruitment of Qataris for all corporations interviewed entails targeted strategies through word of mouth, internship opportunities for first time job seekers, and partnerships with universities to attract students and upcoming graduates. The oil and gas sector is well positioned to offer sponsorships at a large scale accompanied by country rotations, international placements, and funded scholarships. While such benefits are also provided by the smaller companies, it is not as frequent or widespread.
In Qatar, the segmentation of the labor market is most prominent in the differentiation of wages and benefits between nationals and expats. Career support is provided to both international and national recruits yet services for each fall under separate umbrellas, entailing distinct budgets and dedicated personnel. In one instance, a company had been implementing Qatarization as part of the broader HR employment program. However, as of March 2014, policies were undergoing change to carry out Qatarization as an entirely separate initiative (including a separate budget, evaluation measures, guidelines, etc).
The value of Qatarization for a company is primarily linked to developing its core competencies. When it comes to hiring Qataris, the emphasis is on candidates with technical skills, particularly in the oil and gas, engineering, and construction sectors. This adds considerable pressure on the recruitment and retention of highly qualified nationals with technical skills due to the limited supply of available candidates.
The qualitative study reveals that Qatari first time job seekers are known to switch jobs up to five times in the initial part of their career. This culture of mobility is rampant in the private sector as opposed to the public where employees are more likely not to leave.

Demand is great and supply is limited, so there are incentives for Qataris to join the oil and gas sector over other industries. Readily available scholarships and sponsorship opportunities particularly in QP subsidiaries as opposed to the mid-sized companies make it challenging for smaller companies to compete against the competitive wages and salaries offered by larger, well-funded companies.
Companies apply different strategies to operating HR models. Large-sized companies interviewed were much better equipped to carry out Qatarization and have a strategy in place (or underway), knowledgeable staff and Qatarization targets whereas smaller companies tended to have a more informal HR department.
Career development plans were generally viewed and implemented in the context of Qataris advancement. Since the implementation of Qatarization is still nascent in smaller organizations, such planning and opportunities were reported as unavailable. However, all companies offered nationals higher compensation than non-national staff regardless of their size.
Almost all corporations had government shareholders, were subsidiaries of government-owned enterprises, or were funded by the government. The more involved the state was in the organization`s portfolio, the more rigorous the Qatarization plan and funds to support it existed.

Policy Responses


Integrating market-based tools: Building on lessons learned from Kuwait, Qatar would benefit from a more combined approach to Qatarization instead of the heavy reliance on quota setting. Introducing a wage subsidy program with special attention paid to medium sized corporations outside of the main industry (oil and gas) can be especially beneficial. This can provide incentives to companies and help diversify national recruitment across the labor market.
Investing in greater (and more systematic) monitoring and evaluation practices: Recent reports reveal that increasingly firms are starting to restructure their operating models to meet global standards which incorporate more evidence based tactics and use of data (media-observer, 2013). However, the majority of firms in Qatar have a ways to go in terms of effective evaluation practices and the application of metrics for informing organizational development and growth. While evaluation measures are being carried out by companies it is not clear how much of the results actually inform employment policy when it comes to recruitment and retention.
Focusing on early education through public-private partnerships: It is important to start early with students about career prospects through a combination of leadership programs, community service, and practical internships. A public-private partnership between educational institutions and the private sector can provide a positive knowledge-sharing platform between educators and employers as well as better align demand and supply in the labor market. Ultimately, career development education starting early on in secondary schools can go a long way in advancing quality Qatarization in the future.

References
Al Horr, Khalid and Adel H. Salih. 2011. Convergence or Diversity in National Recruitment and Selection Practice: A Case Study of the State of Qatar. Journal of Business Diversity, vol. 11 (1).
Al-Horr, Khalid. 2011. Political Contingency and the Implementation of Qatarization. Studies in Business and Economics. vol. 16 (1).
Deaki, Simon. 2013. Addressing Labour Market Segmentation: The Role of Labour Law. Working Paper No. 52, Governance and Tripartism Department. (Geneva: International Labour Organization).
Dickens, William T. and Kevin Lang. 1992. NBER Working Papers Series. Labor Market Segmentation Theory: Reconsidering the Evidence. Working Paper No 4087. (Massachusetts: National Bureau of Economic Research).
Hertog, Steffen. Arab Gulf States: An Assessment of Nationalisation Policies. Gulf Labour Markets and Migration (GLMM) – Research Paper No. 1/2014. European University Institute (EUI) and Gulf Research Center (GRC).
Hertog, Steffen. November 2012. A comparative assessment of labor market nationalization policies in the GCC. (Berlin: Gerlach Press).
Hvidt, Martin. 2013. Economic Diversification in GCC countries: Past Record and Future Trends. Kuwait Programme on Development, Governance and Globalization in the Gulf States. (London: London School of Economics and Political Science).
General Retirement & Social Insurance Authority, Law No. 24 Year 2002 of Retirement and Pensions. Doha, Qatar.
Ibrahim, Ibrahim and Frank Harrian. 2012. Qatar's Economy: Past, Present and Future. Q Science Connect, Qatar Foundation Academic Journal. Doha, Qatar.
International Labor Organization, April 25, 2012. Qatar Economic Statistics at a Glance. Economic Statistics and National Accounts Department, Qatar Statistics Authority. Doha, Qatar.
Latham and Watkins, Doing Business in Qatar (Second Edition). Accessed on November 1, 2014 from http://www.lw.com.
Manpower and Government Restructuring Program. 2014. Program Overview 2001-2013.
Markaz Economic Policy Research. 2012. Policies Towards Involving Kuwaitis in the Private Labor Market. Kuwait Financial Centre S.A.K. Safat, Kuwait.
Ministry of Development Planning and Statistics (MDPS). 2014. Quarterly Gross Domestic Product by Economic Activities, Second Quarter, 14th Issue. Doha, Qatar.
Ministry of Development and Planning. 2013. Qatar Economic Outlook 2013-2014. Doha, Qatar.
Qatar Statistical Authority. 2014. Qatar Social Statistics 2003-2012. Doha, Qatar.
Qatar Tribune. "HR Models need to be aligned with Commercial Interests, says expert." Reported by Asif Iqbal on April 7, 2013.
Qatar Population Status 2012. Three Years After Launching the Population Policy. October 2012. Permanent Population Committee. Doha, Qatar.
Reich, Michael, David M. Gordon, Richard C. Edwards. 1973. Dual Labor Markets: A Theory of Labor Market Segmentation, American Economic Review 63:2, pp 359-365, (Nebraska: DigitalCommons@University of Nebraska – Lincoln).
Shahman, Dahlia. 2009. Foreign Labor in the Arab Gulf: Challenges to Nationalization, Online Journal for Islamic Civilization, (Massachusetts: The Fletcher School, Tufts University).
---
1 Samantha Constant is an international consultant at FIKRA Research & Policy; Edward Sayre, PhD, is Associate Professor at University of Southern Mississippi and Research Associate at FIKRA Research & Policy, and; Nada Abdelkader, PhD, is Project Manager of the Qatarization project at FIKRA Research & Policy. The note is part of a Qatarization study supported by the Qatar National Research Fund (QNRF).
2 The mixed sector companies follow private sector laws with a few exceptions. Labor Law 14, for example, which applies to all private corporations does not apply to corporations established by Qatar Petroleum which is a state owned enterprise. Mixed are required to have at least one shareholder that is either publicly owned (fully) or is not less than 51 percent Qatari owned.
3 Organization types range from branch offices, limited liability companies (LLC), shareholding/joint stock companies, state-owned enterprises, foreign establishments and private non-profits.
4 The intention of this policy brief is to provide an overall snapshot of the types of operational models in Qatar and highlight laws that impact Qatarization. Information about the implications of particular laws on the operations of private sector entities will be presented in a separate paper.
5 A more thorough review of the application of private sector labor laws is required to fully understand the application process and enforcement across the private sector landscape.
6 While the subsidization program provided incentives for nationals to join the private sector, the combination of other policies such as recent unilateral increases in civil service salaries and benefits have slowed the process often times leading to a reverse migration of nationals from the private back to the public sector (Markaz 2012).
7 Further research on small-sized corporations is required to provide an assessment of their Qatarization status.
8 Employment practices include hiring/firing, career development and guidance, training and capacity building, leadership programs, benefits.
9 The QFC does not have the same laws applied to it as other companies however it has a program to support Qataris in the career development plan.