Noam Chomsky and Ilan Pappé, On Palestine, edited by Frank Barat. Chicago: Haymarket Books, 2015.
Jadaliyya (J): What made you put together this book?
Frank Barat (FB): Professor Chomsky, Professor Pappe, and I had already worked on a book together called Gaza in Crisis a few years back. The experience was amazing, but the fact that the interviews between Noam and Ilan weren`t interactive left me wanting more. I really wanted a chance for the two professors to have a proper conversation, to be able to argue and debate. I spoke to Ilan about this last year and he was totally for it. We then asked Noam, who, despite his crazy schedule (not that Ilan`s is that different) agreed for us three to spend a few days together in Cambridge, Massachusetts in his MIT office, to work on this. The result of these conversations is On Palestine.
For the three of us, it was crucial to have this conversation now for many reasons. The narrative people often hear in the mainstream media is still Israel`s: a land without a people for a people without a land. It is telling to think that despite the amazing evolution and progress of the solidarity movement, the mainstream media still repeats the same propaganda today. It was therefore important to once again debunk these myths, while addressing the past, the present, and the future. The mainstream/corporate media still plays a very negative role in the Palestine question. Instead of educating the "masses," this media actually bombards them with false information. This was true once again after Operation Protective Edge, and it is happening as well following the "victory" of Netanyahu in the recent Israeli elections. So this was one point we thought it was crucial to address.
Then, despite the fact that the solidarity movement has grown into something formidable in the last few years, we still need to have serious conversations about where we are going, and what the best strategies and tactics are to employ. The movement is in perpetual motion; it is very organic, and we need to keep feeding this movement with new ideas and new actions for it to become unstoppable. There are serious political discussions to have as well. This needs to start with the Palestinians, of course, but having these two professors addressing these issues was also important.
J: What particular topics, issues, and literatures does the book address?
FB: I worked a lot with Ilan on the type of book we wanted and the type of conversations we wanted to have with Noam. The idea to divide conversations into three parts—the past, the present, and the future—was Ilan`s. I liked it a lot because it enabled us to address topics such as pre-twentieth-century Palestine, Zionism, the Nakba, and the Naksa, which are key to understanding what is happening today, as well as topics such as the solidarity movement, the Boycott, Divestment, and Sanctions (BDS) movement, the role of international law and "the day after" topic, two states, one state, a confederation, no state? what constitution...?
So the book works in two ways. The first part consists of the conversations and dialogues that Professor Chomsky, Professor Pappe, and I had in Cambridge in early 2014. During these conversations, we tried to address all the main issues that are related to the question of Palestine. This includes the issues of the past, which are still relevant today and are key to understanding the present, like the birth of Zionism as a political movement, the first major Palestinian catastrophe, and the Nakba—which, it is important to remember, happened not such a long time ago and is the pivotal moment in the history of Palestine and the Palestinians. Numbers don`t often reflect reality very well, but just try to picture two thirds of the population of a country being expelled today, whether in the US, in Europe, or anywhere else in the world. Just try to think about the impact this would have on the history of a people, on its psyche. People even today don`t understand how huge this was, how catastrophic. How do you recover from this? The Palestinians are still trying to answer this question today.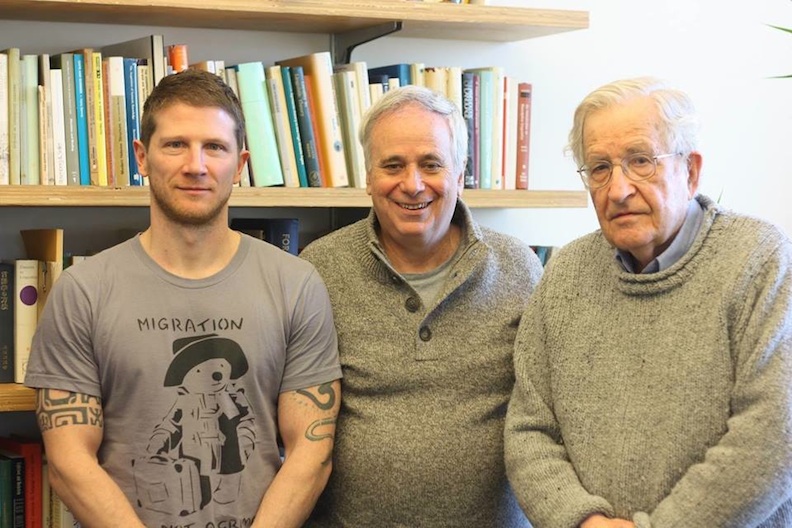 [Left to right: Frank Barat, Ilan Pappé, and Noam Chomsky. Image via the authors.]
We also talked about the present, the solidarity movement, and the various tactics and strategies it employs. The BDS movement was obviously at the very center of our chats. Most people involved in pro-justice solidarity know, or have heard at one point or another, that Noam Chomsky is against BDS. It was important to try to give him time to answer this question comprehensively. It is never black or white with Chomsky; there are always grey parts, and these are often, for him at least, the most interesting ones. Ilan Pappe, on the other side, is seen, justifiably, as one of the main supporters and actors of the BDS movement. Having them debate this question was very interesting and made for an enthralling moment. I think it makes for a very interesting read, especially in that Chomsky has never explained his positions on the question in as much detail as he does in this book.
While working on the book with Haymarket Books, we thought that it might be interesting to give Chomsky and Pappe some time to reflect on their chats and to then work on a series of "reflection" pieces. Among these, I think that Ilan`s piece "The Old and New Conversation" is fantastic in this regard.
J: Who do you hope will read this book, and what sort of impact would you like it to have?
FB: I think quite a lot of people can find an interest in this book. The book addresses very contemporary issues, such as the role of international solidarity and international law, but also goes very deep into some key moments and events in the history of Palestine. Both Noam and Ilan contributed exclusive pieces that add enormously to the quality and the importance of the book.
Let`s come back to the Nakba, for example: one of the keys to understanding the whole issue. How do you address it? Do you talk about it solely as an historical event? Do you analyze it from an historian's standpoint? Or do you make the link with the present, and transform it into something incredibly contemporary? As activists, teachers, academics, that is something we need to think about constantly: how the past relates to the present and should affect future decisions and tactics we use. These are the kinds of questions we asked ourselves in the book.
J: What other projects are you working on now?
FB: Personally, I am working on a book with Angela Davis, which should come out in the fall of 2015, again with Haymarket Books. While I cannot say too much about it yet, because it is a work in progress, the format will be similar to the Chomsky-Pappe one. The first part will be interviews I have conducted with Angela in Paris, Brussels, and London, and the second part will be lectures and keynote speeches that Angela gave over the last few years, addressing issues that we talked about during our conversations. The main idea of the book is to talk about the struggle in general: how to get involved, how to make it better, and how can/should the past influence the present. We talked in depth about Ferguson, police brutality, the prison industrial complex, racism, feminism and much more. I am very, very excited by the book.
Otherwise, in terms of my activism work, I am working with lawyers, activists, and jurists with the Palestine Legal Action Network to try to see what we can do together, in terms of advocacy but also concrete legal actions. I am also involved in putting together the first Palestine film festival in Paris in May-June of this year.
J: How would you like this book to affect ongoing discourses and debates?
FB: The fact that these two eminent professors have disagreements on some key issues is, I think, very important. For example, the birth of Zionism, and the different aspects and forms it has taken, is a subject of debate between them. The real purpose of Zionism is also a question that they answer differently. I have mentioned this already, but the BDS movement and the role of international solidarity is also something they do not always see eye to eye on. A discussion like this creates something organic, a work in motion, which proves that nothing is black and white and that there is still a lot of work to do, a lot of thinking to do, when it comes to the question of Palestine.
What the book also shows is that we need to do the thinking now. We cannot operate in a vacuum, and both the Palestinians and the solidarity movement need an agency and a political vision that does not leave much room for compromises with the powerful. Working on the book made me realize even more how key the question of Palestine was for the world—how "solving" it could open a window, a door, towards another world, a much better and fairer one.
Excerpts from On Palestine
From Chapter One: "The Old and New Conversations," by Ilan Pappé
…I think the search for new ideas, and maybe even for a new language, about Palestine emerged out of a longer-term crisis. The crisis was characterized by the inability to translate impressive gains outside of Palestine, especially in transforming world public opinion about it, into tangible changes on the ground. The new search is an attempt to deal with several gaps and paradoxes that haunt the solidarity movement with Palestine as a result of this obstacle.
These days the ever-growing camp of activists for peace and justice in Palestine is facing several paradoxes that are hard to reconcile. Let me first consider these paradoxes and then suggest a way forward both through my own analysis, the analyses of others, and finally through a conversation with Chomsky.
The first paradox is the gap between the dramatic change in world public opinion on the issue of Palestine on the one hand, and the continued support from the political and economic elites in the West for the Jewish state on the other (and hence the lack of any impact of that change on the reality on the ground).
Activists for the cause of Palestine sense rightly that their message of justice and their basic understanding of the grave situation in Israel and Palestine are now widely accepted in the world, but yet this has not alleviated the Palestinians' sufferings wherever they are.
While in the past, the activists could have attributed this gap to a measure of sophistication behind the Israeli actions that hid well the uncanny, and quite often criminal, Israeli policies, this could not have been the case in our century. The successive Israeli governments since the beginning of this century rendered any sophisticated analysis of Israel quite redundant. These days, it is very easy to expose not only the Israeli policy but also the racist ideology behind it. The activists' efforts and this deplorable policy produced a dramatic shift in Western, including American, public opinion; but so far this shift has failed to reach the upper echelons of society and therefore on the ground Israel continues—unabated and uninterrupted—its policies of dispossession and does not seem to be paying a price for its policies.
The second gap, indeed paradox, is the one between this widely held negative image of Israel on the one hand, and the very positive image its own Jewish society has of the state. Israel's relative economic prosperity still promises that the most isolated state in the Organization for Economic Co-operation and Development is regarded by its own Jewish citizens as a thriving state that has ended the Arab-Israeli conflict and has only to struggle with residues of the Western "war against terrorism" in the form of Hamas and Hezbollah (but even that is not deemed a crucial issue in the wake of the "Arab Spring"). Israel does suffer from social and cultural rifts and cracks, but they have been muted for the time being by the invention of a phony threat of an Iranian nuclear war and other such scenarios that also ensure the uninhibited flow of money to the army and security services.
This sense of success of course is not shared by the Palestinian citizens of Israel in the Galilee and the al-Naqab (the Negev) who continue to suffer from expropriation of their land and demolition of their houses and are exposed to a new set of racist laws that undermine their most essential and elementary rights. The Palestinians in the West Bank are still humiliated on a daily basis at checkpoints; arrested without trial, losing their lands to settlers and the Israeli Land Authority; and barred from traveling to nearby villages and towns due to the systems of apartheid walls and barriers that encircle their homes. Those who try pay with their lives or are arrested. And the people of Gaza are still subjected to the barbaric combination of siege and bombardment and shooting in the biggest open human jail upon earth. And of course one should not forget that millions of Palestinian refugees still languish in camps while their right of return seems to be totally ignored by the global powers that be.
The third paradox is that while specific Israeli policies are severely criticized and condemned, the very nature of the Israeli regime and the ideology that produces these policies are not targeted by the solidarity movement. Activists and supporters demonstrated against the massacre in Gaza in 2009 and the assault on the flotilla in 2010, yet in this arena of open and public protest nobody, it seems, dares to attack the ideology that is behind these aggressions. There is no demonstration against Zionism, because even the European Parliament regards such a demonstration as anti-Semitic. Imagine, in the days of supremacist South Africa, if you were not allowed to demonstrate against the apartheid regime itself, but only against the Soweto massacre or any other particular atrocity committed by the South African government.
The last paradox is that the tale of Palestine from the beginning until today is a simple story of colonialism and dispossession, yet the world treats it as a multifaceted and complex story—hard to understand and even harder to solve. Indeed, the story of Palestine has been told before: European settlers coming to a foreign land, settling there, and either committing genocide against or expelling the indigenous people. The Zionists have not invented anything new in this respect. But Israel succeeded nonetheless, with the help of its allies everywhere, in building a multilayered explanation that is so complex that only Israel can understand it. Any interference from the outside world is immediately castigated as naïve at best or anti-Semitic at worst.
These paradoxes at times have frustrated, understandably, the solidarity movement with Palestine. It is indeed difficult to challenge established powers and interests when they refuse to yield to the moral voice of civil societies and their agendas. But there is always a need to think hard about whether more can be done in those spaces and areas in which non-elite groups have the power to impact and change the conversation in effective ways.
[…]
From Chapter Four: "The Future": Frank Barat, Noam Chomsky, and Ilan Pappé in conversation
Frank Barat (FB): Following up on this and talking about a new reality, for you Professor Pappé, the new reality is already one regime, one political system governing both Palestinians and Israeli Jews, a common state reality, you are urging us to advocate and fight to change the nature of the system, the rules, the internal laws, et cetera. Professor Chomsky, you've been an advocate and you've written about a common state, one state, a binational state for decades, do we need to go through two states because of the consensus to eventually get to one state?
Noam Chomsky (NC): Yes, that is because the way I see it, Israel and the United States do not want one state and will never accept it. They have a preferable alternative from their point of view to take over what I've just described, this Greater Israel which is not going to have many Palestinians in it—in fact, a smaller percentage than in Israel today. The big Palestinian concentrations are going to be outside, population concentrations will be outside. The plan for them is I think they can mostly rot, or maybe flee. There will be a standard neocolonial structure in which there is a center for the elite. So you go to Ramallah, nice houses, theaters, bars where Westerners can come and see how lovely Palestine is, which you find in every Third World country, the poorest country you want in Central Africa and you can find these sectors there that are for the elite which look like Paris or London. In fact, if you go back to the 1990s, Israeli industrialists openly and literally urged the government to shift from what they called a colonial program to a neo-colonial program, which means establish this Third World-style entity with most of them rotting but with some kind of a center for rich Palestinians, the privileged ones, the elite, and so on. If that is correct, then there are really two options. One is, either this, which will have very few Palestinians, they will be somewhere else and the other one is two states. Two states is a rotten solution, but at least it has the merit of having overwhelming international support that has been blocked by the United States for thirty-five years now but has overwhelming international support. I don't feel myself that the settlements are irreversible.
[…]
Now, if some kind of two-state settlement, no matter how rotten it is, is established, my guess is that the borders are going to erode, because if you know the country at all, there is no way to draw a line, it would not make sense whatsoever. In fact, when there have been relaxations of tension in the past, there has been some erosion of the sharp boundaries, and commercial, cultural, and other kinds of interchange began to take place. We don't know where it could lead, but it could lead to closer integration, you know a kind of longer term that we are all talking about, thinking about some sort of a federal integrated society. As I said earlier, I don't worship the imperial borders, I don't think they have to be maintained either, but I just don't see any other alternatives to those two alternatives.
Talking about one state is kind of interesting to keep at the back of your mind, but it is just not one of the options. I think, these are the two options and I think it is misleading from people on every side, the Shin Bet, Palestinian leaders, international commentators to talk as if the choices are either two states or one state. Those are simply not the choices. The choices are Greater Israel or two states and Greater Israel doesn't have Palestinians or a few Palestinians.
Ilan Pappé (IP): I see it a bit differently. I think that the balance of power on the ground and the kind of relationship Israel has with the United States and the international community ensures that the alternative of two states will always be implemented more or less the way Israel understands the two-state solution.
This version actually means the creation of a Greater Israel. Despite the international support for allegedly two distinct states the end result will not be two very different models. They would be different in the sense of international legitimacy and in the two-state solution the Palestinians will enjoy some symbolic independence and could display some insignia, but the basic relationship between the Israelis and the Palestinians would not change.
I do not see much logic in supporting something that would actually legitimize the Greater Israel option. The two-state solution in 2014 can only go one way—toward the international legitimization of the two-state solution. The international community is looking for someone like Abu Mazen to accept an Israeli notion of a two-state solution that it purports and this, if successful, can perpetuate a Greater Israel through international legitimacy.
Against the already existing Greater Israel one has to conduct a campaign of regime change based on human and civil rights equality and hope the regional and international developments would help it to mature. What the international community is doing right now reminds us once more of the famous Jewish joke of someone looking for a key he lost where there was light but not where he lost the key.
[…]
From my perspective, thus, a support of a one-state solution is activism that promotes the whole space as one land and the people as one people. What we should not succumb to is the Zionist version of the two states that limits the idea of a Jewish Palestine with few Palestinians in it to "just" eighty percent of Palestine. I still think the principal motive behind Israelis' support for the two-state solution is not reconciliation with the Palestinians but a wish to control as much of the land with as few Palestinians in it as possible.
NC: It is a different scenario and perspective. Let me go back to your distinction between what can be done in the inside and what can be done on the outside. What I think about the issue, concentrating on the work that can be done on the outside, I can't do anything about what Palestinians will decide and you, quite properly, are asking what can be done from the inside. I think these are kind of complementary. I don't think they have to be conflicting, but from the outside, my perspective, I think the task here and in Europe is to delegitimize the occupation, which is possible, delegitimize Israel insofar as it is involved in the occupation, press forward as much as possible to get the US to drop its unilateral opposition to diplomatic settlement along the lines that were laid out thirty-five years ago and see what the options are to create some alternatives to this Greater Israel picture which we see developing.
IP: But also delegitimize Israel when it mistreats the Palestinians inside Israel.
NC: Yes, we should of course be opposed to internal oppression in every country.
But these are kind of separate things. Like when people talk about apartheid, it is a little bit misleading. I mean, inside Israel, there is repression, but it is not apartheid. In the Occupied Territories, it's much worse than apartheid; Black South Africa was not like the Occupied Territories.
IP: But that is separation. Even the Israelis cannot keep the separation for too long. You can see that the same units that have been used to disperse demonstrations in the West Bank are now used to disperse demonstrations in the Negev. The same laws or rather emergency regulations that were applied only in the West Bank and the Gaza Strip are now sort of seeping through into Israel because the nature of the relationship is changing.
NC: It is correct, but if Greater Israel does get established, they won't care about what's happening outside it; they may occasionally send the IDF there to smash up Nablus, but it is irrelevant, it is your business, you rot over there, we are going to take care of the things that happen inside with not many Palestinians. I think a thrust of activism is trying to expose that, expose it, not suppress it and it is being suppressed by the one-state/two-state discourse. So, not suppress it, expose it and struggle against it.
IP: On this, I agree.
[…]
From Chapter Seven: "Gaza's Torment, Israel's Crimes, Our Responsibilities," by Noam Chomsky[2]
At three a.m. Gaza time, 9 July 2014, in the midst of Israel's latest exercise in savagery, I received a phone call from a young Palestinian journalist in Gaza. In the background, I could hear his infant child wailing, amid the sounds of explosions and jet planes, targeting any civilian who moves, and homes as well. He just saw a friend of his in a car clearly marked "press" get blown away. And he heard shrieks next door after an explosion but couldn't go outside or he'd be a likely target. This is a quiet neighborhood, no military targets—except Palestinians who are fair game for Israel's high-tech US-supplied military machine. He said that seventy percent of the ambulances have been destroyed, and that by then more than seventy had been killed, and of the three hundred or so wounded, about two-thirds were women and children. Few Hamas activists or rocket launching sites have been hit—just the usual victims.
It is important to understand what life is like in Gaza when Israel's behavior is "restrained," in between the regular manufactured crises like this one. A good sense is given in a report to the United Nation Relief and Works Agency (UNRWA) by Mads Gilbert, the courageous and expert Norwegian physician who has worked extensively in Gaza, including throughout the vicious and murderous Cast Lead operation. In every respect, the situation is disastrous. Just keeping to children, Gilbert reports: "Palestinian children in Gaza are suffering immensely. A large proportion is affected by the man-made malnourishment regime caused by the Israeli imposed blockage. Prevalence of anaemia in children under two years in Gaza is at 72.8 percent, while prevalence of wasting, stunting, underweight have been documented at 34.3 percent, 31.4 percent, 31.45 percent respectively." And it gets worse as the report proceeds.
When Israel is on "good behavior," more than two Palestinian children are killed every week, a pattern that goes back over fourteen years. The underlying cause is the criminal occupation and the programs to reduce Palestinian life to bare survival in Gaza, while Palestinians are restricted to unviable cantons in the West Bank and Israel takes over what it wants, all in gross violation of international law and explicit Security Council resolutions, not to speak of minimal decency. And it will continue as long as it is supported by Washington and tolerated by Europe—to our everlasting shame.
NOTES
[1] See Ian S. Lustick, "Two-State Illusion," op-ed, New York Times, September 14, 2013.
[2] Originally published on Z Magazine (12 July 2014).
[The previous is an excerpt from On Palestine by Noam Chomsky and Ilan Pappé, edited by Frank Barat (Haymarket Books, 2015). Reprinted here with permission. For more information, or to purchase this book, click here.]