[The following press release and infographic was issued by Visualizing Egypt on World Press Freedom Day 2015]
Throughout the last two years, Egypt has witnessed a renewed state of media censorship, some aspects of which are reminiscent of the regime before the revolution, while others are new in scope and mode. Through the power of state institutions, impunity for those that assault media workers, editorial pressure and a consolidated media ownership, a new practice of censorship has taken root, while older methods have also persisted. In an attempt to document the structure of censorship in Egypt,Visualizing Impact andMada Masr collaborated in creating a series of visuals, the first of which will be released on World Press Freedom Day (3 May, 2015), and tells the story of how media freedoms are curbed today.
The first infographic from Visualizing Egypt was released on World Press Freedom Day 2015 and is available to republish under a Creative Commons license:
In this first visual, we navigate censorship practices and their function in preventing message dissemination.'Shadowed Signals' aggregates information from the reports of media monitoring organizations, local and international press, to paint a visual metaphor of how real world events are filtered or blacked-out altogether. The visual raises the salient point that mainstream press (both state-run and privately owned) are susceptible to, or complicit in, the muting and manipulating of messages before they are ever even broadcast.
For the last two decades,and in parallel with the liberalization of the media industry in Egypt, censorship has systemically materialized in formal and informal ways. On the formal level, the state has used its sovereign capacity, ranging from legal instruments, such as constitutional clauses and media bills, to pose challenges to independent media practice. The prosecution of journalists and closure of media outlets through these instruments have rendered these legal instruments effective tools for the suppression of speech.
The last two years have seen no exception in the use of legal instruments to limit media freedoms. The 2014 Constitution holds several clauses limiting media freedoms, in addition to already existing legislation. This intensive harassment through the judiciary has deterred many other journalists from addressing stories deemed sensitive, or exposing regime-sanctioned violations.
These chilling effects have shaped what arguably constitutes the larger portion of censorship, namely informal censorship, or soft censorship, which plays a large role in limiting speech. But the other significant aspect of self-censorship resides in its being a product of deliberate alignment with the ruling regime. State-run media aside, many corporate media outlets have vowed allegiance to the current authorities, a function of Egypt's polarized politics in the last two years.
Besides self-censorship, taming actual voices is another major form of informal censorship. The disappearance of critical voices from the media landscape, be it guests on TV shows, op-ed writers in newspapers, or actual journalists, has created gaps in coverage. While the full circumstances behind these disappearances remain unknown in most cases, reports on TV black lists of activists, and failure to renew contractual agreements with some columnists and hosts, point to a desire to silence them.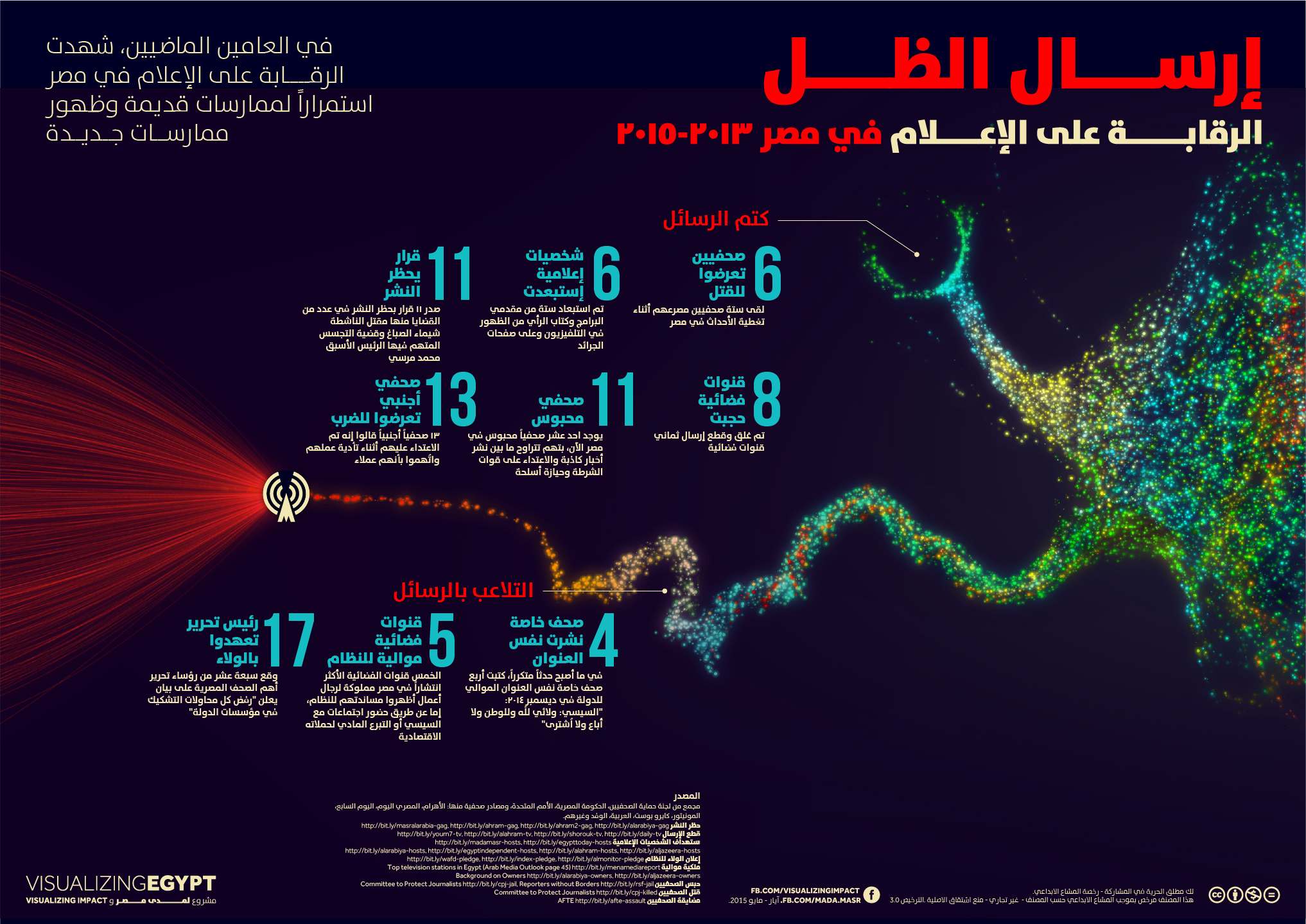 In our next visual, we will look into a timeline of media development in Egypt, and the parallel evolution of censorship regimes. Finally, we will examine the infrastructure of media ownership and governance, with a quest to determine the root causes of persisting censorship.
About
Visualizing Impact (VI) is a laboratory for innovation at the intersection of data science, technology, and design. VI creates impactful tools highlighting critical social issues around the world by leveraging data science, technology, and design to mainstream marginalized perspectives on critical social issues.
Mada Masr is a two-year old media organization, producing in-depth content about Egypt in Arabic and English. It was born with the aim to create a fully independent and sustainable media model and while pursuing this goal, it constantly examines and questions the media ecosystem in which it is functioning.
Visualizing Egypt is a collaboration between Visualizing Impact and Mada Masr, where the former's expertise in concept-driven designs and artistic direction and the latter's local knowledge and conceptual edge, bring together seminal narratives on crucial issues.