On 2 July 2015, Mosaïque FM, the largest radio station in Tunisia, reported that Sayfallah 'Omer bin Hussayn al-Tunisi (al-Tunisi), also known as Abu 'Iyadh, had been killed in a US led airstrike targeting former Al Qaeda in the Islamic Maghreb (AQIM) commander Mokhtar al-Mokhtar. No sources were attributed to this announcement. But two days later, the New York Times confirmed the information, this time with unnamed sources. Mosaïque FM promptly published the news that the New York Times had confirmed its report. As with al-Mokthar, whom the Algerian government and others pronounced dead on various occasions over the past two decades, there is significant reason to be skeptical of the announcement. If true, however, the death of Abu 'Iyadh marks a turning point in Tunisia's post-revolutionary struggle with extremism. It comes after the country's most violent terrorist attack in over a decade and preceded, by just a few days, the announcement of a state of emergency and plans to build a wall on the border with Libya. It is far from certain if the death of the Tunisia's public enemy number one will also improve security measures. Indeed, for the near future, the opposite may very well be true.
Much remains unaccounted for in the spectacular rise and fall of Abu 'Iyadh. In January 2015, a top law enforcement officer in Tunisia testified that the former Minister of Interior, Ali Laaraydh, ordered safe passage out of the country for the already infamous founder of Ansar al-Sharia, then the principal suspect behind the 2012 US embassy attack in Tunis. Following that incident, knowledge of Abu 'Iyadh's whereabouts had become strictly speculative. Some reports placed him in Durna, Libya, where a group declared allegiance to the Islamic State in early 2015. Others indicated that he was in hiding with Mokhtar al-Mokhtar.
But Abu 'Iyadh had been a mercurial figure from the outset. Reportedly released as part of the general amnesty on 20 January 2011, he would capture the spotlight of an increasingly crowded field of emergent voices. Though absent from the myriad talk shows or newscasts then flooding the airwaves and internet, his presence became ubiquitous. From July of 2012, through the end of the year, seldom a day passed without mention of his group—Ansar al-Sharia—or al-Tunisi himself in at least one, but, more often, all of the country's principal newspapers. Neither the most senior, nor the most militant of the nascent, so-called Salafi-Jihadist tendency, his persona, like his story, evinced a specific kind of ambiguity, a mystery of origin, of intention, even affiliation, that signified for moderate and conservative writers alike the "terror" of the "Arab Spring."[i]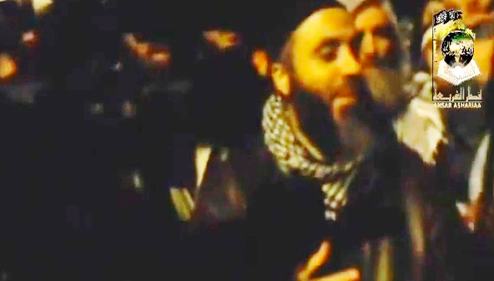 [Sayfallah 'Omer bin Hussayn's first public appearance as Abū 'Iyāḍ, at Manouba University, December 2011[ii] ]
It is important to note, firstly, there existed far more hearsay than fact surrounding description of Abu 'Iyadh. Apart from a few disparate appearances before a camera, only a small handful of interviews existed publicly, one of which was recorded by a reporter for Mosaïque FM, but subsequently banned from airing.[iii] Most of the available biographical information on him had been gleaned from a single interview reposted on the website Muslm.org in early 2012. Additional anecdotes from a disassembled Facebook page placed him in the heart of the notorious "Londinstan" crowd of the early 90s, and in the immediate circle of Shaykh Abū Qatāda one of the principal recruiters for al-Qaeda.[iv] Those who attempted to summarize his story began here before moving on to his périple through the myriad hot spots of the Islamic world, "Syria, Afghanistan, Iraq."[v] His arrest in Turkey, in March 2003, and his subsequent transfer to Tunisia where a military tribunal-like court sentenced him to serve some forty-three years were among the facts often associated with his name. Like many incarcerated under Ben Ali's notoriously strict anti-terrorism laws of the late 1980 and 90s, the exact charges against him remained undisclosed. But in the 2012 interview, Abu 'Iyaḍh said he had arrived in Turkey after fleeing fighting in Jalalabad, Afghanistan, where he and other Arab fighters, who vowed to defend Osama Bin Laden following the dispersal of the Taliban, faced the army of the Northern Alliance in November 2001. He had already indicated this history in a previous speech where he noted, in less than subtle fashion, that his location in Jalalabad placed him in direct proximity to the core leadership of al-Qaeda. Conveniently, for critics and followers alike, this fact became something of an open secret in the narration of his story.[vi] And although never sourced, it became commonplace for reporters to mention the anecdote in immediate juxtaposition with his name. But the public history of his involvement with al-Qaeda grossly underrepresented his actual level of involvement with the Jalalabad circle. As disclosed by the Guantanamo files, where al-Tunisi features prominently, most often as an informant,[vii] al-Qaeda leadership had charged him with establishing a guesthouse for Tunisian recruits, the largest faction of foreign Arab fighters in Jalalabad. From there, he created, in early 2000, the Tunisian Combat Group (TCG). In addition to running a major drug ring between eastern Afghanistan and Italy (where members of the group were wanted by the Italian police), the TCG was charged by al-Qaeda military commander, Abū Hafiz al-Maṣrī, to execute the assassination of Northern Alliance commander Ahmad Shah Masud on 9 September 2001, an event that was to signal to the 9/11 hijackers commencement of the operation.[viii]
This history far overshadows the known story of his life in Tunisia. Following his reappearance in 2011 (there is no direct evidence to show that he was part of the transitional government's amnesty), Abu 'Iyadh found safehaven in the Tunis banlieu of Ould Ellil where he began promulgating an energetic da'wa or missionary campaign.[ix] He sought financial support abroad, including in Oman, where he traveled in person to solicit funds. This trip, described by a reporter for al-Sabah, failed. Others, evidently, did not. While media concentrated on their spreading influence, with Salafist groups reportedly gaining control of some 400 mosques across the country, Abu 'Iyaḍh 's efforts focused on organizing elaborately staged charity events, supplying caravans to impoverished areas of the country, and delivering speeches, most of which were uploaded to Youtube, often with flashy introductory montages and musical overlays.[x] This potential, of instant streaming, generated a certain flare for the dramatic that became an integral part of the group's public demonstrations. There, his assistants, often wearing vivid orange vests symbolic of the Guantanamo prisoners and surrounded always by the ubiquitous black flag with an inscription of the shahada in white letters, created elaborately staged venues. These even included, at times, sporting expositions, as with the rally in early September, 2012, that featured a performance of classical stick fighting.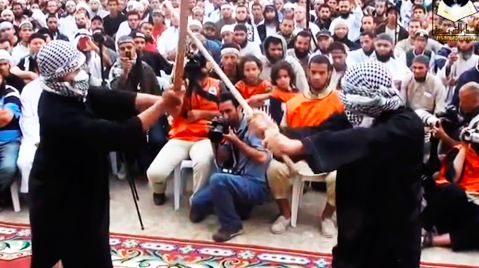 [From Ansar al-Sharia's former Youtube channel, 2012.]
In exultation of such unprecedented freedom, the crowds at these demonstrations indulged in impassioned new chants that epitomized the postmodern pastiche of Salafist rhetoric: "khaybr khaybr ya yahud… the armies of Muhammad are coming." Or: "Obama, Obama, koluna Osama!"[xi] While some were planned months in advance, others emerged in reaction to other happenings in the public arena: the screening of a controversial film, university protests, or fishermen selling black-marketed liquor at a portside market. At a large rally in May of 2012, in the ancient city of Qayrawan, where the Sousse attacker attended university, Abu 'Iyadh distributed tickets emblazoned with the group's insignia, encouraging his audience, with no shortage of irony, to behave as "political police" (a term used by Ben 'Ali's anti-terrorism forces) and to enforce sharia wherever they saw fit. A string of violent episodes ensued over the summer including raids on the capital's upscale neighborhoods and the ransacking of an art exhibition perceived to be displaying blasphemous imagery.[xii] The following September, in the wake of two controversial videos, both virulently denounced on the group's Facebook page, American embassies throughout the region were besieged by protests. The attacks in Tunisia and Libya (where the American Ambassador was killed) were attributed to Ansar al-Sharia. Abu 'Iyaḍh, as the group's emir, would quickly become one of the most wanted men in the world.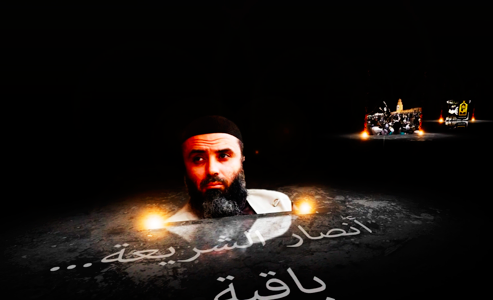 [From Ansar al-Sharia's former Youtube channel, 2014.]
This, of course, is only a summary of the disparate events that began to accumulate around his name. Already a figure of intense speculation, his story became yet murkier following the dramatic events of 11 September 2012. In the days following the attacks on the embassies, Abu 'Iyadh fled to the downtown Tunis mosque al-Fatḥ. Though international pressure steeped on authorities to arrest him, he was reportedly allowed to escape after police withdrew their positions citing traffic congestion. As though tracking his imaginary course out of the country, Tunisian media began running a series of stories on smuggled arms, even chemical explosives along the Algerian border where it was believed he had disappeared. In his absence, new leaders emerged and rallies continued, though in much reduced fashion. The assassination of the labor leaders Choukri Belaid and Moḥammad al-Brahmi, immediately attributed to members of Ansar al-Sharia, drove the group further underground. Many of the more hardened militants reportedly fled to the Chaambi Mountains along the Algerian border where they were said to have joined forces with the Brigade of 'Uqbat Ibn Nafiha, a group Tunisia's Minister of the Interior Ali Laaraydh claimed had aligned itself with AQIM. All the while, speculation about Abu 'Iyaḍh's location intensified. The Franco-German online news site Kapitalis and the Algerian tabloid al-Khabar placed him in the Libyan capital where he was said to have evaded airstrikes targeting him and his partner in hiding, Mokhtar al-Mokhtar. As recent as October, 2014, he was reported to be smuggling illicit money wrapped in chocolate bars and date boxes to his brother in Tunis using a young girl as courier. In November, Tunisia's Ministry of the Interior confirmed the reports that 'Iyadh had surfaced in Durna, and that he had pledged allegiance to the Islamic State. By the end of 2014, al-Hayat and other news outlets were reporting he had likely left Libya for an alternate "course."
Despite his physical disappearance, Abū 'Iyadh, as an historical reference, remained entrenched in Tunisia's public discourse. In mid-October, 2014, the High Independent Authority for Audiovisual Communication (HAICA) imposed a month suspension on a television program that hosted a guest reporter who boasted, casually, about his friendship with Abu `Iyadh. In an extended op-ed on the episode in the Francophone daily Le Temps writer Faouzi Ksibi defended the decision, on a "semiotic plane," suggesting, in essence, the broadcasting station itself, and not simply the reporter, was complicit in a communicative battle waged to gain empathy for "the terrorist." This narrative—of guilt by complicity towards Abu 'Iyadh—culminated in January, 2015, with the former Minister of Interior Laaraydh appearing before a federal judge in Tunis to testify about his decision to not arrest 'Iyadh while he was holed up in the Mosque al-Fath.[xiii] It was a charge, in essence, that had been leveled against the Ennahda establishment since their taking power in October 2011. By 2015, the court of public opinion had converged with the judiciary. The charge of association, let alone complicity with 'Iyadh, implied little less than an act of treason. In Libya too, information regarding Abu 'Iyadh became embroiled in political posturing, perhaps to the detriment of security cooperation. Just a month before the Bardo museum attack on March 18, 2015, Amor Gouiri, the Minister of Culture and Information for the Tobrouk-based Libyan government told al-Sabah Abu 'Iyadh had asked his Islamist counterparts in Tripoli to stop sending men to fight in Syria as they were needed for attacks in Tunisia.
If his death is confirmed, much of this history will likely vanish into obscurity. Unanswered questions remain, however, not the least of which being the actual level of cooperation and or complicity between 'Iyadh and ranking officials, Tunisian or otherwise. Such is the cost of extrajudicial killings. Truth and accountability fall victim as well.
---