This fall, Jadaliyya turns six!
When Jadaliyya published its very first articles, the seismic political shifts that would engulf the Middle East starting in late 2010 had not yet started. Once those events and their resulting transformations got under way, Jadaliyya became ideally situated to reflect, interpret, and contribute to discussions about these changes—both in the West and the Middle East. A key reason behind Jadaliyya's rise was the ability to deliver incisive, hard-hitting, nuanced, and critical content at this crucial time, in both English and Arabic. In the few years that followed, Jadaliyya was not simply a conduit for analysis; it also became an active organic platform for the mobilized voices on the margins of public discourse. We provided one of the few spaces to question the "experts" and the growing cult that sustained them.

In the last six years, Jadaliyya editors and many of our contributors like the peoples of the Middle East more broadly, have been on an intense roller coaster of hope and despair. After an initial euphoria, apathy and cynicism have stifled a range of imaginative possibilities, as the early promise of Tunis and Cairo has been overshadowed by the bloody realities of Libya, Syria, Yemen, the Gaza Strip and of course the Islamic State. With the region's social justice struggles becoming increasingly convoluted by late 2013 and with counterrevolutionary forces on the ascendency, Jadaliyya faced a submission slump in sophisticated and intellectually-grounded critical material. In times of hope, the impulse to write and document was at a record high, on Jadaliyya and elsewhere. As the Middle East has become an intensified space of war, repression, and ethnic cleansing from multiple sides, many analysts and researchers have written much less, taking pause to make critical sense, much less explain, the rapidly changing facts—and in many cases catastrophic and heartbreaking conditions—on the ground. This has made our work considerably more difficult. Not only in terms of retaining and expanding our readership base, but also in terms of sustaining and expanding our own involvement and commitment to providing critical analysis about the most urgent causes.
Nonetheless, there remains a strong need for critical analysis about and from the region, especially at a time when mainstream media has abandoned their (short-lived) interest in the aspirations of the people of the region as part of their (sometimes overly) celebratory coverage of the Arab uprisings. This is why we are embarking on a broad and sustained effort this year, along with Jadaliyya's sister organizations (here), to produce yet another round of hard-hitting analyses of the violent and often reactionary unfolding of the uprisings.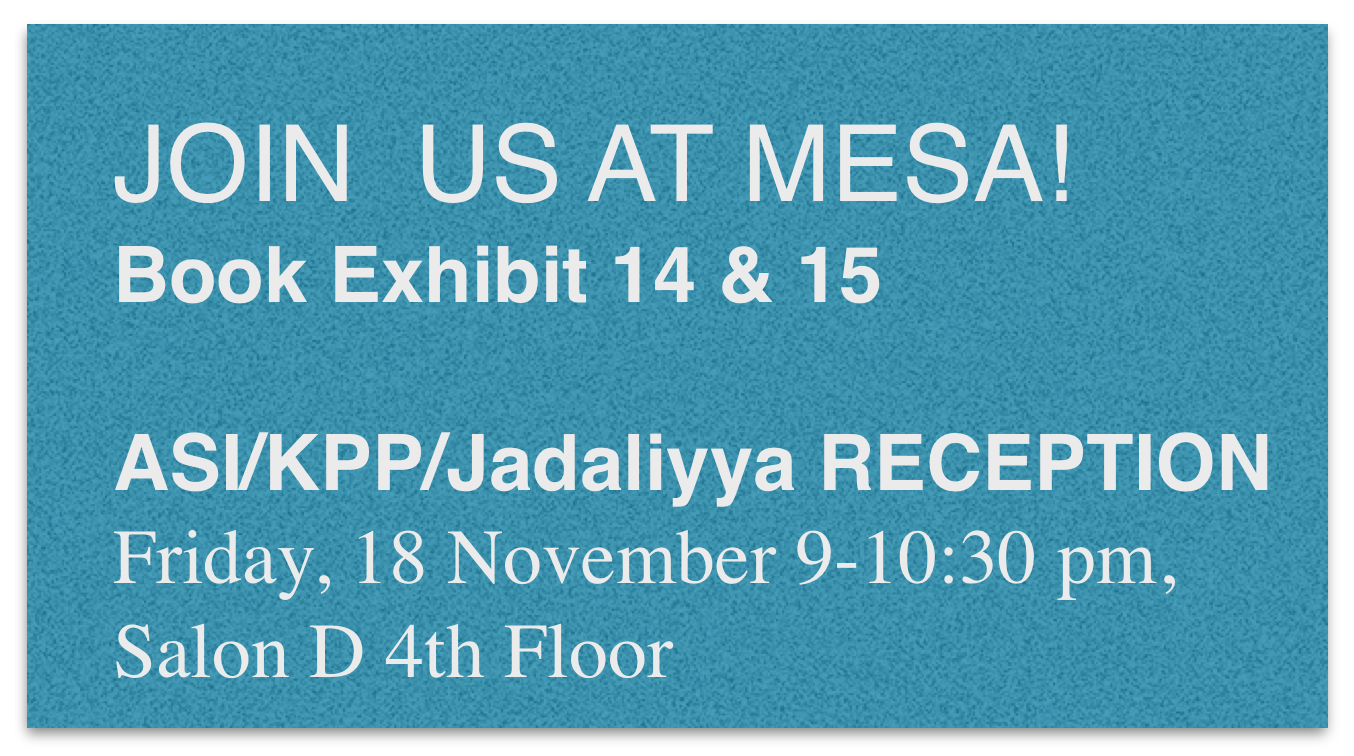 Media Matters
Many analysts have now reverted back to their traditional focus on the "threats" the region poses to the national security interests of the United States and Western Europe, be it violence, radicalization, or refugees. Alternatively, many platforms that purport to offer unadulterated critical perspectives from the region are so deeply politicized either through their funding sources and/or their political allegiances that they have become part of the problem in terms of knowledge production. The marriage of militarization and petrodollars defines most mainstream and even some alternative media from the region. A prevailing tendency toward double standards in the reporting on offer by these platforms robs audiences of sound holistic analysis. Whether it is speaking on Syria with cynicism or ignoring Yemen altogether, whether it is sidestepping Saudi Arabia or jubilating over militarization in Egypt, whether it is sugar-coating tyranny in Jordan or placing Palestine on a back burner, the state of media-produced knowledge on the region is truly abysmal.
It was at this particularly vital juncture that we decided not to succumb to the market-driven values of more production at reduced quality. Instead we employed a policy wholly the opposite. By intentionally raising the bar on quality we decreased the overall volume of content on Jadaliyya. Mainstream and corporate imperatives would consider this decision counterintuitive, but for independent alternative and critical publications whose integrity lies largely in the quality of their output, we were not interested in turning to "reporting." Our goal was not to "cover" everything in the region, but to offer meaningful analysis on issues that we have a distinct familiarity with and are cable of speaking to. By not becoming pawns in the growing "cult of expertise" on all things related to the region, we avoided turning Jadaliyya into an otherwise expendable "Jack of all Trades."
Beyond the collective despair, and despite the widespread curtailment of social movements for justice in the region, activists, researchers, and intellectuals in and from the Middle East, continue to distinguish Jadaliyya as one of the few places to read and learn about the ongoing struggle for freedom and dignity. This struggle that united us six years ago, continues to rally us today. That is why we consider the present phase to be nothing less than crucial. In this vein, we are particularly indebted to our continuously growing list of contributors, all of whom have taken the time to share their research and analysis, without remuneration, and in collaboration with our sometimes laborious review process.
[The Political Economy Project`s Summer Institute is part of a larger pedagogical project. Click below for more.]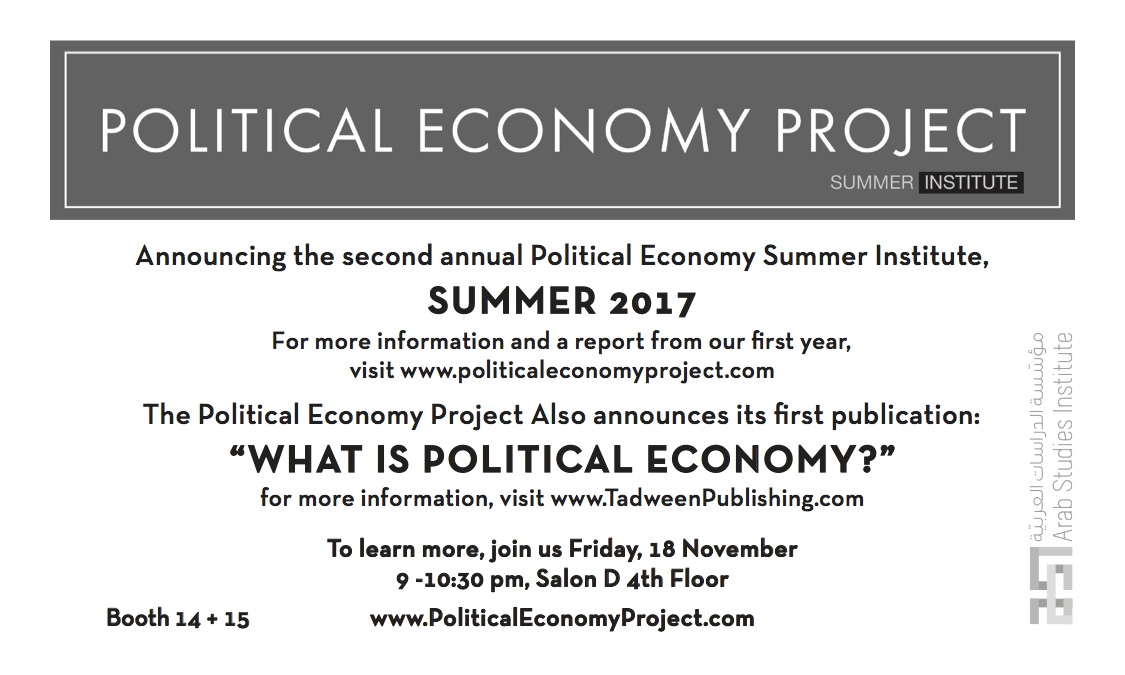 A Pedagogy Initiative
It is for this reason that we intend to focus our attention on our greatest priority as educators. With the hope of historicizing, contextualizing, and reconfiguring knowledge production on the region, Jadaliyya will invest in its urgent responsibility as a resource and a starting point of departure for inquisitive research. This is what we are calling Jadaliyya's "pedagogical turn." While this was already underway three years ago with our JadMags (short and focused publications on particular themes), Audio Journal Status/الوضع (an ever expanding audiovisual database of lectures, programs, conferences, panels, and workshops), and further collaborations with our sister organization Tadween Publishing (producing books that are inspired by, or in dialogue with, works on Jadaliyya and beyond), our next phase will bring together these and additional efforts under the rubric of Middle East Studies Pedagogy Initiative. In a sense, we aim to become a platform not solely for critical online reflection—our raison d'être—but also for curating the work of academics, activists, artists, and journalists through the creation of a space where these voices coalesce and cohabitate. We are keen on doing so while resisting the tokenism of differentiation and the oppressiveness of unanimity. It is our hope that the content we publish on Jadaliyya continues to challenge the hegemony of "authoritative" voices and to expand our capacity to present a range of voices from and on the region.
[Our latest issue of the Arab Studies Journal is hot off the press this week! Click below for more.]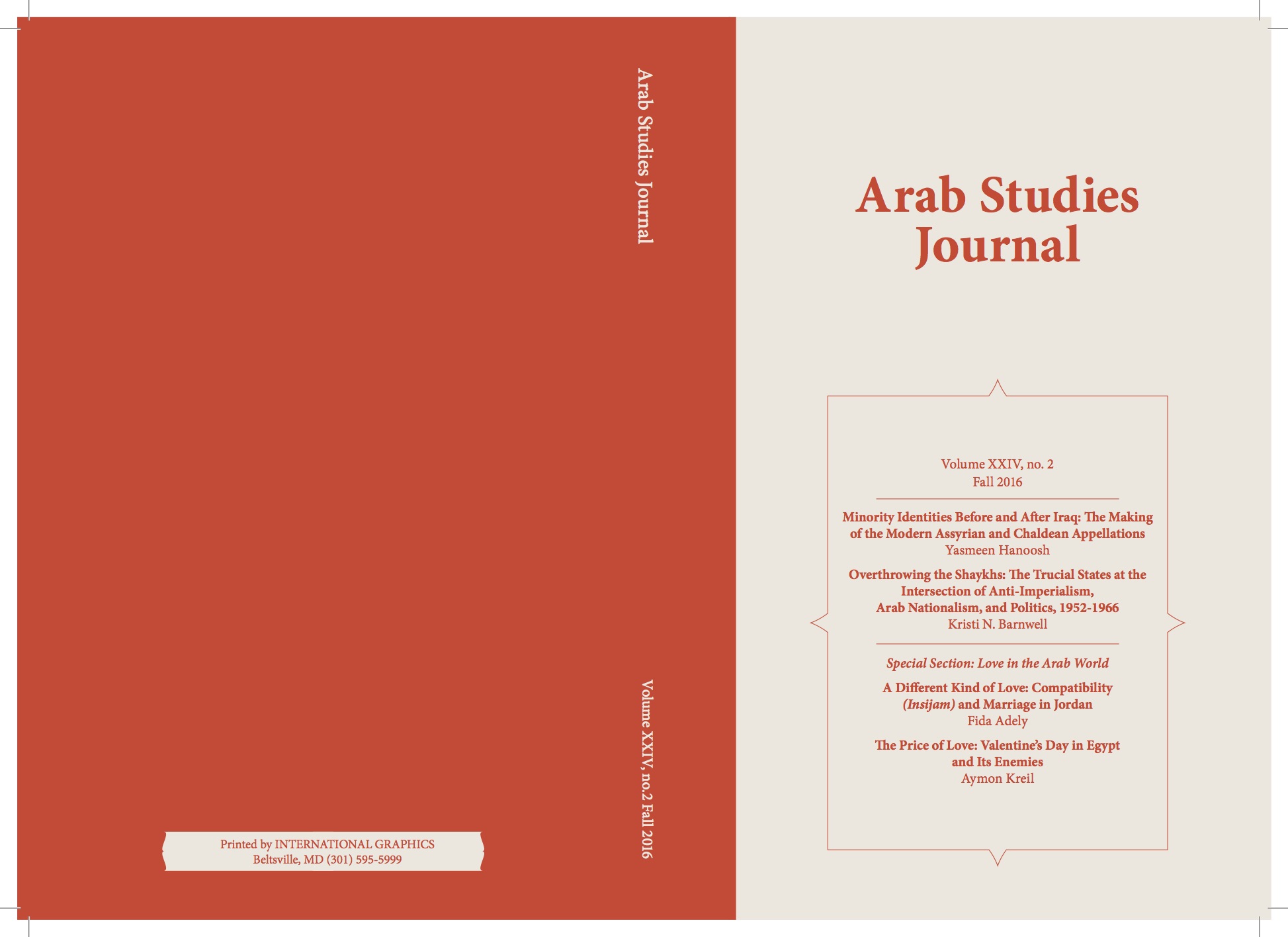 Our Solid Ground
Today, we publish both on-the-spot analysis as well as longer form research articles. This affords us the flexibility to comment on current events in a deep and critical way without sacrificing our sensitivity and dedication to well-researched analytic pieces, and vice versa. Jadaliyya is also the platform of choice for a wide range of outputs, from interviews to NEWTON book features, extensive and wide-ranging media roundups from across locales and themes, photo-essays, and reviews. While it is not easy to sustain a heavy stream of stellar work in the context of a principally volunteer-based organization (and one that does not pay for content), we have been able to provide our readers with consistent and resource-oriented material over the past six years, in both Arabic and English, with occasional publications in Turkish and French. Notably, while our English production output has slowed down since the euphoria of the uprisings waned, our Arabic language production has thrived. In the last few years, we have been able to attract as many readers from the region as local publications have, with an uptake in critical cultural material. The fact is that our audience base is so wide-ranging and our production is sufficiently diverse that it is difficult to identify ebbs and flows from a bird's eye viewpoint.
In the coming months and years, we will be making this all the more apparent visually with a new website, a more technologically accessible interface, and a reinvigorated sense of purpose that will build on our sister projects, not least the Knowledge Production Project, a mammoth undertaking that will debut at MESA 2016 in Boston. We will also be building on the myriad networks of scholars and activists we brought together as part of various projects and workshops with our sister organization, FAMA (Forum on Arab and Muslim Affairs). Many of our readers will also be introduced more fully to our audio-visual production, curated by Quilting Point. Finally, we will be benefitting from the stellar scholarly footing and related networks provided by our sister organization, Arab Studies Journal.
[Our new releases from Tadween Publishing. Click Below for more.]
Back to Basics
Our consistent commitment to thinking and writing about the Middle East from a transnational framework allows for fluency within the interconnections and specificities of the region's societies, political systems, and economies. Of the many things that set Jadaliyya apart is the optic that allows us to see predicaments and possibilities transnationally. The unpacking of the fault-lines between transnational social movements, cultural production, and analytic frames (including but not limited to settler colonialism, political economy, and anti-blackness) will continue to set us apart. On the other hand, mainstream media's reporting on the region since 2010 has gone from surprise to enthusiasm to "Whatever happened to the Arab Spring?" type of reporting to "well, that was a disaster!" Indeed, mainstream media have resorted to frameworks and clichés that have long dominated reporting on the Middle East, seeing everything through the lens of terrorism, ethno-sectarian strife, religion, geopolitics, and energy security.
For six years, we have attempted to push back against this backdrop by problematizing, complicating, and localizing discussions about the region in a manner that challenges both the naive cheerleading and haplessly pessimistic tones of knee-jerk journalism. We will continue to provide a different kind of analysis, since understanding the region is about grounded, diligent, sensitive, and empathetic coverage, not the occasional parachuting in and out when some cataclysm unfolds. For six years, we have attempted to showcase the complexities of revolutionary movements, their milieus and their aftermaths. For six years, we have searched for new modes of analysis to best articulate the new realities that continue to emerge. For six years, Jadaliyya has been synonymous with a durably independent, critical, and rooted discussion about the region.
On this anniversary, we promise our readers to double down on our core mission and strive for even better analysis and analytical reporting on the Middle East and beyond. Six years later, we believe Jadaliyya is as essential as ever.
[Join us at MESA for the launch of the Knowledge Production Project, and other ASI Projects]