[This is an ongoing post and is updated regularly. It was first published/launched on 4 November 2016. Recent posts/updates are below. The reports of suffering become more devastating as you scroll down]
4 November 2016
The battle for Aleppo has been underway for some time, but is in all likelihood entering an even more critical and costly phase in terms of loss of human life. This post will be updated during the coming days to reflect what portends to be a potential calamity with serious implications.
Without a doubt, the parties that hold the initiative and ultimate responsibility for the consequences of this battle are the Syrian regime and the Russian forces, who seem to have identified today as the last chance for fighters and civilian alike to leave the rebel-controlled eastern part of the city. As expected, the call was not heeded as there is a complete lack of trust that any party involved will honor a safe exit for civilians. Rebels, of all varieties, had already rejected an offer to leave with their arms and vowed to remain and fight.
We will provide updates, not by the minute, as matters develop, and as the residents of east Aleppo brace for "impact" and bombs raining from the sky, and otherwise. West Aleppo residents are also expecting continued attacks and bombardment (below is a Channel 4 report from Aleppo).
Residents in eastern Aleppo are in dire need for food and medication, and will likely suffer in exponentially more devastating terms in the event of a prolonged bombardment and siege campaign.
The regional context and timing of this impending "decisive push" as some journalists in the region are calling it is significant. Some of the factors and processes that are shaping the battle for Aleppo or working in parallel with it are:
The presidential elections in the United States are to commence and conclude in four days, on Tuesday, 8 November 2016. The battle is being propelled by a desire for a decisive take-over/advance or steadfastness/retaliation to establish 'facts on the ground' before the election outcome is determined.
Mosul is under attack by nearly all parties to the Iraqi scene to control the city and oust ISIS from their largest Iraqi bastion. And the results so far speak of "success" and advancement against ISIS fighters, signaling perhaps a significant downturn in ISIS' military prowess, and sense of invincibility. Whether the battle for Mosul does indeed prove successful in downgrading ISIS will have significant implications on the stability of both Iraq and Syria, as well as next steps.
The Saudi-led war on, and bombardment of, Yemen continues, even if reporting on it has subsided recently—including the resulting starvation calamity. The US is directly involved in this war effort, as it is in Iraq and Syria, in a more or less direct fashion.
With increasing involvement in Syria and Iraq, an ongoing unprecedented purge on dissent and the arrest of HDP leaders, Turkey's post-failed coup instability continues. Turkish leaders have continued to assert their right in an even more direct role in both neighboring countries in an effort to consolidate Turkish influence there.


The rest of Syria's territory continues to experience battles, offensives, and retreats. Millions of Syrians inside Syria and in neighboring countries are languishing in horrid conditions, but these are overshadowed by the "all about Aleppo" coverage. The chess match approach to covering Aleppo, even if it acknowledges a humanitarian cost, should not overshadow the daily suffering and deaths elsewhere.
Other factors and developments abound, and we will be highlighting them as they rise to further prominence. Your comments on what we may have missed, or contributions in the form of links and developments, are welcome at Syria@jadaliyya.com.
Stay tuned.
Channel 4 News Report
(Inside Aleppo: a city divided and awaiting all out war)
8 November 2016

"Over the past few days, the Russian navy has assembled a sizable fleet in the eastern Mediterranean, made up of its only aircraft carrier, the Admiral Kuznetsov, its biggest battle cruiser, the Peter the Great – both from its Northern Fleet, and the Admiral Grigorovich, a missile frigate."


Russia to launch `large-scale` airstrikes on Syria as Americans vote
https://www.theguardian.com/world/2016/nov/08/russia-syria-airstrikes

12 November 2016

"The Telegraph last week saw hundreds of Syrian and Russian troops moving into position on the southern outskirts of Aleppo. One senior Syrian intelligence official told the paper that pro-government forces and their Russian allies may wait for talks with the new US president before beginning its offensive."
Russian warships arrive off Syrian coast ahead of `final` assault on Aleppo
http://www.telegraph.co.uk/news/2016/11/12/russian-warships-arrive-off-syrian-coast-ahead-of-final-assault/

13 November 2016

"The Syrian Observatory for Human Rights said the army had recaptured key areas including the western district of Dahiyet Al Assad and the village of Minyan outside the city. Regime forces also advanced south of the city, seizing two areas from the rebels. The reversals undo all of the progress made during a recent push by opposition fighters, including former Al Qaeda affiliate Jabhat Fatah Al Sham, as they tried to end a government siege on the east of Aleppo city."


Syria regime reverses recent rebel gains in Aleppo
http://www.thenational.ae/world/middle-east/syria-regime-reverses-recent-rebel-gains-in-aleppo


---

Heavy bombardment and airstrikes on Aleppo have resumed by the Syrian regime and Russia on 15 November, after a relative lull that lasted several weeks. The strikes leveled several buildings including the last remaining hospitals, and caused scores of casualties. The only specialized pediatric hospital in besieged east Aleppo has come under attack for the second time since airstrikes resumed on 15 November, destroying three floors and leaving it out of service. Three other hospitals have also taken direct hits, resulting in casualties among staff and patients and leaving two key surgical hospitals and the largest general hospital out of service.


---

16 November 2016

"A UN proposal to end heavy fighting in the city of Aleppo has been rejected by the Syrian government. Under the plan, rebel-held eastern Aleppo would remain under opposition control if rebel fighters withdrew. Foreign Minister Walid al-Muallem, who met the UN envoy to Syria on Sunday, called the idea a violation of "national sovereignty."


Aleppo self-rule plan rejected by government
http://www.bbc.com/news/world-middle-east-38043157 
 
17 November 2016

مئات الغارات الجوية الجديدة على أحياء حلب المحاصرة تدفع المدنيين لتمني الموت
يقول نشطاء وعناصر الدفاع المدني، في شرق حلب، المحاصرة من قبل قوات النظام، أن مئات من الغارات الجوية خلال الـ48 ساعة الماضية، ضربت الأحياء المحاصرة مما أسفر عن مقتل العشرات من المدنيين وتدمير حي بأكمله، يوم الأربعاء

‫وشنت الطائرات الروسية ما لا يقل عن 200 غارة جوية، في شرق حلب، يوم الأربعاء "مما أسفر عن مقتل 42 شهيدا وأكثر من 82 جريحا"، حسب ما قاله ابراهيم الحاج، مدير المكتب الإعلامي للدفاع المدني في حلب، لسوريا على طول.

 
10-16 November 2016

"The OES [Operation Euphrates Shield] has made major advances in the fight against ISIS in northern Aleppo over the past few weeks. With the recent advances, the battle for al-Bab has now officially begun. Should OES succeed in taking the city, advancing opposition and Turkish forces will find themselves in very close proximity to government positions to the south, raising the risk of direct confrontation between OES and government forces. Persistent infighting by opposition forces in the area indicates weak centralized control over the advance, further increasing the risk of a new front opening in the conflict in the near future."


Syria Conflict Mapping Project Reports Nov. 10-16, 2016
https://www.cartercenter.org/resources/pdfs/peace/conflict_resolution/syria-conflict/weeklyconflictsummary-nov-10-16-2016.pdf

10-18 November 2016

"Russian Minister of Defense Sergey Shoygu announced the start of a "major operation" allegedly targeting ISIS and Al-Qaeda in Idlib and Homs Provinces. The operation included sorties by Su-33 'Flanker-D' fighter jets launched from the Russian Aircraft Carrier 'Admiral Kuznetsov' in the Eastern Mediterranean Sea as well as cruise missile strikes by naval warships and strategic bombers. Local activists also reported the resumption of intense airstrikes against opposition-held districts of Aleppo City."


Syria Situation Report: November 10-18, 2016
http://www.understandingwar.org/backgrounder/syria-situation-report-november-10-18-2016

19 November 2016

This is a dark day for east Aleppo. The severity of the bombing has inflicted huge damage on the few hospitals working around the clock to provide medical care," says Teresa Sancristoval, Médecins Sans Frontières (MSF) emergency coordinator. "The attacks have destroyed entire hospitals, electric generators, emergency rooms and wards, forcing them to stop all medical activities. It is not only MSF that condemns indiscriminate attacks on civilians or civilian infrastructure, including hospitals, but also humanitarian law. The message is simple and I don´t know how to say it any louder: stop bombing hospitals.


Multiple direct and indirect hits on hospitals in east Aleppo in the last forty-eight hours
http://www.msf.org/en/article/syria-multiple-direct-and-indirect-hits-hospitals-east-aleppo-last-48-hours

19 November 2016

"All what we have experienced in the past seems like a joke compared to the crimes being committed in Aleppo today…we don't even have the energy to speak with the media. There is nothing we can do . . . there is no longer a way to get into Aleppo to provide relief except by parachute. We are completely inept now."


A chilling report by the head of the Union of Medical Relief Organizations from east Aleppo, Zaidoun Zu`bi, about the unprecedented devastation experienced today
https://www.youtube.com/watch?v=uvVlVO9EX14&feature=youtu.be&app=desktop  
20 November 2016

"At least 64 people have been killed by government airstrikes in rebel-held eastern Aleppo, Syria, since Thursday, according to the Syrian Observatory for Human Rights. Rebel shelling has killed 13 people in government-held western Aleppo during that period."


Aleppo Bombs Leave Quarter Million 'Living in Hell' and Without Hospital Care
http://www.nytimes.com/2016/11/21/world/middleeast/aleppo-syria-bombs-hospital.html?_r=0

21 November 2016

"Scores of airstrikes, hundreds of barrel bombs and more than 1,000 artillery shells have killed at least 300 east Aleppo civilians and shut down the city's last remaining hospitals, one week into Russia and the regime's latest campaign "to kneel or else."


No hospitals left in east Aleppo after intense barrage, 'the streets are dead silent' as hundreds killed
http://syriadirect.org/news/no-hospitals-left-in-east-aleppo-after-intense-barrage-%E2%80%98the-streets-are-dead-silent%E2%80%99-as-hundreds-killed/
21 November 2016

حلب: 10 قتلى بينهم أطفال في قصف للمعارضة
http://www.syriahr.com/2016/11/21/حلب-10-قتلى-بينهم-أطفال-في-قصف-للمعارضة/
21 November 2016 

"According to the World Health Organization, there are no functioning hospitals available to those trapped in eastern Aleppo following attacks this week that targeted the area's health facilities. There are some services still available through smaller clinics, WHO said, but the only pediatric facility in the area is now out of service.

The recent uptick in attacks has hit both sides of the besieged city. According to the Syrian Observatory for Human Rights, which monitors the war, eight children — aged between 6 and 12 — were killed when a school in the government-held part of Aleppo was hit by rebel shelling. Two adults were also killed in the strike."


Hundreds die as Aleppo is hit by heaviest bombings
https://news.vice.com/story/hundreds-die-as-aleppo-is-hit-with-heaviest-bombings-in-five-years
19-21 November 2016



Casualties and injuries in airstrikes on Aleppo city and clashes north and south
http://www.syriahr.com/en/?cat=53
22 November 2016

The following article on northern Syria by Souhaib Enjrainy focuses on the Kurdish-controlled area 
خلال سنوات الحرب سُلط الضّوء على نحو كثيفٍ على المقاتلين الأجانب في معظم المناطق السوريّة باستثناء مناطق نفوذ الأكراد في الشمال السوري. وفيما انشغلت وسائل الإعلام بالتركيز حيناً على «الجهاديين» الأجانب، وآخر على القوّات الأجنبيّة الداعمة للجيش السوري، يكاد يغيب أيّ ذكر للقوّات المنتشرة في مناطق سيطرة «قوّات سوريا الديمقراطيّة» رغم كثرة عددها وتنوّع مشارب مقاتليها وانتماءاتهم

تنقسم القوات الأجنبيّة الموجودة في مناطق سيطرة الأكراد شمال سوريا إلى صنفين، أوّلهما: قوات رسميّة ما بين قوّات مهمات خاصّة وعناصر استخبارات، أمّا القسم الثاني فيضمّ مقاتلين «متطوّعين» غير منضمّين إلى السلك العسكري رسميّاً.

وتتوزّع القوات المذكورة في المنطقة الممتدّة ما بين منبج (ريف حلب الشرقي) والمالكيّة (ريف الحسكة الشمالي الشرقي). فيما تنفرد منطقة عفرين (ريف حلب الشمالي) بكونها المنطقة الوحيدة الخالية من القوات الأجنبية من بين مناطق نفوذ «قسد». 


الشمالالسوري: قواتمتعددةالجنسيات... برعايةقسد
http://www.al-akhbar.com/node/268285
25 November 2016


Overview of the military situation in Aleppo
https://southfront.org/overview-of-military-situation-in-aleppo-city-on-november-25-2016/
Click to download full size map                                            Click to download full size map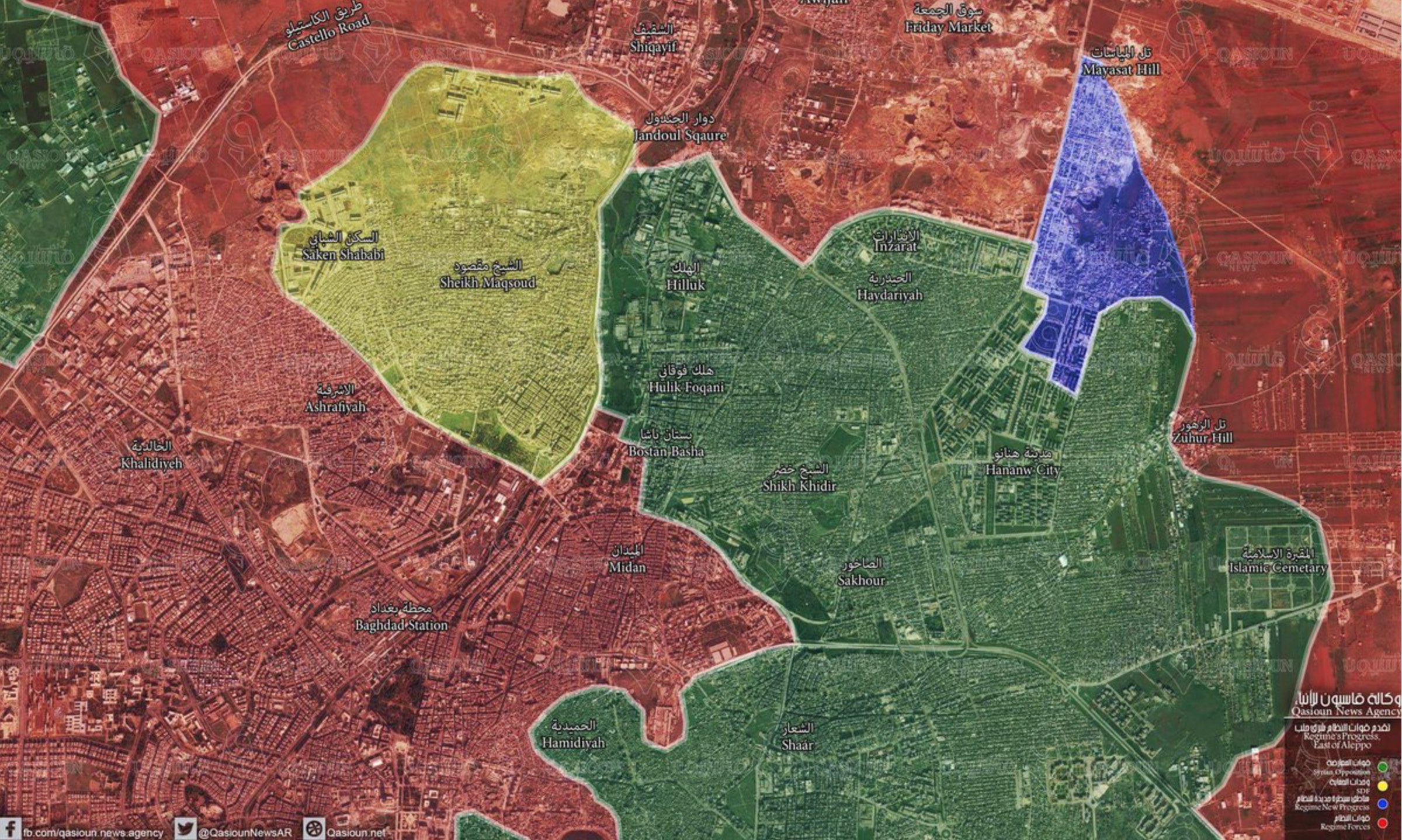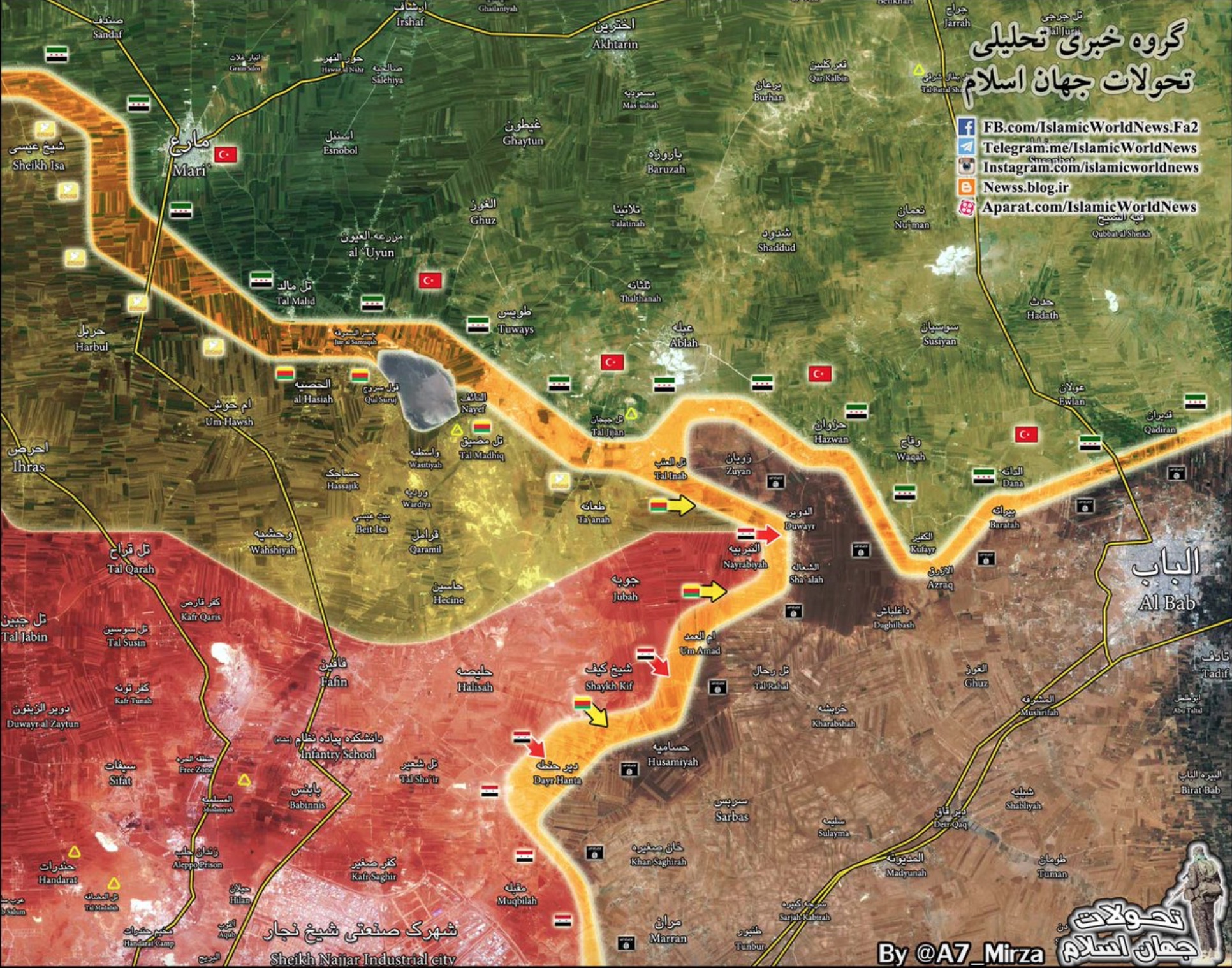 26 November 2016
"The Syrian army said in a statement that, with the help of allies, they have taken control of the Hanano housing district...The district was first taken by armed opposition groups in 2012 who have said Hanano had been empty of residents for months."
Syrian government forces `retake largest rebel-held area of Aleppo`
http://www.independent.co.uk/news/world/middle-east/syria-aleppo-assad-government-forces-rebel-held-area-civil-war-a7441351.html


26 November 2016

Interview with de Mistura on ISIS and Aleppo
دي ميستورا لـ «الحياة»: هزيمة «داعش» تتطلب حلاً سياسياً ... ومشاركة الغالبية السُنّية


27 November 2016

27 November 2016
"The Syrian army captured Jabal Badro on Sunday, a day after seizing Hanano district, and is making in-roads in other neighbourhoods. Its aim is to divide the rebel-held east of the city in two.Some reports said several thousand civilians were trying to escape, to government and other rebel-held areas."
Syria war: Army makes rapid gains in rebel-held east Aleppo
http://www.bbc.com/news/world-middle-east-38123829



28 November 2016
وكان يمكن للانتصار الحلبي أن يغلق الجزء الأكبر من الأزمة السورية، ويحوّل دمشق مجدداً ونهائياً الى مركز القرار، ويمنح الحل السياسي قاعدةً داخلية قوية،لولا دخول اللاعبين الإقليميين والدوليين مباشرة الى الارض السورية. فمع اتساع الغزو التركي للشمال السوري، وتحول الشرق السوري الى محور تحالف كردي - أميركي ومشروع فدرالي، وانتشار أربع قواعد أميركية على أطرافه، كان من الممكن أن تؤدي استعادة حلب إلى بداية العد التنازلي فوراً، للخروج من الأزمة في سوريا. ومن دون شك، أصيبت المعارضة السورية المسلحة والمجموعات السلفية، والقوى الإقليمية، بواحدة من أكبر الهزائم التي تعرضت لها، منذ أن بدأت الحرب على سوريا. ولكن ذلك يعني قرب انتقال الجيش السوري الى مواجهة مكشوفة، وأكثر وضوحاً مع الأتراك، خصوصاً حول الباب. والأرجح أن زيارة وزير الخارجية التركية مولود جاويش اوغلو، ورئيس الاستخبارات حقان فيدان لطهران، ولقاءهما الرئيس حسن روحاني، والوزير محمد جواد ظريف، يدخل في نطاق الاستعداد لمرحلة ما بعد حلب، وإعادة تجديد التفاهم الذي نقضه الأتراك مع الايرانيين والروس، حول خريطة انتشارهم في الشمال السوري، وتنظيم هذا الانتشار، علماً أن الأتراك لم يحترموا أي اتفاق بهذا الشأن، فيما لا يزال الايرانيون يراهنون على انتزاع تعهدات تركية، يمكن احترامها 
حلب تقترب من خط النهاية؟
http://assafir.com/Article/5/518665



28 November 2016 
"The advance, after heavy bombing from the air, is a major blow for the armed opponents of President Bashar al-Assad. State TV said government troops were dismantling mines and explosives and continuing their advance. Thousands of civilians have fled the besieged districts after a weekend of heavy fighting. Hundreds of families have been displaced within the area."
Syrian government forces have captured a third of the rebel-held territory in eastern Aleppo
http://www.bbc.com/news/world-middle-east-38128370
1 December 2016

"The loss of Aleppo "would be a huge defeat for the Syrian opposition—both militarily and politically—but I don't think it will bring an end to the civil war," Robert Ford, the last American ambassador to serve in Syria, tells Syria Direct."

 
8 December 2016
15 December 2016 
"Nearly 1,000 civilians and 26 wounded people have been evacuated in buses and ambulances from a besieged rebel-held enclave in the Syrian city of Aleppo. The International Committee of the Red Cross (ICRC) says it expects this number to double by the end of the day.

Government forces, backed by Russian allies, took nearly all remaining rebel-held parts of Aleppo this week after a four-year battle."
Aleppo Syria battle: Evacuation of rebel-held east
http://www.bbc.com/news/world-middle-east-38329461
Image from IHS.com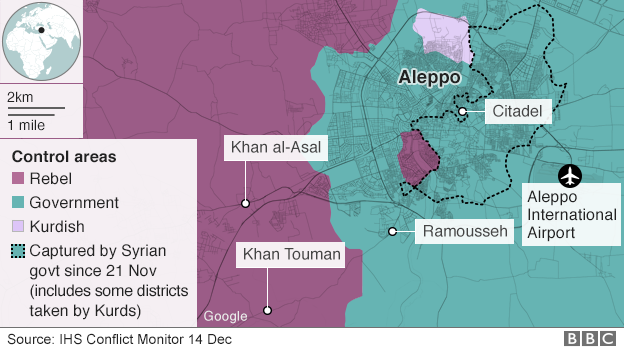 "A deal to secure safe passage for more than 40,000 people from rebel-held east Aleppo city appeared to disintegrate once again on Sunday after buses sent to evacuate thousands of residents from two Shiite-majority villages in Idlib province were attacked and burned by unidentified assailants."
 

"Regardless of the initial rights and wrongs surrounding the entire rebellion, considering the siege status and being surrounded by rebels led principally by Jaysh al-Fatah, which includes Jabhat Fatah al-Sham that forced the Druze of Idlib to convert to Sunni Islam and would probably have done the same to the Shi'a if al-Fu'a and Kafariya had been taken over, it is clear many if not most in the villages see Hezbollah and Iran as their main protectors intervening from outside"

 
"Several buses sent to transport the sick and injured from two government-held villages in Syria`s Idlib province have been burned by rebels."
 23 December 2016
"Forces loyal to the Assad regime captured all of rebel-held Aleppo in less than a month after launching a major ground offensive on 27 November. Amid harrowing reports of atrocities committed by pro-regime forces, rebel territory rapidly shrank to a small pocket. Civilians were finally evacuated after a ceasefire left the regime in control of the rebels' last major urban stronghold"

"Tired of seeing the bloodshed and Syrian suffering, Anna Alboth organised a mass march from Berlin to Aleppo, happening now"
 
28 December 2016
Thousands of displaced Syrians are suffering from infected shrapnel wounds, hypothermia and malnutrition.

If Gary Johnson's ignorance was typical, then, what was his real failing? It wasn't that he didn't know where or what Aleppo was. It was that he hadn't deployed the techniques that a lot of people spend their adolescence developing, the ability to cover oneself in a patina of presumed smarts when you lack the actual foundation of knowledge that would help you to genuinely understand that topic at hand

أظهرت وثائق أبرمها كل من موسكو وأنقرة مع فصائل المعارضة السورية من جهة والحكومة السورية من جهة ثانية، وحصلت «الحياة» على نصها، استعجالاً روسياً في تثبت وقف النار ونشر مراقبين روس وأتراك ونقاط تفتيش قرب مناطق الاشتباك السورية وتحقيق اختراق سياسي في مفاوضات آستانة وفق برنامج زمني، وشرعنة نتائج المفاوضات برعاية دولية في جنيف
---
Concluding Post Note from the Editors
Backed by Russian air support, the Syrian government and its allies declared retaking Aleppo on 22 December 2016, leaving behind significant destruction and loss of human life. In a way, that day had been predictable ever since the Russian intervention into Syria (30 September 2015) broke the stalemate decisively against the anti-government forces. Aleppo, or more precisely different parts of the city, were besieged by different armed groups. Eastern Aleppo was under the control of anti-government forces, Western Aleppo was under the control of the government, and two northern districts were held by the YPG.
Following the "Battle for Aleppo" on 19 July 2012, anti-government forces controlled "Eastern Aleppo" and most of the northern countryside and laid siege on towns of Nubul and Zahra, last remaining pro-government towns north of Aleppo (until 3 February 2016). On July 2016, the government and its Russian allies laid a siege on Eastern Aleppo and implemented a counter-insurgency strategy, "draining the water."
On 6 August 2016, anti-government forces (coalition of Islamist groups, but NOT ISIS) placed a siege on Western Aleppo, as a result of a counter-offensive which began on 31 July, but they failed to maintain their success. They failed later to completely break the siege when they launched unsuccessful counteroffensives (September and October 2016) before the Syrian government and its allies re-coordinated their efforts to launch a decisive campaign and recapturing the city.
Also predictable was the ensuing loss of life and destruction as well as the further polarization and catastrophic impact on the social fabric of Syrian society that a military conquest is likely to bring.
The media coverage by and large was also predictable, repeating a cycle now familiar for several years. It is marked, depending on the source, of high selectivity in reporting of whose lives count and whose crimes count. Given the battle`s predictability, why was it not avoided?
Given the predictability of a similar scenario unfolding in Idlib, how could it be avoided? Would the cooperation and the agreement between Russia and Turkey (28 December 2016), with their significant influence in Syria, on a draft nationwide ceasefire, be a positive and serious step towards resolving the war?
Idlib is now a host to large numbers of civilians, many of whom were previously transplanted through secondary and tertiary displacement over the past several years. It is overflowing with people and with destroyed infrastructure, and extremely precarious health and nutritional conditions. A mass assault there by the government and its forces may mean an even more nightmarish humanitarian outcome. That cannot be allowed to happen, especially if there is any sanity left and any desire left in a political solution that heralds a meaningful transition for the country. The triumphalism of the government and its supporters while ignoring the deep grievances of large sectors of Syrian society, the deep political and economic causal roots of the crisis, and the ensuring polarization will never result in long-term stability.