[The following report on the humanitarian situation in Syria was produced on behalf of the Strategic Steering Group (SSG) for December 2016]
Humanitarian Needs Overview:
Syrian Arab Republic

December 2016:
13.5 Million People in Need
Part I: Summary
Humanitarian Needs
As the Syria crisis enters its sixth year, civilians continue to bear the brunt of a conflict marked by unparalleled suffering, destruction and disregard for human life. 13.5 million people require humanitarian assistance, including 4.9 million people in need trapped in besieged and hard-to-reach areas, where they are exposed to grave protection threats. Over half of the population has been forced from their homes, and many people have been displaced multiple times. Children and youth, millions of whom have known nothing but conflict, comprise more than half of the displaced, as well as half of those in need of humanitarian assistance. Parties to the conflict act with impunity, committing violations of international humanitarian and human rights law.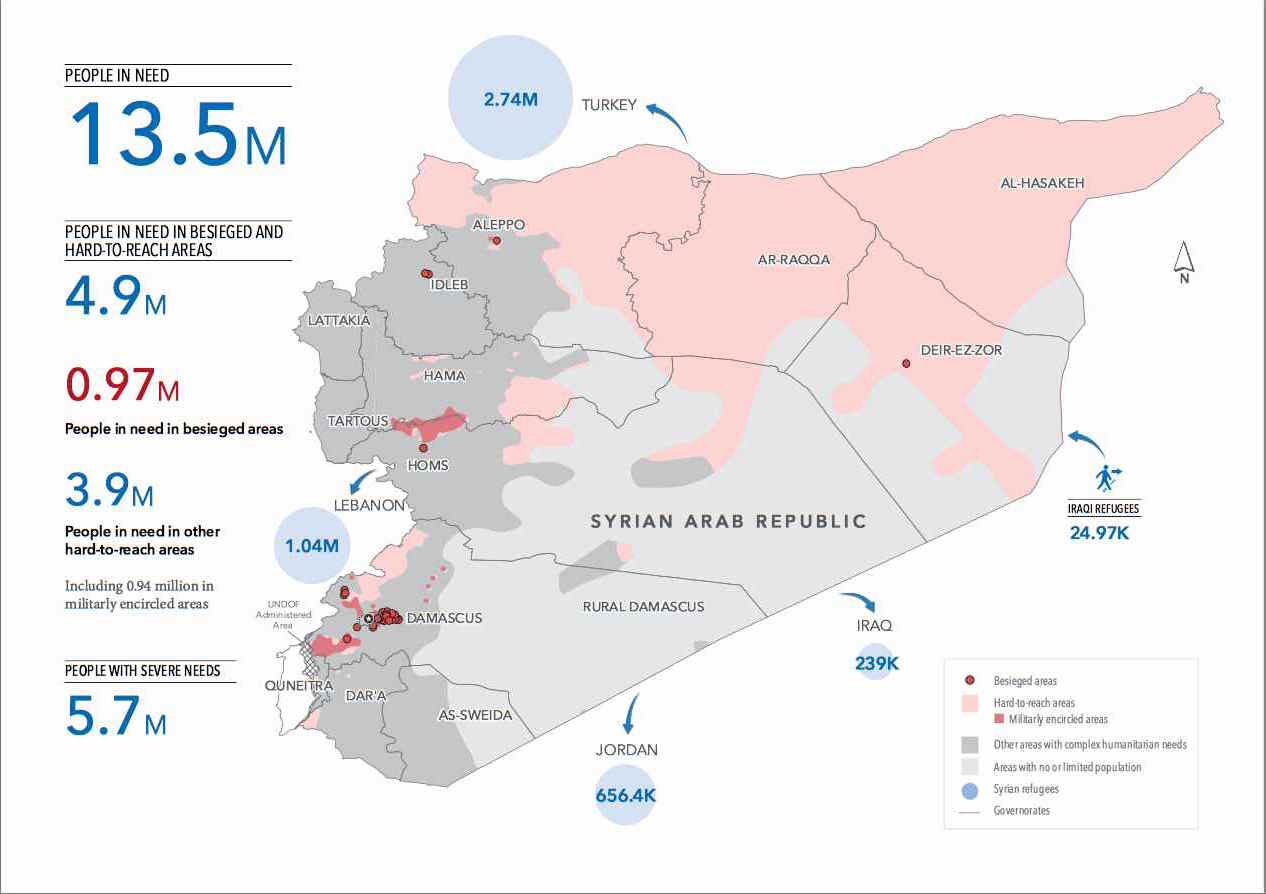 Protection Needs of Civilians
Syria is the largest protection crisis of our time. Since the onset of the conflict in 2011, hundreds of thousands of people have been killed. Some 30,000 people3 suffer conflict-related trauma injuries every month, roughly 30 per cent of whom develop permanent disabilities. Parties to the conflict repeatedly breach international humanitarian law (IHL) and international human rights law (IHRL). In some instances, attacks appear to directly target civilians and civilian infrastructure, are indiscriminate, or breach other IHL rules protecting civilians. Tens of thousands of Syrians are missing since the conflict began, thousands in circumstances suggesting forcible displacement. Others have been subject to torture and other forms of ill treatment in detention. The Islamic State of Iraq and the Levant (ISIL) and affiliated groups use suicide bombs in civilian areas outside its control, while in ISIL areas of influence, public beheadings, physical mutilation, the sexual enslavement of women and girls, indoctrination and forced recruitment of children continue unabated. Persistent and extreme violence, forced displacement, family separation, lack of civil documentation, and an increase in poverty, further limiting coping mechanisms, have extended the scope and severity of protection threats faced by people in Syria.
Life-Threatening Needs Among Displaced and Other Conflict-Affected Communities
Mass conflict-induced displacement has led to significant demographic change within Syria. In addition to some 4.8 million people registered as refugees in neighbouring countries, 6.3 million people are displaced within Syria itself. Meanwhile the rate of displacement continues unabated. On average, 6,150 people were displaced per day between January and August 2016. Over one million displaced people live in collective shelters, camps or makeshift settlements as the option of last resort. Among conflict-affected communities, life-threatening needs continue to grow. Neighbouring countries have restricted the admission of people fleeing Syria, leaving hundreds of thousands of people stranded in deplorable conditions on their borders. In some cases, these populations are beyond the reach of humanitarian actors.
Needs of People Living in Besieged and Hard-to-Reach Areas
Approximately 974,080 people in need of humanitarian assistance, including 411,000 children and 6,250 Palestine refugees, live in 16 besieged areas within Syria. Civilians living in besieged locations are denied their basic rights, including freedom of movement and access to adequate food, water, and health care. Frequent denial of entry of humanitarian assistance into these areas and blockage of urgent medical evacuations result in civilian deaths and suffering. Others have been shot by snipers, killed, or injured while fleeing in search of food and safety. 3.9 million people in need live in hard-to-reach areas that humanitarian actors are unable to reach in a sustained manner through available modalities. Of people living in hard-to-reach areas, 935,500 are in militarily encircled locations, subject to further constraints of freedom of movement and access to basic assistance. A further 1.4 million people in need, including 700,000 children, live in areas controlled by ISIL, where access remains highly restricted due to insecurity and restrictive policies vis-à-vis humanitarian actors.
Livelihood Needs and Lack of Basic Services
Their lives and livelihoods shattered by almost six years of conflict, many people in Syria endure a struggle for survival. For millions of people, coping strategies have been exhausted, stretching their resourcefulness to its absolute limit. An estimated 69 per cent of people now live in extreme poverty, supporting their families on less than US$2 per day, of which an estimated 35 per cent live in abject poverty, characterized by severe deprivation of the basic food required to survive. Access to essential services, including health care, safe water, and education, has been severely disrupted. Families are resorting to unsustainable and unsafe means of survival, including forced and/ or early marriage, child labour, child recruitment, survival sex, and temporary marriages.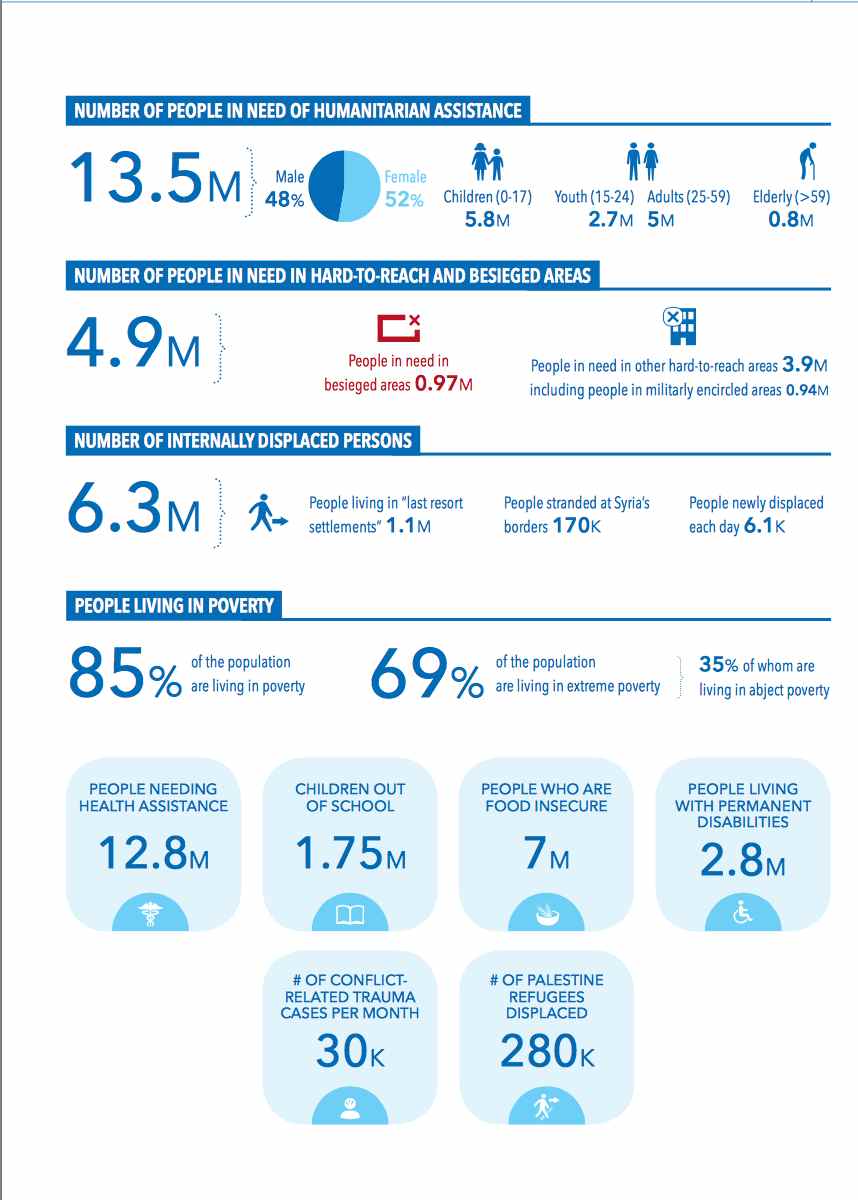 Impact of the Crisis
More than five years after the start of the conflict, intense hostilities persist across many parts of Syria. Parties to the conflict continue to commit violations of international humanitarian and international human rights law. Economic collapse continues to drive the immense humanitarian crisis across the country.
Unrelenting hostilities/violence
Conflict remains the principal cause of Syria's humanitarian crisis. All areas of the country, north, south, east and west, are impacted by the continuing conflict, which has grown more violent over the last year, resulting in thousands of deaths and injuries, increased internal displacement, large-scale migration to Europe and beyond, lost livelihoods, mounting humanitarian needs and diminished humanitarian access to many areas. Two separate cessation of hostilities agreements, brokered by the Russian Federation and the United States, provided a temporary platform for the de-escalation of hostilities and brought about a notable reduction in violence in many parts of the country. However the eventual collapse of both agreements saw a resumption of violence, with devastating impacts on civilian populations.
Violations of international humanitarian law and international human rights law
A defining feature of the conflict and humanitarian crisis in Syria has been the repeated breach of International Humanitarian Law (IHL), designed to limit the effects of armed conflict on civilians. Over the course of 2016, parties to the conflict have continued to attack densely populated areas, sometimes indiscriminately or otherwise unlawfully, targeting civilians or civilian infrastructure, such as medical facilities. From January to September 2016, there were 101 reported attacks resulting in damage to hospitals and health care centres across Syria. In the first half of 2016, the UN verified 38 attacks on education facilities and personnel. Attacks, many of which are in breach of IHL laws and customs, result in the death of humanitarian aid workers and the destruction of infrastructure. At least 66 humanitarian workers were killed and 114 wounded in the first nine months of 2016. Obstructions are placed on the ability of humanitarian actors to access people in need, resulting in unnecessary deaths.
Above and beyond the suffering arising from hostilities, civilians' suffering is compounded by less visible human rights violations. Parties to the conflict continue to subject civilians to campaigns of harassment, arbitrary arrest, abduction, detention, torture and ill treatment. Since the beginning of the conflict, tens of thousands of Syrians are thought to have been subject to enforced disappearance. Survivors describe horrendous ordeals of torture and abuse, while relatives of victims face protracted suffering in their efforts to uncover where they are, how they are being treated and even whether they are still alive. In ISIL-held areas, civilians continue to be subjected to executions and other inhumane punishments for alleged violations of strict codes imposed by the group. Women and girls are also raped and subjected to sexual enslavement.
The drastic decline of the economy has exacerbated Syria's humanitarian crisis. In the course of almost six years, the conflict has devastated Syria's economy, resulting in economic losses of more than $254 billion. Conflict has damaged or destroyed Syria's economic infrastructure, impeded access to sources of income, disrupted markets, and triggered currency depreciation. Economic losses from the disruption to the education system are estimated around $11 billion, equivalent to about 18 per cent of Syria`s 2010 gross domestic product (GDP), further damaging long-term economic prospects.
An assortment of unilateral sanctions - some of the most far-reaching ever imposed - has severely limited trade opportunities. Complex financial and legal requirements often preclude the delivery of humanitarian assistance and can restrict humanitarian actors from importing basic equipment and material essential to maintaining life-saving services. Unilateral sanctions and export controls prohibit the importation of a range of 'dual-use' items. Consequently, many projects delivered by the UN, international non-governmental organisations (INGO), and their implementing partners in areas such as water supply, sanitation, agricultural production, power supply and the reconstruction of hospitals/homes rely on access to controlled dual-use goods and are likely to require specific licenses. According to UNDP, such import restrictions alone have led to a decline in the efficiency of water operations of more than 40 per cent relative to pre-crisis levels.
Food production has been drastically reduced, with the total area of land under cultivation having shrunk by 40 per cent. Compounded by difficulties in distributing food staples, a third of the population is now food insecure. Government revenues have plummeted largely due to the decrease in oil exports and the disruption of trade. As a result, the country's GDP has contracted by 55 per cent, with a further contraction expected. A fragmented war economy based on short-term opportunism and predatory behavior – profiteering, kidnapping, theft, illegal taxation, and diversion of assistance – has also contributed to the economy's decline.
The conflict has led to significant, protracted displacement and family separation. Many IDPs facing protracted displacement often have tremendous needs and face immense challenges in accessing livelihood opportunities in host communities, where residents are themselves grappling with economic hardship. These circumstances leave IDPs exposed to exploitation and dependency. As frontlines have shifted, many IDPs have moved multiple times in search of safety, while others have experienced secondary or tertiary displacement as their financial resources become depleted and are forced to move into cheaper, poorer quality and more crowded accommodation. Broadly speaking, with each displacement, overall vulnerability increases.
The estimated 1.1 million people living in camps, informal settlements, and collective centres are particularly vulnerable. Over the last six months, some long-established IDP sites have become less secure and two direct attacks were reported: on 5 May, two rockets struck a civilian IDP settlement in Idleb, killing 26 people and wounding 23 others, while on 14 April, ISIL overran the IDP settlement near the border with Turkey in Aleppo, razing it to the ground. There were no casualties, as the settlement had been evacuated earlier, but the tents were burned and destroyed. Conditions in the sites remain dire: 57 per cent of collective centres are without sufficient water, 50 per cent lack sufficient sanitation facilities, and 54 per cent are over-crowded.
Throughout Syria, parties to the conflict, particularly the Government of Syria (GoS), continue to use siege as a military tactic, inflicting indiscriminate and direct suffering on the civilian population. In appalling conditions, men, women, and children within the 16 besieged areas are particularly vulnerable to malnutrition and waterborne and communicable diseases. Health risks such as trauma injuries and infectious disease outbreaks are compounded by the lack of access to regular medical services, care and treatment. Throughout 2016, the removal of medical supplies from aid convoys and restrictions on medical evacuations continued, resulting in civilian deaths. The use of starvation as a method of warfare by depriving the civilian population of good essential for survival is prohibited by IHL, and may amount to a war crime.
Since October 2015, the number of people unable to obtain the basic food required to meet their needs has risen from 6.3 million to nearly 7 million. Limitations in the water network supply have resulted in almost 50 per cent of the population meeting the majority of their water needs from alternative sources, including costly commercial water trucking and unsafe open wells. 12.8 million people across Syria are without adequate health assistance. Some 30,000 people suffer conflict-related trauma injuries each month. One in three children is now out of school, and a further 1.4 million are at risk of dropping out. One in four schools has been damaged, destroyed, occupied, or shut down. 5.8 million people require some form of non-food item assistance, with adequate housing no longer available in over a third of the country. With no end to the conflict in sight, these needs are set to continue to define the lives of people living in Syria during the coming year.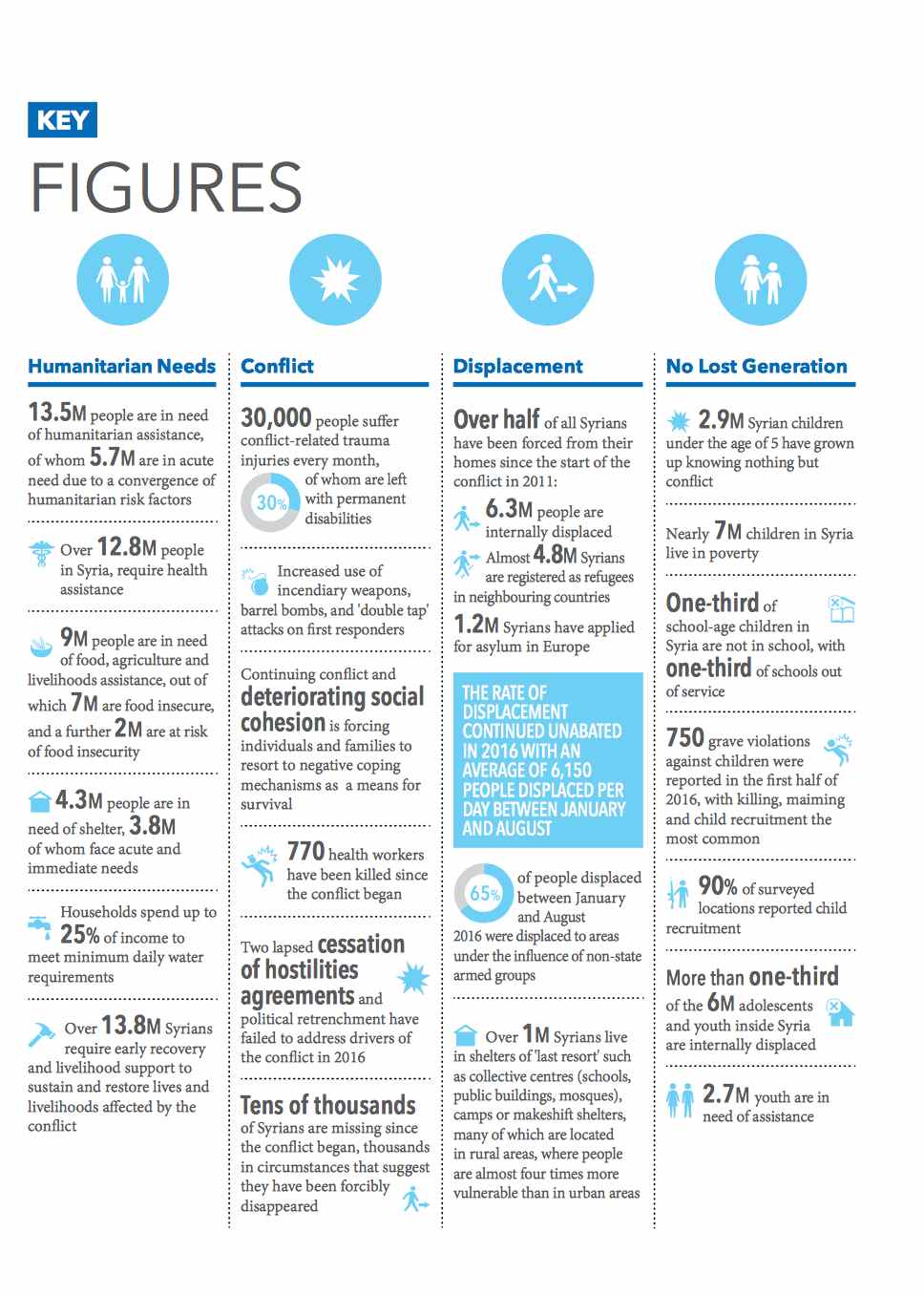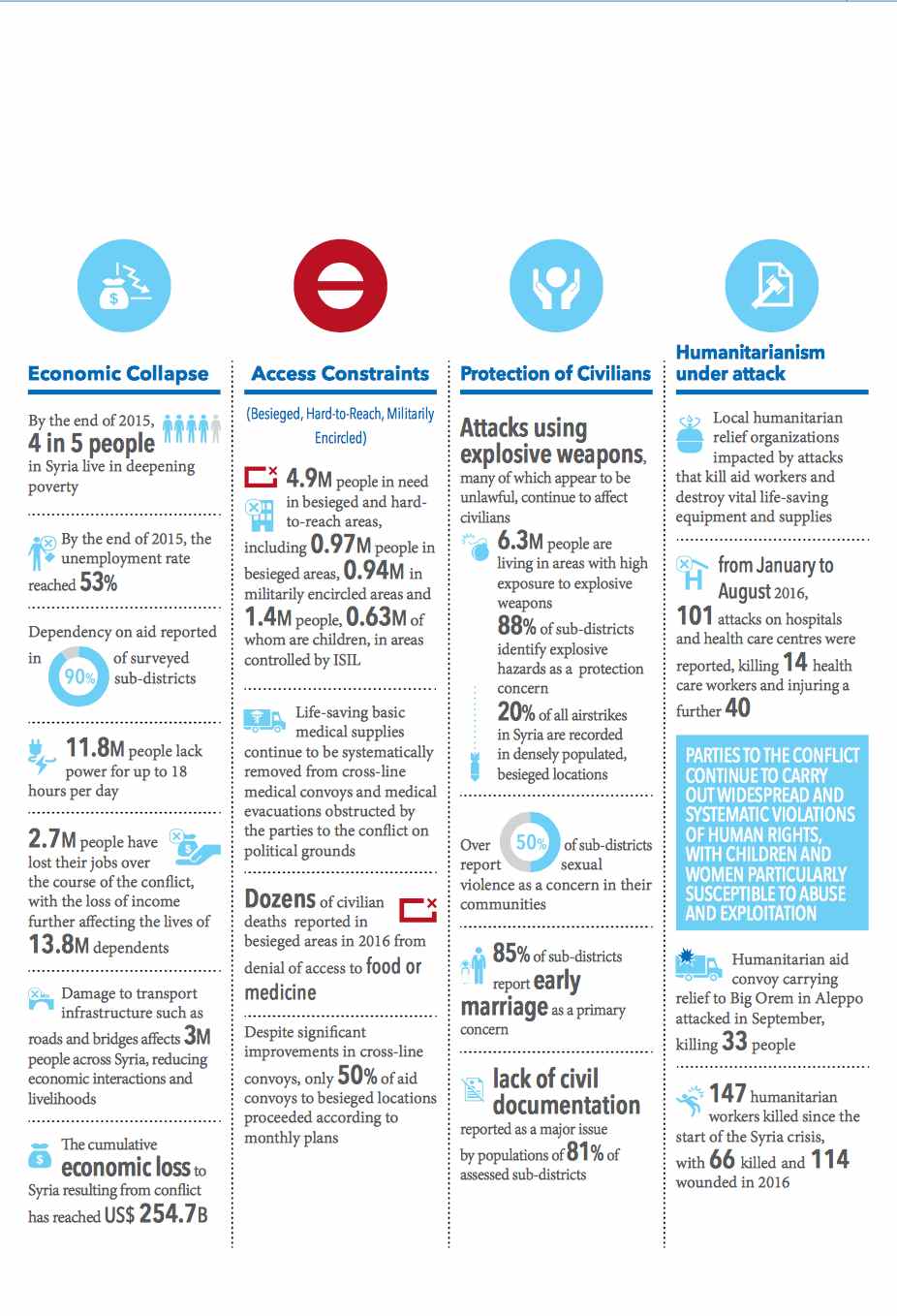 . . .
Gaps Analysis
The Syria response is one of the largest in the world, yet the scale and scope of humanitarian needs far surpass humanitarian actors' ability to respond. Key geographic and sector gaps remain, largely as a result of access constraints. Given limited resources, and a lack of political will to consider humanitarian causes above geopolitical issues, responders are forced to make difficult choices as to where and whom to target.
The most critical gaps tend to arise in areas facing high severity of need, but extremely challenging to access. This includes besieged and hard-to-reach locations, such as the besieged city of Deir-ez-Zor and ISIL-held areas of Deir-ez- Zor and Ar-Raqqa governorates (the latter categorized as hard-to-reach), where access remains highly restricted due to insecurity and ISIL's restrictive policy vis-à-vis the delivery of humanitarian assistance. In Al-Hasakeh, in Syria`s northeast, the partial closure of adjacent borders and the presence of ISIL in surrounding areas also create unique humanitarian access challenges. In all of these locations, many sub-districts are only reached by one sector or not reached at all, despite widespread humanitarian needs.
There are gaps in response due to capacity limitations. As humanitarian and protection needs continue to grow in scale, severity, and complexity, humanitarian organizations have been forced to prioritize interventions with immediate, life-saving impacts, over much-needed preventive actions. This often includes efforts to restore livelihoods and socio-economic infrastructure, and sustained delivery of basic services. Another challenge is providing assistance in response to evolving situations such as large-scale displacements, while at the same time maintaining regular programming for IDPs facing protracted displacement and other communities.
Given the complex and dynamic operating environment in Syria, identifying and assisting individual vulnerable groups has also emerged as a major challenge. Groups known to face particular barriers to accessing humanitarian aid include people without civil documentation, female- and child- headed households, the elderly, people with disabilities, and others who are subject to discrimination, such as single women or IDPs fleeing from another area. There is evidence that economic violence is rising, affecting access to aid among women and children in ways that are difficult to measure. The sector-specific gap analyses presented below reflect top-line interventions. However, with affected populations` needs continuing unabated, these gaps do not reflect the fact that due to funding shortfalls, sector partners cannot meet many needs.

[Click here to access the full report]