Visualizing Palestine presents Anatomy of Inequality, our latest visual in a series exploring Israeli policies on Jerusalem. This original VP illustration, inspired by the commonly held sentiment that Jerusalem is at the heart of Palestine, makes visual reference to anatomical drawings of the heart. The image depicts the illegal annexation wall separating the city and its original inhabitants from each other, reinforcing a physical system of apartheid.
West Jerusalem was ethnically cleansed of Palestinians in 1948. The rest of the city was annexed by Israel in 1967 along with most of its Palestinian inhabitants. Today, the Israeli controlled Jerusalem municipality enacts a system of apartheid policies and laws to aid Israeli settlement in the city while ensuring the Palestinian community does not exceed forty percent of the population.
[Click the image to download the poster.]
The Fourth Geneva Convention prohibits occupying powers from transferring their populations to areas that they occupy. Israeli settlements in the occupied Palestinian territories are illegal under this statute of international law.
As of 2017, over 200,000 Israelis live in illegal settlements on Palestinian land in East Jerusalem. The settlement project is part of a broader Israeli strategy to manipulate the demographic and geospatial makeup of the city in favor of the Israeli-Jewish population.
The UN General Assembly recently voted to back a resolution rejecting the American declaration of Jerusalem as Israel's capital. This visual is part of a series on Jerusalem produced by Visualizing Palestine, highlighting Israeli policies of colonization in the city and their impact on Palestinians living there.
The legal, bureaucratic, and physical manifestations of racism are often just complex enough to seem invisible or accidental (at least to those not directly affected). The 2020 municipal plan for Jerusalem pulled back the curtain a little when it explicitly set out a "demographic target of 60% Jews and 40% Arabs." Visualizing Palestine`s latest visual untangles a complex web of discriminatory Israeli policies and practices connected to this goal.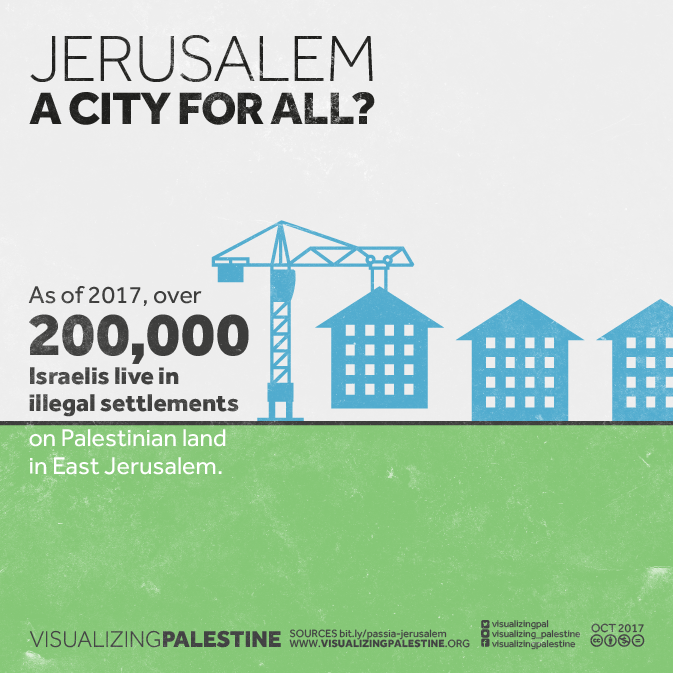 [Click the image to download the poster.]
Imagine if you came home to find your living room filled with cement, your doors soldered shut, or your home reduced to rubble. For Palestinians living in East Jerusalem, this possibility is a daily reality.
685 Palestinian homes in East Jerusalem were demolished between 2004 and 2016, leaving 2,513 people homeless. Many others live under constant threat of homelessness - as of 2014, Israel has declared approximately 20,000 East Jerusalem homes to be illegal and ordered their demolition.* Home demolitions are part of a broader Israeli policy to alter the demographic and geospatial makeup of Jerusalem, privileging Jewish-Israeli settlers over the indigenous Palestinian population.
This visual is part of Visualizing Palestine's "A City for All?" series, which highlights structural inequality and policies of colonization in Jerusalem.
[Click the image to download the posters.]