Going to archives in Iran—the capital specifically—remains obscure to a great number of PhD students and researchers based outside of the country. Often, senior academics from whom students seek advice have not been to Iran's archives for many years. In some cases, they have been unable to revisit them for political reasons. Consequently, the curious student is likely to receive very generalized advice before his/her trip. This article is therefore written as an introductory guide that explains the nature of the archives and process of gaining access to them, once a person is already in the country. I shall emphasize the National Library and Archives Organization of Iran as they hold the most comprehensive collections.

General Overview of the Archives
Tehran hosts six public archives. The most comprehensive is the Tehran branch of the National Library and Archives Organization of Iran. This institution (divided into two buildings) receives and houses primary and secondary source material on more subjects than any other archive in the city. Opened on 25 August 1937 by Reza Shah's Ministry of Education (vezarat-i m`aref), this institution is placed outside the commotion of the big city, overlooking a highway, and enclosed by green spaces.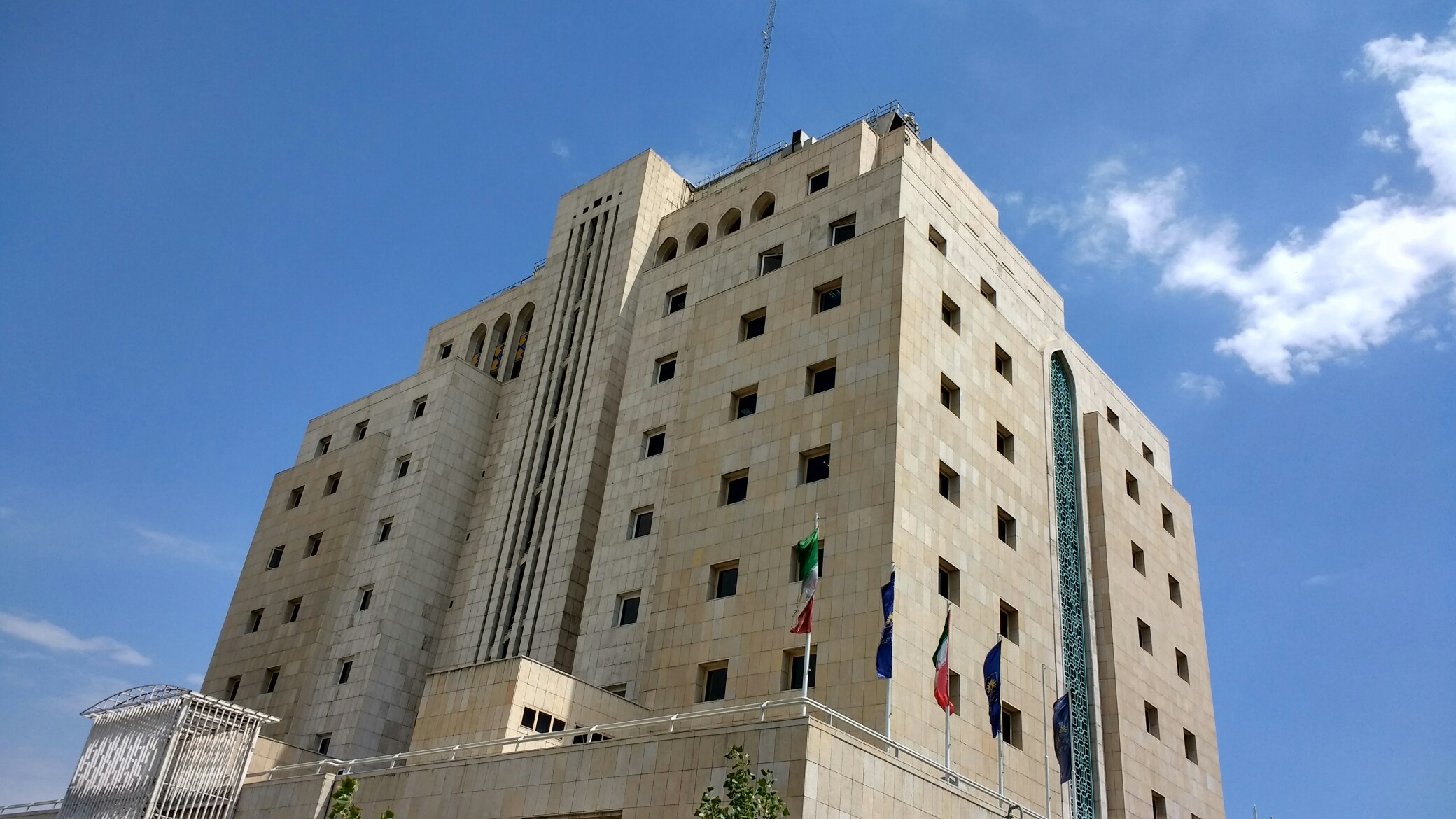 [Close-up view of the National Archives building. Image by author.]
The second public archive in Tehran is the Library, Museum, and Document Center of the Iranian Parliament, which according to its website dates back to the first two decades of the twentieth century. It was established about a hundred years back, and has a specialized collection on Iran's parliament or majlis from the early days of the 1906 Constitutional Revolution, when a parliament was for the first time instituted, to the present day. Other holdings include manuscripts and print books on Iranian and Islamic histories in several European and Middle Eastern languages in their Iranology (iranshenasi) library. The library also has a digitized collection of old and new Iranian newspapers in a room simply called "site." There, you are able to find spreadsheets on easily-accessible computers according to name, issue number, or date. A keyword search is not available. You have to manually go through the original newspaper copy or its digital version. The parliament archives are located in a busy city center near Baharestan Square, accessible via the Baharestan metro station. Thanks to a managerial decision in 2008, the parliamentary archives are the most easy to access for Iranian residents and even Iranian nationals residing outside the country. All it takes is to present your national ID card (cart-i mellī) and you are in for access. Non-Iranian nationals can present their documents (see below for a full list), or alternatively, ask to see the archival director Ali Tatari for permission to enter.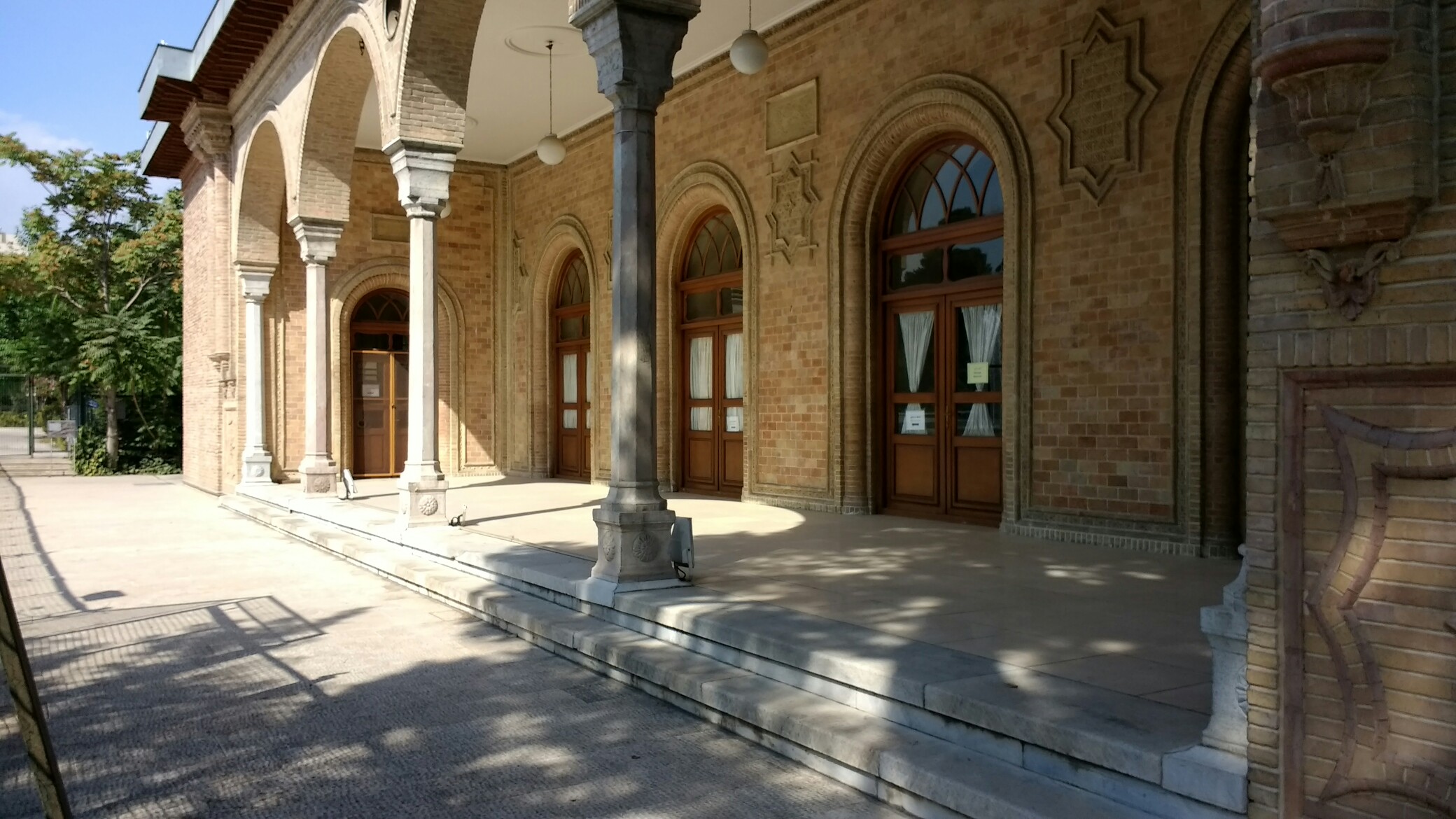 [Iranology Library building at the Parliament Documentation Centre. Image by author.]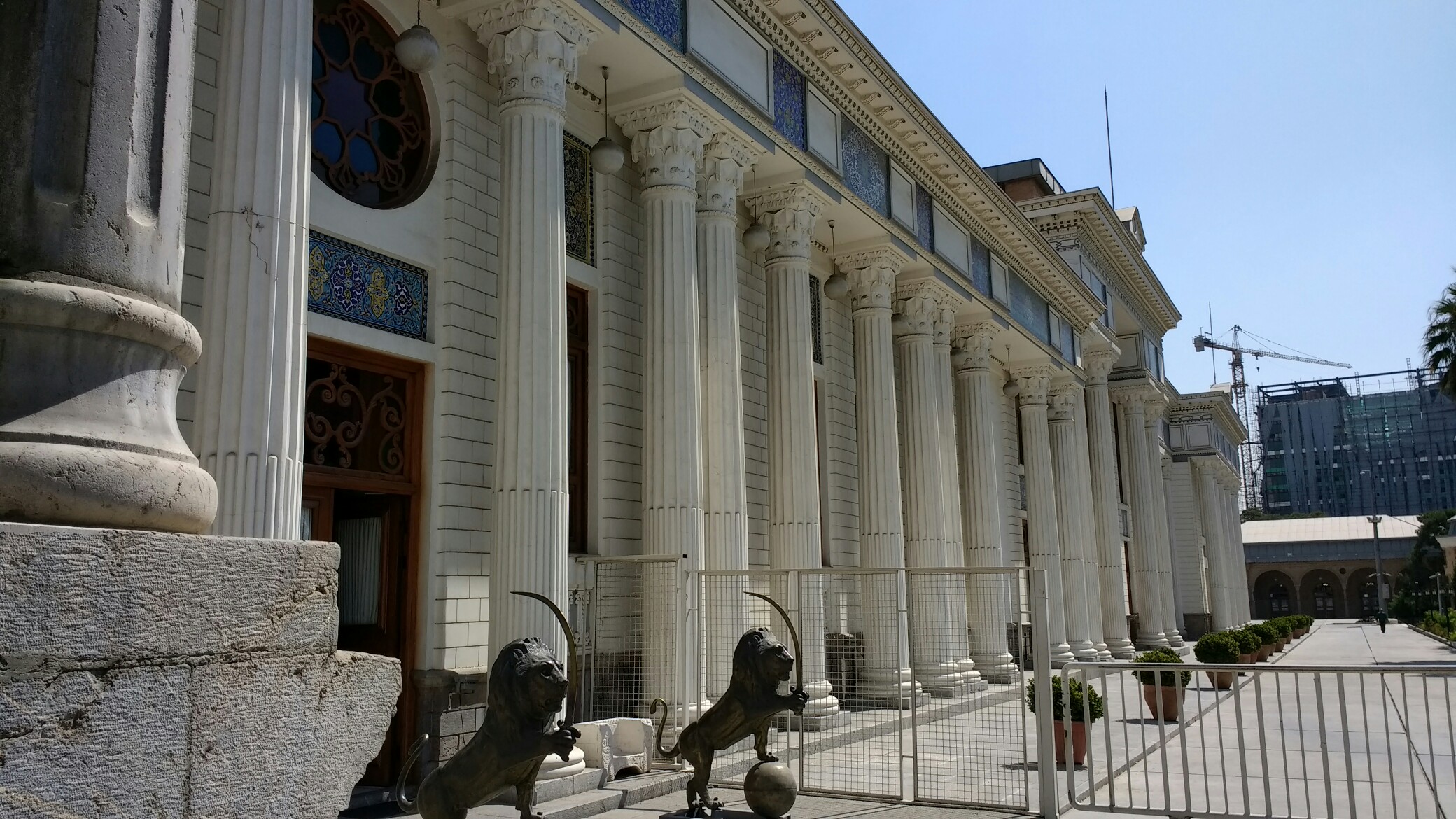 [Historical building attached to Parliament Document Center.
It was in this same neighborhood the first majlis met in 1906. Image by author.]
The third public archive is The Institute for Iranian Contemporary Historical Studies (markaz-i motale'at-i mo'aser). Established in 1986, it is a post-revolution archival site tied to the office of the Supreme Leader, and is located uptown in the affluent neighborhood of Elahiyeh. The institute holds, among other documents and visual material dating back to the nineteenth century, private collections of influential families within the Shah's administration who went into exile after the 1979 revolution and either left or were unable to take these belongings with them. The fourth site, the Islamic Revolution Document Center (markaz-i asnad enghelab-i Islami), was also created after the revolution. It holds collections of textual, audio, and visual material related to the 1979 revolution, including a large collection on the Shah's Organization of Intelligence and National Security (sazeman-i ettela`at va amniyat-i keshvar), popularly known as the SAVAK. Then there is the Specialized Library of the Foreign Ministry (ketabkhaney-i takhasosiy-i vezarat-i umur-i kharejeh) instituted in 1931. Many years later in 1999, the library expanded access from its limited circle of hired researchers and staff to the public, and holds sources on international relations and other subjects. Finally, there is the Center of Presidential Documents (markaz-i asnad-i riyasat-i jumhuri). Located in Jumhuri neighborhood near the plethora of shops selling home goods and electronics, the center houses sources on the executive branch that is made up of the office of the presidency and dependent institutions such as the ministries
All the six archives require personal and university identification documents. However, four of them—the Institute for Iranian Contemporary Historical Studies, the Islamic Revolution Document Center, the Specialized Library of the Foreign Ministry, and the Center for Presidential Documents—may require an introductory letter beyond what is provided by your university. A letter from a person of influence who is in some way connected to the archives, government institutions, or your research topic would likely help you gain access.
Below is a list of the six archives: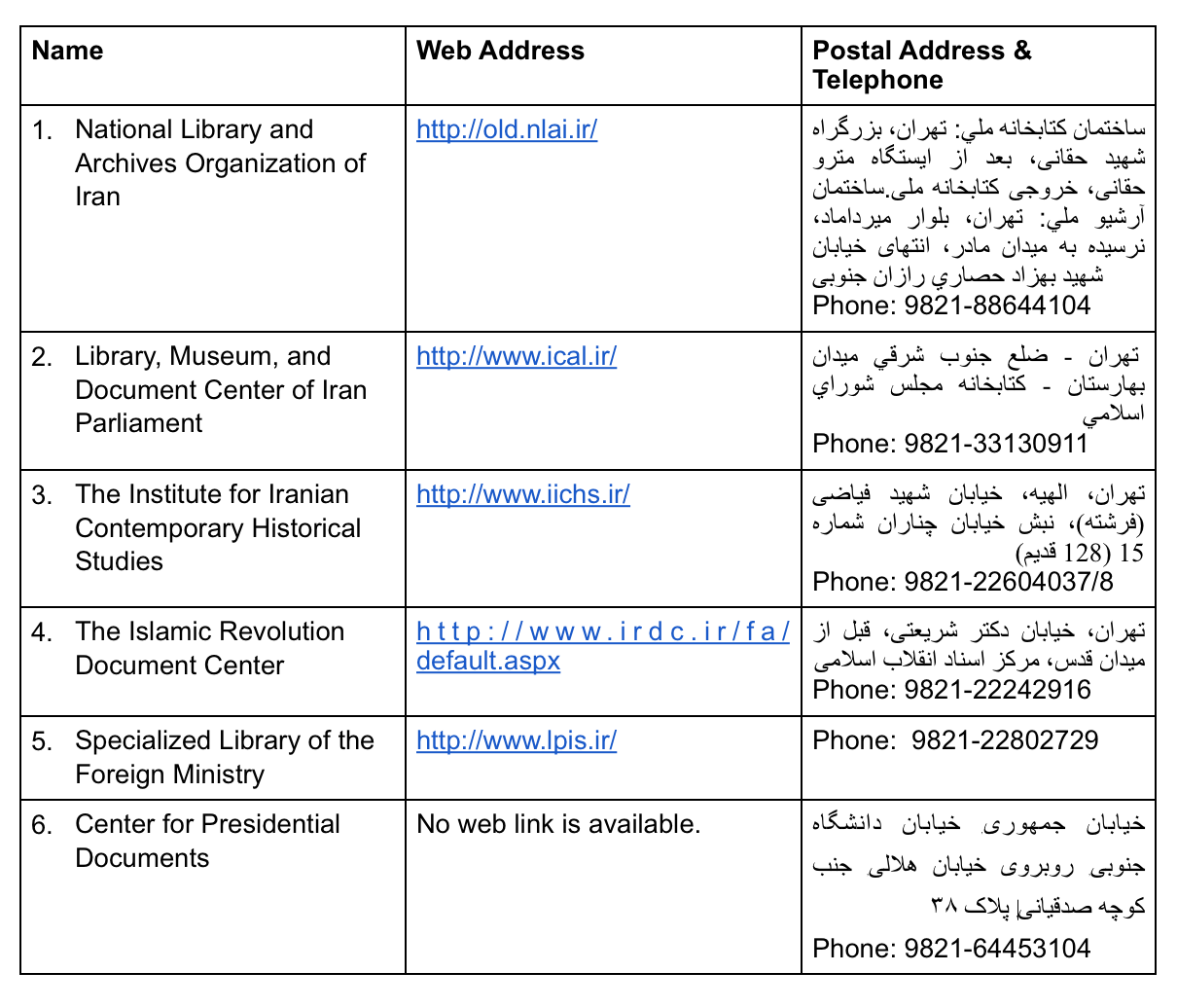 The National Library and Archives (NLA): Steps Needed for Access
Foreign-based students first need to visit Student Affairs Institute (sazan-i umur-i daneshjuyan) and obtain a letter that introduces them to the NLA's security department. Some administrators outside the Student Affairs Institute will insist—haughtily but falsely—that you need to go to the Ministry of Science (vezarat-i ulum) and obtain past graduate degree verification to gain access. However, this is false information and your way to the archives lies in a visit (or multiple visits, depending on your luck) to the Student Affairs Institute.
The institute is near Ferdowsi Square and is accessible by metro on the yellow line and also via shared taxis from multiple points in the city. You have to enter the side building, which is on the right-hand side of the main entrance. Once you enter through the side building, you will see a machine next to the door. Obtain a small paper with a number that puts you in the queue. If the machine is not working (as is often the case), you will have to be creative and simply go up to the booth. Feel free to join the crowd that is making requests upon administrators and make yourself heard. Tell them that you are enrolled in a university or research institution abroad and need to gain access to the archives. They will then ask you for documentation. Depending on the administrator it may be few or several documents, but err on the side of caution. Before your trip, prepare and bring with your originals and copies of all potentially relevant documents.
Here is a list of documents needed for all:
University ID
Most recent graduate diploma
Most recent graduate transcript
Letter from your current institution stating your enrollment in good standing: put it on university letterhead and have a university stamp on it
Passport
Iranian nationals also need:
National ID card (card-i mellī)
Identity card (shenasnameh)
Iranian male nationals further need:
Military service card indicating completion of service or exemption. (The particular administrator in charge that day asked me to present this. I hope that this is not a requirement because many of you residing abroad do not plan to complete your military service anytime soon. For a potential way around this, see the last section below on "negotiating cultural differences").
The bureaucratic challenge is not so much preparing all of these documents. Rather, the complexity lies in having to run between several offices, presenting them with your documents, and obtaining their signatures. In my particular case, I was even told to handwrite the introductory letter in Persian to the National Library and Archives myself (you can ask for assistance from other patrons in case you are not able to write clear Persian prose). I dealt with five different administrators, each in a different office. It was not always clear why I was being sent to a particular office. Once you obtain all the signatures and wait for several hours, you will finally be given a sealed letter addressed to the National Library and Archives—specifically their security management.
Your next stop is the National Library and Archives. You should present the letter you received from the Student Affair Institute to a security personnel at the main gate. He will then direct you inside to the main security office where you will meet with a senior security personnel. The security office at the archives is a much heftier organization than your typical campus security. They are in charge of tasks beyond the basic safety of the premises, including the printing of membership cards for approval for entry of foreign-based researchers into the archives. Be prepared to answer questions regarding your past educational background and research interests. I highly advise that you keep your answers general. If you are working on a sensitive topic, answer in generalities. For example, if you are interested in clerical power in modern Iranian history, there is no need to mention this with explicit candor. You can simply say something general like Iranian history. After the short questioning, the senior security personnel will inform you that he will get back to you after a review. He will ask you for your mobile number and copies of documentation (e.g., your passport). I advise that you ask for his name and office number and follow up with him in case he does not call you. It may take anywhere between a few days to a few weeks for a response; I suggest following up with him every few days.
Once you gain the approval of security, you will have to go to the membership office (located directly across the security office). An administrator will direct you to sit at a computer to fill out a short form containing your personal information, which you print. Then, you will present the printout and your documents to an administrator in the same room who will send you to a separate office for a final signature. Depending on the duration of your stay, you should ask for either a thirty- or ninety-day membership card. If you are staying longer, ask for an entire year-long membership.
Once you have the approval of the membership office, you will go back to the security office. There, they will take your picture and require payment in local currency (it will cost you only about three dollars per month). Once you receive your card, you will also receive a text message (SMS) with your username and password. You need this information to access wifi either on your own laptop or archival computers, and most importantly, to access search engines of archival computers.
Making Use of the National Library
When you have your membership card in hand, you can simply swipe/scan it at the gate to enter. The National Library is open from 9:00am to 9:00pm, seven days a week (the National Archives has far more limited hours; see below). In addition to research material, the library has a bookstore where you can find exclusive publications of the National Library authored by its staff researchers, a university supply shop, prayer rooms, and a cafe that serves sandwiches and drinks. The courtyard is a nice place to sit, relax, and have a chat with colleagues.
There are several libraries housed within the National Library. There is the public library (ketabkhaney-i umumi), similar to libraries you would find across the city where you can check out books and take them outside the library. There is also a children's library (ketābkhāney-i kūdak). There is also the Iranology (iranshenasi) and Islamology (islamshenasi) library and the larger specialized library (ketabkhaney-i takhasosi). Among other material, the specialized library holds rare books, lithographic and movable type prints, and originals of old newspapers.
You can search for material on the library's computers. Open the Persian-language software called Rasa and conduct your search. If you need help, you can ask the reference desk next to the computers. If you would like a more patient response, ask other patrons who are standing next to you at the computers. You have to electronically request your sources through the loan (امانت) button on the software. If your title is available (some of them are not eligible to be loaned out, i.e., they cannot even be seen or read), click on loan. After twenty minutes of waiting, go to the relevant room of the library where a staff member will have your title ready. You can use your source at the library but must return it by 8pm, an hour before the library closes. The library does not permit photographs of their collection. For copies, you need to fill out a form and obtain a staff member's signature—after which you take it to the scanner room where they provide you with professional scans. The quality of scans is very good, but make sure to double check the accuracy so that they correspond with your request.
The only things you can take inside are your laptop, a pen or a pencil, and blank papers. You are not allowed to take in a notebook, the logic being that you may hide a text inside your notebook and sneak it out. You need to put all your belongings in freely provided lockers.
Making Use of the National Archives
The National Archives are in a separate building, located across the highway from the National Library (about a ten to fifteen minute walk). It is open from 9:00am to 4:00pm, and you are able to enter with the same membership ID as you use to access the National Library. Once you pass the gate, turn to your right and enter through the door. Once inside, you can make your requests for primary documents.
Here too, you need to put your belongings in a locker, sign in, and then you may sit at computers and use the Rasa software to search. Before conducting your search, ask for forms where you can fill in your specific requests for sources. On the form, you will write the call number and number of pages for each document you are requesting. For example, if document number 1000/900 includes five pages, write all that information down in the columns provided. Once finished, you will provide the relevant staff member with the form. Each form has sixteen slots where you can register call numbers for set of documents, and you can request multiple forms if you have more than sixteen call numbers. The cap on your request is five hundred pages (not five hundred separate call numbers), but it is possible that with enough pleading you would be able to request more than five hundred pages. If they have previously scanned your document, they will make it available to you on a computer folder. You can then browse the folder to identify what you need. Once you have selected all your files, they will burn them onto a CD for you on the same day. The cost is four hundred toman per page, which comes to about 11.5 US cents per page (you can also benefit from a 150-toman-per-page student rate, but the process to gain approval for the discount is long and bureaucratic—I would advise against it). If they do not hold previous scans of your desired document, they will provide you with an appointment where you can browse through the originals in a separate room and take pictures of the documents on your personal device. The cost per page in this case will be two hundred toman per page. The time of appointment depends on availability and number of other researchers wanting to look at previously unscanned sources (my appointment was four days later, i.e., four days after my request). Once you have an appointment, you are given as much time as you desire between the hours of 9:00am to 4:00pm to browse your sources. For lunch break (between 1:00pm-2:00pm), you must exit the room. There is a buffet-style lunch restaurant in the building in case you do not want to bring your own lunch.
A final reminder about managing your time: you should have realized by now that visits to the archives will not be a speedy affair. If you expect to get things done in a day or two, you will certainly be frustrated. You will need at least a few days to obtain your initial letter, another few days (perhaps more) to get past security, and another few days to obtain archived sources (assuming you have a pretty good idea of what documents you need).
Transportation to the National Library and Archives
You can access the National Library and Archives via the Haqqani metro stop. Once you exit Haqqani stop, keep walking to the taxi station. The vans on the station furthest left will take you right to the library at about forty US cents. There are schedules of departure times online, but I would not rely on them. Depending on the hour of the day, the taxis leave every five to thirty minutes. If you are feeling adventurous, you may also walk. It is about one kilometer in walking distance. I personally preferred to avoid the taxi situation, took the train to Mirdamad stop (one stop north of Haqqani), crossed the street, and took Pegah street all the way to the archives. The National Archives are about a fifteen-minute walk from the Mirdamad metro stop. To get from the archives to the library or vice versa, simply cross the pedestrian overhead bridge to the other side of the highway.
Negotiating Differences
Be mindful of gender segregation. Main gate entrances, lockers, study spaces, and search computers are all segregated by gender. Read the gender signs and follow them. If you are female, you can generally use male spaces without a problem, but the reverse does not hold.
You must keep difference in institutional norms in mind in administrative and professional relationships. Do not approach administrators with an attitude that they are there to enforce their work obligations quickly, in accordance with previously-established rules, to help you get on with your day. The rules are not always clear, and when they are, they are not always adhered to. For a simple scan of a newspaper at the National Library, you may find yourself running between a few administrators, hearing different directives, and receiving different treatment. One administrator may quickly sign off on the scan, and another might ask you to return the next day. You will hear different theories on why things are the way they are: some blame the low salaries, others put blame on Iran's authoritarian political history, and still others blame "bi farhangi," best described as an entrenched lack of social etiquette, others problematically blame "the culture." Whatever the case, it remains a fact of fieldwork and something you will have to deal with through patience and persistence.
One way to make things easier is to develop a professional and courteous relationship with the person who is supposed to assist you, so that they become interested in you and remember you each time you return for help. I have also found that treating people with the kind of respect that tells them their job is extremely important and their time is valuable helps you get things done. One more trick is to plead with the administrator, which is another strategy to make them feel important. For example, if you are missing a document (the military service card, for example) or they are being unresponsive toward your specific request, my own experience has shown that with enough pleading—in the most humble, respectful of voices but still expressing frustration—the administrator may end up helping you. With all this in mind, bureaucratic hurdles may seem less present to non-Iranian researchers; per Iran's rules on hospitality, administrators may be inclined to be particularly accommodating of non-Iranians researchers, and help you get to your intended site or document quicker.