Our 4.1 Issue of Status Audio Magazine is live! Yes, we changed the name from "Journal" to "Magazine." But the substance goes on. So much to go through!
First, make sure you login and create your own page with saved, flagged, and loved content, organized in folders, or not, for sharing purposes or for later revisits. Look for "LOGIN" on the top right of the new website here.

Also, customize content to your heart`s content, right on the site, by selecting your favorite topics

Start browsing, customizing, and archiving now, as this issue comes at yet another important juncture in the region. Which brings us to the not-so-good to pretty bad news about the region, generally.
With the Middle East and North Africa facing social and political convulsions resulting from a muscular resurgent authoritarianism, a mobilization of fractious divisive sectarianism, and a resistant revolutionary impulse that admonishes both, there is an urgent need to document and deliberate, archive and articulate. It is during these times, and in response to six years of impulsive reportage about the region which has eviscerated context and effaced complexity, that we must be committed to an unabashed anthropological sensitivity to lives forged under these circumstances in locales. That is why this issue of Status, more so than any previous one, was curated with a clear and present desire to situate abstract phenomena in local situations, localize the regional, locate the voices that speak to communities in flux, and see the local for what it is—simultaneously rooted and uprooted. For us in Status, understanding what is taking place in the region necessitates throwing away the broad brush altogether and instead using fine lines to dialogue with subnational, municipal, familial, solidaristic, and even solitary experiences.

It is in the magnificence of minutia that we are able to truly appreciate the changes—simultaneously cataclysmic and exuberant—currently taking place in locales from besieged Yemeni mountain villages, politically disparaged Palestinian municipalities, and resistant Syrian archaeological communities to victimized Mosul families, embattled Turkish dissenters, and virtually-extinct Egyptian journalists. Yet one should not mistake commitment to amplifying locale with the dislocation of intersectionality nor with the absence of translocal commitments. To the contrary, we are convinced that solidarity must be grounded in a genuine commitment to locale. One can no longer discuss Syria's catastrophic war without comprehending mass suffering in Yemen. One can longer discuss the calamitous experiences of First Nations communities of the Americas without contemplating the settler colonial project in Palestine. Poetry written by Arab Americans is at once located here, there, and in the interstitial spaces between them.
We hope that you will take the time to peruse and be in dialogue with, not simply listen, to the expressive, informative and inspiring interviews that we carefully, painstakingly and meticulously curated in this most local of Status issues.
Our all new Arabic Section is Brimming!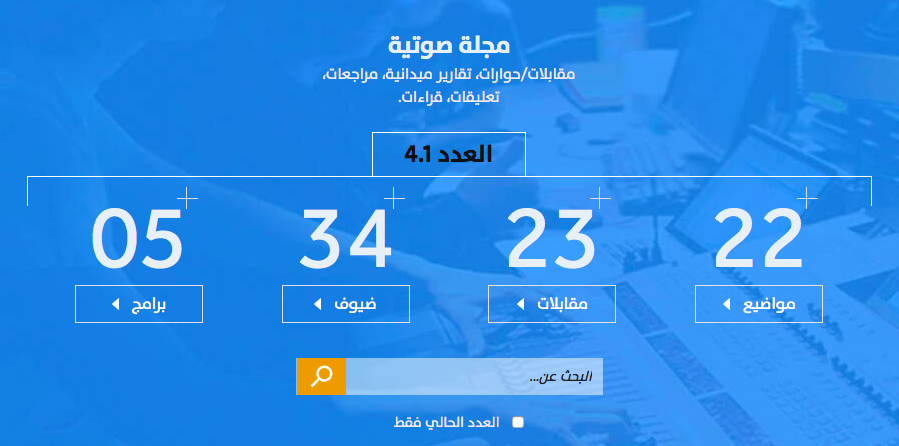 And just as Syria begins to recede from international media headlines, the hard work of beginning to unpack the remains of a battle that still rages on continues here with interviews that include an appraisal of the state of archaeological sites in the country, an interview on governance in the northern Kurdish Syrian region of Rojava, a chat with Syrian-American author Alia Malek on her memoir of Syria, a discussion of urban planning and shifting geographies in the country, and a conversation about the condition of Syrian rebels since the fall of Aleppo. A heavy but deeply informed conversation about the research terrain in/on Syria with a seasoned Syrian researcher, brings real knowledge to the discussion.
Unlike most other sources from the region, in Status, we do not observe radio silence on Yemen! We spend time speaking to Yemeni journalists like Afrah Nasser and activists like Radhya Mutawakel about conditions in their country, as the war seems to escalate rather than abate. And just as conflicts rage across the region, we resist the systematic demoting of Palestine as the perennial barometer and moral compass for justice with an interview about Ghassan Kanafani and literature as resistance, a report about sociological dimensions of electoral politics in Palestinian municipalities, an interview on the use of juxtaposition as a pedagogical tool under occupation, a report about electricity in Gaza, a conversation about the Palestinian Authority's aggressive neoliberalism, and an interview with Steven Salaita about the decolonization of America and Palestine to name a few.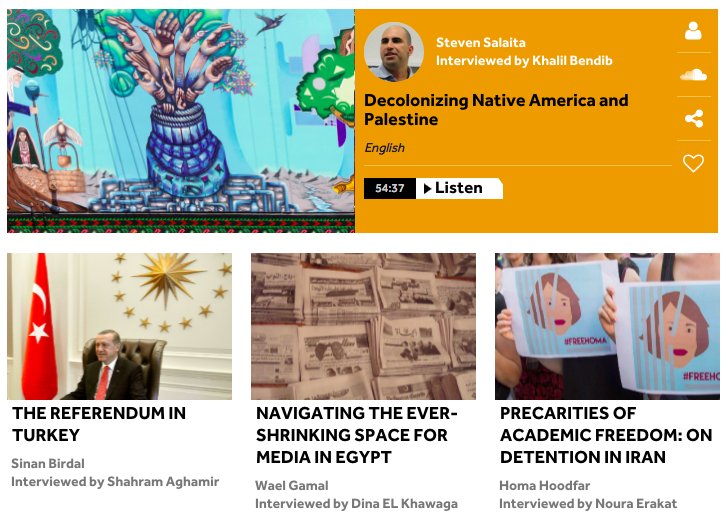 Cultural expression cannot be seen as devoid of politics or apart from the political as we explore the literary with interviews with Guapa`s author Saleem Haddad, the author of Guapa, discuss music's relationship to mental health in a discussion with Iraqi singer Mandy Dhiab, converse with Iranian novelist Bahiyyih Nakhjavani about her feminist title The Woman Who Read Too Much, and reflect on the Palestinian historical narrative in the media with Saleh Masharqa. Like every issue, our musical selections feature organic artists, like this instalment's interview with exceptional Tunisian singers and songwriters Ghalia Ben Ali and Emel Mathlouthi.
This is just a preview of all that is in store in this latest instalment of Status Audio Journal. And we remind you that our remarkable library of interviews can be accessed and listened to on our extremely user-friendly and customizable site.
Listen up!
Status Magazine Team


And don`t forget to check out our Arabic section!