Check out our sale now from Tadween Publishing! Use code JMWINTERSALE to get 20% your order of all eight of our JadMags! JadMag is a publication produced by Tadween Publishing. Individual issues represent incisive articles focused on a particular topic and provide a wealth of resources on the subject matter. They are intended for the classroom but have enjoyed a much broader readership. To that effect, all JadMag issues are accompanied by a "Teaching Guide" that can help guide educators into programming lesson plans, assigning readings, and approaching this topic in pedagogical environments.
For more information about our products, read below.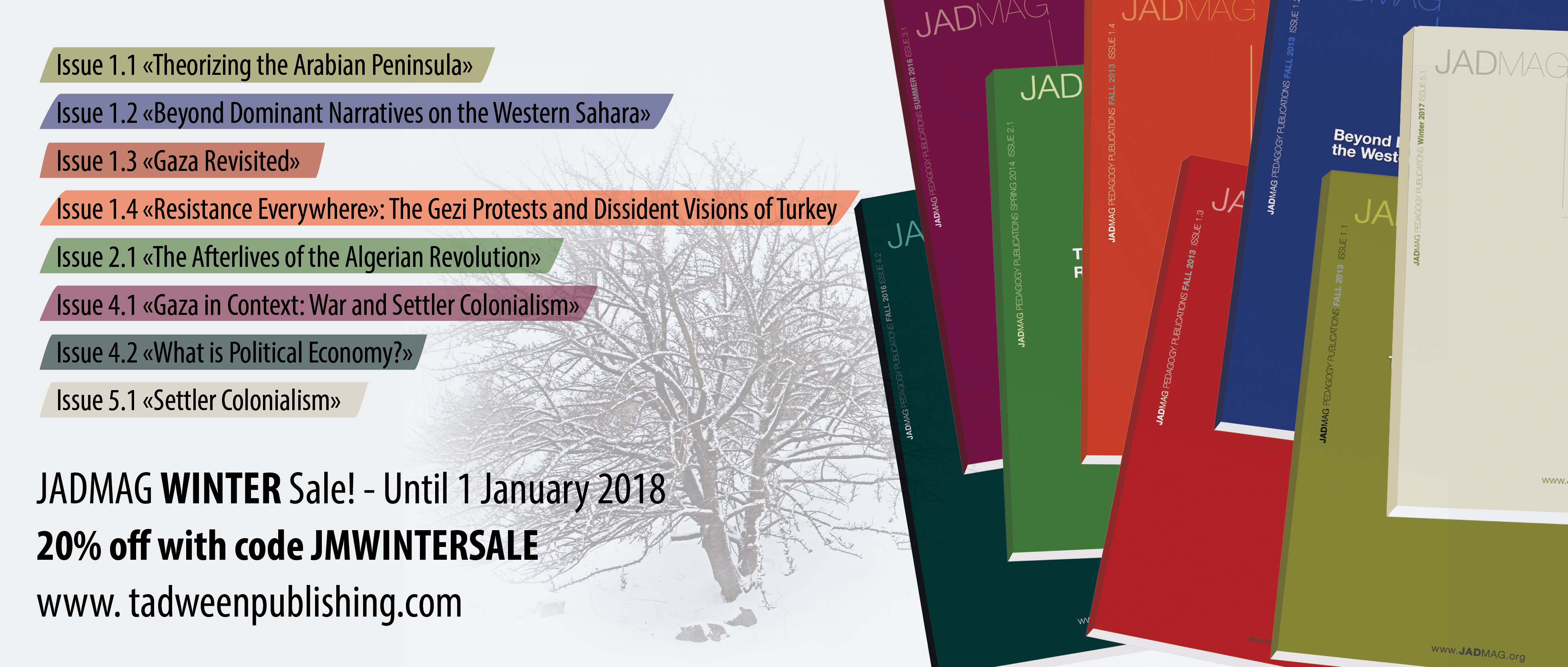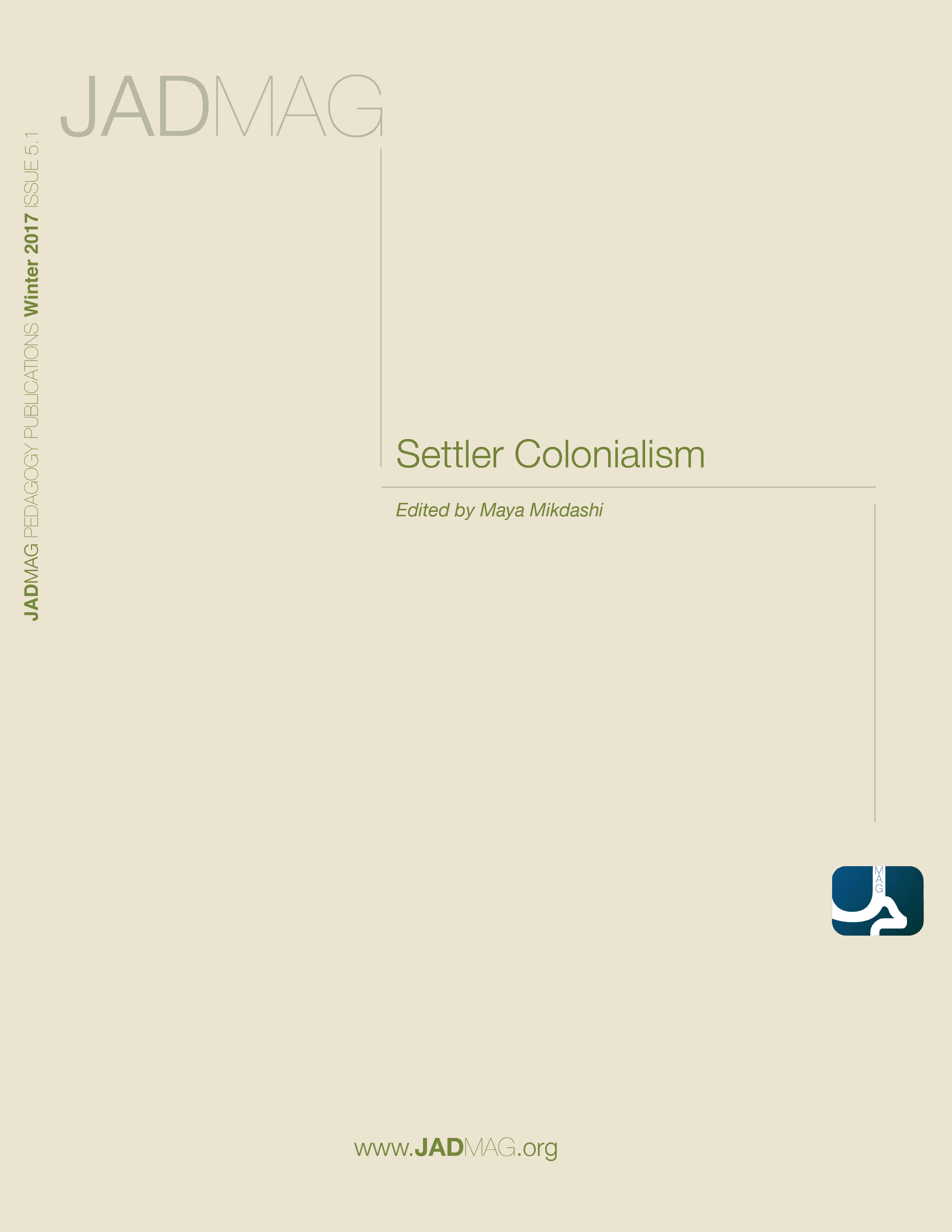 Edited by Maya Mikdashi.  
For those interested in settler colonialism as a form of domination and rule, as well as for those currently navigating settler societies as spaces of living, working, and acting—we have gathered a selection of articles published on Jadaliyya since the site's founding in 2010. The articles focus on the technologies, histories, and quotidian practices of settler colonialism in states such as the United States, Algeria, Canada, Israel, Australia, and South Africa. Questions of ethics, transnationalism, epistemology, intersectionality, race, indigeneity, gender and sexual difference, comparative analysis, solidarity, and political action are paramount to this collection of articles.
This volume analyzes the totality of the experiences of settler colonialism in its many facets across many indigenous groups, the mobilization of solidarity groups, and what it means in an ongoing contemporary context.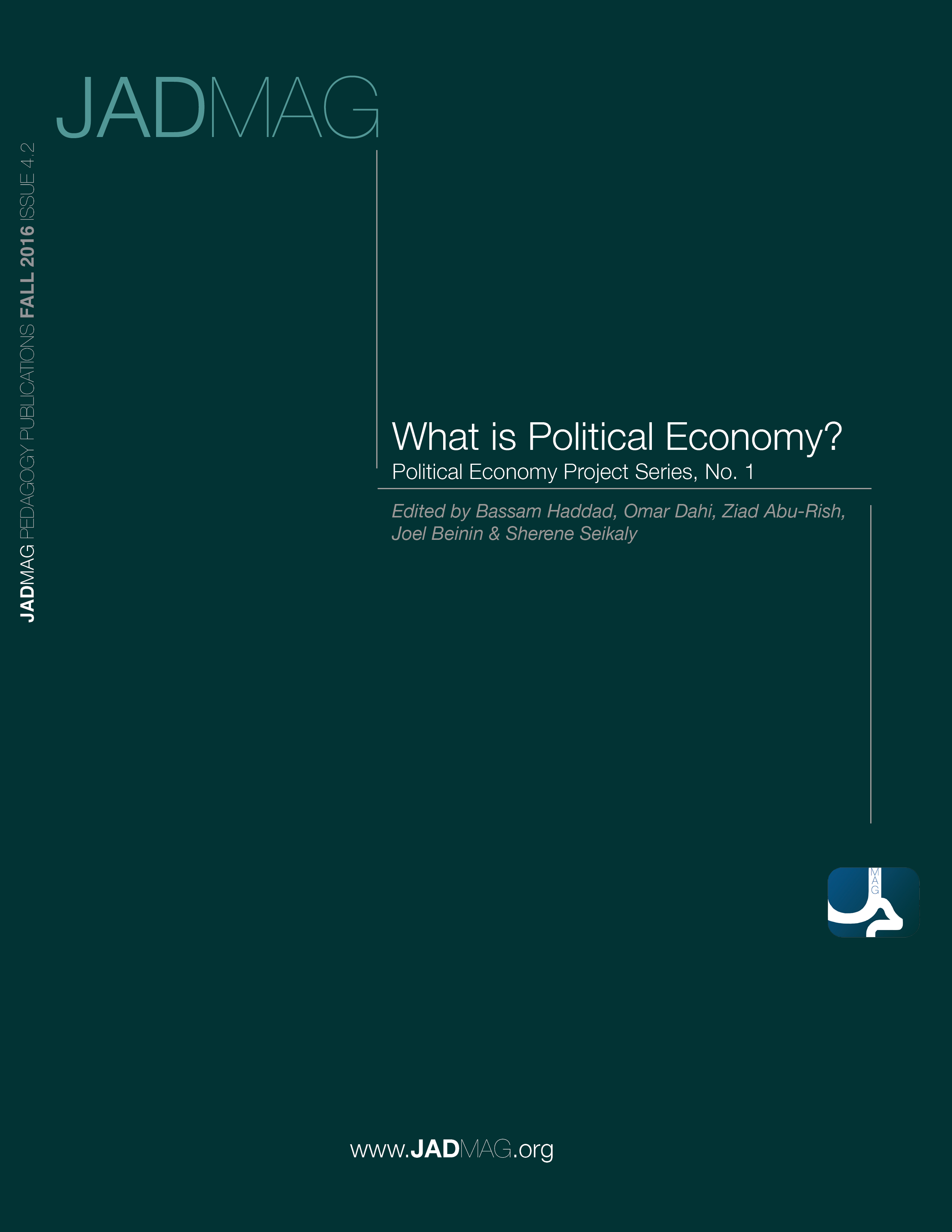 Edited by Bassam Haddad, Omar Dahi, Ziad Abu-Rish, Joel Beinin & Sherene Seikaly. 
This issue of JadMag is the first of a series on the Political Economy of the Middle East. Drawn from presentations at the Political Economy Project's founding workshop, the authors in this issue seek to define and interrogate the field of political economy and address how they actually "do" political economy. While authors agree on the interdisciplinary study of political economy as well as the basic tenets of the Marxist tradition, they nevertheless present various perspectives. 
Also included in this issue is a vast and evolving annotated bibliography of recommended texts in political economy. Subsequent issues in this series will be announced at www.politicaleconomyproject.com.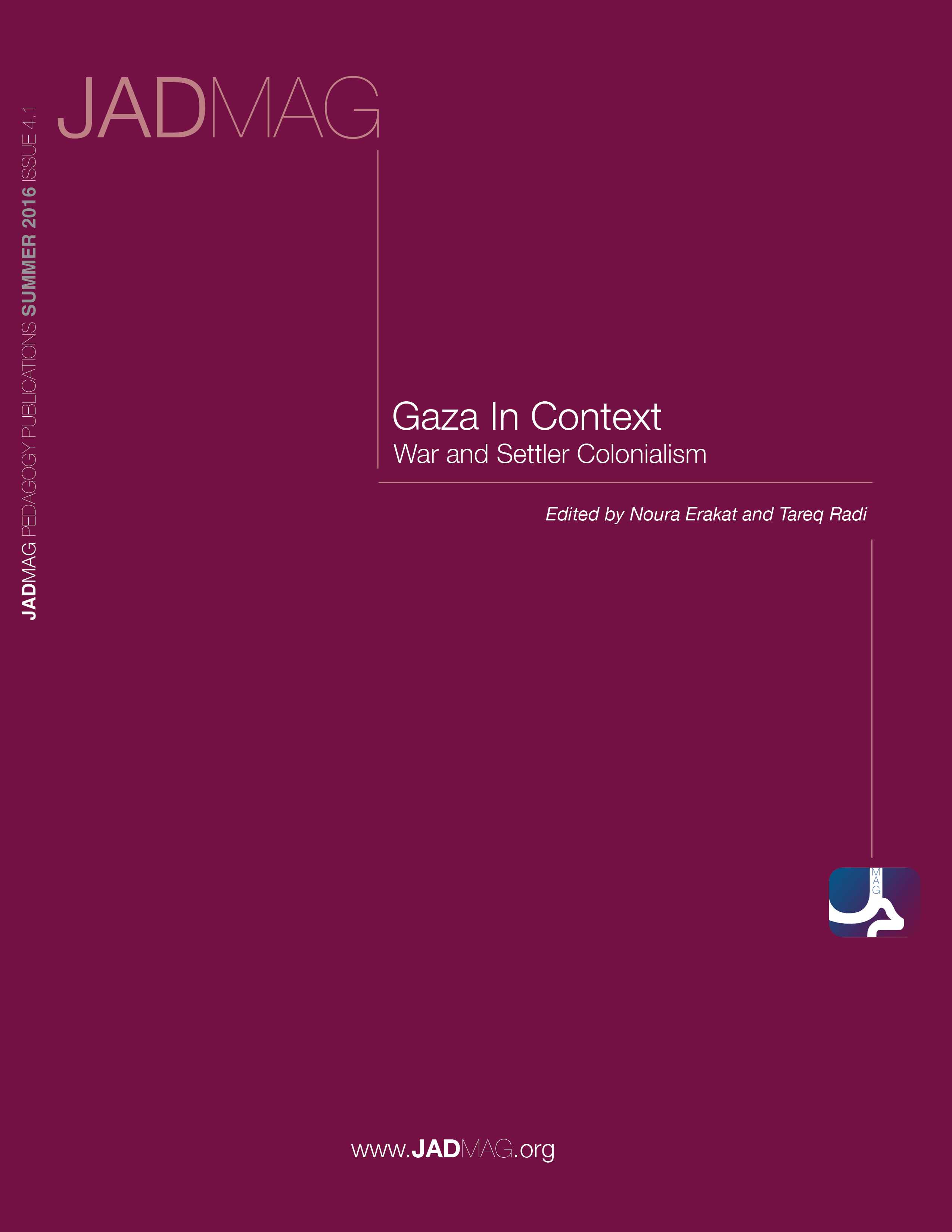 Edited by Noura Erakat and Tareq Radi.

In the summer of 2014, Israel launched its most devastating offensive on the besieged Gaza Strip to date. Israel sealed its perimeters, expanded its buffer zones, concentrated the already dense population, and launched six thousand airstrikes and fifty thousand artillery shells in an air and ground offensive that lasted for fifty-one days. The register of death and destruction was, expectedly, harrowing. Despite overwhelming evidence of the disparity of power between Israel and Palestinians and the aggressiveness of Israel's exercise of its power, including excessive and brutal violence and collective punishment in Gaza in the form of occupation, siege, and frequent military assaults against dense and captive civilian populations, mainstream media and educational materials continue to frame Israel as the victim.
This compendium, in combination with the pedagogical project Gaza in Context, uses Operation Protection Edge to demonstrate the temporal and spatial continuity of Israel's settler-colonial policies across Israel and the Occupied Territories in order to disrupt the language of exceptionalism surrounding Gaza today. The volume scrutinizes Israeli settler-colonialism through a multidisciplinary lens including history, law, development, political economy, and gender.
In addition to the articles within this volume, Gaza in Context: War and Settler Colonialism features several teaching guides and a bibliography that are intended for teaching and research purposes, respectively. Together, the aforementioned components and the short film Gaza in Context seek to provide an assertive framework for understanding Israel's systematic attacks as part of the larger question of Palestine.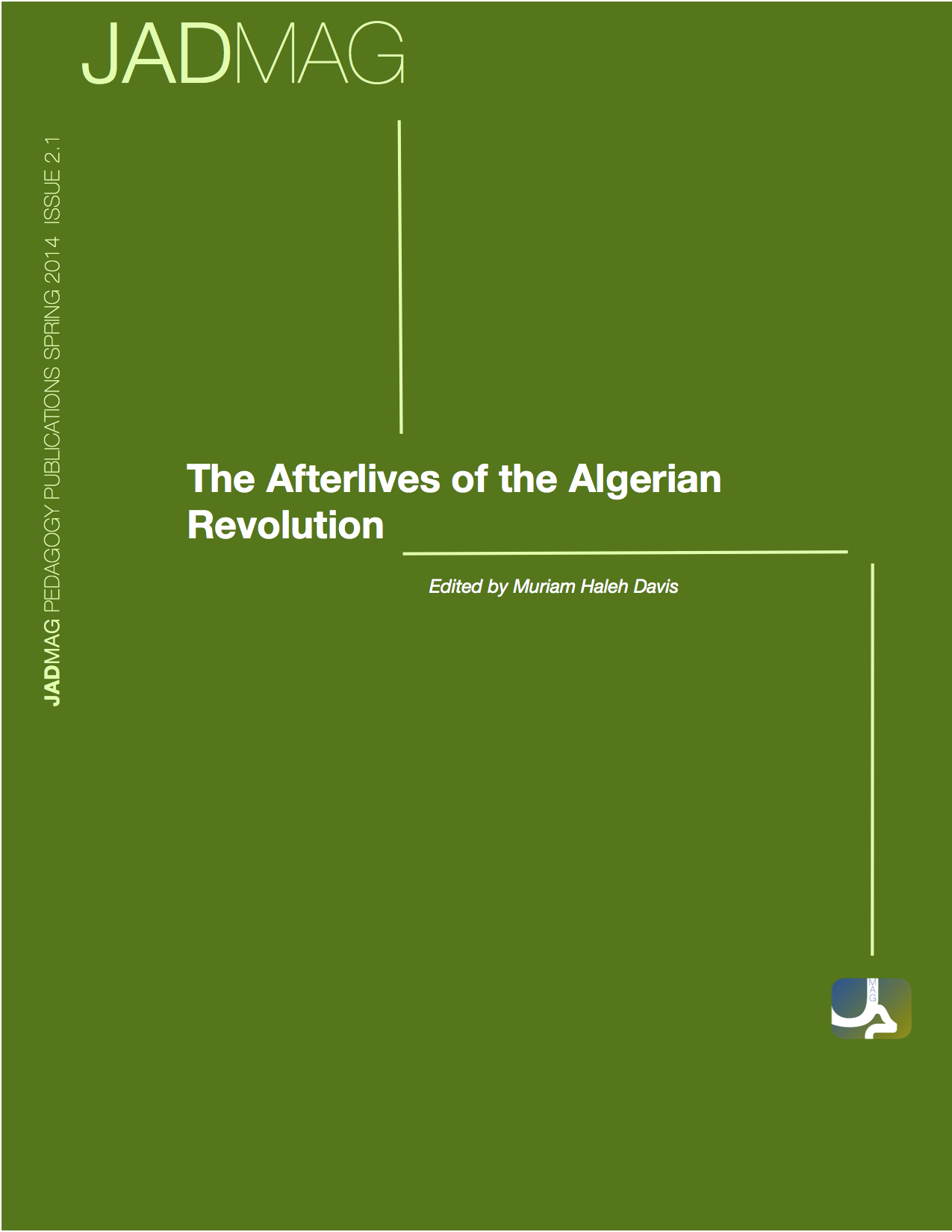 Edited by Muriam Haleh Davis. 
In July 2012, Algeria celebrated its fiftieth anniversary of independence, which signaled the victory of the FLN (National Liberation Front) over the French army. Despite five decades of Algerian independence, much of the work done on Algeria continues to focus on the colonial period. This pedagogical publication seeks to interrogate Algerian history since 1962 and considers how the revolution unleashed multiple socio-political dynamics that continue to mark contemporary Algeria. These articles demonstrate that the revolution was not merely a historical bookmark, but rather produced repertoires of contestations, ideas about a "social contract," and served as the basis for legitimacy that could be later "confiscated." As Algerian president Abdelaziz Bouteflika runs for a controversial fourth term in April 2014, these articles offer a timely view into the historical construction of the Algerian state since 1962.
Read more information about these JadMags here or browse the rest of our selection here.