This interview was conducted following the screening of the film, The Reports of Sarah and Saleem, at the Boston Palestine Film Festival in October 2018.
Isis Nusair (IN): How did you start making movies?   
Muayad Alayan (MA): One of the most significant experiences in my life was a trip I took with my family to visit the ruins of my grandmother's house. The house, where my mother was born, is located on a beautiful hilltop in Southern Jerusalem. It was destroyed in 1948. We took our first video camera with us and what we recorded was important for my family for years to come. We kept playing the tape over and over again. It captured an image, sound, piece of history, the land and life they once had at that house. This experience shaped my fascination with the power of the moving image. 
I grew up in Jerusalem at a time when any form of self-expression or representation of anything related to our Palestinian identity and culture was illegal. As a teenager at the beginning of the second intifada, there was a general feeling among my generation that if we documented our lives under occupation and shared it with the outside world, our reality would change for the better. I started learning about cameras, editing, and filmmaking as tools were becoming more available with advances in media technology. I made short films documenting mainly the oral history of my family, friends, and people in my village as well as what was going on in Jerusalem during the second intifada. I looked into pursuing film studies, but there were no programs in Palestine at the time. I applied to film schools abroad and ended up in San Francisco where my older brother Rami was living.
IN: What did your earlier work focus on?
MA: The ideas behind the films I made have always been inspired by incidents or issues I witnessed and experienced firsthand or ones that affected my life or the lives of people in my community. I felt a need to preserve these moments on film for future generations to see. It had to be something that shed light on our human experience and lived beyond me and my physical presence in the world.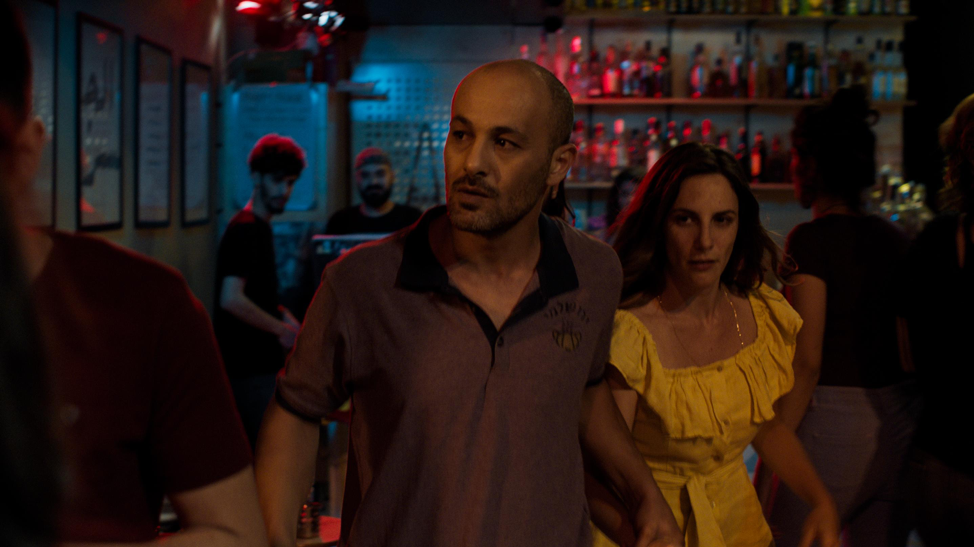 [Adeeb Safadi and Sivane Kretchner in The Reports on Sarah and Saleem]
IN: The Reports on Sarah and Saleem (2018) is set in Jerusalem. Jerusalem is kind of a character in the movie.                                                                            
MA: Jerusalem is a city that is segregated by all kinds of barriers, not only by physical walls. You have the Israeli Western part of the city which is modern and privileged, and you have the Palestinian Eastern part which is impoverished and full of ghettoes. The walls in Jerusalem are physical, political, socio-economic, and juridical. Different housing policies, security practices, and educational systems shape this segregation that affects all aspects of life. You can sense that only if you live in the city and not by watching the news.
I wanted audiences to "feel something" about this place. Jerusalem is a character in the film in this sense. How does this city, in the story world, react to such social drama, and how do its systems of segregation and repression act on each individual? If you are a Palestinian Jerusalemite you will know that your life and the lives of people close to you can be jeopardized and turned upside down in a split of a second over the simplest of things. I am always inspired by stories of average human beings facing issues bigger than themselves. This provides a rich environment for examining the human condition. In Jerusalem, people face unbearable circumstances on a daily bases.
IN: The film starts with the every day, a simple love affair that cannot stand the weight of politics in a place like Jerusalem. 
MA: Everything is political in Jerusalem. An infidelity like the one portrayed in the film could happen anywhere in the world with personal and social consequences. Yet, only in Jerusalem could it have this kind of political ramification in the lives of the individuals involved and their families.
IN: The film crosses a number of boundaries especially in its focus on the relation between Sarah and Saleem. Although their relationship is supposed to be private and secret, it does not escape the surveillance and restrictions of the outside world.
MA: In Jerusalem, as in all of Palestine, there is an enormous amount of intrusion by the authorities into the private lives of individuals in the name, of course, of security and control. As a Palestinian teenager, and like the majority of Palestinians from Jerusalem, the first jobs I could find were in the Western part of the city. This was my first encounter with Israeli society beyond the regular encounters with the police and soldiers in the Eastern part. I started working in a hotel and at a café, and I witnessed then these relationships that were happening in the dark shadows of the city. The initial story development was triggered by these affairs, and by the Israeli military invasion into Palestinian Territories where a lot of data got, and every now and then continues to get, confiscated from official Palestinian institutions, security agencies, and civil society organizations.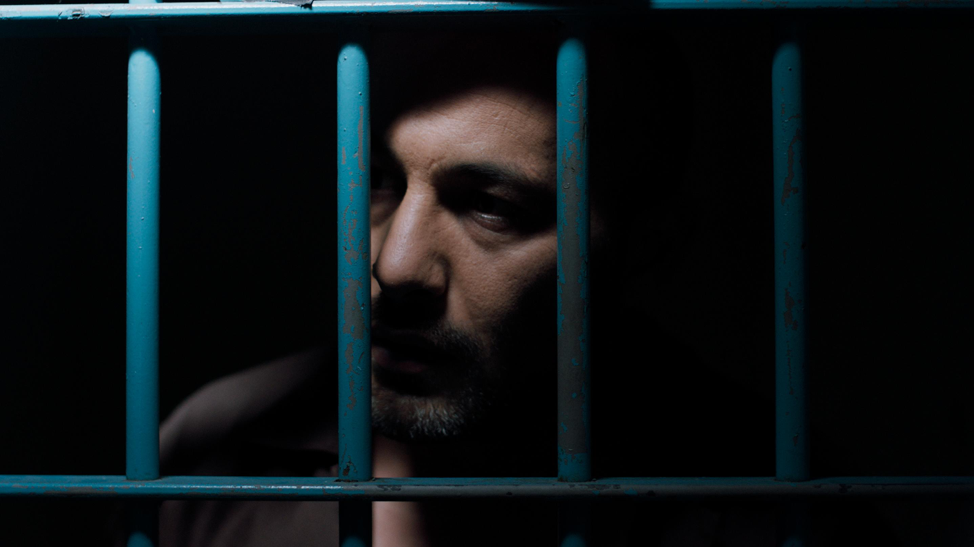 [Adeeb Safadi in The Reports On Sarah and Saleem]
Numerous people get arrested as a result and their lives are ruined by such abuse of power due to the huge amount of data gathered about their private lives. This data is often interpreted selectively, out of context, without verification or due process. These were the starting points for the film. What if such an affair is no longer in the dark? What if information about such an affair ends up at the hands of the intelligence and military apparatus, and what will be at stake for everyone involved? How could the sequence of events, in this case, say something about the general everyday life in Jerusalem in comparison to other places in the world?
IN: The film offers a certain intimacy considering the situation. The two lovers are so close, yet it is impossible for them to remain together. There is a certain fluidity between the characters and events and a certain rigidity and power imbalance between them. 
MA: I cannot stand romanticized narratives or ones that use the Romeo and Juliette structure when dealing with Palestinian-Israeli relations. You cannot ignore what sets people apart in the first place, and the systems of power that sustain the divide and inequality between them. There is a system of haves and have nots, of privileges afforded to some but not to others, that is continuously reinforced. If you come as a tourist and spend a few hours in Jerusalem you might think that there is a certain fluidity between people. But in a split of a second, the power imbalance could kick in, and only then you would encounter such inequality and segregation. People I met at work who had such affairs clearly knew that this was just a temporary affair. The power imbalance is clearly "in the room" or at the back of their minds all the time. It was still a convenient affair because they were having it with someone from "the other" side of town, so chances are people in their communities would not know about it. 
IN: The film provides a critique of different institutions like marriage, and the security-state apparatus. It also critiques particular conceptions of masculinity and heroism on the Israeli and Palestinian sides.
MA: When developing the story with my brother and script-writer, Rami Alayan, we wanted to create real life and believable characters that are not flat representations of "good" or "bad." It is the systems they choose to represent or defy, and the values they decide to live by or contradict that are at question here. The questioning and critique of these systems and conceptions is sub-textually presented through the actions of the characters and the consequences they are faced with throughout the film.
IN: What is the significance of the particular representation of Bisan, Saleem's wife, in the movie and the strength of character, will, and grace with which she handles the situation?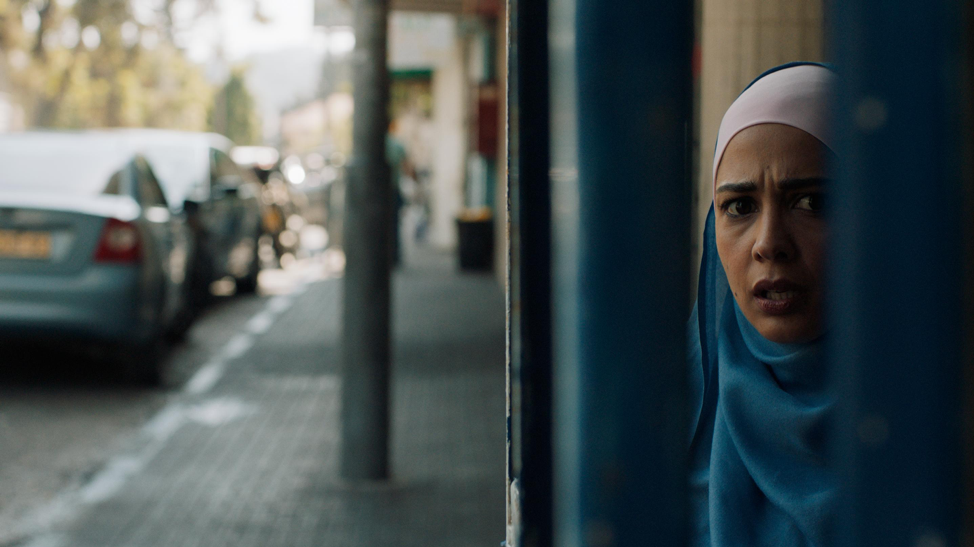 [Maisa Abd Elhadi in The Reports on Sarah and Saleem]
MA: Bisan's character undergoes major change. She starts out innocent and living in the protected environment of her family. As the film progresses, she is forced to go through a journey of confronting betrayal, grief, and the challenges that bring out her true strength. Most importantly, Bisan does not surrender to simply doing what is expected of her by her family and society. She handles the situation with the grace of the caring mother she becomes by the end of the film.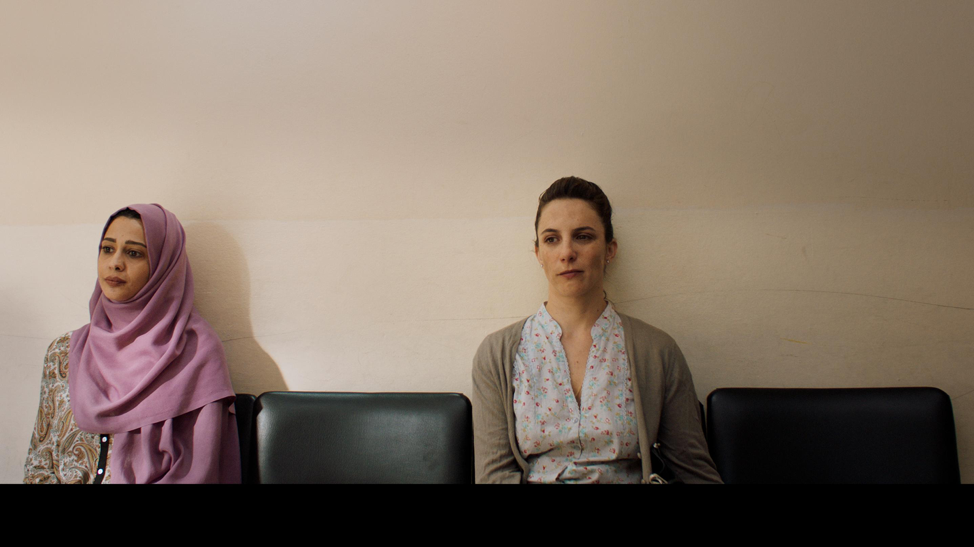 [Maisa Abd Elhadi and Sivane Kretchner in The Reports on Sarah and Saleem]
IN: The film deals with women's agency and their alliance at the end to offer alternatives. Is your film trying to challenge the status quo and offer a different reality as part of creating alternative solutions?
MA: By the end of the film, the two women lead characters are the ones who make choices that they believe, according to their conscience, are right and just for themselves and those around them. They do not choose an easy way out that their privilege could offer them on the social, political, and juridical levels. There is often extra pressure on women to conform to the status quo, albeit differently, in both Palestinian and Israeli societies. Both Bisan and Sarah do not do what is expected of them, and they give up something in order to do what they consider is right. Bisan gains her independence but has to let go of her dependence on her family and with it her brother's interference in the decisions that should be her own. In the case of Sarah, we wanted her to represent a specific type of Israeli who wants to be liberal, progressive, and do the right thing as long as it does not affect their comfort zone and privilege. The statement at the end is telling. Unless you are willing to get out of your comfort zone and compromise on your privileges, you will not be able to redeem yourself and will end up losing your soul and humanity.
                                                                                                                                                         
IN: Your earlier film, Love, Theft and Other Entanglements (2015), was filmed in long shots and in black and white. The title of the film alludes to the national struggle post-Oslo and to the theft of land, opportunity, and dignity.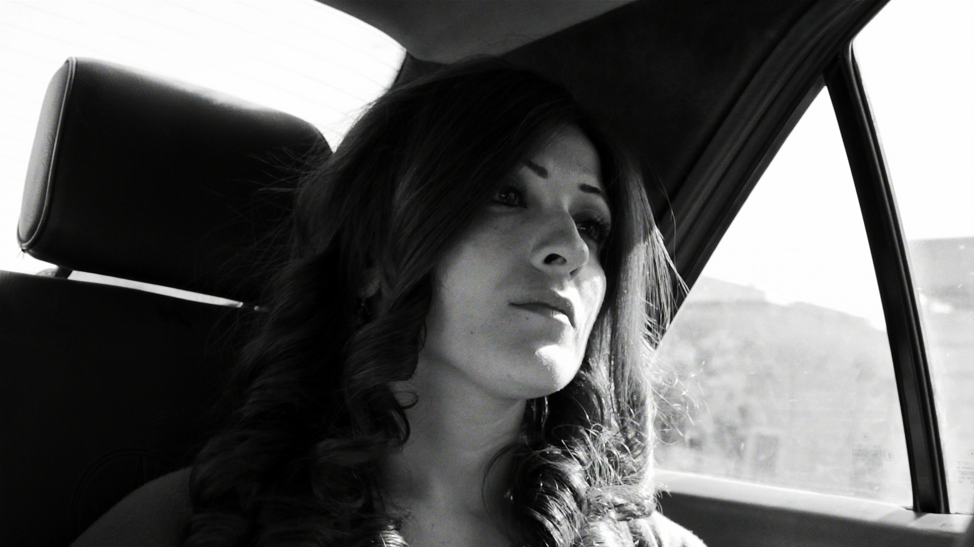 [Maya Abu Alhayyat in Love, Theft and Other Entanglements]
MA: I wanted the film to feel like a fairy-tale set in Palestine. I wanted it to move away from the visuals and images people are usually exposed to from the media. Filming in black and white also helped in the absurd/dark humor that was intended for the story, and that is also a real Palestinian survival mechanism amidst all the miseries we continue to face. A minimalist, less is more approach was the general guideline we applied throughout the process of writing the script and in the cinematography. We focused on the characters and eliminated unnecessary elements. The story world could be set anywhere and at any moment in time, the only time frame is the post-Oslo reality.
IN: The film critiques the peace process as well as the nationalist discourse of heroism. Mousa, the hero, reminded me of Emile Habibi's Saeed in the Pessoptimist.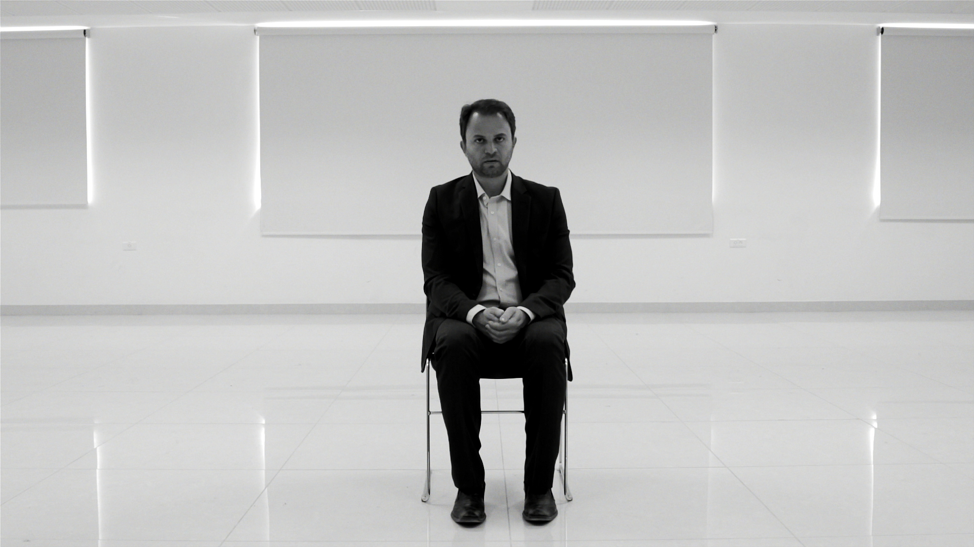 [Sami Metwasi in Love, Theft and Other Entanglements]
MA: The characters are facing real-life situations but ones that are so absurd that one wonders whether what is happening is real or fiction, which is true to the unfortunate times we are experiencing at the collective level. I consider myself part of the post-Oslo depressed generation, which Mousa, the main character in Love, Theft and other Entanglements is also part of. Growing up in the late 1980s and 1990s, there was a sense of hope that what was coming will be better. Unfortunately, the new reality turned out to be worse. We were not only faced with the ongoing occupation, but with political corruption, neoliberalism, foreign aid and development agendas, and the consequences of it all, as well as the old social taboos and dilemmas. All of these were elements standing in Mousa's way, yet he eventually finds a way to move on, and redeem himself but not in a very happy ending kind of scenario. In Emile Habibi's brilliant Pessomtimist, the main character also belongs to a generation of Palestinians that were faced with disappointment and defeat at different levels, yet they somehow found the means to persist and survive.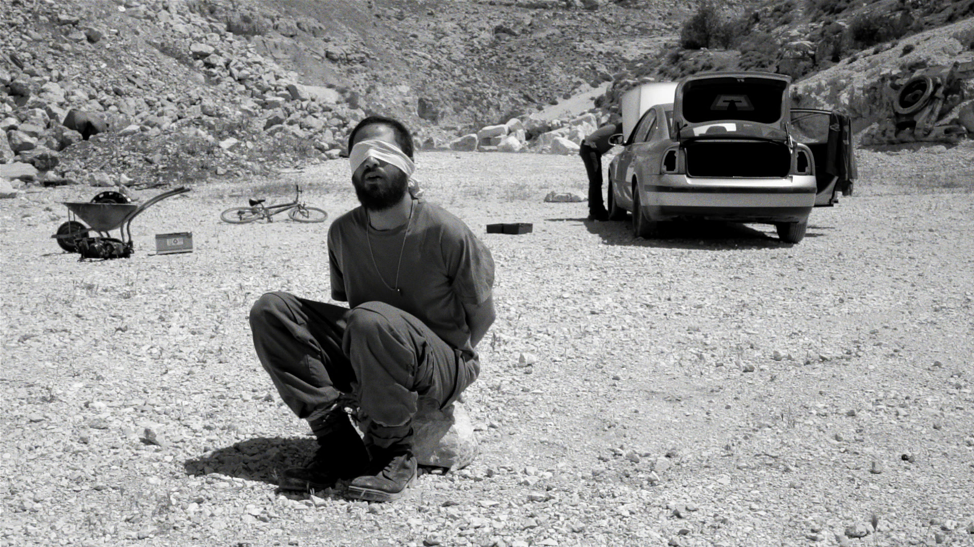 [Riyad Sliman in Love, Theft and Other Entanglements]
IN: There has been a major debate recently about funding sources for Palestinian cinema. Where did you get the funding to make this film?
MA: The film was made possible through funding from the Arab Fund for Arts and Culture (AFAC), The Hubert Bals Fund (International Film Festival Rotterdam), The World Cinema Fund (Berlinale), FilmLab: Palestine, as well as several other Palestinian institutions. We also partnered with a Mexican production company that provided us with a high-end camera and cinematography equipment that are not available in Palestine, making The Reports of Sarah and Saleem the first Palestinian/Mexican co-production. I am aware of the challenges you are referring to regarding funding in Palestine and the Arab world more generally. This, unfortunately, continues to be a problem. For me, none of my films would have been possible without the generous support and contribution of friends, colleagues, and family members as well as the in-kind support of businesses such as hotels and restaurants within my community in Jerusalem and Bethlehem. It takes a village to make a film!
IN: Are you part of a younger generation of filmmakers who are shaping Palestinian cinema? Is there in your view a distinctive Palestinian cinema?  
MA: I think the next generation will be in a better position to judge how our generation is contributing to the making of Palestinian cinema. I think the first generation of filmmakers succeeded in getting Palestinian cinema out to the world, and confronted many challenges and efforts that were and continue to be invested in suppressing any voice or narrative from Palestine, or any kind of recognition for Palestinian art and culture. We are still living under occupation, but I believe that we are much more than just a nation under occupation. We have a lot to share with the world about the full spectrum of the human experience. There have been several works in the past few years that are moving in that direction in their storyline and form compared to what has been produced earlier.