Beginning on 1 October, mass demonstrations have taken over cities and towns across central and southern Iraq. Protesters are calling for an end to the political system established in 2003. Based on ethnic and religious apportionment of government positions and ministries, this system has led to staggering levels of corruption which in turn have contributed to intolerable living standards—including high unemployment, inadequate electricity, and contamination of drinking water. The grievances are numerous and run deep, all of which are legitimate.
On Friday 25 October, demonstrators returned to the streets in planned and anticipated protests. Despite assurances from Prime Minister Adel Abdul-Mahdi that demonstrators would be permitted to protest peacefully, state forces and parastatal armed groups responded with brutality.
Iraq's High Commission for Human Rights says that sixty-three demonstrators have been killed over the last two days. 2,592 have also been injured (combining demonstrators and security forces). This is in addition to the more than 150 people killed during 1–9 October protests, as documented by the UN Assistance Mission for Iraq (UNAMI).
Most of this killing has come at the hands of parastatal armed groups once known as militias. The massive scale of protests and their geographic scope has threatened both the political class and armed groups affiliated and allied with it. What follows are some critical developments to keep in mind as events continue to unfold. They are flashpoints from which to consider a deeper, more exhaustive analysis:
In Baghdad, demonstrators tried to march into the Green Zone on Friday 25 October. Opened to the public last spring, the area had been established as a fortified and securitized command zone during the occupation of the country by US- and UK-led forces in 2003. The area hosts several key government buildings, including the offices of prime ministry. As protesters marched, they were tear-gassed and shot at. It is unclear who was firing live ammunition at them. The shooters were clad in black and wearing balaclavas. These uniforms did not have any Iraqi state security logo. Activists speculate these forces were tied to specific militias or special forces that report to the prime minister's office.
Police and military personnel in Baghdad and other cities were ordered to only carry batons during the protests on Friday. This order appeared intended to minimize casualties and protect demonstrators in the wake of weeks of anti-protester violence. Even if that goal was achieved, this tactic also perversely shows the power of parastatal armed groups who did most of the killing on Friday. Photos from Baghdad show federal police using their shields to protect demonstrators from bullets as they were marching on the Green Zone. This itself is a stunning development, in part because the Ministry of Interior, under which police fall, has for years faced an array of accusations including corruption and carrying out extrajudicial violence, including torturing detainees in secret prisons.
Demonstrators also targeted militias' headquarters across the south of Iraq. These include the headquarters of the military and civilian wings of different militias. For example, protesters in the cities of 'Amara and Diwaniyah stormed and/or burned the headquarters of the Badr and Asa'ib Ahl al-Haq organizations, respectively. The offices of Sayyidd al-Shuhada' militia in Naseriyah was also set on fire—a significant development given how strong the group is in that area.
Demonstrators also targeted more traditional political parties and the government buildings they control—though the lines between party, parastatal armed actor, and state institution are blurry. In Diwaniyah, demonstrators stormed and burned the Dawa Party headquarters (to which two former Iraqi prime ministers belong). Demonstrators also burned the al-Hikma Party headquarters (led by Ammar al-Hakim) in Samawa. Provincial governorate buildings were also stormed and/or set on fire in the south, including in Dhi Qar, Qadisiya, and Wasit provinces.
In addition to the shooting and killing of protestors, security forces attacked protesters with huge amounts of tear gas. Hundreds of people were rushed to hospitals. In Baghdad, tear gas released from inside the Green Zone blew/carried into neighboring areas due to the sheer volume of canisters deployed.
Muqtada al-Sadr (leader of the Sadrist movement) sided with the protestors in the days leading up to 25 October. He initially stated that if protestors were attacked on that Friday, he would send his forces (Saraya al-Salam) out to defend them. But his position changed in the afternoon as attacks on demonstrators escalated. By the evening, even his supporters participating in demonstrations had pulled out. One protestor filmed the tear-gassing while shouting, "Where are you, Muqtada?" Sadr's decision not to deploy his forces to defend protestors might be explained by a fear of provoking a war between his militia and others attacking protesters.
Also on Friday, Ayatollah Ali al-Sistani released a direct and unequivocal statement supporting the demonstrators. He gave no support to political elites; called for the drafting of a new electoral law; and insisted that the relationship between demonstrators and state security forces must be strong.
The videos and photographs of those killed and injured are horrific. Images include a journalist who had his nose blown off when a stun grenade went off in front of him while in Baghdad's Tahrir Square. Out from Basra late last night is a video of a police truck ramming protesters into a barricade at high speed.
Other images show how demonstrators are using "tuk tuks" as ambulances. These motorized bike-wagons are used by low-income citizens for transporting goods in Baghdad and other urban centers. The bike-wagons are now being used to ferry wounded and killed protestors to hospitals. These images simultaneously evoke the economic grievances that ground these demonstrations, and the utter failures of state services to care for people—both when they're living and when they're dying.
Curfews and restrictions on movements were in place Friday night in the cities and across the provinces in the south. They were an attempt to re-establish "control." Electricity to Tahrir Square in Baghdad, the heart of the city's protests, was turned off during the night yesterday and again tonight to aid in forcefully evicting protestors from the square.
Notably, other Iraqi provinces like Anbar and Salah al-Din have seen little protest activity. These provinces were once held by Da'ish. Residents state unequivocally that they support the protests but fear that if they demonstrate they will be intentionally tarred as Da'ish supporters by state and parastatal forces in order to justify violent repression. Youth in Anbar have sent out photographs expressing solidarity with activists in other parts of the country. In the photos, activists hold up signs that show the number of killed and injured so far during the protests.
In Basra, demonstrators are taking live fire and heavy tear gas as they are being chased in residential neighborhoods. In Baghdad earlier tonight, at least 10 civilian cars without license plates and carrying armed men were seen entering Baghdad city limits. Activists also report seeing similar activity along the airport road heading towards Jadriyah Bridge. The bridge is a major connector over the Tigris River; Jadriyah, on the river's eastern bank, is home to a number of parastatal armed groups. Neighboring Jadriyah is Karada district, where anti-terrorism forces have been deployed near the entrance to M'alaq Bridge.
Also tonight, Saturday 26 October, video from demonstrators in Nasriyah show heavy violence there, with protestors bleeding out from gunshot wounds as they are carried away. In Najaf thousands of demonstrators are currently protesting in front of the Najaf Provincial Council building. And right now in 'Amara, hanging on the Misan Governorate building as protesters continue to demonstrate is a large banner that reads: "Closed by order of the people."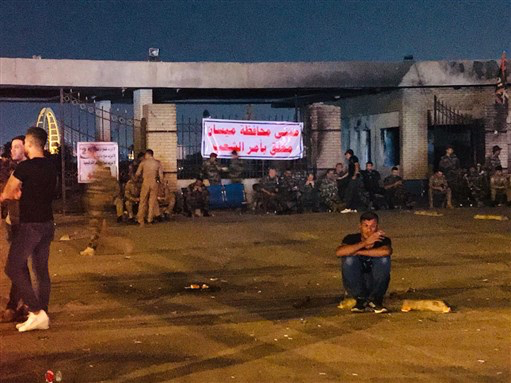 [Sign hanging on Misan Governorate building in 'Amara, Iraq on 26 October 2019. Photo by local activist.]