The Middle East Studies Program and the Ali Vural Ak Center for Global Islamic Studies at George Mason University announce the early deadline for applications for the Fall/Spring 2020-2021 academic year: 15 February 2020.
The aim of this degree program is to reposition the study of the Middle East and Islam within a global context to help students better analyze particular issues in light of current events and shifting historical paradigms. The program's core classes provide a solid background in both fields of study, however students can choose to focus their coursework on either Middle East Studies or Islamic Studies. A variety of fascinating electives allow students to gain a unique understanding of the complex issues prevalent in both fields by examining historical and contemporary subjects across different disciplines.

With the relatively recent popular uprisings in Arab countries, the transformation of social and political dynamics from North Africa to the Arab East, and our distinguished faculty's work in new media and political economy, this program is truly "a new M.A. for a new Middle East." Students will have the chance to study the region from multiple angles and explore emerging trends that shape current discourse in Middle East Studies.
The study of Islam's diverse communities, rich history, and rapidly changing political realities is also approached from a global perspective in this program to offer students a broader understanding of the Muslim experience outside of any particular regional framework. While topics in Islamic Studies occasionally intersect with those of the Middle East, the degree's curriculum incorporates subjects well beyond the limits of these borders to reflect the vast intellectual interests that define Islamic Studies today. Our faculty's expertise in Islamic history, political Islam, and different religious trends will allow students to pursue a more nuanced study of Islam around the world while attaining the necessary skills to compete in today's job market after graduation.
The early application deadline is 15 February 2020 for admission in Fall 2020. For more details on the degree curriculum and application requirements, click here.
Faculty

Amal Amireh, Shaul Bakhash, Ahsan Butt, Maria M Dakake, Robert D. DeCaroli, Leslie Dwyer, Hatim El-Hibri, Nathaniel Greenberg, Bassam S. Haddad, Sumaiya A. Hamdani, Susan Hirsch, Yasemin Ipek, Mark N. Katz, Cortney Hughes Rinker, Peter Mandaville, Eric McGlinchey, John N. Paden, Abdulaziz Sachedina, Huseyin Yilmaz
Core Faculty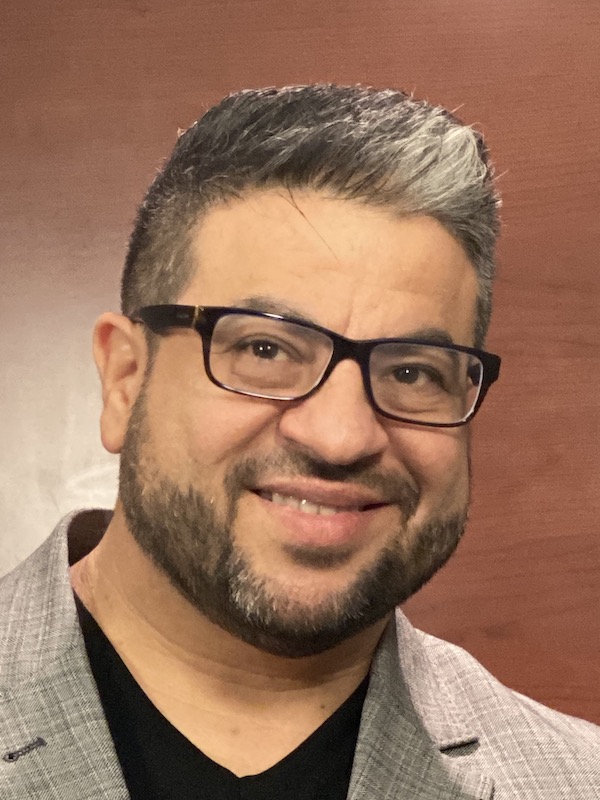 Associate Professor
Director, Middle East and Islamic Studies Program

Bassam Haddad is Director of the Middle East and Islamic Studies Program and Associate Professor at the Schar School for Policy and Government and a core faculty member in the Philosophy, Politics, and Economics program at George Mason University. He is the author of Business Networks in Syria: The Political Economy of Authoritarian Resilience (Stanford University Press, 2011) and Co-Editor of Dawn of the Arab Uprisings: End of an Old Order? (Pluto Press, 2012). Bassam serves as Founding Editor of the Arab Studies Journal, a peer-reviewed research publication, and is co-producer/director of the award-winning documentary film, About Baghdad, and director of a critically acclaimed film series on Arabs and Terrorism, based on extensive field research/interviews. Bassam is Co-Founder/Editor of Jadaliyya Ezine and the Executive Director of the Arab Studies Institute, an umbrella for five organizations dealing with knowledge production on the Middle East. He serves on the Board of the Arab Council for the Social Sciences and is Executive Producer of Status Audio Magazine.
Associate Professor

Dr. Dakake researches and publishes on Islamic intellectual history, Quranic studies, Shi`ite and Sufi traditions, and women's spirituality and religious experience. She has just completed work on a major collaborative project to produce the first HarperCollins Study Quran, which comprises a verse-by-verse commentary on the Quranic text (November 2015). This work draws upon classical and modern Quran commentaries, making the rich and varied tradition of Muslim commentary on their own scripture, written almost exclusively in Arabic and Persian, accessible to an English-speaking audience for the first time in such a comprehensive manner. She is also currently working with Daniel Madigan on a co-edited volume, The Routledge Companion to the Qur'an, and is working independently on a monograph on the concept of religion as a universal phenomenon in the Quran and Islamic intellectual tradition. 
Professor of International Affairs

Dr. Peter Mandaville is Professor of International Affairs in the Schar School of Policy and Government at George Mason University. From 2015-2016 he served as Senior Adviser in the Secretary of State's Office of Religion & Global Affairs at the U.S. Department of State where he led that office's work on ISIS and sectarian conflict in the Middle East. He has also been a Nonresident Senior Fellow at the Brookings Institution and a Visiting Senior Fellow at the Pew Research Center. From 2011-12 he served as a member of former Secretary of State Hillary Clinton's Policy Planning Staff where he helped to shape the U.S. response to the Arab Uprisings. He is the author of the books Islam & Politics (2007) and Transnational Muslim Politics: Reimagining the Umma (2001) as well as many journal articles, book chapters, and op-ed/commentary pieces in outlets such as the International Herald Tribune, The Guardian, The Atlantic, and Foreign Policy. He has testified multiple times before the U.S. Congress on topics including political Islam and human rights in the Middle East. His research has been supported by the John D. and Catherine T. MacArthur Foundation, the Carnegie Corporation of New York, the National Endowment for the Humanities, and the Henry Luce Foundation.


Director, Ali Vural Ak Center for Global Islamic Studies
Associate Professor

Dr. Yilmaz holds a Ph.D. in History and Middle Eastern Studies from Harvard University. His research interests focus on the early modern Middle East including political thought, geographic imageries, social movements, and cultural history. His most recent publications are "The Eastern Question and the Ottoman Empire: The Genesis of the Near and Middle East in the Nineteenth Century" and "From Serbestiyet to Hürriyet: Ottoman Statesmen and the Question of Freedom During the Late Enlightenment."
Prior to his appointment at George Mason, Dr. Yilmaz taught for the Introduction to the Humanities Program and Department of History at Stanford University and the Department of History at University of South Florida. Prior to that, he was appointed Research Fellow with the Internationales Forschungszentrum Kulturwissenschaften in Vienna, Austria.
His new book, Caliphate Redefined: The Mystical Turn in Ottoman Political Thought, is the first comprehensive study of pre-modern Ottoman political thought, and was published by Princeton University Press in January 2018.
Dr. Yilmaz is also the Director of the Ali Vural Ak Center for Global Islamic Studies at George Mason University.
Associate Professor

Dr. Hamdani received her B.A. from Georgetown University and M.A. and Ph.D. from Princeton University in the field of Islamic history. Her book, Between Revolution and State: the Construction of Fatimid Legitimacy (I.B. Tauris 2006) examines the development of legal and historical literature by the Ismaili Shi'i Fatimid state. Her research has also included articles and reviews in the fields of Shi'i thought, Islamic history, and women in Islam. Her teaching interests include Islamic, Middle East, and world history. Her current research examines the construction of identity in Muslim minority communities in South Asia during the colonial and post-colonial periods. Dr. Hamdani has served on advisory boards of the Middle East Studies Association, the American Institute of Yemeni Studies, and the North American Association of Islamic and Muslim Studies, among others. She also founded and was director of the Islamic Studies program at George Mason University from 2003-2008.
IIIT Chair in Islamic Studies

Abdulaziz Sachedina, Ph.D., is Professor and IIIT Chair in Islamic Studies at George Mason University in Fairfax, Virginia. Dr. Sachedina, who has studied in India, Iraq, Iran, and Canada, obtained his Ph.D. from the University of Toronto.  He has been conducting research and writing in the field of Islamic Law, Ethics, and Theology (Sunni and Shiite) for more than two decades. In the last ten years, he has concentrated on social and political ethics, including Interfaith and Intrafaith Relations, Islamic Biomedical Ethics and Islam and Human Rights. Dr. Sachedina's publications include: Islamic Messianism (State University of New York, 1980); Human Rights and the Conflicts of Culture, co-authored (University of South Carolina, 1988) The Just Ruler in Shiite Islam (Oxford University Press, 1988); The Prolegomena to the Qur'an (Oxford University Press, 1998), The Islamic Roots of Democratic Pluralism (Oxford University Press, 2002), Islamic Biomedical Ethics: Theory and Application (Oxford University Press, February 2009),  Islam and the Challenge of Human Rights (Oxford University Press, September 2009), in addition to numerous articles in academic journals. He is an American citizen born in Tanzania.


Amal Amireh
Associate Professor
Dr. Amireh received a BA in English literature from Birzeit University in the West Bank and an MA andaPhDinEnglish and American literature from Boston University. Before joining George Mason University, Amireh taught at An-Najah National University and Birzeit University (both in West Bank/Palestine).
She is author of The Factory Girl and the Seamstress: Imagining Gender and Class in Nineteenth-Century American Fiction (Garland, 2000), and is co-editor, with Lisa Suhair Majaj of Going Global: The Transnational Reception of Third World Women Writers (Garland, 2000) and Etel Adnan: Critical Essays on the Arab-American Writer and Artist (McFarland, 2002). Her writings on Arab women and Arabic literature have appeared in Signs: Journal of Women in Culture and Society, Against the Current, The Women's Review of Books, World Literature Today, and Edebiyat: The Journal of Middle Eastern Literatures.


Hatim El-Hibri
Assistant Professor
Hatim El-Hibri is an Assistant Professor of Film and Media Studies. His research and teaching interests focus on global and transnational media and the visual culture of the Middle East, and particularly the historical entanglement of media technology and institutions with the production and contestation of urban space. He is currently working on a book tentatively titled 'Visions of Beirut: The Urban Life of Media Infrastructure.' Prior to joining George Mason, he taught at the American University of Beirut.
Yasemin Ipek
Assistant Professor
Yasemin Ipek conducted her fieldwork between 2012 and 2015 in Beirut, Lebanon where she explored intergenerational moral discourses and political imaginaries on "sectarian" and "non-sectarian" Lebanon in the shadow of the devastating Syrian war and refugee flow. Unpacking how middle-class urban elites and unemployed young people from marginalized communities participate within vibrant cross-sectarian publics in Beirut, Yasemin's work focuses on the emergent practices of ethical citizenship articulated through crisis, suspension, confusion, and hope. Her analysis of ethical citizenship as an entrepreneurial activist project demonstrates that nationalism, which was proposed as a remedy for sectarian polarization and state dysfunction, obscures social inequality, marginalizes Syrian refugees and reinscribes racialized, gendered and class-based hierarchies.  She completed a secondPhDdegree in the Department of Political Science, Bilkent University where she studied political memoirs, politics of morality and conservative nationalism in the early republican Turkey.
Nathaniel Greenberg
Assistant Professor
Nathaniel Greenberg is an Assistant Professor of Arabic at George Mason University and book review editor for the Journal of Arabic Literature. His work includes the ACLA award-winning The Aesthetic of Revolution in the Film and Literature of Naguib Mahfouz (1952-1967) (Lexington 2014), Islamists of the Maghreb (Routledge 2018) with Jeffry R. Halverson, and forthcoming How Information Warfare Shaped the Arab Spring: the Politics of Narrative in Egypt and Tunisia (Edinburgh University Press 2019). Prior to joining Mason, Greenberg held positions as an Assistant Professor of Arabic and World Literature at Northern Michigan University and as a Postdoctoral Fellow in North African Studies with the Center for Strategic Communication at Arizona State University. At Mason, Prof. Greenberg teaches modern Arabic literature, film, translation and open-source media analysis. In 2015, he created the University's first BA Concentration in Arabic.
Associate Professor 

Cortney Hughes Rinker earned her Ph.D. in Anthropology from the University of California, Irvine with emphases in Feminist Studies and Medicine, Science, and Technology Studies. Her teaching and research interests are in medical anthropology, Islam, aging and end-of-life care, public policy, reproduction, Middle East Studies, development, science and technology, and applied anthropology. She conducted long-term research (2005-2009) on reproductive healthcare among working-class women in Rabat, Morocco, which turned into her book Islam, Development, and Urban Women's Reproductive Practices(Routledge 2013). Her current book project examines the diverse experiences of Muslim patients and families in the Washington, D.C. area as they interact with the health care system during serious illness and end-of-life care. Cortney analyzes faith and religious beliefs within the broader context of health economics, politics, social forces, and health care policy. In the book, she uses "actively dying" as a theoretical concept to frame the dying body as a main site through which religiosity and religious identities are formed, changed, or contested. Instead of starting from the premise that identities and beliefs are created when living she uses the deteriorating and even dead body as the basis to explore religious beliefs and identities. Cortney regularly teaches the introduction to cultural anthropology along with the undergraduate and graduate seminars in anthropological theory. She also teaches specialized courses on medical anthropology, policy and culture, globalization, religion, ethnographic methods and research design, and the Middle East and North Africa. 


Shaul Bakhash
Professor
Dr. Bakhash specializes in the history of the modern Middle East with a special interest in the history of Iran. He received his B. A. and M. A. from Harvard University and his D. Phil from Oxford University. He worked for many years as a journalist in Iran, writing for Tehran-based Kayhan Newspapers as well as for the London Times, the Financial Times, and the Economist. He has been a Guggenheim Fellow and held fellowships at the Institute of Advanced Study at Princeton and other research centers.
He is the author of Iran: Monarchy, Bureaucracy, and Reform Under the Qajars, 1858-1896; The Politics of Oil and Revolution in Iran; and Reign of the Ayatollahs: Iran and the Islamic Revolution. His articles have appeared in numerous scholarly journals and books, as well as in the New York Review of Books, Foreign Policy, The New Republic, the New York Times, the Washington Post, the Los Angeles Times, and other newspapers.
Affiliated Faculty


Ahsan Butt
Associate Professor
Ahsan Butt is an Assistant Professor of Government and Politics in the Department of Public and International Affairs at George Mason University. He received a Ph.D. in Political Science from the University of Chicago in 2012 and a BA from Ohio Wesleyan University in 2006.  
Specializing in international relations, his research and teaching generally focus on ethnicity and nationalism, security, international relations theory, and South Asia. He has several research projects in progress, including a book project, based on his dissertation, which explains the variation in state violence against secessionists by pointing to the external security implications of secessionist movements. He is also currently working on a pair of research articles. The first is on the relationship between conventional military postures and nuclear acquisition in South Asia. The second investigates the deleterious effects of the spread of nationalism from the 19th century onwards on postcolonial states' internal and external security. He also has a forthcoming article in International Organization on anarchy and hierarchy in IR theory. 
Mark N. Katz
Professor
Mark N. Katz, Professor of Government and Politics, began teaching at George Mason University in 1988.  He writes on Russian foreign policy, the international relations of the Middle East, transnational revolutionary movements, and other subjects.  
During 2017, he was a visiting scholar first at the Arab Gulf States Institute in Washington (January-March), and then at the Finnish Institute of International Affairs in Helsinki (April-September).  During 2018, he was a Fulbright Scholar at the School of Oriental and African Studies (SOAS) in London (January-March), and then the 2018 Sir William Luce Fellow at Durham University in the UK (April-June).  Links to his recent articles can be found at www.marknkatz.com.
John N. Paden
Professor
Dr. Paden received his BA in philosophy from Occidental College, his MA in philosophy, politics and economics from Oxford University as a Rhodes Scholar, and his Ph.D. in politics from Harvard University. He has served as Director of African Studies at Northwestern University, Professor of Public Administration at Ahmadu Bello University (Zaria, Nigeria), and Dean, Faculty of Social and Management Sciences, at Bayero University (Kano, Nigeria).
Associate Professor

Eric McGlinchey is Associate Professor of Politics at the Schar School of Policy and Government. He is the author of Chaos, Violence, Dynasty: Politics and Islam in Central Asia (University of Pittsburgh Press, 2011). McGlinchey's areas of research include U.S. foreign policy in Eurasia and Central Asian politics. McGlinchey received his Ph.D. from Princeton University in 2003. A list of Dr. McGlinchey's academic writings, as well as his Congressional briefings and policy papers, can be found here. 


Robert D. DeCaroli
Professor
Robert DeCaroli received his Ph.D. in the field South and Southeast Asian art history from UCLA. He is a specialist in the early history of Buddhism and has conducted fieldwork in India, Sri Lanka, and Southeast Asia.
He is the author of Haunting the Buddha: Indian Popular Religions and the Formation of Buddhism (Oxford UP 2004) as well as of several journal articles and book chapters. The majority of this work deals with early (3rd c. BCE - 5th c. CE) aspects of South Asian material culture and its interaction with forms of regional religious practice. His second book, Image Problems: The Origin and Development of the Buddha's Image in Early South Asia (U Washington Press 2015), explores the origin of the Buddha image and the social, political, and religious factors that led to its codification and spread. He is co-curator of the Encountering the Buddha exhibit at the Sackler Gallery of the Smithsonian Institution. He has been the recipient of the George Mason University Teaching Excellence Award and has received research grants from the Asian Cultural Council and the Getty Research Institute.
Leslie Dwyer
Assistant Professor
Leslie Dwyer is a cultural anthropologist whose work focuses on issues of violence, post-conflict social life, transitional justice, the politics of memory and identity, gender, critical medical and psychological approaches to social suffering, and globalizing discourses of human rights, social activism and psychosocial repair. She received her Ph.D. from Princeton University in 2001 after completing a dissertation entitled "Making Modern Muslims: Embodied Politics and Piety in UrbanJava, Indonesia." From 2001-2003 she was the recipient of a MacArthur Foundation International Peace and Security fellowship and a H.F. Guggenheim Foundation grant for field research on political violence in Indonesia. From 2003-2009 she taught at Haverford College, where she coordinated the Peace and Conflict Studies program. She joined the faculty of the School for Conflict Analysis and Resolution (S-CAR) in the fall of 2009. Professor Dwyer's current research project, which has been supported by a grant from the United States Institute of Peace, addresses the aftermath of political violence in Bali, Indonesia. 


Susan Hirsch
Professor
Susan F. Hirsch, a cultural anthropologist, is a Professor in the School for Conflict Analysis and Resolution (S-CAR) at George Mason University and Chair of S-CAR's Faculty Board. From 2009 to present, she has been affiliated in Mason's Women and Gender Studies Program. Professor Hirsch is the Principal Investigator for the Undergraduate Experiential Learning Project funded by the U.S. Department of Education's Fund for the Improvement of Postsecondary Education (FIPSE), 2011-2013. She is also a recepientof the Point of View Working Group Grant that aims at promoting better learning through practice, 2010-2011. Her current major research and book project (with Dr. Frank Dukes) focuses on conceptualizing stakeholders in the conflict over surface mining in Appalachia. Professor Hirsch's most recent book, titled In the Moment of Greatest Calamity: Terrorism, Grief and a Victim's Quest for Justice (Princeton University Press, 2006) is a reflexive ethnography of her experiences of the 1998 East African Embassy bombings and the subsequent trial of four defendants. 


[The Arab Studies Institute (ASI), Jadaliyya's umbrella organization, is now affiliated with George Mason University and with this MA program. Applicants may indicate if they are interested in joining any of ASI's projects: Arab Studies Journal, Tadween Publishing, FAMA, Quilting Point, Jadaliyya.]