Lebanon is in the throes of a mass uprising that began on Thursday 17 October 2019, which both was and was not the result of a proposed tax on WhatsApp calls. The movement is unprecedented in both scale and ambition. To zoom out by even one day, there was profound anger at the government's non-response to widespread wildfires. The state's failure to maintain its fire-fighting aircraft worsened the situation, whereas the anti-riot water cannon vehicles were in working order. The grounded aircraft were symptomatic of a corrupt ruling regime, profoundly dysfunctional politics, and worsening living conditions amidst an economic crisis. To zoom out a step further, the protests have maintained largely peaceful calls for the downfall of the regime that has delivered neoliberal austerity and a crumbling status quo, when it delivers anything at all. Lebanon, then, is quite like many other places that are featuring uprisings—Algeria, Iraq, and Sudan in the Arab world, but also Argentina, Chile, Haiti, and Hong Kong. In Guinea, thousands of protesters (thirty thousand according to the government; 1.5 million according to organizers) took to the streets on 24 October 2019 to oppose President Alpha Conde's suspected plans to stay in power for a third term. Clearly, dysfunctional politics, widespread corruption, and dire living conditions seem to be common threads to many of these protests. What does WhatsApp have to do with it? And what can be learned about the current protests in Lebanon by looking at Guinea, another country with a protest movement also entangled in the dynamics of the telecom industry?
The Lebanese WhatsApp tax was a straw that broke a camel's back, but what made it a straw to begin with? Taxing data seems to strike a social nerve, a more specific way that taxation can spark protest. One would have to be very naive indeed to not understand the importance of WhatsApp in Lebanon. The app is almost inseparable from mobile phone use as a whole due to the country featuring some of the most expensive phone and data rates in the world. The tax would have cut into the fabric of many kinds of social interaction and coordination, particularly for the unemployed and working poor. Given the status quo regime's preference for indirect and regressive taxation, it is clear that the widespread use is what made it a desirable object on which to levy a tax. But this, in turn, begs the question of why it appeared as a taxable object to begin with. If Lebanon is a country with crumbling infrastructure that cannot manage many basic forms of governance and very low rates of non-automated tax recovery (such as VAT collected at point of sale), what made WhatsApp taxable to begin with?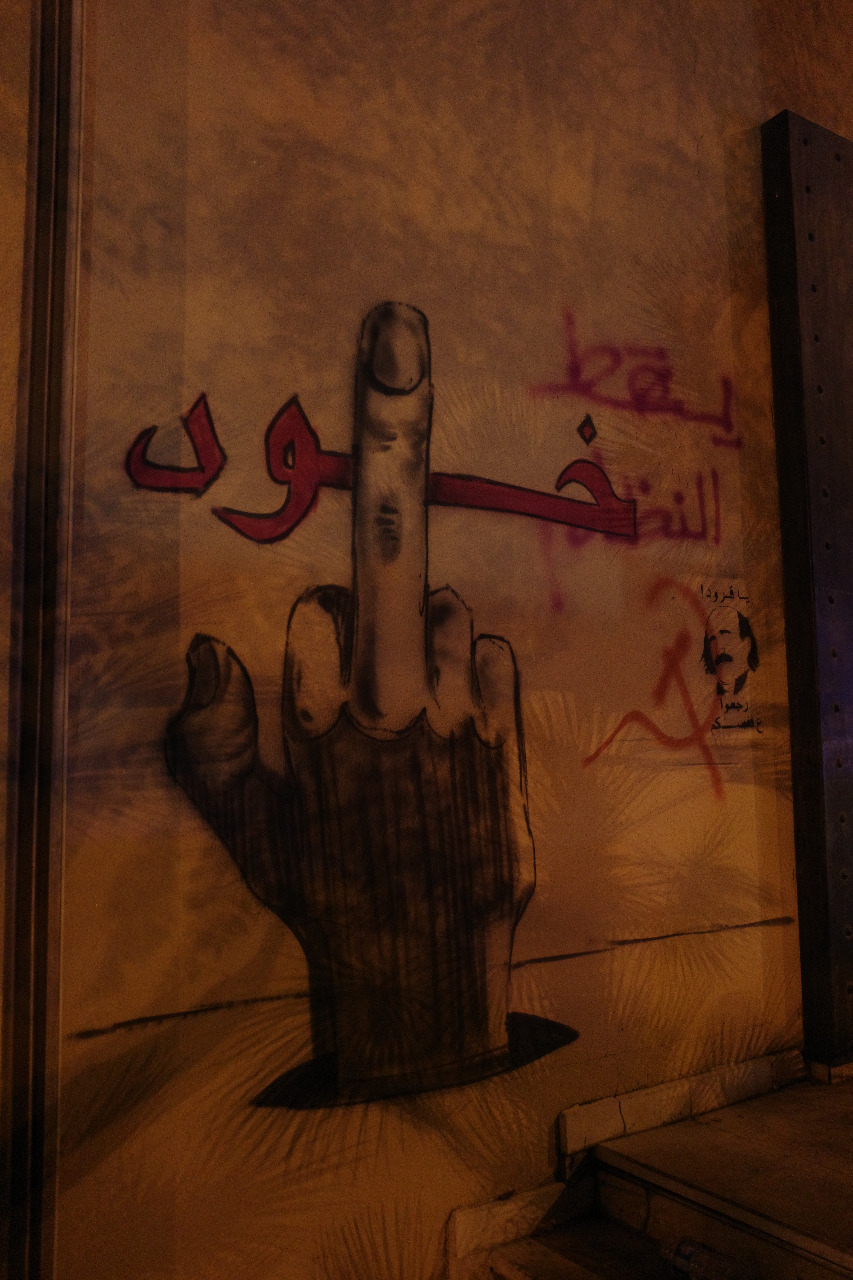 [Anger can become humor. Photo by anonymous.]
Taxation requires that a fiscal entity—something or someone—be made legible, located, and counted. The metaphor of the bottleneck is often used to describe those places and moments where large numbers of things can be easily accounted for in ways that render them taxable. In countries such as Guinea (or Lebanon) with little history of establishing a physical address system, the digital infrastructures behind Internet-based communication technologies create multiple bottlenecks where new forms of fiscal pressures can be easily and cheaply applied. This is especially the case in contexts when telecom companies are effectively controlled by the elite, who are also the political class (as is the case with Alfa and MTC in Lebanon). Saying that Lebanon and Guinea (or many other African countries) do not have established physical addressing systems does not mean that location and address have gone unregulated, untaxed, or illegible to the state. In the metropole, physical addresses were part of the arrival of modern systems of taxation and representation, and presumably a reciprocity with the state. In many other countries, the lack of a consistent physical addressing infrastructure is part of the geographically uneven failure of colonial (and postcolonial) modernity to achieve permanent fixed relations between location and citizenry. This means the arrival of a digital addressing infrastructure solves a very particular problem of how to coerce a populace into paying into a state that it also has not been a given a reason to feel is responsive to their needs. And it makes digital infrastructures particularly contentious in moments of protests.
It is quite telling that as soon as protests against Alpha Conde's third presidential term in Guinea broke out on 14–16 October, Internet users in the country started reporting disruptions to their connections that made it impossible to upload images and videos from the protests. Although it is difficult to ascertain whether this was part of a concerted effort by the Guinean government to turn off or slow down the Internet, the situation was serious enough to warrant focused tracking from several organizations such as Net Block or Access Now. What is at stake here is that digital platforms such as Facebook, Twitter, and WhatsApp have become central to the organization of protests, enabling instant communication and coordination in ways that were previously expensive and often inaccessible. At the same time, these technologies can allow very precise regulation of protests—going hand in hand with state and counter-revolutionary violence. Access Now, for instance, has counted 371 documented Internet shutdowns between 2016 and 2018, making shutting the Internet one of the increasingly favored tools of counter-protest management. Thus far, there have been no attempts to turn off the Internet in Lebanon.
Whereas shutdowns have typically received the bulk of attention, the taxation of specific platforms should also be seen as forms of government-orchestrated Internet slowdowns aimed at limiting citizens' access to a global resource. The justification of Internet taxes is typically mired in technocratic language and presented as financially necessary, rather than an extension of the class project of extracting value from life itself. To draw another comparison, the case of Benin in August 2018 was perhaps most clear in its intentions when proposing to tax Facebook, Twitter, and WhatsApp. As the finance minister explained at the time: "you share an image on WhatsApp criticizing the government or your friends; you are free to do it, but you pay a slightly higher price." Internet taxes are not just one additional tax but also a new form of taxation altogether, and one that can differentiate usage and content in novel and powerful ways.
WhatsApp and mobile tech are both the lifeblood of a great deal of social interaction, but also the means by which people become legible to and trackable by the state and powerful and malignant corporations like Facebook. Facebook Live and WhatsApp video calls have been crucial forms to Lebanon, but also enable channels of repression. The almost immediate outrage that followed the announcement of the WhatsApp tax was felt so widely precisely because of how nearly universal everyday WhatsApp usage is, and how unfair that this measure was even being considered in light of corruption that was as deep as it was public.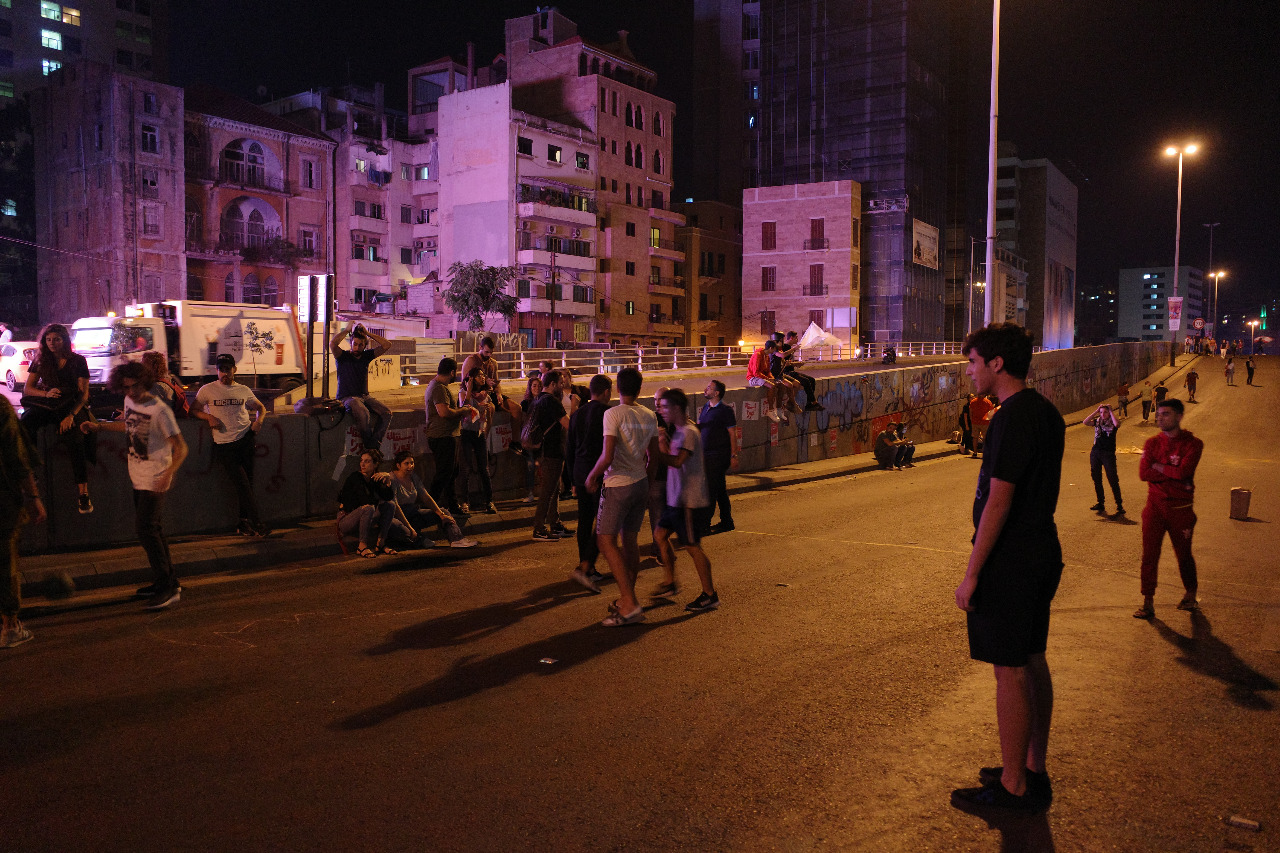 [Protestors transformed "the Ring" - a major highway near Beirut's city center - into an impromptu football pitch (October 27). Photo by anonymous.]
It is no coincidence, then, that the revolution in Lebanon has been effective by occupying major thoroughfares and halting circulation, whereas the counterrevolutionary forces in the country have sought to reopen them—to return things to business as usual. It is also no coincidence that in both Guinea and Lebanon, the talking heads of regime and status quo politics have given televised addresses that seek to minimize, discount, or discredit the significance of the people in the streets. Sometimes revolutions make it so that rationalizations for inequality sound like unfeasible and unrealistic nonsense. Signal/noise ratios reverse, and it is the speeches of the regime's defenders that become incomprehensible rather than the collective voice of protest. 
Taxation without representation, but one that is a bitter pill to swallow when it is administered without the possibility of flourishing now or in the future. On the one hand, the accumulated cruelties and depredations of regimes around the world have led to immiseration, humiliation, and narrowed horizons for the future millions. But on the other hand, they have a way of clarifying who and what is responsible for the status quo, and social and political formations that could replace them. Revolutions always have uncertain outcomes, but in their best moments, they show that in the streets, another world is possible.
Going back to WhatsApp, could a reverse tax be possible? Instead of the twenty cents a day, six dollars a month being added to someone's account, the digital addressing infrastructure could just as easily be used as a mechanism for economic redistribution.