[Updated as of 1 July 2020]
Since 17 October 2019, one of the most pressing concerns for Lebanese living abroad has been access to reliable sources of information about the uprising happening in our home country. Obviously, the sources of information we rely on influence our opinions. Perhaps unsurprisingly, those who follow mainstream Lebanese media are increasingly less informed and more pessimistic about the realities on the ground.
Of the nine different Lebanese television stations, only government-owned Télé Liban is unaffiliated with any of the Lebanese political parties. Ironically, Télé Liban is the only station not covering the ongoing protests. Different political factions have for years used the remaining stations as propaganda outlets. Their coverage of the current protests has only come to emphasize their own implicated positionality. Relying almost exclusively on live coverage, these different channels either broadcast a wide shot of protests and public spaces, or more frequently, feature a reporter interviewing different protesters while repeatedly asking the same questions. This type of reporting has highlighted mostly one dimension to these protests: an angry debacle imposing road closures, interspersed with occasional scenes of conflict or tension among protesters or between them and other residents.  And despite a few noteworthy efforts by a couple of the local stations, the depiction of the protests omits much of the everyday life nuance.   
Meanwhile, grassroots mobilizations have developed in ways beyond mere articulations of anger and frustration. Relatedly, Lebanese revolutionaries have created their own news outlets. They are covering the different debates, teach-ins, and artistic gatherings; providing deeper analysis of micro- and macro-level developments; and—perhaps most importantly—creating structures for disseminating critical and time-sensitive information. Since the beginning of the revolution, a fresh network of news sources has emerged. 
Below, is a running sample list of Lebanon-based alternative news outlets that counter the dominant and self-serving narratives pushed by almost all the major television stations in Lebanon. The list is comprised of six sets of online platforms. While many more platforms have emerged in the last few weeks, this selection is limited to those that produce original content and circulate it regularly. This listing will be periodically updated.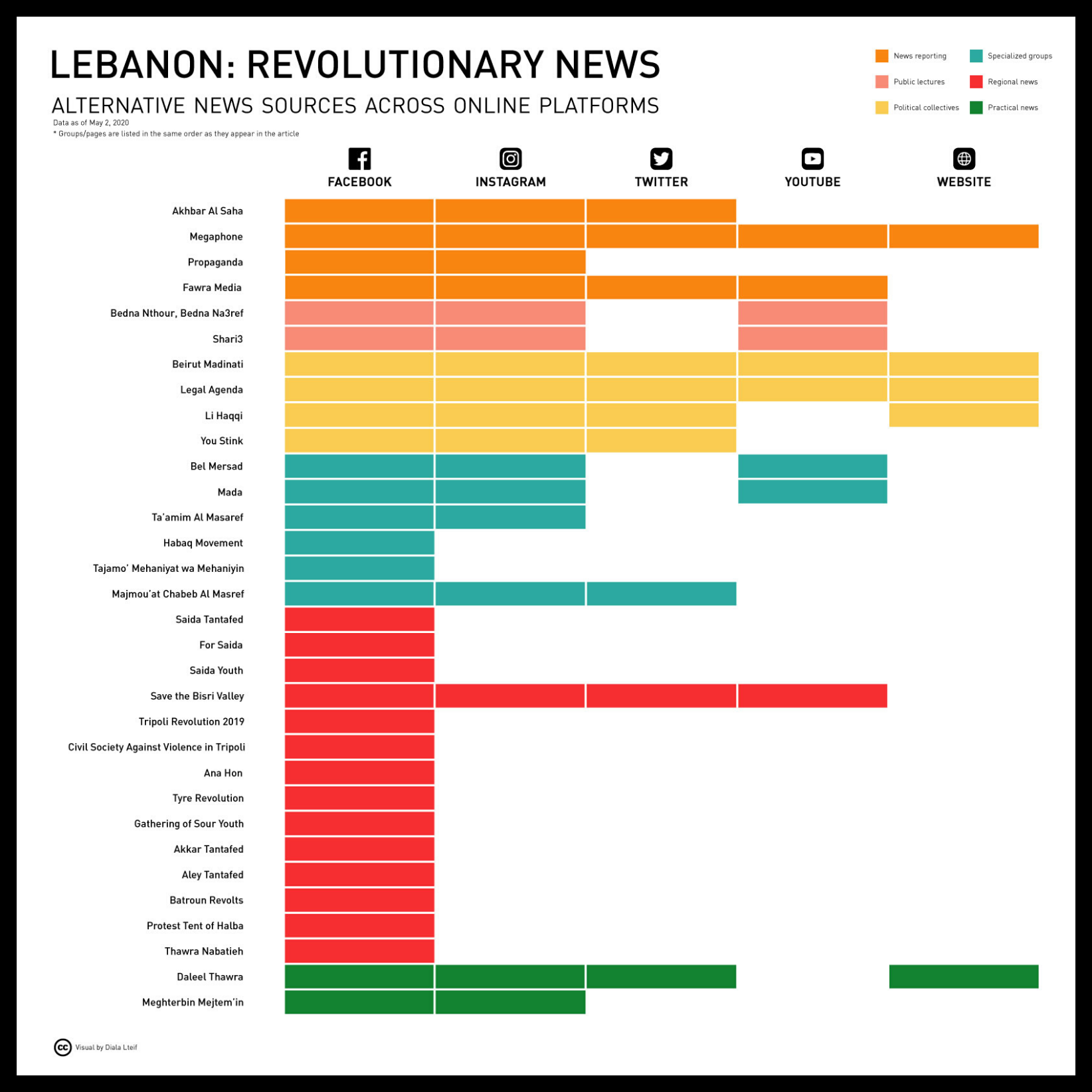 1. News Reporting

This first group includes platforms that systematically cover updates of the revolution while providing critical input and insight. This specific category of outlets is particularly important as they counter the mainstream media's approach in covering the current mobilizations. The Lebanese television channels have, for example, avoided broadcasting state violence and in some cases manipulated facts on the ground. The agendas of Lebanese mainstream media have become more evident and thus created a need for alternative sources of information that more accurately depict the streets of Lebanon.  
Akhbar al-Saha - أخبارالساحة
Facebook (Arabic), Facebook (English), Twitter, Instagram
Akhbar al-Saha (Arabic for "news from the arena") gained prominence in the very early days of the revolution. They operate an always up to date Facebook page with over forty thousand followers. The project started in 2015, with a group of independent feminist activists who had a clear mission to challenge the misrepresentation of civil rights protests by the Lebanese media. Akhbar al-Saha has today become one of the most reliable sources on the current mobilizations. They specialize in their on-the-ground reporting style, often posting raw and unedited content to quickly communicate what is currently happening. You can always rely on them to cover any noteworthy action taking place at any given time across Lebanon. Their regular posts requesting support for specific protesters and areas have also transformed their role into one of mobilization, as they play a role in guiding people to where their presence is most needed. 
Akhbar al-Saha relies on a network of volunteer anonymous reporters, and only publishes information after verification. The group reports faster and more reliably than most other outlets, including major news sources that have quickly started to depend on them for news (see this example of L'OLJ). 
Finally, it is important to note that their Instagram does not include the same content as their other platforms and instead presents a form of commentary on the current political and economic climate using a curated content of artworks and videos. More recently, Akhbad al-Saha has added an English-language Facebook page which it updates with the latest news.
Megaphone - ميغافون
Facebook, Twitter, Instagram, YouTube, website
Created in 2017 by a group of young journalists, activists, and designers, Megaphone is today known for producing well-curated news segments. The platform exists on social media but also on a dedicated website, and publishes videos of the different mobilizations and major events, an end-of-day roundup of important news (in Arabic and English), and Arabic opinion pieces by prominent voices from the revolution. With a distinctive visual identity and beautiful overall aesthetic, the platform presents high-quality content with critical analysis of particular situations and events—most notably their dissection and analysis of the different speeches of the Lebanese political elite. They are also often breaking stories from the ongoing mobilizations, helping people understand the interconnectedness of some incidents or their historical context and genealogy while also addressing topics that have until now been taboo. 
Megaphone is most importantly contributing to sharing voices that the mainstream media typically excludes, often running segments focused on the role of marginalized communities, such as feminist or queer communities, in the current protests. 
The platform relies on a team of young journalists and videographers who have mostly preferred to remain anonymous behind their cameras. The team shoots and produces their own content, often going beyond just the coverage of the protests by including interviews with experts who provide further analysis and context. The high quality of their production has attracted international attention, including a recent article in Al Jazeera English which proclaimed the platform "the voice of Lebanon's uprising."
Propaganda - بروباغندا
On Facebook since 6 March 2020, this newest addition to the revolutionary pages roster brings much-needed historical analysis into the mix. Under the slogan "analyze, incite, mobilize" (حلّل.حرّض.تنظّم.), the group creates content meant to mobilize people through a thorough analysis of mainstream media content, interspersed with historical and contemporary events. With a very distinct visual style and clear leftist politics, the page presents critical investigative journalism in an accessible format. Make sure to watch one of their earlier videos exposing the mainstream media's effort to expunge politicians and private banks from their implication in the current economic crisis (here).
The Public Source 
Facebook, Instagram, Twitter, website 
This platform provides an outlet for long-form articles by journalists, researchers, and public intellectuals, particularlly those reflecting on the current situation. Follow them for some critical and analytical content, often published in both Arabic and English.
Fawra Media 
Facebook, Instagram, Twitter, YouTube
This volunteer-run independent media outlet covers the street life of the revolution.
2. Public Lectures and Knowledge Production

Another great omission by the mainstream media has been the public lectures and teach-ins occurring daily across the country. The television stations almost never feature these events. This is an important gap to fill because these knowledge sharing events have been key in keeping the movement's momentum by educating and informing people on their rights and the possibilities for change.
Bedna Nthour, Bedna Na3ref - بدنا نثور، بدنا نعرف
Bedna Nthour, Bedna Na3ref (Arabic for "We want to revolt. We want to know.") is dedicated to organizing and recording expert talks since 24 October 2019. Initially shot in the Gibran Khalil Gibran garden (and more recently in indoor locations due to rainfall) this platform's videos adopts the same format whereby speakers give a short talk on a specific topic, followed by a Q&A and discussion with attendees. Topics are economic, political, and cultural in nature; they include the most pressing issues for protesters like currency devaluation, safety of protesters and privatization of the public domain. Although their YouTube channel features some talks in their entirety, they remain more active on their two other outlets—Facebook and Instagram—where they announce all upcoming talks and later upload them in shorter snippets.     
Shari3 - شارع
Less popular than others listed here, Shari3 (Arabic for "street") is a noteworthy community initiative run by local artists and active online since 26 October 2019. They, too, specialize in recording, editing, and posting online public lectures held by different experts and have also begun interviewing specialists for more in-depth exposés of discrete issues. They post full lectures on their YouTube channel and edited down versions on Facebook and Instagram. Appropriate for their name, the group posts videos from the street that portray individual protesters. Their video "the revolution continues" was shared hundreds of times and can be found here. 
3. The Political Collectives

Pre-existing civil society movements have become more active in the revolution, producing specialized content to inform, educate, and mobilize people. Within their different fields of expertise, these groups also contribute to highlighting particular demands and goals of ongoing mobilizations. 
Beirut Madinati - بيروت مدينتي
Facebook, Instagram, Twitter, YouTube, website
Started in 2016 for the Beirut Municipal elections, Beirut Madinati (Arabic for "Beirut my city") has since transformed into a political project advocating for an alternative governance model beyond the sectarian political system. They have increased their activities in recent weeks, taking on the role of mobilization and education while keeping their urban focus. Since October 2019, they have started to regularly hold "masahit nikash" (Arabic for "space for debate") across different cities in Lebanon, to further explore the relationship between political and urban change. These events take two shapes, either a presentation by an expert followed by a conversation, or just town hall type gatherings where people express their opinions and voice their concerns. Most of these debates are later uploaded in video format on their Facebook page. Beirut Madinati also regularly produces and posts images and short videos to explain a specific demand, break down an unjust law, or even share some important facts and figures about the current political system. 
Legal Agenda - المفكرة القانونية
Facebook, Instagram, Twitter, YouTube, website
With ten years of publications, critical legal analysis, and public events, the Legal Agenda needs no introduction. As one of the most prominent civil society voices in Lebanon, this group has stepped up their game with the current revolution. Taking their role seriously, they have increased their production of educational videos and publications offering a detailed analysis of different proposed laws and protesters' rights. Most notably they created a video explaining to protesters what to do in case they or their friends get arrested (here) and have written several posts about labor rights in Lebanon. 
Li Haki - لحقي
Facebook, Instagram, Twitter, website
Li Haki (Arabic for "my right") is a political group born in 2017 to advocate for a participatory democratic alternative. The group was particularly active during the last parliamentary elections. Since the Lebanese revolution began, they also became active in organizing roundtable discussions and public teach-ins, with a focus on political and social change. Their talks bring in experts to discuss serious alternatives or often to flush out protesters' demands and how they would look in practice. Under the slogan "power to the people" (القوة للناس), the group is also actively organizing marches and protests, and posts live videos about all of their mobilizations on their social media pages. Li Haki has been producing educational videos breaking down protest demands and explaining the legal and economic avenues to realize them, such as their video explaining the criteria for a transitional government (here). 
Worthy of a special mention in this category is the You Stink – طلعت ريحتكم page (Facebook, Instagram, Twitter), with over 310,000 followers on Facebook alone. Created in July 2015, amidst the garbage crisis in Lebanon, the group has increased their activity since 17 October 2019.
4. Specialized Groups
In this section, I have selected some of the specialized collectives that offer a distinct and discrete look into the revolution. With a focus on one group, issue, or approach, these platforms allow an in-depth look into this revolution through their deep dive into a specific issue.  
Bel.Mersad - بالمرصاد
This collective of artists and designers came together using social media platform as the revolution began (their first Instagram post is on 18 October 2019). Using a bold and colorful visual language, the platforms use art and design to create catchy images that reflect upon and engage with the socio-political context in Lebanon. Using the name Bel Mersad (Arabic for "being on the lookout") they have declared themselves the active observant of these mobilizations and most importantly the state. The visuals they produce have been predominantly visible in the mobilization, as a beautiful visual allegory voicing people's demands. Most notable is their "fill in the blanks" visual which says "Independence of ---- from ----" which went viral. They were also behind the genius idea of creating masks from politicians and public figures' faces for protesters to wear (here protests with the Riad Salamé mask). Their page is one of the most visually compelling perspectives of the revolution, seen through the eyes of artists. 
Mada - مدى
Active since September 2017, the Mada network covers issues affecting youth, such as university tuition costs and elections, while reclaiming their role as political actors. This student run platform represents the non-partisan factions within this community and since the beginning of the revolution has dedicated their platform to student mobilization across campuses. The Mada platform presents the fresh outlook of students and youth in the revolution, a critical voice often excluded by others. 
Ta'amim Al Masaref - تأميم المصارف
Active online since mid-November, this group of activists came together with a clear political project: the nationalization of the banking sector in Lebanon. Under the slogan "nationalization is the solution" (التأميم هو الحل), the group exclusively organizes and covers mobilizations and interventions targeting the banking sector, such as the otherwise unseen interventions inside local banks (here or here). As the financial crisis worsens by the day, following this economic resistance is an exercise in regaining hope and imagining alternatives—ones that were not even fathomable before 17 October.
Special mention: Along the same lines, the newly founded Tripoli based, Habaq initiative -  حبق (Facebook) explores an alternative for food governance. They have been active since 1 December, and we can expect more activity from them in the days to come.  
Tajamo' Mehaniyat wa Mehaniyin - تجمع مهنيات ومهنيين
This Facebook page, active since 28 October 2019, is a gathering of independent labor movements and unions. Dedicated to organizing labor across fields, the group includes doctors, nurses, pharmacists, architects, journalists, social scientists, etc., who have come together to declare openly their support and participation in the ongoing protests against the ruling class (you can read their entire manifesto here). The page, only on Facebook so far, is dedicated to labor rights and organizing and highlights the important role of unions in this classist fight. 
UPDATE: As the Lebanese economic crisis worsens, pages focused on actions targeting the banking sector have taken on a new meaning. Along with the very active Ta'amim Al Masaref (listed above), the groups below also deserve attention. 
Majmou'at Chabeb Al Masref - مجموعة شباب المصرف
This youth group operates under a very clear slogan: toppling the banking sector regime (يسقطحكمالمصرف). The team has been unrelentlessly protesting and documenting their mobilization, despite the COVID-19 outbreak. While many groups had lost some stamina, or slowed down on their mobilizations, this group kept pushing through. Often targeting the central bank, they will also not hesitate to pay private banks across the country a visit. As a note, I would recommend this page only for those who enjoy watching flaming molotovs set these institutions on fire. 
There are other resources useful for understanding the Lebanese economic crisis. First, the Shinmimlam website, which is an interactive platform that allows users to see how the different Lebanese institutions are connected through a visualization of the connections between their board members and managers. Second, ellira is a frequently updated website with aggregated data on the current (market) exchange rate of the Lebanese Lira. It also hosts years of state budgets, customs statistics, and other important data on financial institutions. Finally, Finance4Lebanon is dedicated to English-language analysis of the current economic situation in Lebanon.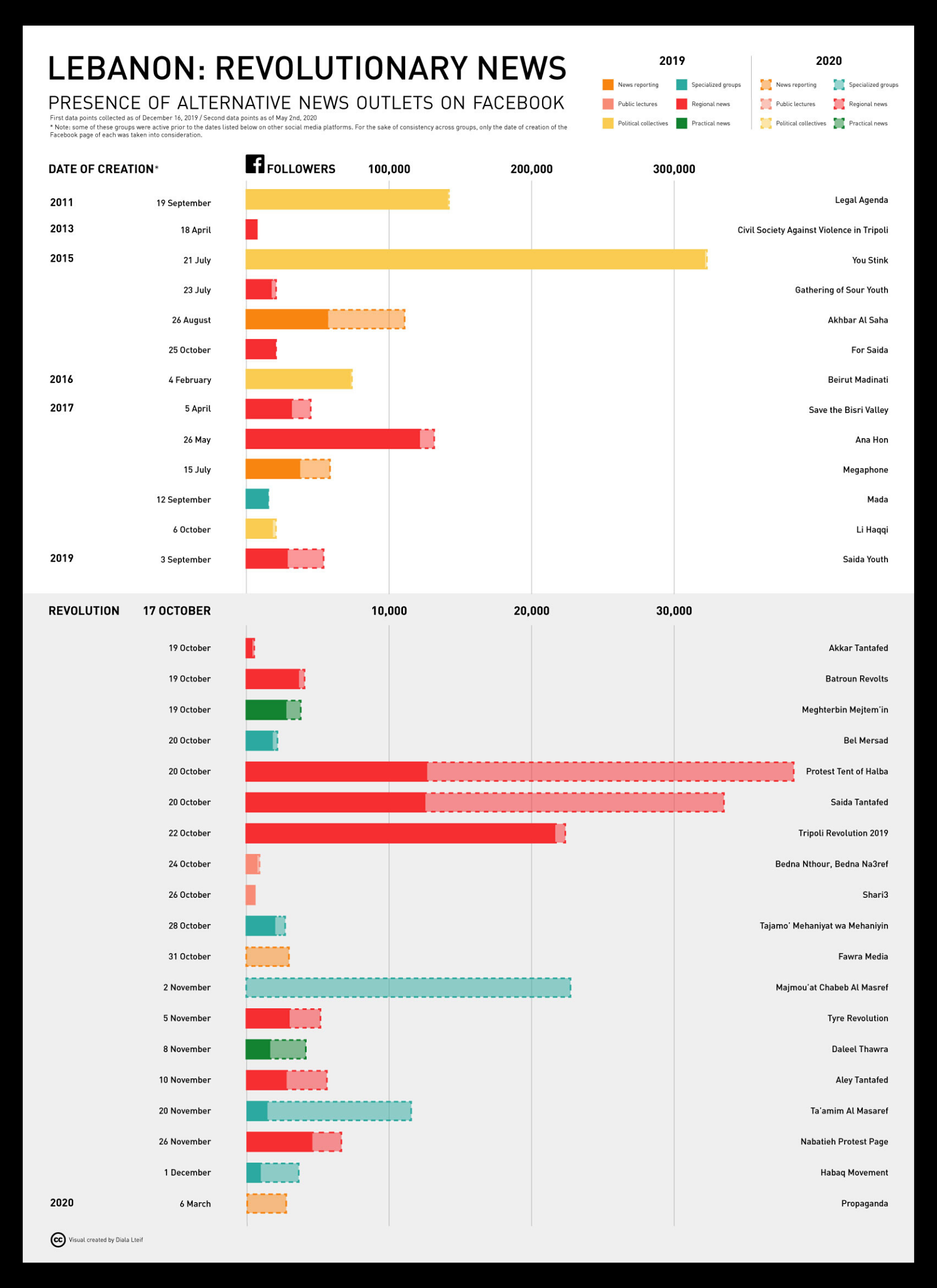 5. Decentralized News

Unprecedented in Lebanon's current mobilizations is their decentralized nature. Cities like Tripoli, Saida, and Nabatieh have been experiencing more consistent mobilizations than the capital Beirut. In these different geographies, the demands have been more specific and the organizing more targeted, yet largely absent from mainstream media coverage. The pages below were created to report from these alternative locations. 
Saida Tantafed - صيدا تنتفض
Moderated by the people of Saida, this page follows the mobilization of the activists in the city and its vicinity. The group reports on an otherwise undocumented aspect of the Lebanese struggle as the people fight for their rights, such as access to public spaces. In one video, we see masked men dressed in red overalls (in reference to the now popular Netflix show La Casa De Papel) cut the chains around the gates of the Kenayat Park (منتزه الكينايات) reclaiming their right to access this public garden. Annexed posts provide further explanation about the privatization of the land plot. The page also follows other everyday mobilizations by the people of Saida. 
Other noteworthy pages from Saida: For Saida - منأج لصيدا (Facebook) and Saida Youth - شباب صيدا (Facebook).
Save the Bisri Valley - أنقذوا مرج بسري
Facebook, Instagram, Twitter, YouTube.
The Lebanese mobilizations and demands have not been restricted to the urban centers. The "Save the Bisri Valley" group, active since 2015, have intensified their organizing in early November 2019 to halt the construction of a damn meant to be built in the Bisri valley located between Jezzine and the Chouf Mountains and funded in large part by the World Bank. Through their social media platforms, the campaign has been educating people on the devastating ecological and economic consequences of this project while creatively mobilizing people to join their fight. Their Facebook page includes informative videos with English subtitles clearly explaining the issue, along with live coverage of their creative "camp as resistance" movement.  
Tripoli Revolution 2019 - طرابلس تنتفض للبنان
Tripoli has been dubbed عروس الثورة (Arabic for "bride of the revolution"), or the crown jewel of the revolution, due to its relentless political activity. With daily mobilizations and events, creative chants and targeted actions, this northern city has not received enough media attention. The Tripoli Revolution 2019 Facebook page documents this active city with a detailed calendar of events posted every morning, an end of day news recaps, and even more frequent videos about the different gatherings in Sahat al-Nour and beyond. If you have not learned the creative Tripoli chants by now, then you are under-informed about the Lebanese revolution! 
Other noteworthy pages from Tripoli: Civil society movements against violence in Tripoli - تجمع الحملات المدنية ضد العنف في طرابلس (Facebook), Ana Hon - أنا هون (Facebook)
Tyre Revolution - صور تنتفض
In the southern city of Tyre, the mobilizations may be smaller in numbers but they are notable in their importance. Under the very strict patronage of leading political factions, the defiance of the people of Sour comes at great personal risk. The courage of the people of Sour needs far more acknowledgement. Through the Tyre Revolution Facebook page, we see the people of Sour protest in front of their local central bank branch to object to their financial policies, gather to hold public debates, or even enjoy their own revolutionary concerts.  
Another noteworthy page from Tyre: Gathering of Sour Youth - شباب صور ومنطقتها (Facebook) 
As a final note, this section only begins to address the importance of these decentralized mobilizations through a small selection of a few local pages. Many more groups are actively covering actions happening in other areas and smaller cities which are equally, if not more, noteworthy, such as Akkar/Halba, Aley, Batroun, and Nabatieh to name a few.  
6. Staying Informed

An important aspect of staying informed on the revolution is following the different events and mobilizations taking place. These are important for the people actively participating but arguably more important for those who are afar and want to understand the geography of this revolution.  
Daleel Thawra - دليل ثورة
Facebook, Instagram, Twitter, website 
Daleel Thawra (Arabic for "directory of a revolution") went live on Instagram 24 October 2019 where they have since gathered over 23K followers. The page aims to create a centralized inventory of all the initiatives, requests, and resources of the Lebanese uprising. The group has created a consolidated platform updated daily based on five distinct categories: [1] "Events," which include any upcoming events such as organized protests, public talks or group mobilizations; [2] "Resources" for protesters such as safety tips and access to specific services; [3] "Inspiration" or videos showing notable moments from the mobilization i.e., a women's march or the human chain event; [4] "Urgent Needs" on the ground such as requests for supplies or even blood donations; and [5] "Directory" an extensive list of local organizations and key contacts.    
The platform entirely crowdsources its information whereby people submit an event or request to the Daleel Thawra team through forms made available on their website. People can also write back with any errors they find. The team is decentralized with some members based outside Lebanon but still helping to manage content remotely, in both Arabic and English.  
Meghterbin Mejtemiin - مغتربين مجتمعين
The current mobilizations found their way beyond the Lebanese territory through solidarity events organized by the Lebanese diaspora in support of the revolution. This platform, under the name Meghterbin Mejtemiin (Arabic for "united diaspora"), came to be a centralized platform for all the different initiatives around the world. Their page claims to cover events over five continents and over fifty cities and extends the geography of this movement both literally and metaphorically. Through grassroots virtual organizing, their platforms stay updated with the latest solidarity events happening at any given time. 
Deserving special mentions are additional resources that in many ways represent the grassroot nature of this political moment. First, the Lebanon Revolts website which exclusively broadcasts live feeds from Beirut and Saida's main public spaces. Second, the Lebanon Protests website, a map of the frequency and location of the different mobilizations. These two pages have not been updated recently, thought they merit mention because of the stated reason.
For the archive fans out there, check out the Lebanese Revolution, a day-by-day compilation of news (aggregated from multiple sources) to document the ongoing revolution.
Finally, I cannot conclude this article without mentioning the revolution's own newspaper, 17 Teshreen(or "17 October"). Published a few weeks ago in its first print issue, the three thousand copies disappeared within seconds of hitting the streets. Thankfully, an online version has been made available recently on their website (here).