In 2016, I worked on a collaborative photography exhibit titled 2Gether – Portraits of Duos in Harlem and the Bronx with my friend and colleague Tau Battice, a photographer and lecturer at the City University of New York. Born in St. Kitts-Nevis and based in Harlem, Tau provided me an opportunity to taste the rich, thriving, and diverse peoples and cultures of Harlem and the Bronx.
The goal was to create a collaborative exhibit, which accentuated and merged our unique, complementary vantage points–Tau as a local with a history in Harlem and the Bronx, having close relationships with its people, and myself the outsider, observer and guest, a white Jew, American-Israeli academic.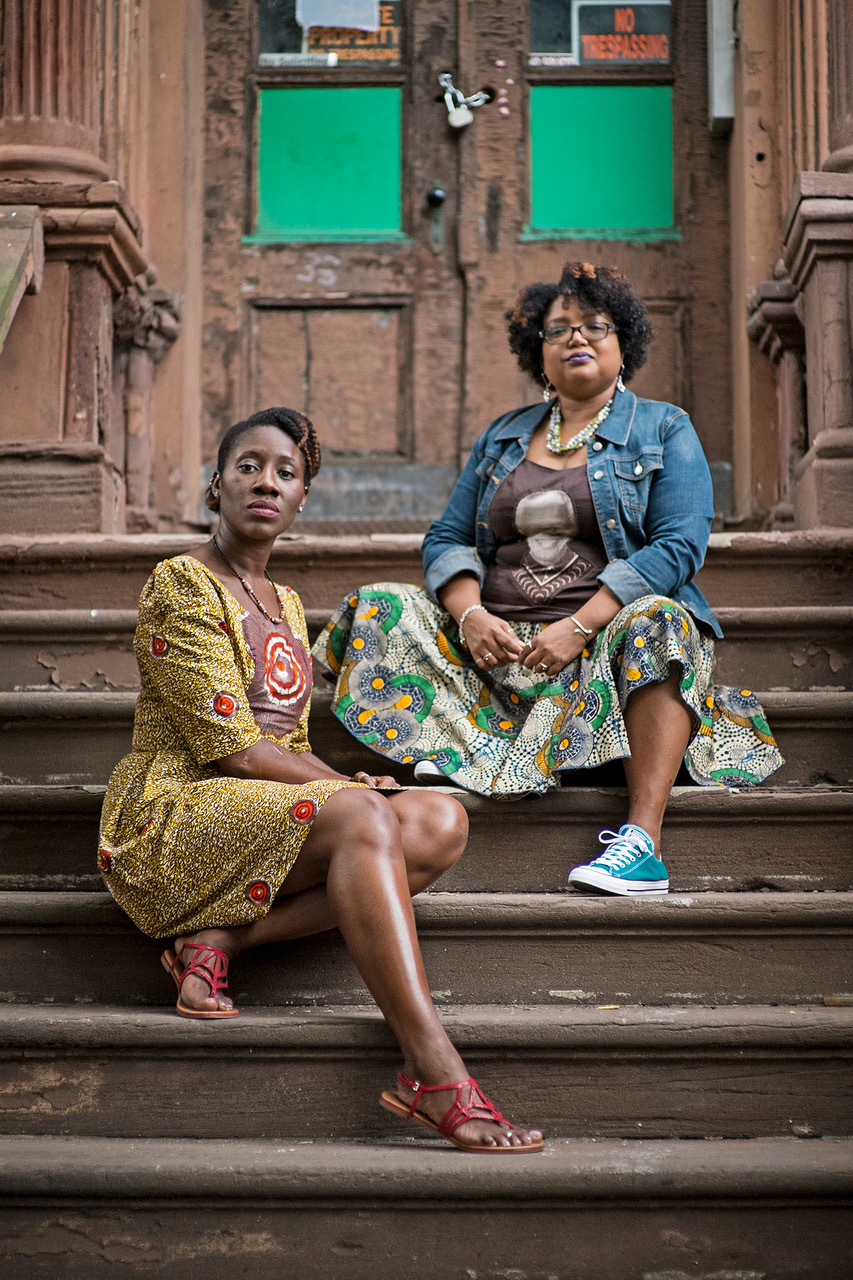 Marcelle, 47, Ph.D. (with Nelson Mandela t-shirt): "She is the sister I would pick for myself."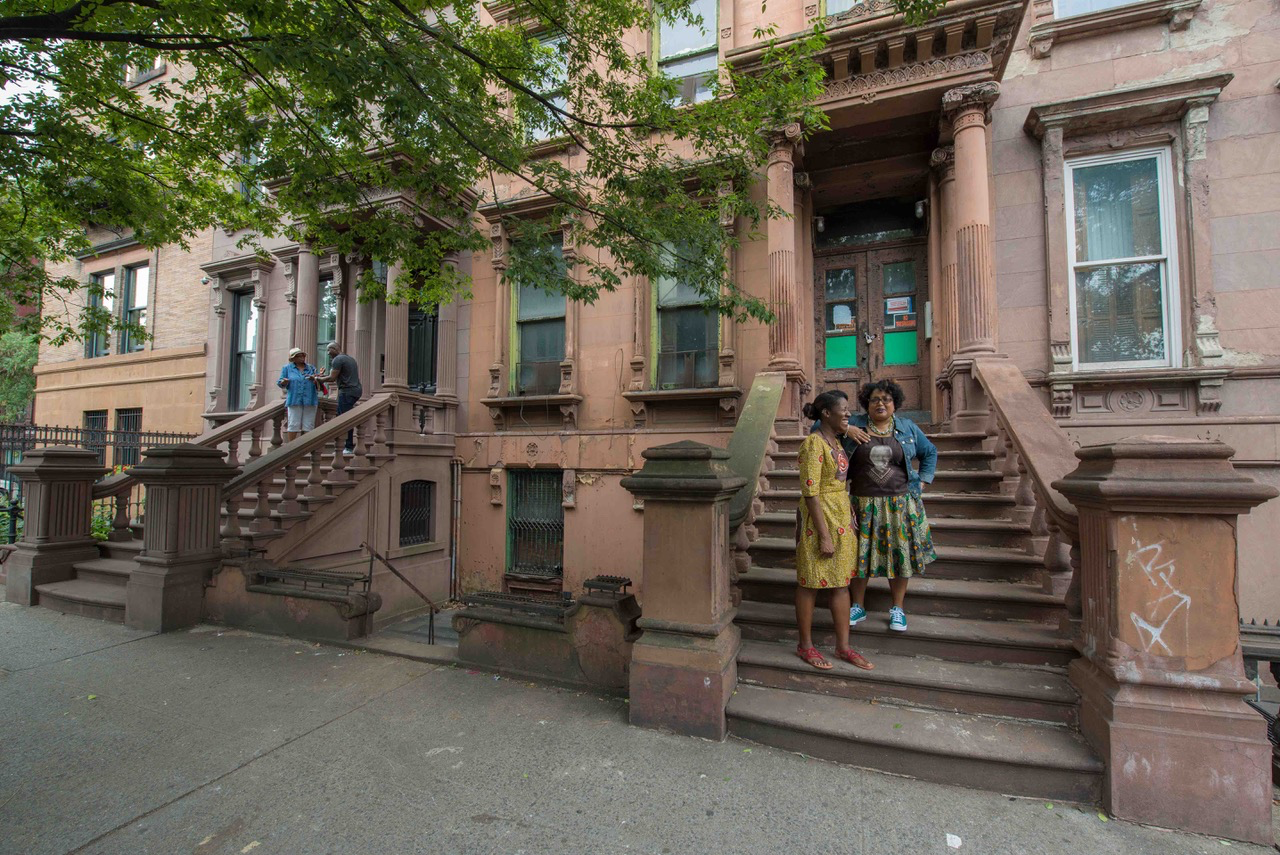 Denise, 42, educator and scholar: "Marcelle is such a light in my life. I met her when we were both working on a publication for students. Her voice was so unapologetically true to herself and her truths. I loved that and learned from that."
[Photo 1 © Tau Battice; Photo 2 © Yoav Litvin]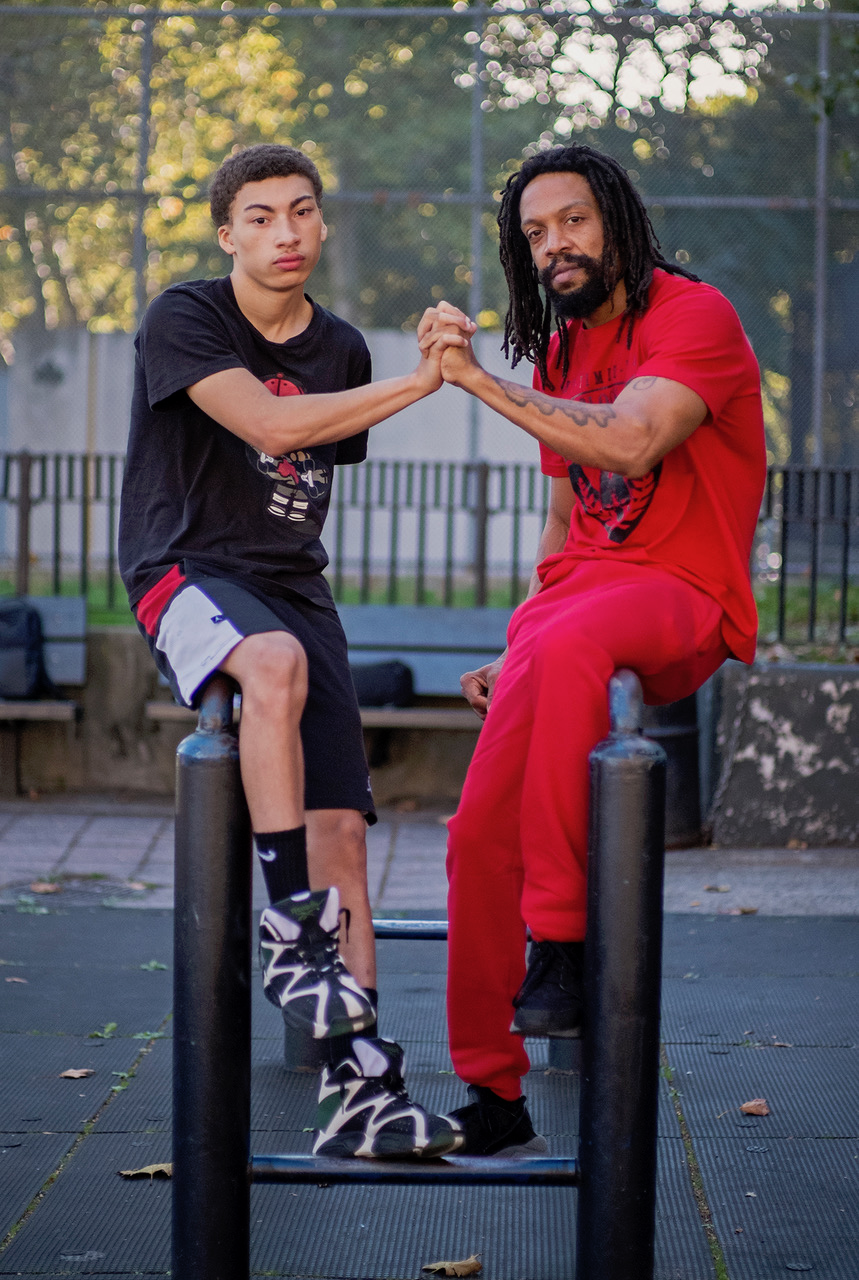 Yahfeu, 40, holistic health trainer: "I see my reflection in him; he takes me back in time reminding me of myself at his age. I feel great because the good that I give him, in turn, he is going to pass it on to another generation."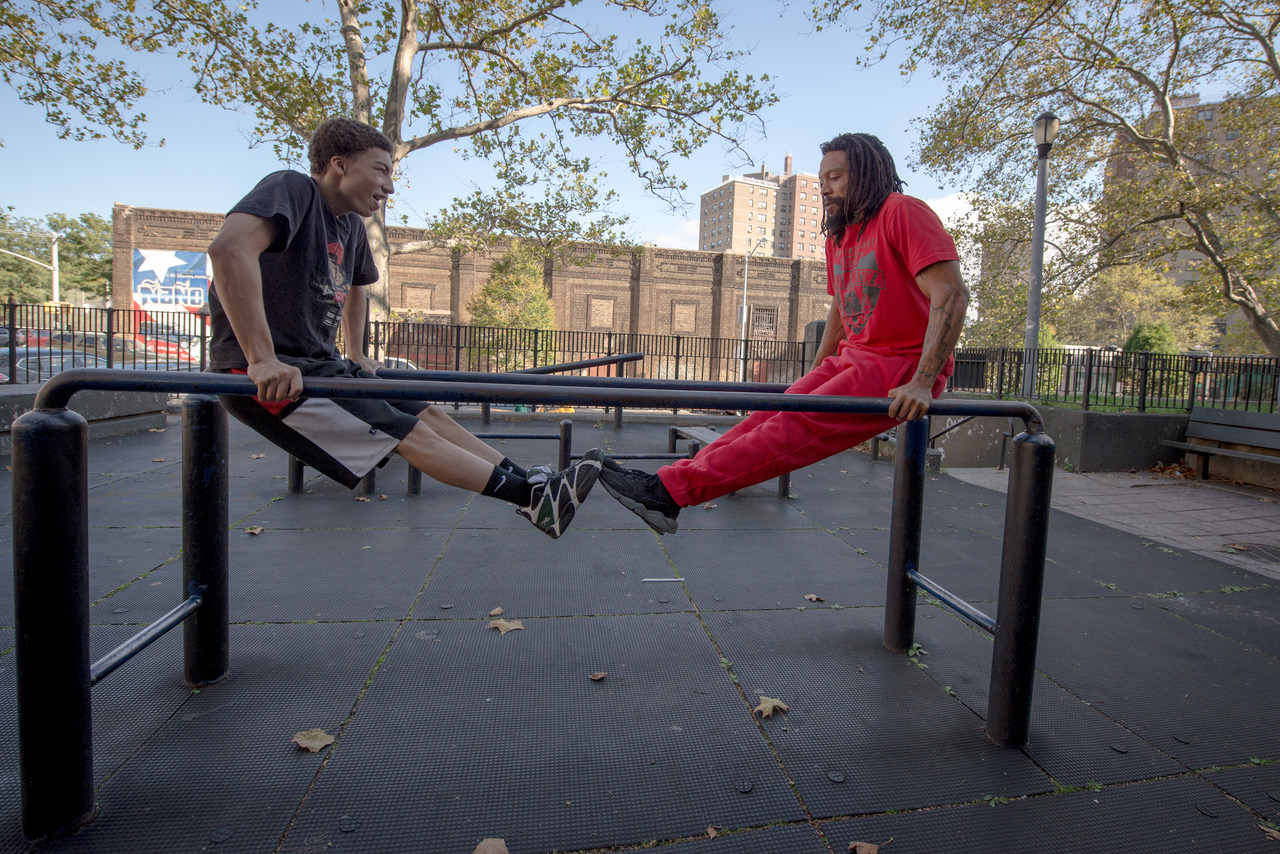 Darius, 16, student: "He is like another father to me." 
[Photo 3 © Tau Battice; Photo 4 © Yoav Litvin]
After many months of walking its streets, I developed a profound love for Harlem. I never encountered anti-Semitism or any form of racism, though I introduced myself as an Israeli Jew.
I continuously met principled, powerful, welcoming, proud, and educated people from America, Africa, the West Indies, and Asia with a firm anti-colonial spirit often developed from harrowing personal trauma. Their anti-colonialism frequently included strong solidarity with Palestinian resistance to Israel's settler-colonial project, which never manifested in any way to me as anti-Semitism.  
Anti-Semitism or Anti-Colonialism?

Following the tragic events in Monsey and Jersey City, in which two African-Americans targeted Jews, several articles attempted to analyze the topic of Jewish / African-American relations in New York. Notably and frequently ignored by the media, the perpetrator in Jersey was an army veteran and drifter who followed a cult, whereas the attack at Monsey was carried out by a mentally ill man. 
Far-right American Zionist Jews, such as President of Zionist Organization of America (ZOA) Morton Klein, seized on the opportunity to focus on these killings as indicative of a concerning phenomenon of "anti-Semitism" within African-American communities, in spite of data showing around sixty percent of those arrested in New York City for anti-Semitic hate crimes in 2019 were white. 
ADL survey showed 34% of Blacks were antisemitic-only 9% of Whites were antisemitic. Something must be done.We must find out why in the Black community there are 4 times as many antisemites as in the White community. Is it their leaders- Farrakhan,Sharpton, Jackson,Rev Wright,etc https://t.co/JekxxsG329

— Morton Klein (@MortonAKlein7) December 27, 2019

Ardent Zionist and guru to white supremacists Ben Shapiro wrote that "the left ignores the "wrong" type of anti-Semitism," i.e., the black type. Shapiro relied on a 2016 report by the Anti-Defamation League (ADL), which implicated African Americans as displaying higher levels of anti-Semitism than other groups. Notably, education and age were also indicators and sixty-eight percent of Americans believed Trump's campaign rhetoric in 2016 "has decreased tolerance and respect for people of all races and religions."
The Israeli outlet Haaretz is predominantly liberal Zionist, preaching peace on the one hand while promoting some of the worst Zionist propaganda fallacies.  
Tzach Yoked's recent article in Haaretz Hebrew titled (translated) "For blacks (sic) in NY, 'Jewish money' is the source of their problems - and justification for actions against Jews," was particularly racist. 
Yoked claimed that in place of the great solidarity between the African-American and Jewish communities in the sixties, black people now harbor animosity toward–and blame their problems on–"greedy" Jews who control many sectors and only care for their own kind. Therefore, "no wonder they blame Jews for their problems," he concludes. 
Yoked continued by stating black people blame their financial and social problems on Jews: social inequality, high incarceration rates, gaps in pay and education, and high rent prices. He painted an extremely unattractive portrait of 125th Street in Harlem as a dangerous and dirty place with ignorant people who live in a reality of insecurity and aimless street wandering. The rest of the article is saturated with anti-black stigmatization, and presents no hard data, only several anecdotes. 
Notably, Klein, Shapiro, Yoked, and their Zionist ilk completely ignore the virulent anti-black racism by far-right Zionists such as former New York State Assemblyman Dov Hikind and the documented and ongoing links between Zionism and white supremacist forces, since the very beginnings of the Zionist enterprise. Further, they side-step Zionism's inherent Islamophobia as well as the ongoing efforts by Zionist organizations, including the ADL, to conflate Judaism and Zionism, anti-Zionism with anti-Semitism.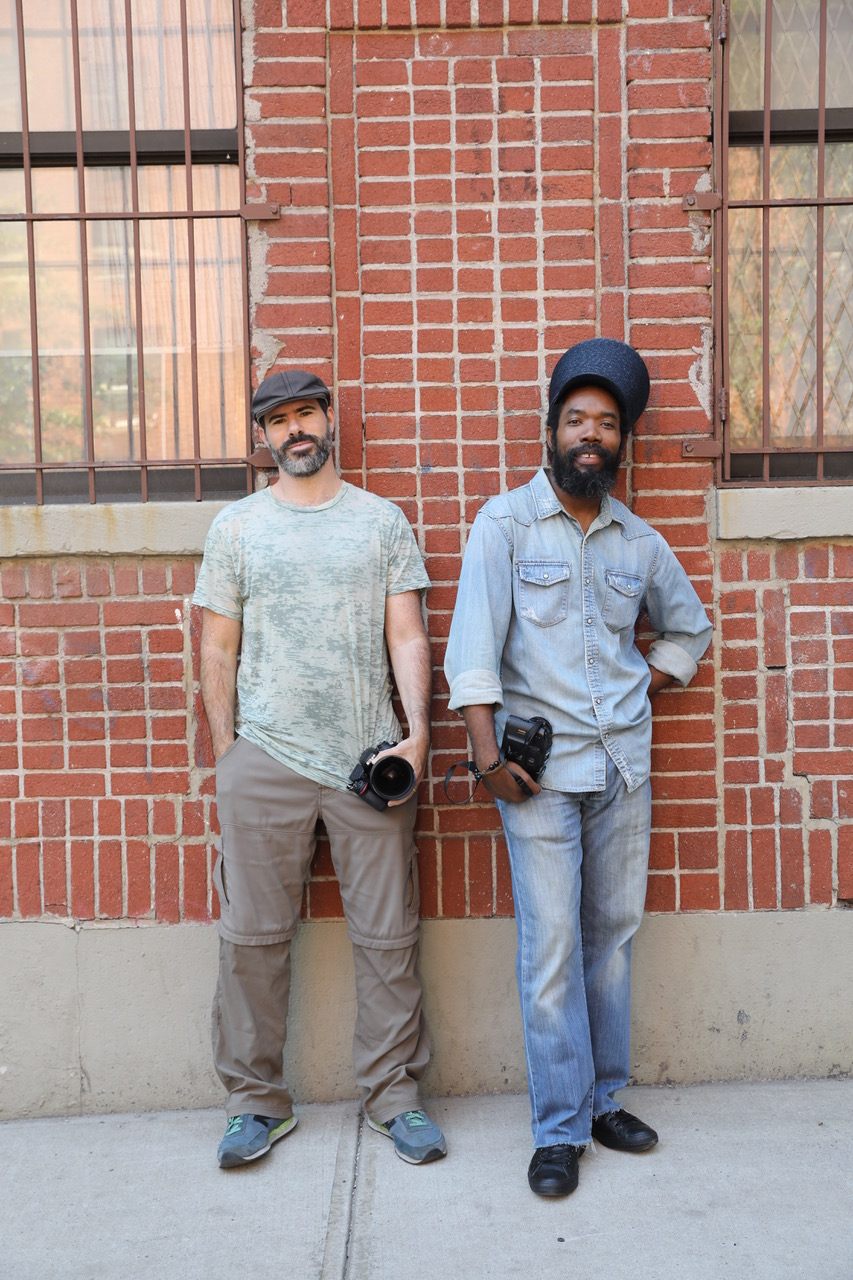 Image of Tau Battice and Yoav Litvin. Credit: Photo by Karen Haberberg.
A Zionist/White-Supremacist Campaign

Animosity between African-Americans and Jews has a history and continues to exist. However, the present focus of Zionist groups and the ensuing media attention are a tactical part of a campaign with two major aims. 
First, it is meant to distract from the swelling of white supremacist and neo-Nazi anti-Semitism encouraged by key elements within the Trump administration, including the president himself, as evidenced in a 2018 report by the ADL. 
Crucially, Trump has received unprecedented support from a host of Christian and Jewish Zionist organizations as well as from Prime Minister Netanyahu and his government. In fact, Israel has become a model for the global far-right, collaborating with a range of reactionary governments worldwide.
Since Trump assumed the presidency, there has been a dramatic rise in anti-Semitic and other white supremacist incidents, which involve harassment, vandalism, and assault. In fact, 2017 and 2018 saw the second and third-highest number of recorded anti-Semitic incidents in four decades. Yet, there has been little or no condemnation of Trump's blatant incitement of anti-Semitism by leading Zionist organizations. 
Second, intersectional alliances between oppressed groups are scapegoated and targeted, as these have become a particular threat to Zionist interests, both in the United States and the United Kingdom. Intersectional alliances are a central feature of Bernie Sanders' progressive campaign for president, which has made him the target of a Zionist smear campaign. This is similar to the well-documented effort focused on Jeremy Corbyn of the UK Labour Party. Thus, it is unsurprising Sanders' intersectional allies Representatives Ilhan Omar, Rashida Tlaib, and Alexandria Ocasio-Cortez, all women of color, have been the focus of the smear campaign for many months. 
For black people–including those in Harlem–oppression manifests itself in white supremacy and structural racism, which subjugates all groups constructed as non-white, in imperialism that has stoked war and occupation targeting black and brown bodies, and in Islamophobia which demonizes and marginalizes Muslims. 
Therefore, the strong anti-colonial, anti-Zionist sentiment within the African-American community renders it impossible for organizations such as the ADL to assess its anti-Semitism accurately, as they conflate Judaism with Zionism and Israel, and anti-Zionism with anti-Semitism.  
Jews and African-Americans can be natural allies who combat all forms of racism if and only if Jews also reject Zionism as a white supremacist, settler-colonialist project, as are other manifest destiny ideologies and practices underpinning Western settler-colonial ventures, including the United States. The popular, principled organization Jewish Voice for Peace has adopted precisely this approach.