After reading about the demonization of Palestinians in the Messiah series online, Facebook ads for the Fauda series began popping up on my feed. I have enough Fauda in my life, I thought. Still, I decided to watch the first season of Fauda (the Arabic word for chaos), an Israeli television series about Palestine/Israel. The show's writers were members of the Mista'arivim Occupation Unit—soldiers who disguise themselves as Arabs—and based this show on the war crimes committed by those squadrons against Palestinians.
How does that feel to the average Palestinian viewer?
Framing Palestinians as weak, vulnerable, and incapable of being normal humans did not come as a surprise to me, given the history of modern colonialism. But producing a false visual image of vulnerability that could only serve to legitimize the Israeli settler-colonial power merits questioning and analysis. Kindred propaganda propelled the destruction of Iraq and Afghanistan in the name of "war on terror."
We can argue that the writers and directors were themselves war criminals because of the flagrantly illegal activities and operations of the real-life undercover squad that is depicted in this series. Wikipedia describes the series as drawing upon the experiences of the Mista'arivim unit of the Israeli Occupation Forces. The IMDB website describes the series as telling "the human stories on both sides of the Israel-Palestine conflict."
Adding insult to the injury, Fauda was filmed in Kafr Qasim, a Palestinian village situated on the Green Line. The history of this village is notorious: In October 1956, some Palestinian workers returned home during a surprise Israeli curfew. The Israeli Occupation Forces had orders to murder as many of the villagers as they could. They killed forty-nine Palestinians. Thirteen were women. Twenty-three were children. One was an unborn child.
Another problematic thing was the timing of the filming. I could not imagine how they would keep shooting such a series during the 2014 war on Gaza which killed more than 2202 Palestinians including 526 children.
Turning war crimes against Palestinians into entertainment is immoral and racist. The portrayal and dehumanization of Palestinians is also orientalist. The manipulations of imagery and power disparities are colonial and insulting to the indigenous people of the land. I only watched one season of Fauda. It made me angry and disgusted that the show is designed to indoctrinate viewers into the inferiorization of Palestinians, and to encourage viewers to think about my people's struggle for liberation, justice, and equality as illegitimate, non-civilized, inhuman, savage, and stupid.
Fauda's real aim to is to make Israeli soldiers' military control and manipulations of Palestinians comprehensible and exciting for the viewer. It shows the actors portraying undercover soldiers as sexy, strong, virile, and extremely loyal. This contrasts sharply with the orientalist image of Palestinians as deceptive, confused yet also frightening, socially repressed, and politically rudderless.
I do not know where. Of course, I am angry at how they have managed to present us as aggressors and terrorists, while Israel escapes condemnation despite having committed so many crimes against humanity.
I started imagining those who will watch it worldwide. How will they react? Will they be afraid of Palestinian spaces and people? We are described as frightening and exotic creatures residing in places where only special security units dare to enter. Our men are described as impotent, sloppy little boys, as disloyal. Even the most venerated Palestinian freedom fighter, the character named Abu Ahmed is ultimately depicted as an incompetent and incapable man who goes on chocolate-eating binges when he is unhappy. Giving Abu Ahmed the nickname "Panther" is an implicit insult to the Black Panther Movement that fought for Black freedom in the United States. And representing Palestinian freedom fighters as incompetent, hopeless, futile, stupid, and whose only purpose is to kill as many Israelis as they can, is a warped depiction. Not in even one scene do they show any respect for the Palestinian resistance to Israeli apartheid. Throughout the Fauda series, Israeli soldiers are shown as civilized people with codes of honor, and who exhibit morality even in the most desperate situations.
From the feminist point of view, the series represents Israeli white women as strong, sexy, attractive, civilized, and deeply empathetic. It represents Palestinian women as cruel, weak, careless, and only attracted to strong Israeli men. Such is the case with the Palestinian doctor Shirin, played by Laetititia Eido who was shown as easily attracted to Doron Kavillio, the main commander of the military unit who tricked her and played the lover to collect information about the Panther. Nisreen's Abu Ahmed wife is another example of falseness at its heart. In the series, she is coerced into working with the Mossad in return for a permit to flee Palestine. In this way, Palestinian women's many sacrifices in our long struggle for liberation are erased.
All of these warped portrayals are emblematic of how Israel is trying to brand not only Palestinians but every Arab and Muslim, women and men, in racist ways. I imagine how, if I had not grown up under Israeli apartheid in Gaza and never visited the Middle East, I might even believe that Israel is a besieged democracy with the most moral army.
In essence, the Fauda series is built to support the Israeli public diplomacy indoctrination machine by portraying every Palestinian as a terrorist or terrorist sympathizer. The ostensibly "likable" Palestinian characters are those who collaborate, who do not revolt against Israeli apartheid. Fauda not only legitimizes violence committed against Palestinians but also twists reality into strange knots, increasing the visual power asymmetry between the Israelis whom Palestinians normally only see in soldiers' clothes, standing at checkpoints, detaining children, and demolishing homes, and the Palestinians who have been denied their right to live normally as humans, or even to return to their homes for the last seventy-two years.
Fauda glorifies the Israeli military's war crimes against the Palestinian people. The first episode starts with an undercover unit led by Doron Kavillio (played by Lior Raz) raiding a Palestinian wedding for a "targeted killing" of the Panther. They are discovered and the mission fails. Yet while leaving they kill the Panther's brother, Bashir, the groom, as well as other Palestinians. This is all justified as killing for a just cause because the Panther is a "terrorist."  
The series exploits the weak awareness of the many viewers around the world who see it as a thriller, when in fact it is a vehicle of Israeli political propaganda. (The biggest promotional tours for the Fauda series were led by AIPAC and US Christian Zionist groups.) The second season includes a ridiculous but provocative plotline in which members of the Islamic State come from Syria to fight Israel. A Haaretz headline bannered season two of the series as "Still Morally Dubious, Still Entertaining as Hell."
Some might say, "Fauda is only a drama. Why do you care?" Drama has wild power. I do not want to see dramas that involve raping women or involve violent acts against children and old people. What if a "drama" justifies crimes against humanity and glorifies criminals while making audiences scared of my people in Palestine?
Fauda inverts everything exactly as Israeli propaganda does. One Haaretz headline emphasizes such parallels: "How 'Fauda' Has Romantized the Most Repugnant Aspect of Israel's Occupation." In this report, Hager Shezaf presents the story of undercover Mista'arivim who, disguised as Palestinian journalists, stormed the biggest Palestinian University–Birzeit–and arrested a student leader. Such actions are continuously practiced against Palestinian students in Occupied West Bank universities. Shezad argues that Israel media rather than outrage about raiding a Palestinian university in the middle of Ramallah, "offered its highest plaudit: 'Just like 'Fauda.'"
I contend that complicity is a crime. Netflix must nix Fauda now on the grounds that it whitewashes Israeli war crimes.  
It is not acceptable to be complicit in the Fauda series for whatever reason. Inverting the victimizer-victim relationship and presenting the Palestinians in the role of aggressors precisely echoes Israel's institutionalized terrorization of Palestinians. Netflix shows no social and political responsibility when it acquires shows that are patently racist. Indeed, they continue to feature and fund hypocritical movies such as the Angel, The Spy Who Fell to Earth, and now some days ago, the Messiah, which is filled with stereotypes and suicide vests. Such movies only fuel more biases, racism, and segregation. They contribute to strengthening an increasingly universal apartheid that glorifies only the strong, neoliberal capitalist, and white-majority states. And such imagery presents the global south as a product of entertainment, tourism, neo-colonialism, generating fears, prejudices, and stereotypes that only benefit those who have the red passports.
I do not expect much moral responsibility or reflections from a business such as Netflix. Entertainment is a business and our lives and representation are worthless for most businesses in modern history. 
When will Blacks, indigenous people's struggle, Kashmiris, Iraqis, Vietnamese, Iranians, and Afghanis feel represented with their ideas and narratives in Netflix and the visual sphere? Those for decades made many calls to have and reclaim spaces and resources to make movies that tell their stories and narratives beyond colonial and capitalist interests.
The alternative is to continue Netflixing and reproducing neoliberal colonial and imperialist narratives that only support the few against the majority, the same way that racist European parties, groups, and movements produce propaganda that argues Europe is to be only for white people–thereby reinforcing the notion that refugees are not allowed to exist or simply even to be in such white spaces.
Netflix was never mine. I do not feel safe there. Netflix reproduces and rebrands cultural Western images that bring us back one hundred years. Indeed, if we only analyze the movies on Palestine/Israel and on Arabs and Muslims they offer viewers, we would notice how exploitative, insidious, and subversive they are, how they strengthen racial and ethnonational supremacy, how they are hypermasculine and misogynistic, deceptive and immoral.
Netflix's manipulation of a huge part of the visual narrative is dangerous. It allows for visual inequality and injustice in order to palliate and empower neoliberal regimes, while providing the marginalized merely a little corner. Thus, the censoring and branding of Palestinians, Muslims, and Arabs as only terrorists and uncivilized is a moral failure in film production.
I am disgusted. I am not able to believe that Fauda is to be made for yet more seasons, that the last one is about my city–Gaza, and is being advertised in Israel with the tagline "Welcome in Gaza." I am not sure I can watch more demonizing and normalizing of lives in this ghetto. My heart cannot take more insults and injuries that can only confirm colonizers' and white peoples' biases against us. My disgust is intensified by the fact that it is one of the most-watched series on Netflix.
There must be a cultural boycott that would allow the public to stop being ignorant, and to have real values of empathy and compassion. One day we, the Palestinian people, will make our movies the same way Black Americans and South Africans are producing their movies, and we will reclaim our visual history and narrative in the face of fascism and colonialism. It is a long journey, one that starts by exposing such businesses that forge another form of discrimination and hate speech and allow it to be accepted in the name of entertainment.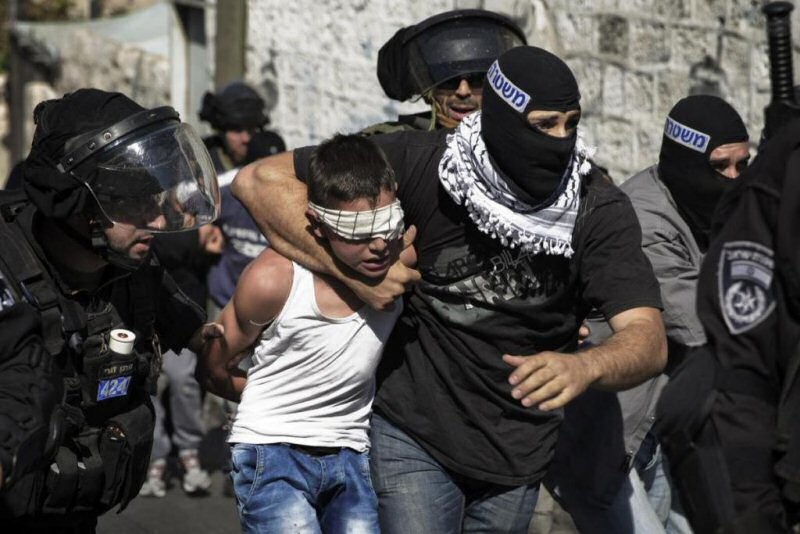 Mista'arivim Occupation Unit dressing in a Palestinian Kufiya while undercover, depicted arresting a Palestinian child during a non-violent protest in the Occupied West Bank. Image provided via the author.