[This article is part of the new Environment Page launch. All accompanying launch posts can be found here.]
In March 2020, the US Campaign for Palestinian Rights (USCPR), a US-based non-profit organization which organizes boycott, divestment, and sanctions (BDS) campaigns and other support for Palestine solidarity endeavors, countered a lawsuit filed against them by the Jewish National Fund-Keren Kayemeth LeYisrael (JNF-KKL, often shortened to JNF) in November 2019. The lawsuit, JNF-KKL et al. v. Education for a Just Peace in the Middle East (hereafter JNF v. USCPR) is part of a larger escalation in anti-Palestinian "lawfare," effort by many Zionist organizations and successive Israeli governments to delegitimize and suppress Palestine solidarity organizing globally. JNF v. USCPR specifically alleges that the USCPR's work with the Palestinian Boycott National Committee (BNC) amounts to "materially supporting terrorist groups," including Hamas. Additionally, the JNF-KKL claims USCPR's public advocacy of the Great March of Return in Gaza supports terrorist activities, alleging that incendiary devices from Gaza since 2018 have caused fires which harmed people and the natural environment in Israel. According to the motion to dismiss, JNF v. USCPR is spuriously filled with "suggestions of guilt by association"[1] and that its real aim is to foster a "chilling effect" on campaigns for Palestinian human rights.
 In contrast to many of the extreme right-wing groups pushing lawfare against Palestine, the JNF-KKL has a generally liberal reputation globally as Israel's "largest environmental organization." Significantly, their liberal reputation belies both their ongoing role in the dispossession of Palestinian land, and how JNF v. USCPR extends the lawfare strategy of criminalizing Palestinian rights advocates as supporters of terrorists to the realm of the environment. The JNF-KKL's attempted legal argument, what I term as asserting the environment itself as a "victim of terrorism," evinces both a larger metaphysical claim of the environment as priceless while also paradoxically demanding financial redress for monetary property damage. JNF v. USCPR's logic replicates that of Western environmental conservation initiatives, which reinforce a narrow definition of "environment" as separate from human society. Such a nature/society divide, legally, materially, and discursively, contributes to the criminalization of environmental justice struggles around the globe, especially anti-colonial struggles over resources and sovereignty.
It is ironic Israel and the JNF appoint themselves as protectors of the natural environment from Palestinians, as Palestinians in the Gaza Strip (and all of historic Palestine) suffer acutely from environmental racism and injustice. Building on my analysis of JNF v. USCPR as part of a global trend in criminalizing environmental justice struggles, I offer a reading of the Great March of Return as an environmental justice struggle. Flipping the Zionist framing of the environment as a "victim" of Palestinian terrorism, I ask: what would it take for Palestinians to be recognized as victims of environmental terrorism from the state of Israel? Relatedly, what are the political possibilities—and limits—of understanding the siege of Gaza as environmental racism, and the Great March of Return as an environmental justice struggle? 
An Escalation of Lawfare against Palestinian Civil Society 

The past fifteen years have seen discrimination complaints and lawsuits filed conflating criticism of Israel with anti-Semitism on college campuses, the introduction of anti-BDS legislation on the state and federal level, lobbying in Congress to cut funding to UNRWA, and temporarily shutting down the Boycott National Committee (BNC's) online fundraising by accusing them of supporting terrorism. The Israeli government has also been an active player in funding and organizing lawfare efforts overseas through proxy legal organizations. A 2019 report from Israel's Ministry of Strategic Affairs and Public Diplomacy, the state agency which has run both internal and foreign hasbara (propaganda) against BDS, lays out their strategy. Titled "Terrorists in Suits: The Ties between NGOs promoting BDS and Terrorist Organizations," the report maintains that BDS campaigns and Palestine solidarity NGOs are run by "terrorists." Much of the argumentation JNF v. USCPR can be directly found in "Terrorists in Suits." First, the report states that the "State of Israel calls for Western countries, financial institutions, NGOs and private philanthropic foundations" to investigate BDS-supporting "NGOs and activists and terminate any funding granted to them."[2] It is obvious that JNF v. USCPR directly responds to this call, regardless of any formal organizational link between the plaintiffs and the Ministry of Strategic Affairs. Second, "Terrorists in Suits" notably singles out the BNC as and claims that "foremost among" its organizational members is the Palestinian National and Islamic Forces (PNIF).[3] JNF v. USCPR repeatedly brings up the alleged PNIF-BNC connection, making an "attenuated chain of associations" between individual organizational membership in the PNIF of Foreign Terrorist Organizations (FTO), who then allegedly have representation on the BNC; JNF v. USCPR alleges these tenuous links "without making any factual allegations connecting the group[s] to the US Campaign."[4]
However legally shaky the JNF-KKL's logic clearly appears, recent US policy changes have demonstrated that even unsubstantiated allegations of material aid to an FTO still have real material impacts on Palestinian civil society. This can be clearly seen in one argument from the JNF-KKL, who assert that even without direct aid to Hamas, any humanitarian support to Gaza means that "the funds utilized for charitable purposes free up other funds for specific terrorist acts."[5] The fungibility of money serves as the liberal justification for the racial governance of Palestinian life and death through humanitarian aid. The linking of development funding to anti-terrorism law post-September 11 allows the United States to wield both carrot and stick, even against actors completely removed from actual links with groups designated as FTOs.[6] JNF v. USCPR's danger then lies not only in the direct and far-reaching impact on Palestinian solidarity organizations in the United States, but also in how the JNF-KKL builds up its ideological image as a liberal, progressive organization by declaring the environment itself as a "victim of terrorism" in need of protection.
The Environment as a "Victim of Terrorism"

JNF v. USCPR specifically claims the JNF has standing to sue based on the allegation that USCPR's advocacy "caused ecological and environmental damage" in Israel.[7] JNF-KKL represents itself as "the oldest green organization in the world" and that its goal is to support a "sustainable future" in Israel.[8] The JNF-KKL partners with US universities on sustainable research and study abroad programs, fundraising for "green initiatives" through student clubs. However, the JNF-KKL as a "sustainable organization" reflects a shift in its messaging since its founding as a para-state agency in the early twentieth century. JNF-KKL directed its activities for much of the first half of the century towards land purchases for Jewish settlement in Palestine and "land reclamation," physical infrastructural development to rehabilitate what scientists and administrators saw as degraded arid lands to agricultural fertility. The intention was not to restore or conserve extant ecosystems, but instead to foster an agricultural social and economic bedrock for Jewish settlement. Israel has used tactics of tree planting and afforestation to keep Palestinian refugees from returning to their lands since the Nakba.[9] In the Gaza Envelope, afforestation focused on "pushing back the desert"—planting non-native, drought-tolerant trees to anchor what Israel portrayed as encroaching dunes and eroded soils. Such desertification was blamed on Bedouin goat grazing and poor Arab land management, thereby justifying Israel taking control of the land as a more "responsible steward." It was not until the 1980s, after global environmentalism began to gain traction, that the JNF-KKL positioned its afforestation and anti-desertification projects as "environmentally-friendly"—or good for non-human ecological health and sustainability—rather than as scientific infrastructure for the Jewish state's development.
JNF v. USCPR's claims to financial restitution from harm hinges not on the organization's self-appointed role as an environmental steward, however. Instead, the JNF specifically alleges that incendiary kites, balloons, and other devices amount to a "public nuisance" and "trespass and destruction of property."[10] The JNF-KKL positions itself as an individual landowner that has suffered monetary property loss from fires (though JNF v. USCPR contains no factual allegations tying those fires to USCPR), while also claiming their broader, unquantifiable role as a protector of the earth. It is fitting therefore that the JNF-KKL does not actually put an exact financial value on the damaged property (claiming it is worth "millions of dollars") preferring instead to leave the cognitive dissonance of both claiming private property and public benefit—a dissonance that settler colonial states rectify by only defining the public as the settler population. It is also fitting that individual plaintiffs in JNF v. USCPR (American citizens living in southern Israel) claim little or no direct property damage or physical harm from incendiary devices. Their standing instead asserts that they have suffered not only "psychological distress" from "acts of international terrorism," but also from a loss of "public enjoyment" of JNF-KKL facilities (parks, picnic benches, walking trails).[11] The individuals center the violation of their private right to access "public" land, reifying the notion of "public property" as individually alienable, privately protectable and, therefore, able to be grieved through individual financial damages.
Public conversations within Palestine solidarity circles have focused on the chilling effect JNF v. USCPR, and other suits like it, have on free speech and Palestine solidarity organizing writ large. The overall issues of repression and criminalization of protest are major—it is also worth highlighting here how JNF v. USCPR is part of a global trend in criminalizing environmental justice struggles, particularly anti-colonial struggles over resources and sovereignty (including anti-pipeline protests and the fight against the Thirty-Mile Telescope in Hawai'i). This legal criminalization is accompanied by a discursive move, in which colonial and settler-colonial state actors or their defenders mobilize hegemonic notions of sustainability and environmentalism to demonize Indigenous and anti-colonial ecological resistance and land stewardship. Regardless of the legal outcome of their shaky case against the USCPR, the JNF may have a more pernicious goal: to convince the public that the Great March of Return—and therefore Palestinians at large—are inherently violent and harmful to the earth. Palestinians, however, have a more complex relationship to land and the environment beyond a simple "protector/degrader" binary, as illustrated by a reading of environmental justice issues in Palestine, Gaza, and specifically of the Great March of Return as an environmental justice struggle.
Environmental Justice in Palestine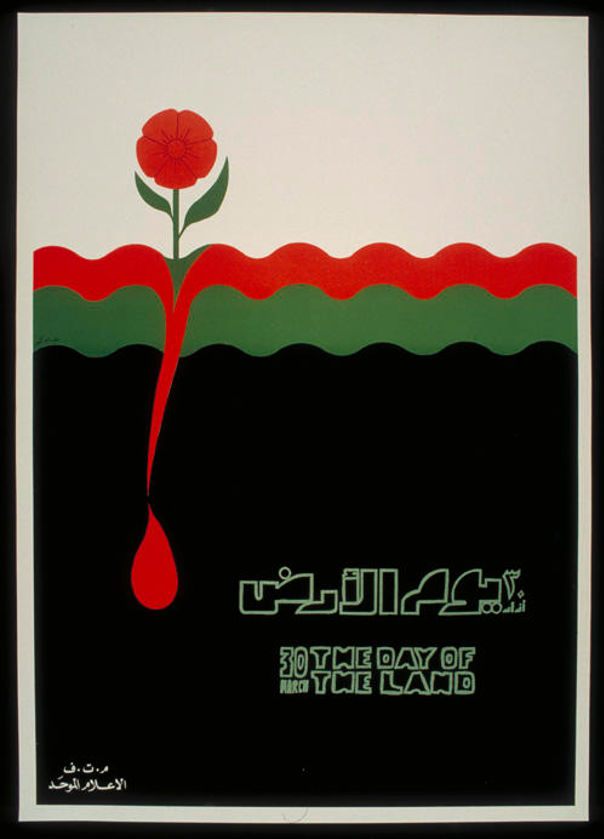 Many Land Day posters from the 1970s and 1980s included shaqa'iq al-nu'man (poppy anenomes) as a central motif. Source: Abed Abed El Hameed, 1985, PLO, via Palestine Poster Project.
In the United States, "environmental justice" and "environmental racism" first emerged as terms in the 1970s and 1980s, used in grassroots organizing and research from working-class Black, Latinx, and Native American communities to point out how their communities disproportionately suffered from environmental degradation and neglect by the state.[12] Palestinians in Gaza face myriad forms of environmental racism caused by Israel's decade-plus-long siege of the Strip. Since 2014, Israel has aerially sprayed herbicides on Palestinian fields which lay along the "no-man's-land" of the border fence. After Israel's massive 2014 bombing campaign, the weakened physical infrastructure and unseasonably early massive rainstorms led to huge floods—where rainwater mixes with surface-level contaminants, sewage, household waste, and debris from demolished homes—which are recurring public and environmental health hazards nearly every year since. Israel's ongoing siege of Gaza and its strategic de-development of the area has left only four percent of its drinking water usable with little construction material to repair water infrastructure allowed in. Sewage pours into the Mediterranean and flows north, uncontained by invisible borders; swimming at Ajami Beach in Jaffa, locals will be quick to tell you the water stings worse because "you're swimming in Gaza."        
The Great March of Return protests demanded international action against these unlivable conditions in Gaza imposed by Israel's siege. The march also demanded more than an alleviation of suffering: refugees demand a return to their homes in Jaffa, Ramle, Lydda, and other areas in what is now southern Israel. The first march occurred on 30 March 2018, or Land Day (Yom al-'ard). Land Day is the anniversary of the 1976 killings of several Palestinians protesting Israel's expropriation of land near Sakhnin, in the Galilee. Land Day commemorations have long been replete with symbolism of Palestinians' cultural heritage and relationships with the land and landscapes. One such symbol is the anemone coronaria or poppy anemone. Known in Arabic as shuqa'iq annaa'mun, among Palestinians it is often considered a symbol and memorial to martyrs due to its blood-red color; the flower and its stem contains all four colors of the Palestinian flag.[13] Poppy anemones make an incongruous appearance in JNF v. USCPR, when two individual plaintiffs specifically name Shokeda Forest as a space they can no longer visit due to fire damage.[14] Only six kilometers from the edge of Gaza, Shokeda Forest is known for its springtime displays of shuqa'iq annaa'mun, interspersed amongst non-native eucalyptus, pine, and casuarina (swamp oak) trees planted by the JNF as an anti-desertification effort starting in 1957.
Yet despite the virulent environmental racism enacted by Israel's ongoing occupation and colonialism, and despite Palestinians' own cultural and political relationships to land, ecology, and non-human organisms, Western environmental organizations have largely ignored environmental racism in Palestine. First, hegemonic understandings of environmentalism, in which nature or wilderness exists as separate from society and therefore needs to be protected from degradation, still dominates "apolitical" environmental organizing worldwide, particularly in the Global North—as evidenced in the JNF-KKL's arguments. The question of what does Palestinian—and Middle Eastern more broadly—environmentalism look like as emerging from the region is urgent and salient. Palestinian environmental narratives, in contrast, often see environmental issues as intimately tied to their "lack of sovereignty" and Palestinian environmental organizing has predominantly "focus[ed] on the link between sovereignty and environmental degradation."[15] Palestinians of many walks of life have not always—and may not—offer an analysis of daily hardships related to air, land, or water as "environmental," even as they do often point out persistent structural inequalities that cause those problems. Nonetheless, in recent years environmental justice organizations and scholars in the United States have increasingly understood Palestine to be a site of environmental justice struggle.[16]
An appeal to the state for redress—the clean-up of toxic pollution, or equality in environmental resource and infrastructure distribution—was central to early environmental justice efforts, and is still a major part of many environmental justice efforts that have been institutionalized as part of state governance and non-governmental efforts. The law is little help for Palestinians facing environmental racism, however, as due to the occupation there are no "domestic" legal outlets for Palestinians with a realistic hope of success.[17] Palestine challenges understandings of environmental justice which assume a sovereign actor who deserves redress and restoration by the state. Between Israel, the Palestinian Authority, Hamas, the United Nations, and international donor states, governmental authority is both over-present and yet lacking in power to positively impact the environmental quality of daily life.[18]
The sticky issue remains, therefore, of the political stakes of interpreting the siege on Gaza as environmental racism, and the Great March of Return as an environmental justice struggle—beyond just directly countering Israel's dominant claims represented in JNF v. USCPR. The potential in an environmental framing of the siege of Gaza lies not in who claims the mantle of "environmental victim" or "environmental protector," but in Palestinians and their allies' growing participation in global environmental justice struggles which both deny settler-colonial and neoliberal state legitimacy over environmental resources and land, while still demanding redress for both human and ecological health—beyond an international aid paradigm. Palestinians have long faced the problem of their struggle for sovereignty being non-legible to Eurocentric audiences, while the post-Oslo humanitarian aid-based economy means that they must perform politics in a way that donor states support. The issue, therefore, is twofold. First, Palestinians in Gaza must demonstrate to international actors that they recognizably suffer from Israeli environmental harm. They must then conduct "green" stewardship projects (usually in the guise of NGOs) which international donors and sustainable development initiatives can classify as "resilience" or "resistance"—and therefore worthy of support. As Palestinians point out in their latest protests against President Trump's "Deal of the Century," however, international development (sustainable or otherwise) for peace is dead, if it was ever a true promise in the beginning.[19] Moving forward, organizing for environmental justice for Palestine must imagine other possibilities.
[Acknowledgments: Thank you to Lisa Bhungalia for research resources and Brittany Cook and Danya Al-Saleh for their editorial support.]


---

[1] Motion to dismiss KKL-JNF v. Education for a Just Peace, 2

[2] State of Israel Ministry of Strategic Affairs and Public Diplomacy, "Terrorists in Suits: The Ties Between NGOs promoting BDS and Terrorist Organizations," (2019): 4.

[3] Ministry of Strategic Affairs, 6.

[4] Motion to dismiss KKL-JNF v. Education for a Just Peace, 4

[5] KKL-JNF v. Education for a Just Peace, para. 57

[6] Lisa Bhungalia, "Governing terror: risk, race, and the deep policing of aid in Palestine," in "Interventions on the politics of governing the 'ungovernable'" (Fouad Gehad Marei, Mona Atia, Lisa Bhungalia, and Omar Dewachi) Political Geography (2018): 1-11; Lisa Bhungalia, Jeannette Greven, and Tahani Mustafa, "The Shifting Contours of US Power and Intervention in Palestine," Middle East Report and Information Project 290, (2019).

[7] KKL-JNF v. Education for a Just Peace, para. 3

[8] KKL-JNF v. Education for a Just Peace, para. 8

[9] See Irus Braverman, Planted Flags: Trees, Land, and Law in Israel/Palestine (Cambridge: Cambridge University Press, 2009); Liat Berdugo, "A Situation: A Tree in Palestine," Places: The Journal of Public Scholarship on Architecture, Landscape, and Urbanism (2020).

[10] KKL-JNF v. Education for a Just Peace, 56, 58

[11] KKL-JNF v. Education for a Just Peace, paras. 2, 13

[12] See Dorceta E Taylor, "The Evolution of Environmental Justice Activism, Research, and Scholarship," Environmental Practice 13, no. 4 (2011): 280–301.

[13] Nasser Abufarha, "Land of Symbols: Cactus, Poppies, Orange and Olive Trees in Palestine," Identities 15, no. 3 (2008): 343–68.

[14] KKL-JNF v. Education for a Just Peace, para. 188.

[15] Samer Alatout, "Towards a Bio-Territorial Conception of Power: Territory, Population, and Environmental Narratives in Palestine and Israel," Political Geography 25 (2006): 607.  See also Emily McKee, "Environmental Framing and Its Limits: Campaigns in Palestine and Israel" International Journal of Middle East Studies 50, no. 3 (2018): 449–70.

[16] See the upcoming special issue "Environmental Justice in the Occupied West Bank," Environment and Planning E (2020), and David Naguib Pellow, What Is Critical Environmental Justice? (Cambridge: Polity Press, 2018).

[18] See Sophia Stamatopoulou-Robbins, Waste Siege: The Life of Infrastructure in Palestine, (Stanford, CA: Stanford University Press, 2019).

[19] Bhungalia et al. 2019; Haddad, Toufic, Palestine Ltd: Neoliberalism and Nationalism in the Occupied Territory (London: I.B. Tauris, 2016); Salamanca, Omar Jabary, "Assembling the Fabric of Life: When Settler Colonialism Becomes Development," Journal of Palestine Studies XLV, no 4 (2016): 64–80.