[This article is part of the new Environment Page launch. All accompanying launch posts can be found here.]
The history of medicine is inextricably linked with the history of the environment.[1] However, the stark distinction between how we study the body and the environment correlates to the rise of area studies as well as the gatekeeping practices rooted in the professionalization of medicine and science.[2] And yet, environmental and medical historians work within overlapping frameworks rooted in the understanding of medical histories along environmental variables, and environmental histories with medical implications.[3] Therefore, the medicalization of the body and the mapping of the environment should be understood as co-produced historical processes. This article highlights the porous and symbiotic relationship between the human body and the environment through an examination of responses to the variola virus, or smallpox, in monarchic Iraq, 1921-1958. The link between geographical and environmental factors and the spread of smallpox emphasizes the synchronized process of disease eradication with rural and urban development.[4]
In Iraq, large-scale smallpox eradication campaigns during the late 1950s coincided with the increased centralization efforts of a state attempting to physically transform its territory and govern diverse populations beyond its reach. Despite identifying linkages between disease, the environment, and space, along with the use of variolation in the Ottoman Empire,[5] smallpox remained endemic to Iraq throughout the first half of the twentieth century.[6] The failure to eradicate this persistent pestilence presented one of the largest challenges to the foundation of the Iraqi state. The Hashemite regime eradicated smallpox only in the late 1950s, on the eve of the 1958 anti-monarchic revolution.
Endemic Response and State Building

In 1921, a smallpox outbreak ravaged Iraq, marring the very instance the modern state was founded. Throughout the monarchic period smallpox claimed more than thirty thousand lives (Figure 1).[7] As early as 1949, the Preventative Medicine Unit embarked on a vaccination mission with the goal of inoculating any Iraqi without a valid vaccination certificate (Figure 2). Additionally, the state required that travelers from countries such as India, Indonesia, Iran, Pakistan, and Syria display an officially recognized inoculation or vaccination certificate or else be placed in quarantine centers.[8] Despite these efforts, by 1952, the state had vaccinated only eight hundred thousand Iraqis, leaving more than five million people unprotected. This was partly due to the persistent shortage of medical labor in the country.[9] For instance, that year, only forty doctors, twenty-five pharmacists, and thirty-five nurses matriculated from the only medical faculty in Iraq. And, there were only 752 doctors, 434 nurses, and 263 officials to serve the entire country.[10] Although smallpox was a critical component of the medical curricula, the medical education infrastructure of the country did not produce enough personnel to address even the basic medical needs of the population, let alone an infectious disease outbreak (Figure 3).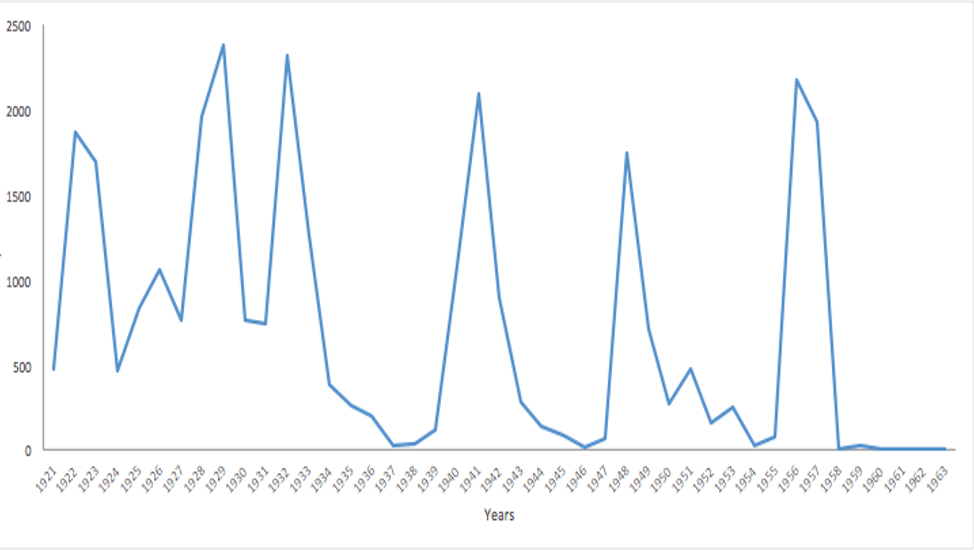 Figure 1. Smallpox cases 1921-1958. Data compiled using the bulletin of endemic disease, pathology institute, and vital health statistics. Drawn from the Bulletin of Endemic Disease, Pathology Institute, and Vital Health Statistics. Vital Health Statistics were contained within a folder within the Ministry of Commerce's records.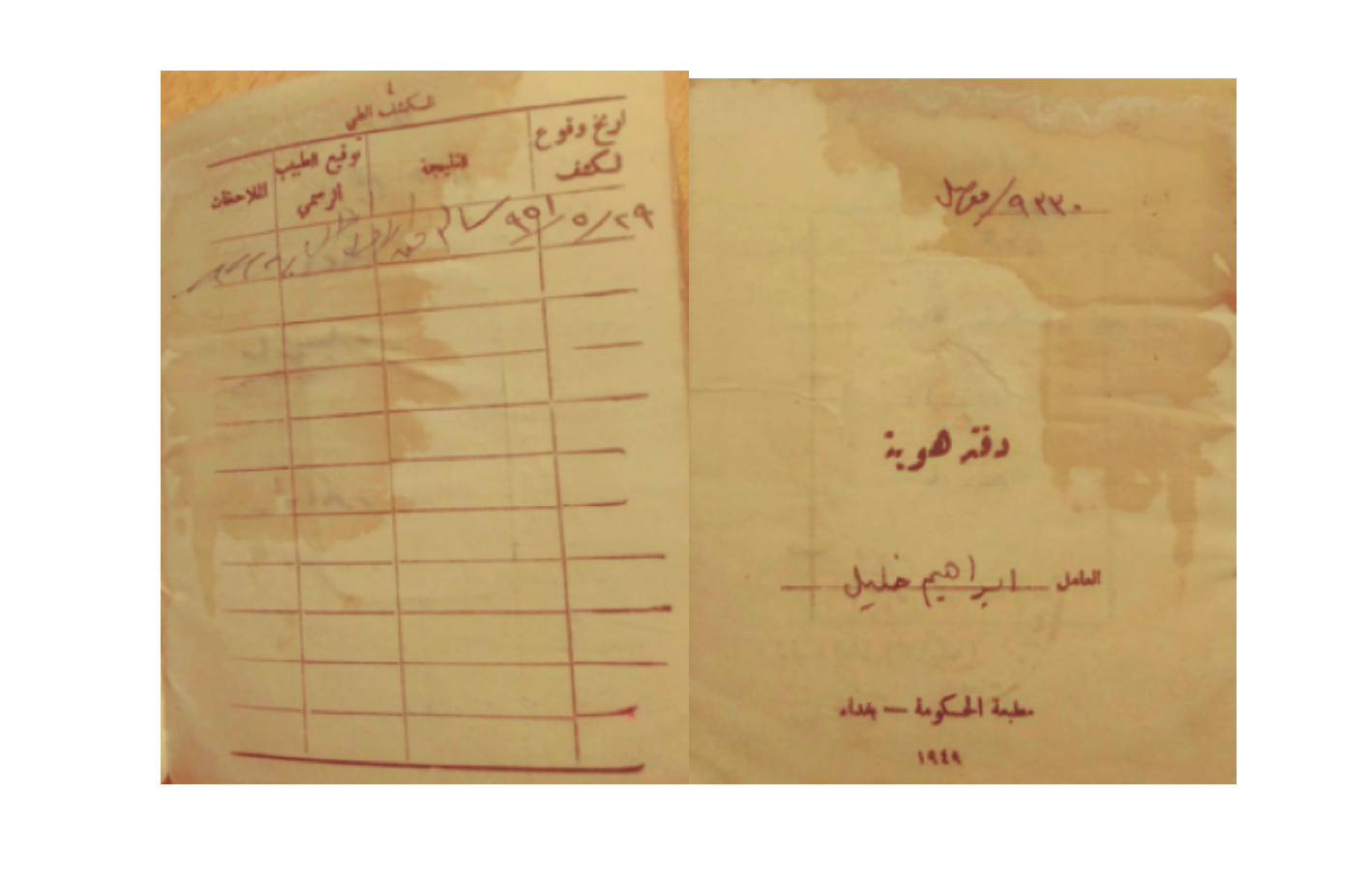 Figure 2. 1949 identification cards distributed from Baghdad included instructions on the vaccination of citizens and additional medical updates.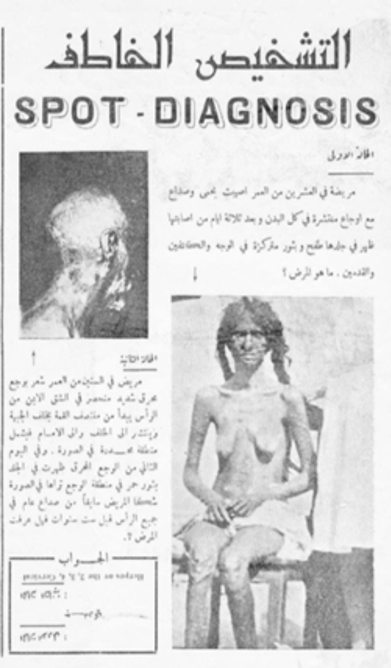 Figure 3. "Spot the Diagnosis" column from the Royal Medical College student-operated gazette. Akhbar Kuliyyat al-Tibbiyyah 6, no. 5 (1950), 2. Courtesy of the Kattan Family Archives.
At the same time, Iraq was involved in numerous international health campaigns with the World Health Organization and UNICEF.[11] The fact that the state failed to vaccinate its population undermined the very image it tried to project, that of a regional leader and a global ally in the war against infectious disease. To remedy this situation, between 1956 and 1957, the monarchic regime undertook a massive vaccination campaign. The campaign resulted in the inoculation of nearly 1.5 million Iraqis against smallpox and other diseases, while also facilitating the most comprehensive population census in the history of monarchic Iraq. The census led to the issuance of birth certificates and identification cards en masse, but also  helped justify a large-scale project of urban land dispossession through slum clearance and rehousing projects for the urban poor. But, why did it take until the 1950s for the Iraqi state to confront smallpox?
During the 1950s, an exponential growth in oil revenues fueled the rapid expansion of the developmental Iraqi state, specifically its financial, medical, statistical, and urban planning institutions. For example, the Iraqi parliament established the Development Board in 1950 to manage and disburse seventy percent of national oil revenues to mainly fund large infrastructure projects. This was followed by the expansion of the Ministry of Economics' Statistical Bureau in 1951, the Ministry of Health in 1952,[12] and the Ministry of Housing in 1956. Each of these institutions worked in concert with one another to not only eradicate smallpox, but also utilize the broad mandate of improving the health of Iraqi citizens to covertly expand the state's surveillance infrastructure, strengthen the cross-border policing of nomadic tribes, advance political attacks against neighboring states like Iran, and accelerate the displacement of poorer residents from valuable urban land.
The relationship between epidemic response and state expansion in Iraq was not unlike the role that cholera outbreaks played in the colonization of India in the nineteenth century.[13] Similarly, yellow fever and malaria eradication efforts in America led to the creation of the Centers for Disease Control and Prevention (CDC) in 1946—an organization which helped legitimize American imperialist campaigns in the western hemisphere and beyond.[14] In each case, the developmental ambitions of both colonial and post-colonial states were contingent on the availability of productive and healthy laboring bodies that could be contained within legible and ordered spaces.
However, 1950s Iraq was also an era of mass migration from the rural periphery into urban centers and of large-scale protest movements in 1948, 1952, and the riots following the Suez Crisis in 1956. Therefore, the failure to eradicate the smallpox endemic would further threaten the Hashemite regime's ability to stay in power. While communist, Ba'thist, and national democratic parties formed the vanguard, it was the bodies and neighborhoods of dispossessed subjects that physically embodied the opposition. The bulk of the protesting masses came from the rank-and-file of the army, police, dairy and construction industries, and domestic services. More importantly, their protesting bodies were also the ones most vulnerable to infection.[15]
The 1956-57 Vaccination Campaign Establishes an Apparatus of Surveillance

Despite the gradual decline noted since 1949, an outbreak of smallpox infected 2,173 Iraqis in 1956 (Figure 1).[16] Dr. Abdulrahman al-Kattan, who graduated as part of the second cohort of the Royal Medical College of Medicine in Baghdad in 1933, received a special assignment from the newly inaugurated Ministry of Health to address the smallpox endemic in the north, which was the epicenter of the outbreak. While Kattan led the inoculation measures in the north, a two-man medical mission consisting of Dr. Hassan al-Ramli and Dr. Mohammed Zaki Abdul Qadir inoculated as many people as possible in the central and southern provinces. The 1956 inoculation campaign included vaccination for other prevalent diseases including cholera, diphtheria, and whooping cough. Although it began in the north, by 1957 the campaign extended across Iraq.[17] The Ministry of Health categorized the outbreak as endemic, but applied smallpox related travel restrictions to tourists, migrant laborers, and nomadic tribes alike. Travel restrictions expanded to include neighboring states, such as Jordan, Kuwait, Lebanon, Saudi Arabia, and Yemen.[18] The vaccination of nomadic tribes began in 1956 and continued into the following year, when the Minister of Health Dr. Abdul Amir Allawi instructed the Chief Medical Officer of Arbil province to send a team to the borderlands of Arbil and Ninawa provinces to continue inoculation.[19] While this measure helped prevent the spread of smallpox, it also fueled xenophobic perceptions, mainly that "the infection had come from Iran."[20] Moreover, it created more avenues for state officials to monitor the inter-state movement of the few remaining nomadic tribes (estimated at three hundred thousand individuals in 1957) in an effort to assert territorial control and induce sedentarization.
Taking advantage of this increased access to both diseased and healthy bodies, the ministry instructed the doctors spearheading the vaccination efforts to conduct a thorough population census. Demographic data collection included the date and time of the administered vaccinations, as well as the signature of the medical authority verifying the event (Figure 4). After the Second World War, there had been dramatic growth in the statistical apparatus of the Iraqi state, particularly after the 1951 appointment of the British statistician K.G. Fenelon as the government expert in statistics at the Iraqi Ministry of Economics. However, what is less known is that the 1957 population census was greatly aided by the smallpox vaccination medical teams that contributed to a total population estimate of 6.5 million.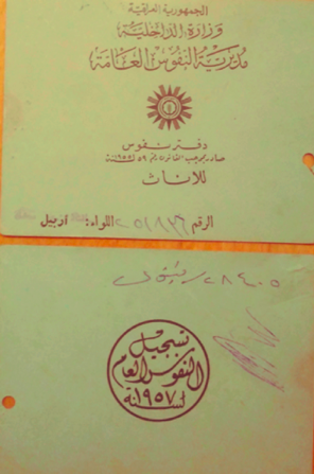 Figure 4. 1957 census and identification cards. Notice that the post-monarchic regime continued to refer to the 1957 census.

The Discourse of Disease Eradication Enables the Displacement of Migrant Settlements

In an interview in April 2020, the Iraqi novelist Abdullah Sakhy vividly recalled that when he was five years old in 1956, a group of female nurses clad in white skirt suits descended upon his neighborhood—Asima—which was located beyond the eastern flood dyke in Baghdad.[21] They went from dwelling to dwelling in an effort to gather children like him for inoculation during the 1956-57 campaign. He described how the intense blue flame used to boil water that would sterilize equipment between vaccinations fascinated the neighborhood's children. While his family had been spared by the epidemic, he recalled seeing several people in his neighborhood whose scars were permanent markers of their battle with smallpox.
Sakhy's family was part of a mass exodus from rural provinces like Amara to Baghdad in the 1940s and 1950s.[22] [23] Migrants arriving in the city often settled in reed and mud (sarifa and kukh) settlements in empty plots, under bridges, and on the periphery. In large migrant neighborhoods like Shakriya and Asima, they employed a range of materials such as animal skin, mud, palm fronds, reed mats, sun dried bricks made of fine clay soil, tin, wooden sticks, and other miscellaneous materials to construct courtyard clusters of houses, often choosing to build close to kin and tribal networks. Before the population census, Fenelon had supervised the 1956 housing census, which enumerated 16,413 sarifa and 27, 491 kukh dwellings for a total of 43,904 transient or semi-transient forms of building. It also counted a total of 170 tents in Greater Baghdad. (Figure 5)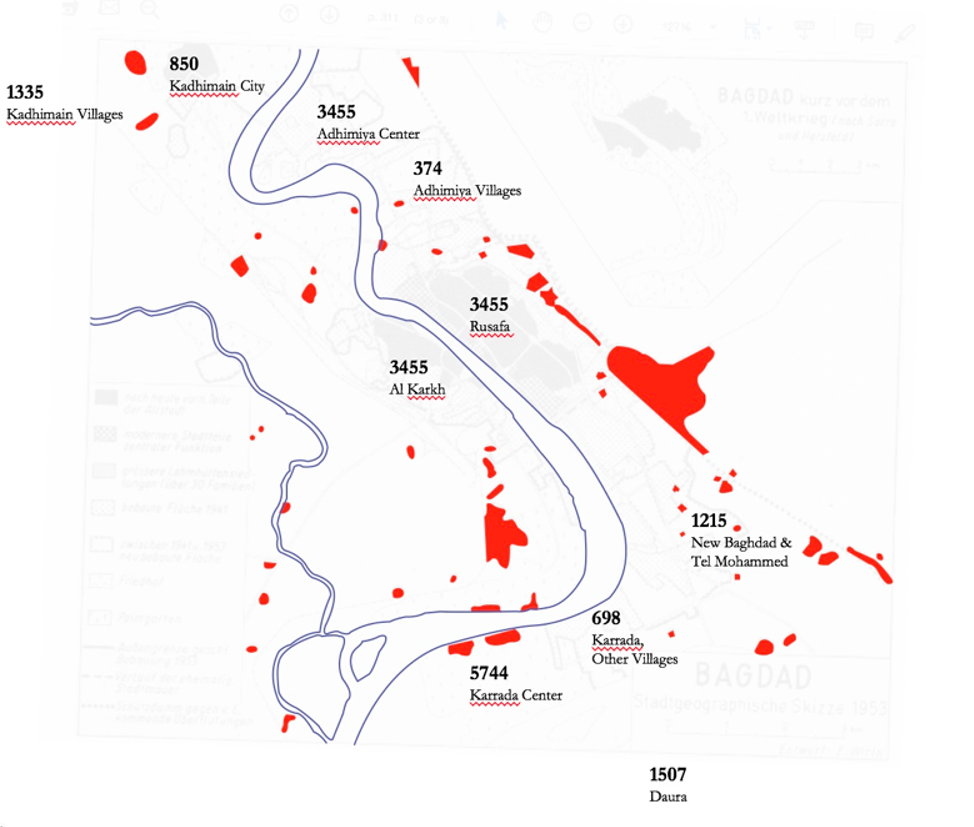 Figure 5. Spread of Migrant Settlements in 1950s Baghdad. May Designed by Huma Gupta. Based on the Distribution of Sarifas (Excluding Mud and Mixed Material Housing), 1956 Housing Census, Iraq and Eugen Wirth, "Die Lehmhüttensiedlungen der Stadt Bagdad: Ein Beitrag zur Sozialgeographie orientalischer Städte (The Mud-hut Quarters of Baghdad: A Contribution to the Social Geography of Oriental Towns)," Erdkunde 8, no. 4 (1954): 309-316.

In 1957, Iranian social worker Sattareh Farman described a typical sarifa or kukh dwelling as follows:
[A] single room must provide for all the household functions, which include living, sleeping, eating, cooking, washing and the occasional accommodation of animals and fowl. Arising from this congested and highly unsanitary form of living are conditions which create an ideal environment for the development and spread of disease, squalor and general ill-health. Such diseases as smallpox, TB, and typhus are known to be prevalent, and the inhabitants in the areas under study unfortunately represent a continual danger to the health of the entire urban population.[24]
Farman's description of migrants as vectors of smallpox, tuberculosis, and typhus were commonly circulating in the Iraqi press and government documents. What they failed to mention was that Baghdad's more affluent residents were dumping their waste and sewage in migrant neighborhoods, causing water and soil contamination, along with outbreaks of disease.[25] Dr. Hashim Barakat, the director of health for Baghdad, described efforts his department undertook in 1957 to regularly disinfect and fumigate migrant "huts," though he explained that these measures were merely temporary.[26]
The long-term plan, however, had already been put in motion by the Development Board, which hired the Greek architectural firm of Doxiadis Associates (D.A.) to clear all reed and mud dwellings in the country and implement a national housing program (Figure 6). Under this program, Dr. Barakat proclaimed that the state would provide all migrants with clean water, roads, electricity, better dwellings, and resettlement to areas with schools and health clinics. This project, however, would never be fully realized.[27] Yet year after year, when the Baghdad or Basra municipality, along with the Ministry of Housing or Directorate of Health, would try to displace sarifa dwellers from their neighborhoods, they would resist, and the police would be called in to assist.
Ironically, in neighborhoods like Shakriya, a large portion of the sarifa dwellers were low-ranking members of the army and police. Thus, police officers in migrant settlements were often put in a position where they had to arrest, discipline, and even raze the dwellings of their fellow sarifa dwellers. A report prepared by B. Kachachi, an employee at the Doxiadis Associates office in Baghdad, regarding the "Sarifa dwellers" recounted a confrontation between the Capital Health Directorate, Baghdad Municipality, police officers, and sarifa dwellers in 1956:
As a result to the action taken by the Asimah Health Directorate of moving the Sarifas from the neighbourhood of dirty water, some of the inhabitants refused, and about 300 of them stood in the way of the official clerks and prevented them from doing their jobs, which obliged Amanat Al Asimah  to ask for the Police help, to investigate and punish the people responsible for that, and this is according to her letter No. 14282 dated 9 June 1956.[28]
What the Health Directorate neglected to mention was that the land that these migrants were occupying was becoming increasingly more valuable. The increase in value was not only due to public infrastructure projects (i.e., sewage pipes, railway lines, roads, canals), but also due to the completion of the Wadi Tharthar Flood Control project, which meant that neighborhoods like Asima would no longer be situated in flood zones and instead become prime real estate for suburban development.
Like the vaccination campaigns, the "slum clearance" and housing projects accompanied highly intrusive forms of enumeration and surveillance in the form of social surveys and mapping exercises. D.A. architect Maria Zagorissiou and her colleague Abdul Razak Abdul Wahab conducted one such survey. Zagorissiou and Wahab surveyed both Shakriya and Asima, conducting an architectural survey with socioeconomic data, which included monthly income, professions, habits, and the cost of building.[29] Zagorissiou also noted a series of contrasts between Asima and Shakriya.
She described the inhabitants of Asima, largely cultivators from the south, as transient people that were living with day-to-day insecurity. However, she believed that the sarifa dwellers of Shakriya could be considered more "permanent" citizens of the capital as they had steady work as police officers and soldiers.[30] They also compared attitudes between the residents of the two settlements. For instance, there were no dedicated schools within Shakriya or Asima. Children in Shakriya would have to walk for half an hour to attend schools in Baghdad. However, Zagorissiou observed that people in Shakriya complained about the absence of a school while in her opinion, no one seemed to care in Asima.[31]
In their report, the attitudes regarding health services also varied. While in Shakriya, many residents mistook Zagorissiou for a doctor and demanded she administer the smallpox vaccine to their children, she claimed that in Asima no one even knew who a doctor was.[32] However, based on Sakhy's experience, the residents of Asima were deeply interested in and compliant with inoculation campaigns. While Zagorissiou's observations perhaps confirm her pre-existing biases about the most marginalized residents of Baghdad, they point to how difficult it is for economically and socially marginalized groups to trust state interventions when elite-backed economic programs masquerade as public health campaigns creating a false choice between unsafe living conditions or further displacement and dispossession.
Conclusion

In 1952, The World Health Organization's (WHO) International Sanitary Regulations proceeding underscored smallpox as one of the six most dangerous diseases threatening global health and agricultural developments. By 1969, smallpox remained a priority of international public health and sanitation agendas. That year's proceedings advised countries combating smallpox to employ population and travel containment measures, establish detailed surveillance protocols, and embark on nation-wide inoculation campaigns.[33] As we outlined above, Iraq implemented the measures advised in these proceedings in 1949, en masse in 1952, and again in 1956-57. Therefore, Iraq's struggle with smallpox not only shaped its public health apparatus and contributed to the state's centralization efforts, but it also posed the country and its medical professionals into the international preventative medicine arena as an example of successful and prompt state intervention at times of infectious disease outbreaks. And yet, Iraq's history of smallpox also demonstrates the ramifications of late-stage mitigation, ineffective and disorganized responses, and the ways in which disease eradication measures can be used as an instrument for population control, urban development, and increased surveillance under the guise of public health.
Preventative medicine and disease eradication measures necessitate extensive state-surveillance. Under the guise of public health, governmental authorities and their intermediaries draw legitimacy from their efforts to keep disease at bay. As infectious disease containment measures become more rigidly defined and enforced, citizens are in turn registered, regulated, and resettled in an effort to fulfill state schemas, from which newly specified definitions of national and medical citizenship emerge. It is under these contexts that large scale environmental transformation such as flood control schemes, slum clearance, and urban expansion are seen as both the causes of, and solutions to disease. Outbreaks of infectious disease thus enable the state to extend its authority to corners and bodies otherwise beyond its reach.
---

[1] Virginia Berridge and Martin Gorsky, "Introduction: Environment, Health and History" in Environment, Health and History, eds. Virginia Berridge and Martin Gorsky (London: Palgrave Macmillan, 2012), 1-22.


[2] For more on the professionalization of medical and scientific practice see Paul Starr, The Social Transformation of American Medicine: The Rise of a Sovereign Profession and the Making of a Vast Industry (New York: Basic Books, 1982). Territorialization of research in the nineteenth century reinforced these distinctions: the Koch-Pasteur rivalries being a well-known example. Thomas Goetz, The Remedy: Robert Koch, Arthur Conan Doyle, and the Quest to Cure Tuberculosis (New York: Gotham, 2014).

[3] See Christopher Sellers, "To Place or Not to Place: Towards and Environmental History of Modern Medicine," Bulletin of the History of Medicine 92, no.1 (2018): 1-45.

[4] See S. Bahttacharya, "From foe to friend: geographical and environmental factors and the control and eradication of smallpox in India," Hist Philos Life Sci. 25, no.3 (2003):299-317.

[5] Variolation is a method of inoculation whereby a small portion of a smallpox scab/pustule is taken from a patient and applied to another person in order to infect them with a small amount of the variola virus and provide them with immunity against smallpox.

[6] The vaccination efforts, for which eighteenth-century researcher Edward Jenner is accredited, resulted from Lady Montague's eye-witness accounts of variolation during her time in Constantinople (Istanbul) and her subsequent experiments in London. David Shuttleton, Smallpox and Literary Imaginations, 1660 – 1820 (Cambridge: CUP, 2007), 161.

[7] The estimated population of Iraq was less than 4 million people in 1934 and 6.5 million in 1957. World Health Organization, Smallpox and its Eradication, (Geneva: World Health Organization Pub, 1988), 350.

[8] "Qannun ʾIhdath Wizarat al-Sihha," al-Waqaʾiʿ al-ʿIraqiyya, no. 28-3076. 24 March 1954, 15.

[9] For more information on the medical apparatus of the Iraqi state, see Sara Farhan, "The Making of Iraqi Doctors: Reproduction in Medical Education" (PhD diss., York University, 2019); Omar Dewachi, Ungovernable Life: Mandatory Medicine and Statecraft in Iraq (Stanford, CA: Stanford University Press, 2017).

[11] Liat Kozma, "Between Colonial, National, and International Medicine: The Case of Bejel," Bulletin of the History of Medicine 19, no.4 (2017): 744-71.

[12] It was not until 1952 that the Ministry of Health emerged as its own governing body. Until then, Iraq governed the health of its inhabitants through the Ministry of Interior and Social Affairs under the sub-organization of the Directorate of Health. See "Qānnūn ʾIhdāth Wizzārat al-Ṣiḥḥa," al-Waqāʾiʿ al-ʿIrāqiyyah no.28: 3076. March 24, 1954, 127.

[13] David Arnold, Colonizing the Body: State Medicine and Epidemic Disease in Nineteenth-Century India (LA: University of California Press, 1993).

[14] American Army Doctors relied on Cuban discoveries to understand Yellow Fever. The disease prevented year-round training in the south-east. See Urmi Engineer Willoughby, Yellow Fever, Race, and Ecology in Nineteenth Century New Orleans (Baton Rouge: LSUP, 2017).

[15] For more information on rural migrants and their settlements, see Huma Gupta, The Architecture of Dispossession: Migrant Sarifa Settlements and State-Building in Iraq (PhD diss., Massachusetts Institute of Technology, 2020); Khalis H. Al Ashab, The Urban Geography of Baghdad (PhD diss., University of Newcastle Upon Tyne, 1974); Caecilia Pieri, Bagdad: La Construction d'une Capitale Moderne (1914-1960) (Beirut: Presses de l'ifpo, 2015); Fuad Baali, "Social Factors in Iraqi Rural-Urban Migration," The American Journal of Economics and Sociology 25, no. 4 (1966): 359-64.

[16] Wizarrat al-Siha, al-Tibb al-Waqi al-Ijtima'I, [Ministry of Health, Preventive and Social Medicine Section], No. 35452, November 11, 1956 – retrieved from the Kattan Family Archive; Ministry of Health, Annual Bulletin of Health and Vital Statistics for the year of 1956 (Baghdad: Government of Iraq Press, 1959), 31.

[17] Iraq Times, 10 September 1957.

[18] Ministry of Health, Annual Bulletin of Health and Vital Statistics for the Year of 1956 (Baghdad: Government of Iraq Press, 1959), 45.

[19] Iraq Times, 10 September 1957.

[20] Ministry of Health, Annual Bulletin of Health and Vital Statistics for the Year of 1956 (Baghdad: Government of Iraq Press, 1959), 46.

[21] Abdullah Sakhy, phone interview by Huma Gupta, 10 April 2020.

[22] Quoted in Al Ashab, "The Urban Geography of Baghdad," 402; Doreen Warriner, Land Reform and Development in the Middle East: A Study of Egypt, Syria, and Iraq (Oxford: Royal Institute of International Affairs, 1962), 152-54.

[23] ʿAbd al-Razzaq al-Hilali, al-Hijrah min al-Rif ila al-Mudun fi al-ʿIraq (Baghdad: Matbaʿat al-Nijah, 1958), 48-56.

[24] Sattareh Farman, "The Social Problems of Urbanization in Iraq, Prepared for the Government of Iraq." New York: United Nations Technical Assistance Programme, TAA/IRQ/4, 1958, 16, 17, 20.

[25] Maria Zagorissiou, "The Slums of Buffalo Holders," March 20, 1958, Iraq Reports v. 126, Archive Files / 24000, Constantinos A. Doxiadis Archives.

[26] Iraq Times, 26 January 1957.

[27] For more information on the national housing program in Iraq and slum clearance efforts, see Huma Gupta, The Architecture of Dispossession: Migrant Sarifa Settlements and State-Building in Iraq, (PhD diss., MIT, 2020).

[28] B. Kachachi, "Sarifa Dwellers Baghdad/Re: CQA 172/ 12.6/1956," July 10, 1956, Archive Files / QB 197, Constantinos A. Doxiadis Archives.

[29] The Sarifa Dwellers of Baghdad (Maria Zagorissiou Files, 1958), Archive Files / 36505, Constantinos A. Doxiadis Archives, 32.

[30] Maria Zagorissiou, "The Slums of Sarifa Dwellers," 13 July 1958, Iraq Reports v. 127, Archive Files / 24001, Constantinos A. Doxiadis Archives, 3.

[33] The reports also advised improved measures of surveying all modes of travel including air and to employ an international registry list. See World Health Assembly, Reservations to the International Health Regulations, no. 23, 1970.