In recent weeks, the entire world has gone into varying states of lockdown. After initially failing to heed the warnings of medical doctors, scientists, and public health officials, political leaders finally started taking necessary aggressive action to mitigate the spread of the coronavirus pandemic, by closing businesses and encouraging people to stay home.
Responding to the widespread panic and fear, some influential leaders began sharing advice on how the public can maintain their health and fitness routines while in isolation. Days after Prime Minister Narendra Modi abruptly announced a nationwide twenty-one-day shutdown across the Indian nation, he took to Twitter to share his hope that Indians and people across the globe turn to yoga during these challenging times. In a series of tweets, Modi cheerfully expressed the benefits yoga has brought to his life and included links to multilingual, animated "Yoga with Modi" videos and guided "Yoga Nidra" practices.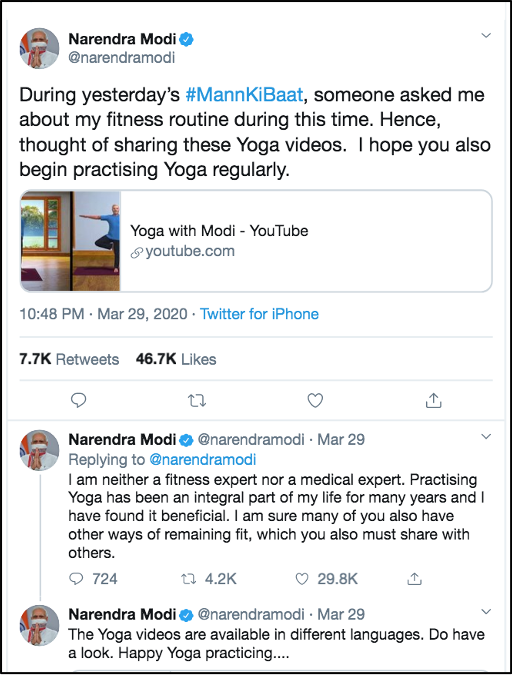 Unsurprisingly, Modi's followers responded to his tweets with widespread appreciation and gratitude. He even garnered acclaim from one of his favorite world allies, Ivanka Trump, who recently accompanied her father on his trip to India to secure a three-billion-dollar arms deal. Responding to Modi, Ivanka graciously remarked, "This is wonderful! Thank you @narendramodi!"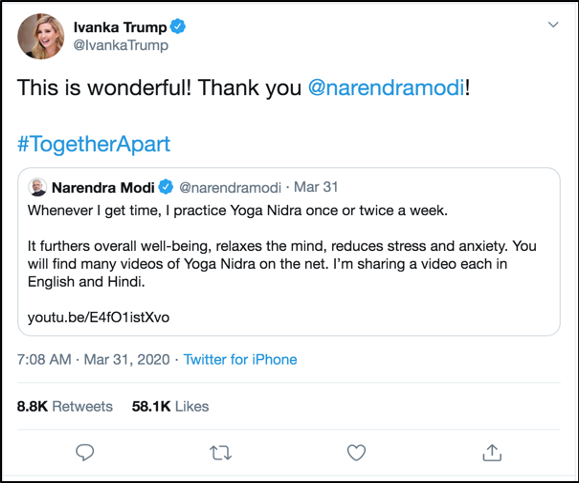 Everyday people chimed in with praises and critiques. A self-identified Modi fan thanked both leaders and shared a self-branding meme of Modi highlighting yoga's peaceful and wide-ranging benefits. Modi's rhetoric of peace feels especially disingenuous given his political record is replete with casteist, ethnonationalist, and state-sanctioned violence. Juxtaposed with the quote is an image of Modi lifting into a snake pose, adorned in a patriotic chunni (scarf) resembling the Indian flag.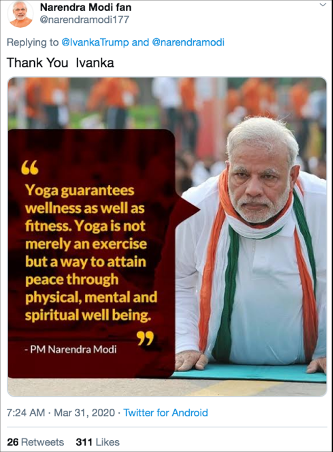 Modi's choice of attire here is strategic. It is part of his long-standing agenda to rewrite India's history and weaponize yoga as propaganda for Hindu nationalism and right-wing, fascist policies.
Since his first year as prime minister, Modi has made it his priority to brand yoga as an "ancient Indian" and "Hindu" practice. In September 2015, he successfully initiated a resolution to the United Nations to mark 21 June  as International Day of Yoga, a holiday that recognizes yoga as an ancient Indian tradition. Modi promotes the notion that a monolithic Hindu culture is responsible for yoga's evolution. His revisionist approach to history ignores the contributions that multiple indigenous and religious groups from South Asia made to yoga before "Hinduism" and "India" formally existed. In her text Selling Yoga, religious studies scholar Andrea Jain illustrates how this dominant narrative also overlooks the contributions that Swedish gymnasts made to modern yoga as it emerged and found popularity on the global market.
Since his re-election as prime minister in 2019, Modi has endorsed India's Supreme Court ruling to build a Hindu Temple at the site of Babri Masjid–a mosque that Hindu mobs demolished in 1992. This past December, Modi's administration enacted a citizenship amendment bill that targets and discriminates against Muslims in India. Essentially, it forges a pathway to citizenship for immigrants from all religious groups except Islam. 
One week after the yoga tweets, Modi called for a #9minutes9pm solidarity action on 5 April to unite the country in prayer. He encouraged Indians of all faiths to turn off their lights and light diyas (candles) for nine minutes on Sunday night. Once again, common people, Bollywood celebrities, famed spiritual leaders, and members of the Indian American diaspora took to praising the prime minister for his dedicated leadership and compassionate concern during this moment of crisis.
Significantly, much of the overwhelming praise for Modi's response to the COVID crisis follows a virtual conference he held with major Indian press houses on 24 March. The Indian prime minister has previously faced disapproval for not holding press conferences, and for targeting journalists who criticize his administration. At this rare press meeting, Modi requested that editors only publish "positive and inspiring stories" during this time, and encouraged them to refrain from negative coverage. Negative press attention would mean journalists might have to critique the disastrous implementation of the lockdown or failure of the government to stockpile medical equipment for health workers. Obediently, the media complied.
Modi's tweets on the positive benefits of yoga and prayer come at a pivotal moment for humanity. The practices of yoga, meditation, and spirituality can certainly serve as effective antidotes to the panic, fear, and grief that come with facing and surviving this moment. As humans, we are being called upon to examine the root causes of this public health crisis. If used effectively, spiritual traditions can help us look into the soul of humanity and transform the economic and societal systems that cause poor and marginalized communities to face the brunt of suffering from coronavirus. But Modi has no intentions of people using this crisis (or yoga) as a transformative and self-reflective humanizing moment for himself or his country to create the inclusive and caring society we all desperately need right now.
The Spectacle of Compassion
Although Modi, like his ally President Trump, takes to using Twitter to mimic solidarity, connection, and empathy with his followers, we must not confuse Modi's spectacle of compassion with actual compassion. The spectacle of compassion is when Modi uses the media to feign concern for human suffering but has no plan to offer relief from that suffering. Arundhati Roy keenly reminds us that Modi is a lover of spectacles. In her recent essay, "The Pandemic is a Portal," Roy writes, "The prime minister has shared his yoga nidra videos, in which a morphed, animated Modi with a dream body demonstrates yoga asanas to help people deal with the stress of self-isolation. The narcissism is deeply troubling. Perhaps one of the asanas could be a request-asana in which Modi requests the French prime minister to allow us to renege on the very troublesome Rafale fighter jet deal and use that €7.8bn for desperately needed emergency measures to support a few million hungry people." 
The government's arms deals with France and the United States indicate a priority to strengthen India's Air Force and military power. They also illuminate Modi's misplaced morals. Now, the government has neither an emergency public health plan, nor any relief programs to keep its constituents safe and distribute resources to the hundreds of millions of lower-class and lower-caste communities across the nation most impacted by the lockdown and the virus.
In late March, Prime Minister Modi launched a brand new PM-CARES relief fund (Prime Minister's Citizen Assistance and Relief in Emergency Situations Fund), which is accepting donations from citizens. Allegedly, the fund aims to provide relief to day laborers and those devastated by the lockdown. While it may seem heart-warming for Indians from all walks of life—from Bollywood celebrities to spiritual leaders to young children—to be donating to the PM-CARES fund, it is also quite enraging. The central government has put the onus on the people to fund their own relief for an emergency that could have been avoided through responsible political leadership.
Actual compassion might look like Modi following through on relief efforts to redistribute food, wealth, and resources to the most destitute families who cannot realistically comply with a lockdown. However, he remains focused on actions that lionize his image and neglect the inevitable spread of the virus throughout India's cramped cities. Modi's #9pm9minute appeal to Indians to unite and pray the spread of COVID-19 away through a joint action does not simply spread misinformation about the scope of an illuminated candle to destroy a virus; his appeal is also tailored to sectors of society that have the privilege of practicing social distance during a public health crisis. Meanwhile, prisoners and families living in India's sprawling slums struggle to contain the deadly virus, as there is no such thing as social distance in these environments.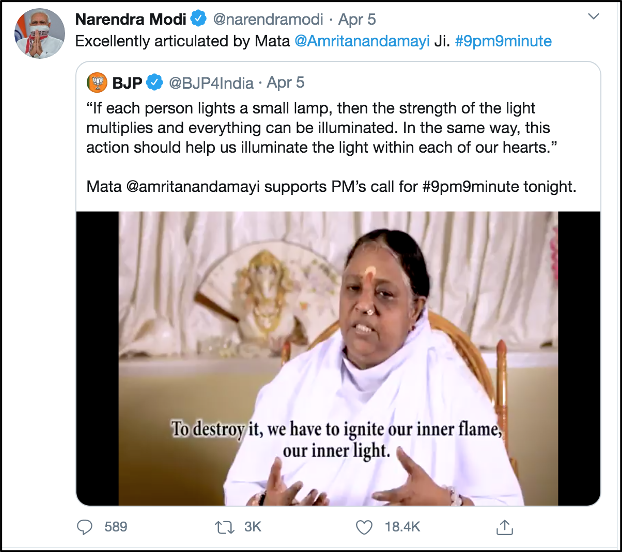 Modi's measures symbolize how yoga, mindfulness, and spirituality are weaponized to silence the legitimate complaints of social movements that seek to hold governments accountable. Neoliberal actions like Modi's convince everyday people that they are to be held responsible for their own health and well-being during an economic and public health crisis. To his followers, Modi appears as a compassionate and noble leader; in reality, he is simply endorsing a capitalist-driven, self-care industry while perpetuating agendas of division and hatred. His tweets might be comical if it were not for the serious implications they carry in a society where millions of people made vulnerable by COVID-19 are as concerned about dying from starvation as they are about dying from the virus.
The spectacle of compassion is not limited to Modi's leadership. It preceded and is heightened by this crisis; it is evident when politicians, public celebrities, Instagram influencers, and your average yoga practitioners persuade their followers to use mindfulness and yoga to pacify their righteous anger toward oppressive systems. Such suggestions serve to silence public criticisms of leaders who ought to be prioritizing the needs of marginalized communities, not stroking their own egos. Frankly, their wellness tips are insulting and of little use to people who must endanger their health in order to put food on the table, or to those who are without a home or healthcare plan during this crisis. 
The late psychotherapist John Welwood first named people's "tendency to use spiritual ideas and practices to sidestep or avoid facing unresolved emotional issues, psychological wounds, and unfinished developmental tasks" as the notion of spiritual bypass. Globally, mindfulness and yoga have long been used by the most powerful members of society to mask violent narratives, privatize social problems, promote escapism, and generate complacency with the status quo. But the status quo of separating spiritual teachings on love and liberation from an ethics of collective care for humanity and our environment is what led to this public health disaster.
The capitalist circulation of yoga across the globe preceded this moment. As the social problems of humanity are being exposed by this crisis, we can no longer afford to ignore the moral bankruptcy that has allowed yoga to be appropriated as a vessel to fuel a racist and exploitative culture. If we stick to the new age self-care models that pervade the yoga industry, yoga will continue to be dominated by individualistic models that fortify the dominant culture. As a result, we will not evolve in the ways we must as a species.
Whether or not we are a person of color, of South Asian ancestry, or from an otherwise marginalized identity, all of us are implicated in using yoga to fuel the spectacle of compassion. While my concern revolves around unveiling how yoga is being weaponized in India and other parts of the globe, my hope lies in us coming to terms with the diasporic, nationalist fantasies of yoga's past and repurposing this practice toward an embodied and collectively liberating future. 
The Radical Possibility for a Liberatory Yoga:

We cannot romanticize yoga. Its weaponization is clear. Still, I do not see yoga as inherently oppressive. I believe in its liberatory potential.
Right now, we are witnessing the inevitable proliferation of web-based fitness and community-centered yoga classes. As we embark on this opportunity to share wellness practices, teachings, and spirituality with people across the globe, we have an opportunity to apply yoga's teachings toward principled action. Yoga is essentially intended to yoke us together, mind, body, and spirit in full alignment—toward an enlightened purpose for all humanity and living species. The challenge we currently face is in understanding how our spiritual traditions can be used to combat—not buttress—the atrocious injustices, casteist hierarchies, Islamophobic violence, anti-Asian hatred, and disaster capitalist programs that are being exposed and fueled by this virus.
I envision us birthing a yoga theology that is committed to extracting the demonic undertones from our greater culture—a yoga that acknowledges the dehumanizing nature of our environment's social and political systems; and its impact on our relationships with self and our communities. I imagine us developing a moral framework that grounds yoga in an ethics of individual and collective transformation; human- and earth-based love; and deepened interconnection to all life, from our ancestors to our descendants to each and every species on this planet. I believe in a yoga that taps us into the suffering of humanity and challenges us to take action to alleviate it—by centering the needs and liberation of frontline communities, poor people, prisoners, refugees, immigrants, the homeless, and all vulnerable populations. And finally, I dream of a yoga that is politicized toward true compassion, solidarity, accessibility, equity, and healing justice.
As we confront this looming crisis, we have a choice. We can choose to be fooled by the emptiness and false generosity of the spectacle of compassion. Doing so would mean we continue to weaponize yoga as a tool of spiritual bypass and exacerbate the conditions of social inequality, ethnonationalist violence, and ecological disaster pervading our environment.
Alternatively, we can choose to let yoga awaken us to a higher moral calling of interconnected compassion, an ethics that aims to get in the right relationship with the holistic well-being of the masses. As the pandemic pushes us into indeterminable waves of social isolation, many of us have been gifted a rare opportunity to dive deep into our own interior and nurture the contemplative space for transformation within our hearts. My hope is that we use this time to activate radical social change in our communities. My dream is that we purpose it toward cultivating liberatory frameworks for yoga and all spiritualities—ones that heal, stretch and evolve us as a human species to live more harmoniously.