Ramadan in Algeria, like in most Arab countries, is more than a month of fasting and feasting. It is the prime season during which TV programmes compete and thrive. Each year, TV channels offer an abundance of exclusive and newly released programs. These range from drama series (musalsalat), religion talk shows, historical documentaries, cooking shows, and sitcoms, which aim at entertaining viewers during the long fasting hours and providing an enjoyable company to the gatherings of family and friends. The exceptional circumstances of 2020 Ramadan did not change the month's viewing rituals. While fasting during the COVID-19 lockdown, many spectators turn to TV shows, mainly comedies, as a way to maintain some sense of normalcy and relieve the distress and uncertainties that prevail. While evaluation and criticism are part of the viewing experience of Ramadan shows, what is remarkable this year is that Algerian televised comedy has stimulated heated controversy among the public. Within the first week of Ramadan, three shows have been suspended from television for, what is believed to be, ethical and political reasons. This poses important questions regarding the limits of comedy in Algeria as well as the ways in which the production and reception of humor is not only dependent on cultural identities, but also on the current socio-political tension that persists in the country.
In recent years, the myriad of Algerian TV comedies during Ramadan has significantly increased. The rapid emergence of privately-owned channels came to end the monopoly of the Entreprise Nationale de Télévision (ENTV), and thus to compete with what the public mockingly describe as "al-yatima" (the orphan), in reference to what used to be the state-owned and only Algerian TV channel. Algerian Ramadan comedies have become part of the viewing experience, gaining the appraisal and appreciation of audience and critics alike. Sitcoms like Nass Mleẖ City (2002-2006), ʿImārat Lẖadj Lakhdar (2007), Djemaʿi Family (2008-2011), Bibiche et Bibicha (2014) and more recently 'Ashūr al-Āsher (Sultān Ashūr 10) (2015-2017), often starring popular actors like Biyouna, Salah Aougrout, and Souhila Mallem, have been much awaited and well received. Providing social, and sometimes political, commentaries, these shows have become a rich source of reference for jokes, memes, and proverbs, and also a reason for disappointment if new seasons are delayed or cancelled.  
This year, the scene is more controversial. In the first few days of Ramadan, comedy shows have taken the public opinion by storm. Three programs, produced by and/or broadcasted in privately-owned TV channels, have been banned and suspended. On 23 April, a day before Ramadan, comedians Nabil Asili and Nassim Hadouche released an online video announcing the banning of the third season of their show Daqius ū Maqius, a comedy series that was ready to be aired on Echourouk TV. The latter is a major independent TV channel, launched officially in 2012 by the CEO and chairman of Echourouk Media Group, the recently deceased journalist, Ali Fodil. The new season of Daqius ū Maqius, known since 2015 (previously as Journal al-Gosto) and popular for its political commentaries, revolves around the corruption of "al-'iṣaba" (meaning the gang in Arabic), which refers to the regime against which millions of Algerians continue to demonstrate since February 2019. Daqius ū Maqius was taken off Echourouk TV's Ramadan schedule for a suspicion of characterizing the current president Abdelmadjid Tebboune. As Asili and Hadouche declare, no official statement on the reasons behind the show's suspension has been released yet. Both artists express their disenchantment with what they refer to as "the new Algeria" in which artistic content is regulated and controlled. They assert that comedy does not cause revolts; the driving force behind revolutions are the persistence of autocracy ("batsh al-ḥukam") and oppression ("al-ḥugra").
[Nabil Asili and Nassim Hadouche speaking about their banned comedy show.]
Echourouk TV has had its share of criticism. The third episode of the sitcom, Dār La'jb (The House of Wonders), was condemned for its comic reference to the financial deposit that the Algerian government offered its Tunisian counterpart in February 2020. The latter has caused uproar among the public mainly in the light of the financial difficulties that Algeria is witnessing. In this episode, entitled Ḍayf Nkrmūh (We Honor Our Guest), the father, played by Amine Abdelli, receives his Tunisian friend, named Kais (perhaps a reference to the Tunisian president Kais Saied) and decides to treat him with typical Algerian "hospitality and generosity." He offers him a substantial sum of money, leaving his family with no financial resource to feed themselves. In a sequence where the starving kids blame their mother for signing a marriage contract with a generous husband, the dialogue contained a reference to the "blue finger" (Bu Sb' Azraq), a term used to mock those who voted in the presidential elections of 12 December 2019. Following the episode and the controversy it caused on social media, both among Algerians and Tunisians alike, Echourouk TV issued an official statement apologizing to its viewers and specifically to the Tunisian public. Instructed by the Autorité de Régulation de l'Audiovisuel, the channel suspended the show and retrieved all episodes from its online platforms. In a press conference on 1 May, the Algerian president made an implicit comment on the suspension of Dār La'jb saying that a comedy show that would "potentially lead to a diplomatic incident with a neighboring country" should not "hide" under the banner of the freedom of speech. Ironically, the president Tebboune referred to the show as "fukahi" an Arabic term that is used to describe a comic frame that should not be taken seriously.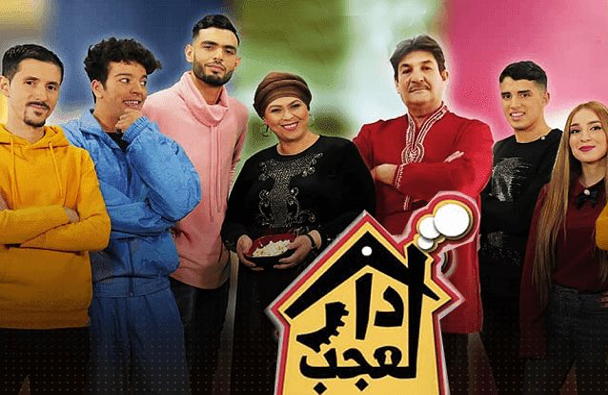 [Dār La'jb poster.]
Interestingly, political content is not new to Algerian comedy. Carnavāl fī Dashra (A Carnival in the Village), a 1994 comedy film and a classic in Algerian cinema, is an explicit critique of the corruption and workings of political elections, which continues to be occasionally broadcasted on private and state-owned TV channels. A more recent example is the hit comedy series, Sultān Ashūr 10 which was publicly celebrated not only for its satirical humor but also for its subtle messages that speak to the reality of Algerian society and politics. Directed by Djaâfar Gacem and starring Salah Aougrout, many episodes contain explicit, yet soft, critiques of corruption, nepotism, educational and health institutions, infrastructures, and international relations. The title of the show itself, featuring the tenth ruler of a supposedly imaginary dynasty, metaphorically hints to the persistence of the same political regime in a monarchy-like system. Unlike Dār La'jb, Sultān Ashūr 10 aired for two seasons (on Echourouk TV between 2015 and 2017) in primetime Ramadan and continues to hit millions of views on YouTube. While the comedy in Sultān Ashūr 10 perhaps functioned as a safety valve in a period in which the political system enjoyed a certain level of stability, and hence did not consider comedy as threatening, the circumstances have changed. 
Current control over televised comedies occurs in the light of the political tensions in the country and the newly imposed realities of the coronavirus lockdown, especially after the disruption of the Hirak (popular movement), which continues against the state since February 2019. Algeria is witnessing increased restrictions on individual freedom of speech, manifested in large arrest campaigns targeting journalists, artists, and comedians who are vocal about the decisions and the working of the newly elected government. One of the prominent examples is cartoonist Amine Benabdelhamid, known as Nime, who was charged last December with "insulting the state and its representative figures," and served one month in Oran prison for posting a cartoon questioning the legitimacy of the presidential election of 12 December. More recently, on 27 April, twenty-five-year-old Walid Kechida, the founder of the Facebook page "Hirak Memes," and online parodic platform, was arrested in the city of Sétif in east Algeria, and charged with criticising and offending the president as well as religious disdain.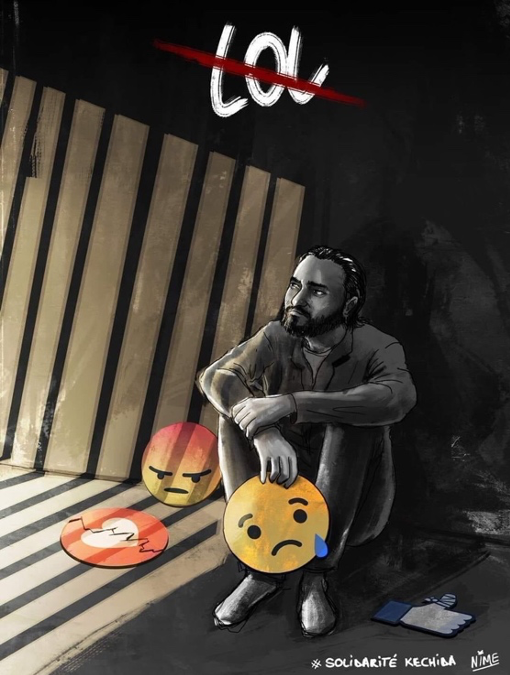 [Cartoon by Nime, in solidarity with Walid Kechida.]
While the regime is less tolerant of political humor, regardless of its mode of narrative, censorship, and denial of free speech continue to be comically challenged. Following Kechida's incident, an administrator of a Facebook group changed its name from "Feminist Hirak Memes," to "Recette de cuisine." This incident, whether an intended pan/statement or a genuine precautionary measure, is not only indicative of the increasingly tightened constraints on freedom of speech; it is also the epitome of the risks of comedy and satire in Algeria. Equally, Nazim Baya, the founder of El Manchar, a popular online satirical platform, extended the satire and supposedly changed the name of his page from El Manchar, (The Algerian way of pronouncing the Arabic word for saw) which in Darija signifies rigorous criticism, to El Chitta (paintbrush, which refers to the act of whitewashing in Maghrebi dialects) to describe the act of flattering the regime and its figures. Baya jokingly captions his post "Maa tkhafouche rana gaa3 khayfine" (Do not be afraid, we are all afraid).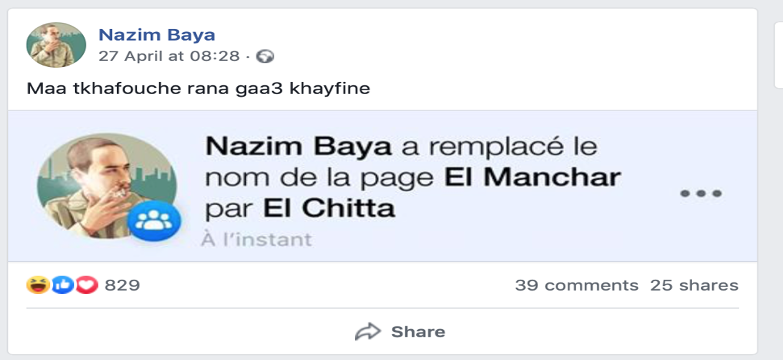 [Retrieved from Baya's facebook page.] 
Cultural and ethical aspects also come into play in regulating Algerian TV comedy this year. On the first day of the fasting month, Numidia TV broadcasted the first episode of a prank show entitled Anā ū Rajlī (My husband and I). In this show, the host receives a male, typically single with precarious financial conditions, under the guise of a charity organization which offers support to the less fortunate. The guest is offered, as a part of a package, a wife, played by one of the actors, who "has a house, a car, and a job." It is the reaction of the guest to this unexpected offer that is supposedly funny. The first episode was particularly controversial. Upon meeting his spouse-to-be, the guest, a thirty-nine-year-old Sofian, was joyful and emotionally overwhelmed by the possibility of a stable married life, only to be told later that it is a candid camera show.
Following the episode, social media witnessed a burst of posts and videos condemning the show and calling for the boycott of Numidia TV. What is interesting is that the show was not attacked for its misogynistic content, so much as for its ethical attitude towards the needy during this month of generosity and forgiveness. Sofian, who for many represents the poor and the marginalized in the country, was emotionally abused by being offered a false, and supposedly laughable, hope. In a gesture of solidarity, many social media users and public figures have launched campaigns to raise money for Sofian and help him start a family. While the program continued for two more episodes, the public criticism against the show's crude humor escalated. On 26 April, Numidia TV issued a statement declaring the suspension of the show and apologizing for the ill-advised joke that did not meet the values of its viewers.
Indeed, the legitimacy of satire in Algeria is mainly restricted by political constraints which aim to delimit the potential mobilizing effect of humor. Arguably, the Hirak of February 2019, what was also termed The Revolution of Smiles, has brought to the fore the mobilizing power of comedy and its role as a political narrative. Yet, the newfound liberty (of laughter) and the regained agency of the people led to a countermovement in which the state's politics of censorship are increasingly tight and unyielding. However, while the abovementioned examples indicate the role of the stakeholder in regulating political comedy, they also highlight the role of audience, and social media "critics," in evaluating humor's appropriateness. Comedy continues to be assessed ethically. Persistent, and often invisible, moral codes dictate what jokes are acceptable and what jokes are offensive to the social values of the Algerian audience. Jokes are not intrinsically funny. The appreciation of humor, and its directionality (sender, receiver, and means of narrative), are indeed contingent upon ethical and political considerations. However, it is worth noting that while complete freedom for humor is not possible, it is precisely these socio-political boundaries that give taboo comedy both its meaning and appeal.
There's a popular Algerian proverb that goes "a camel once tried to have a laugh; its lips got chapped" (Ajml jā yḍhāk ḍahka tshqāu shwarbū). This suggests that in certain occasions and locations, comedy has its limits and consequences. Algerian humor is produced and received within a specific field of power that dictates laughter's legitimacy and appropriateness. This field is constantly shifting, and perhaps ever-tightening, according to the country's changing political and social conditions. In today's Algeria, a camel can always try to laugh, but the uncertainty that remains is who is the joke on?