Abu Zubaydah, the nom de guerre of Zayn al-Abedin Muhammad Hussein, was the first so-called "high value detainee" (HVD) taken into the custody of the CIA. In the development of the agency's post-September 11 torture program, he became "detainee zero." Captured in Pakistan in late March 2003, he was whisked off to the first "black site" (secret CIA facility), which was located in Thailand. US officials believed—erroneously, as it turned out—that he was a "top lieutenant" in al-Qa'ida and, therefore, that he must have had valuable intelligence information.
Contrary to the assurances provided by Washington to Abu Zubaydah's interrogators when they began torturing him in Thailand, he did not "remain in isolation and incommunicado for the remainder of his life." In 2006, the Supreme Court dashed that promise when it ruled in Hamdan v Rumsfeld that all persons in US custody, including those in CIA custody, are covered by Common Article 3 of the 1949 Geneva Conventions (which prohibits torture, intentional cruelty, and humiliating and degrading treatment), and that violations could constitute a war crime. President George W. Bush scorned the ruling but, nevertheless, was forced by it to empty the black sites. In September 2006, Abu Zubaydah, along with thirteen other HVDs, was transferred to Guantánamo, and that is where he remains to this date.
The Interrogation Tactics

The official desire to employ torture in the interrogation of suspects captured in the "war on terror" began germinating as early as the fall of 2001. Thus, it preceded Abu Zubaydah's (or, in fact, anyone's) capture. Bush administration officials, having convinced themselves of the necessity and efficacy of physical violence and psychological degradation, had government lawyers justify the CIA's repertoire of authorized tactics as "legal." The most infamous of the torture memos was produced by the Department of Justice's Office of Legal Counsel and dated 1 August 2002. It was Abu Zubaydah, the first HVD, for whom these tactics and the legal rationales to justify them were produced.
In June 2002, two psychologists under contract with the CIA, James Mitchel, and Bruce Jessen, were asked to come up with a list and describe the techniques that they believed would be effective in making Abu Zubaydah "compliant." The objective was to identify tactics that could be used to "exploit" him for actionable intelligence-worthy answers to interrogators' questions. In his autobiography, Enhanced Interrogation, Mitchell reproduces the list they provided to the agency (quoted here verbatim):
Attention grasp. Grasping the detainee with both hands, with one hand on each side of the collar opening, in a controlled and quick motion. In the same motion as the grasp, the detainee is drawn toward the interrogator.
Walling. The detainee is pulled forward and then quickly and firmly pushed into a flexible false wall so that his shoulder blades hit the wall. His head and neck are supported with a rolled towel to prevent whiplash.
Facial hold. The interrogator places an open palm on either side of the detainee's face with the interrogator's fingertips kept well way from the detainee's eyes.
Facial or insult slap. The interrogator's fingers are slightly spread apart, and his hand makes contact with the area between the tip of the detainee's chin and the bottom of the corresponding earlobe.
Cramped confinement. The detainee is placed in a confined space, typically a small or large box, which is usually dark. Confinement in the smaller space lasts no more than two hours, and in the larger space it lasts for up to eighteen hours.
Insects. Harmless insects can be placed in the confinement box with the detainee.
Stress positions. The detainee sits on the floor with his legs extended straight out in front of him and with his arms raised above his head, or kneels on the floor while leaning back at a 45-degree angle.
Wall standing. The detainee may stand about four to five feet from a wall with his feet spread approximately to shoulder width. His arms are stretched out in front of him, and his fingers rest on the wall to support all of his body weight. The detainee is not allowed to reposition his hands or feet.
Sleep deprivation. Not to exceed eleven days at a time.
Waterboard. The detainee is bound to a bench with his feet elevated above his head. The detainee's head is immobilized, and an interrogator places a cloth over the detainee's mouth and nose while pouring water onto the cloth in a controlled manner. Airflow is restricted for twenty to forty seconds, and the technique produces the sensation of drowning and suffocation.


Abu Zubaydah was subjected to every one of these authorized interrogation tactics, as well as other "persistent conditioning techniques," such as nudity and dietary manipulation. He was, essentially, the guinea pig for the human experimentation that would come to define the CIA torture program. His experiences, as well as those of his interrogators, guided the torturous treatment of other HVDs captured after him.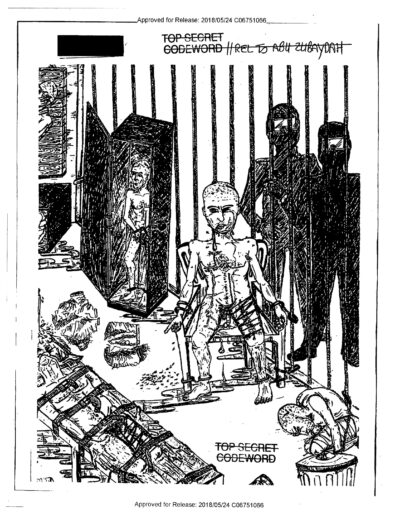 [Copyright Abu Zubaydah 2019. Licensed by Professor Mark Denbeaux, Seton Hall Law School.]


Concealing Images and Information

There are no known photos or videos of Abu Zubaydah's experiences in the black sites. The CIA did videotape his violent interrogations, but in 2005, when the program was coming under critical scrutiny by Congress, the decision was taken by the agency to destroy the tapes. This was done out of fear that the possible exposure of the use of so-called "enhanced interrogation techniques" on Abu Zubaydah could expose CIA agents and contractors or their bosses to legal risk.
The CIA torture program was cancelled by President Barack Obama in January 2009, but information about it remains classified top secret. Abu Zubaydah and the other HVDs who now reside in the top-secret Camp 7 at Guantánamo are also, in a sense, classified: their memories of what was done to them by the CIA are deemed state secrets.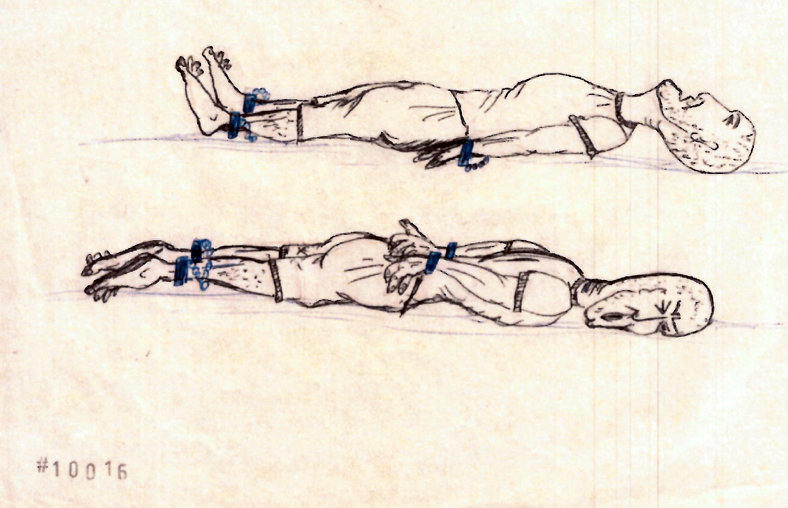 [Copyright Abu Zubaydah 2018. Licensed by Professor Mark Denbeaux, Seton Hall Law School.]
 
During Obama's presidency and in line with his public statements about wanting to "look forward, not backward," the Justice Department ruled out torture-related prosecutions. The grounds given for this sweeping absolution was that those who perpetrated or ordered the torture of suspects in US custody had been advised by government lawyers that the techniques in use were "legal." The only two official investigations of individuals who engaged in torture, one of which involved the death of an Iraqi detainee, were closed without charges. While those culpable for torture have escaped accountability, speaking out about torture led to the prosecution of John Kiriakou, a retired CIA officer who in 2013 was convicted and sentenced to thirty months in prison for publicly confirming that Abu Zubaydah had been tortured.
In 2009, the Senate Select Committee on Intelligence launched an investigation into the CIA's rendition, detention, and interrogation program. The committee completed a six-thousand-plus page report in 2012 with findings critical of both the operation of the program and the agency's false claims about its successes. But only a heavily redacted executive summary of the report was made public in December 2014. Since then, more cables and reports from the black sites have been released in redacted form as a result of Freedom of Information Act litigation.
The continued secrecy surrounding the now-defunct CIA torture program is symptomatic of a broader and longstanding state apparatus of concealment. Certain forms of state violence, such as police brutality and so-called targeted killings, sometimes operate in plain view. But torture—legally defined as intentional violence against individuals in custody—always takes place out of public view. The common pattern for states that torture is to deny what they do. Because photos and videos from torturous interrogations would expose the falsity of such denials, there are few publicly available images. Even those that do or did exist, such as the CIA's destroyed videotapes, are made by and for the torturers, not the public.
The Unique Value of Abu Zubaydah's Drawings

Abu Zubaydah has documented his own experiences in the black sites in self-portrait drawings he produced in captivity at Guantánamo. One set of these drawings was released to ProPublica in 2018 in partial response to a Freedom of Information Act lawsuit filed by the Media Freedom and Information Access Clinic at Yale Law School. In 2019, he produced more drawings to illustrate the realities of his experiences. These self-portraits and his own first-person accounts of the various approved torture techniques were published in a report, "How America Tortures," by one of Abu Zubaydah's attorneys, Mark Denbeaux, and some of his Seton Hall University Law School students.
Usually, in order to be considered good evidence of torture, visual images are expected to appear to be accurate, to create a sense of immediacy, of "witnessing reality." According to this approach, the camera is the privileged instrument for capturing the reality of torture. The interrogation videos that were made and later destroyed would likely have been regarded as good visual evidence. In contrast, sketches, such as Abu Zubaydah's, are relegated to a lesser evidentiary status. Rather than being regarded as sufficiently solid evidence in and of themselves, they are likely to be seen, at best, as illustrative of the other evidence produced by Abu Zubaydah: his verbal account.
The ostensibly inferior status of such drawings, however, is merely a product of specific social conventions. Abu Zubaydah's drawings offer alternative ways of engaging with the issues at stake. They possess a unique, threefold value, which photos and videos lack. First, photos and videos of torture, on the rare occasions that they are publicly available, are produced by state agents who get to frame and document the depicted violence. Similarly, most of the textual representations about how Abu Zubaydah was tortured and how he reacted to the techniques also come from the vantage point of his torturers and the CIA archives. Some of these texts, like the Senate committee report that is based on the CIA's own records, offer wrenching descriptions, whereas others present his experiences in bland bureaucratic phraseology, such as "water treatment was applied" and "he shows signs of distress." Abu Zubaydah's autobiographical sketches, in contrast, offer a tortured person's first-hand account.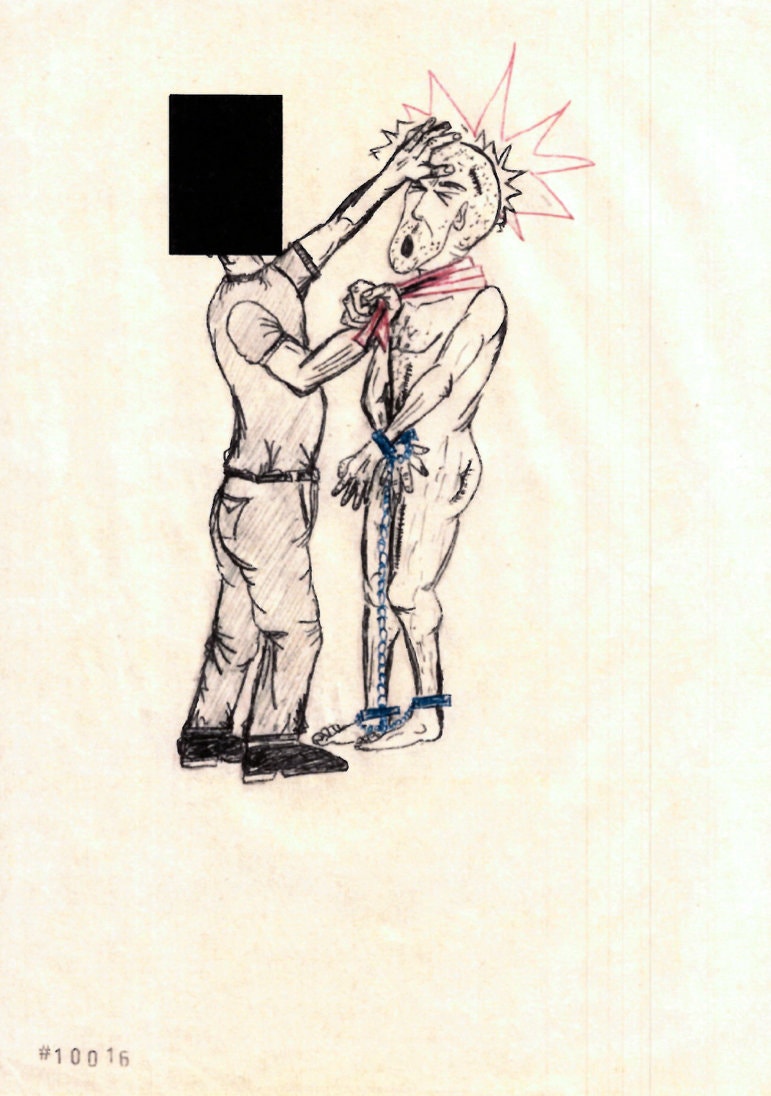 [Copyright Abu Zubaydah 2019. Licensed by Professor Mark Denbeaux, Seton Hall Law School.]


Second, so-called realistic representations cannot convey the reality-shattering suffering inflicted by torture. Pain, "unless accompanied by visible body damage, ... [is] unreal to others," Elaine Scarry has famously noted. This, as she adds, is "magnified in torture, because instead of the person's pain being subjectively real but unobjectified and invisible to others, it is now ... visible [to the torturers] ... and yet it is simultaneously categorically denied."
Unlike photos and videos, which tend to be treated as accurate representations of the external appearance of torture, Abu Zubaydah's drawings neither speak the language of visual realism nor confine themselves to external appearances. By virtue of their schematic and partly surreal style, his sketches may offer a glimpse into much more than the torture procedures he depicts. The first batch of released drawings was described in ProPublica in 2018 as "haunted and bizarre," and as containing images of "creatures drawn from some indistinct mythology." The ProPublica reporters, therefore, concluded: "What Zubaydah was trying to illustrate is sometimes unclear." This lack of clarity, however, speaks precisely to the unrepresentability of torture, as well as to its world-destroying effects. Rather than claiming to provide viewers with a realistic and dispassionate portrayal, part of the value of Abu Zubaydah's drawings is in highlighting the impossibility of truly representing, or even fathoming, torture. 
Third, the "realism" of photos and videos tends to keep out of sight—and out of mind—the processes of framing, concealment, and narration that invisibly create these seemingly unmediated gateways to reality. Abu Zubaydah's sketches, in contrast, lack such a realistic and unmediated semblance. But, as Giorgio Agamben has argued, testimony derives its evidentiary value precisely from what it is missing. Others, such as Nicholas Mirzoeff, have emphasized the need to look for such seeming absences and make something out of them. In Abu Zubaydah's case, the unrealistic quality of his drawings gives them a unique power—perhaps not in a narrow legal sense but certainly from a wider sociopolitical perspective. Rather than giving viewers a (false) sense of simply witnessing the depicted events, his drawings lay bare the representation at work, which so often tends to be overlooked. In so doing, these sketches can function as what W. J. T. Mitchell has called metapictures—that is, representations of the representation process itself.
More specifically, by means of their unrealistic and even surreal quality, Abu Zubaydah's sketches invite questions such as why more "realistic" visual evidence—photos or videos of his interrogations—is unavailable. In this manner, the act of viewing expands beyond observing the depicted torture to also include reflection on the destruction of Abu Zubaydah's interrogation videos, or the classification of information that could be unflattering or incriminating to state officials. The state apparatus of concealment, as Judith Butler has suggested, can be put on trial, so to speak, and injected into the framework of torture images.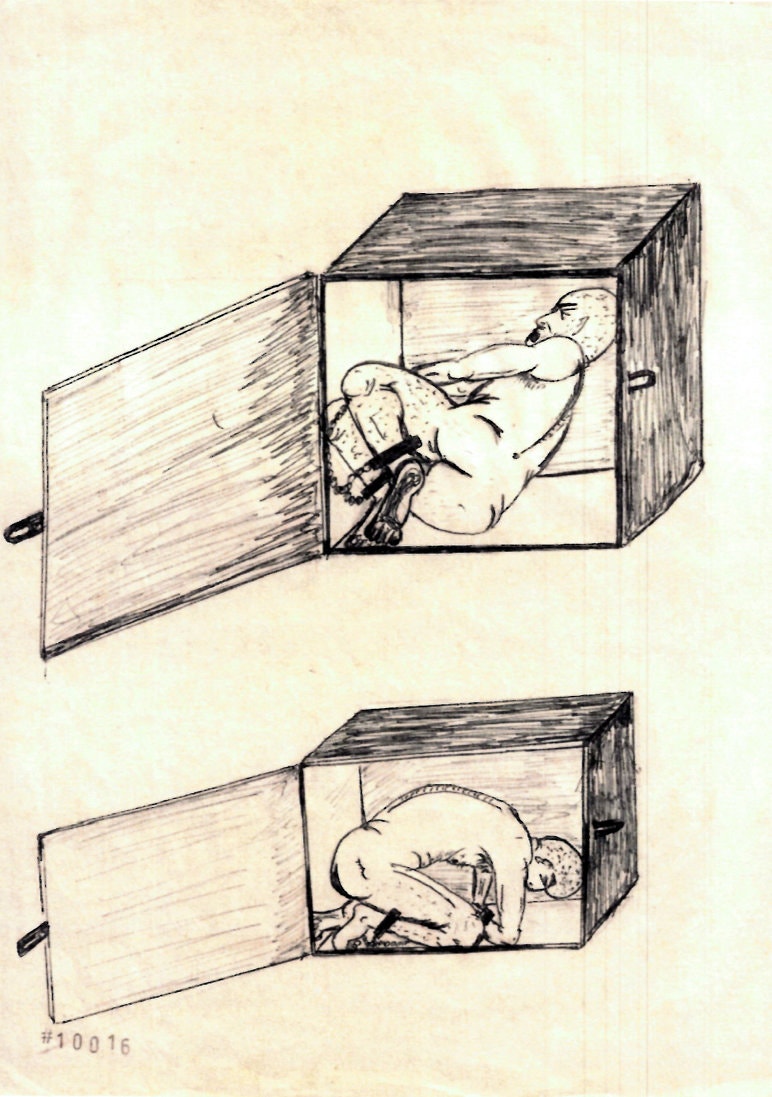 [Copyright Abu Zubaydah 2019. Licensed by Professor Mark Denbeaux, Seton Hall Law School.]


Seen in this light, the torture techniques portrayed in Abu Zubaydah's drawings are also part of the state's attempts of hiding torture. States seeking to keep torture invisible and deniable have increasingly deployed tactics that leave few or no lasting physical marks. Such "non-scarring" methods are shown in most of his sketches: sleep deprivation, stress positions, waterboarding, confinement boxes, and shackling.
The potential of Abu Zubaydah's drawings to invoke such critical engagement goes beyond his own intentions while he was producing them. After all, images have a life of their own, separate from any intentions of those who created them. Equally, the power of his drawings is not dictated by how viewers may react to visual representations of torture. To some viewers, it might seem counter-intuitive to consider such sketches as possessing a unique power that is lacking in photos and videos. But if such responses are considered counter-intuitive, then visual intuition can be reinvented by challenging dominant social conceptions.
What Photos and Videos Might Conceal

The widespread tendency for videos and photos to be given greater weight than drawings is problematic. It can contribute to the downplaying, disregard, and denial of certain evidence or aspects of state torture in two key ways. First, the privileging of photographic evidence has facilitated, in their absence, the dismissal of other sources of information, such as first-hand verbal testimonies of victims, which were regarded as inferior or disputable without supporting photographic evidence.
Second, the privileging of photos and videos tends to fixate on the specific incidents they depict, while neglecting the broader, systematic use of torture. The few available photos and videos of torture, such as those showing torture of Iraqi prisoners in the US detention facility at the Abu Ghraib and others tortured in UK custody, have only led to the prosecution of the low-level soldiers who appear in the pictures. The photos were used to prosecute them, not those who commanded them. Meanwhile, high-ranking officials responsible for the torture program have remained unaccountable. The impact of such photos and videos, then, has been a further instance of state concealment of the deeper realities of torture.
Thus, torture photos and videos shot by agents of the state for their own purposes induce blindness of various sorts, and this blindness, in turn, contributes to dismissals of torture complaints. Therefore, it is not enough simply to bemoan the lack of photographic and video documentation of torture. What is needed is to explore alternative avenues for tackling both the practice and the concealment of torture. Sketches such as those produced by Abu Zubaydah offer precisely such an alternative avenue.