Saturday, 8 August, 1pm EST (8pm Beirut) 
SPEAKERS
Aya Majzoub, Human Rights Watch
Nadim El Kak, Lebanese Center for Policy Studies
Ziad Abu-Rish, Bard College
MODERATOR
Bassam Haddad, George Mason University
This conversation will address the background and consequences of Tuesday's horrific explosion in Beirut, with three distinguished engaged guests who reside in the city.  
The discussion is part of the 19th "In My House" fundraising campaign, this time benefitting the "Lebanese Red Cross." Launched by Bassam Haddad in April, the "In My House" Live Stream Dance Sessions/Fundraisers have raised more than $45,000 after 18 events, with contributions going to organizations supporting social justice and a variety of relief efforts both in the United States (food banks, BLM, and indigenous organizations) and across the Middle East, from Algeria and Palestine to Lebanon, Jordan, and Iraq, including Syrian and Palestinian refugee populations there. More information can be found at www.InMyHouse.Live. During this part II of the 19th campaign, the music element will give way to the conversation but will punctuate it with songs/tracks and footage not related to the original theme.
Join us for an in-depth look and perspectives from ground zero. Watch the discussion on Facebook Live, Saturday, 8 August 2020 at 1pm EST.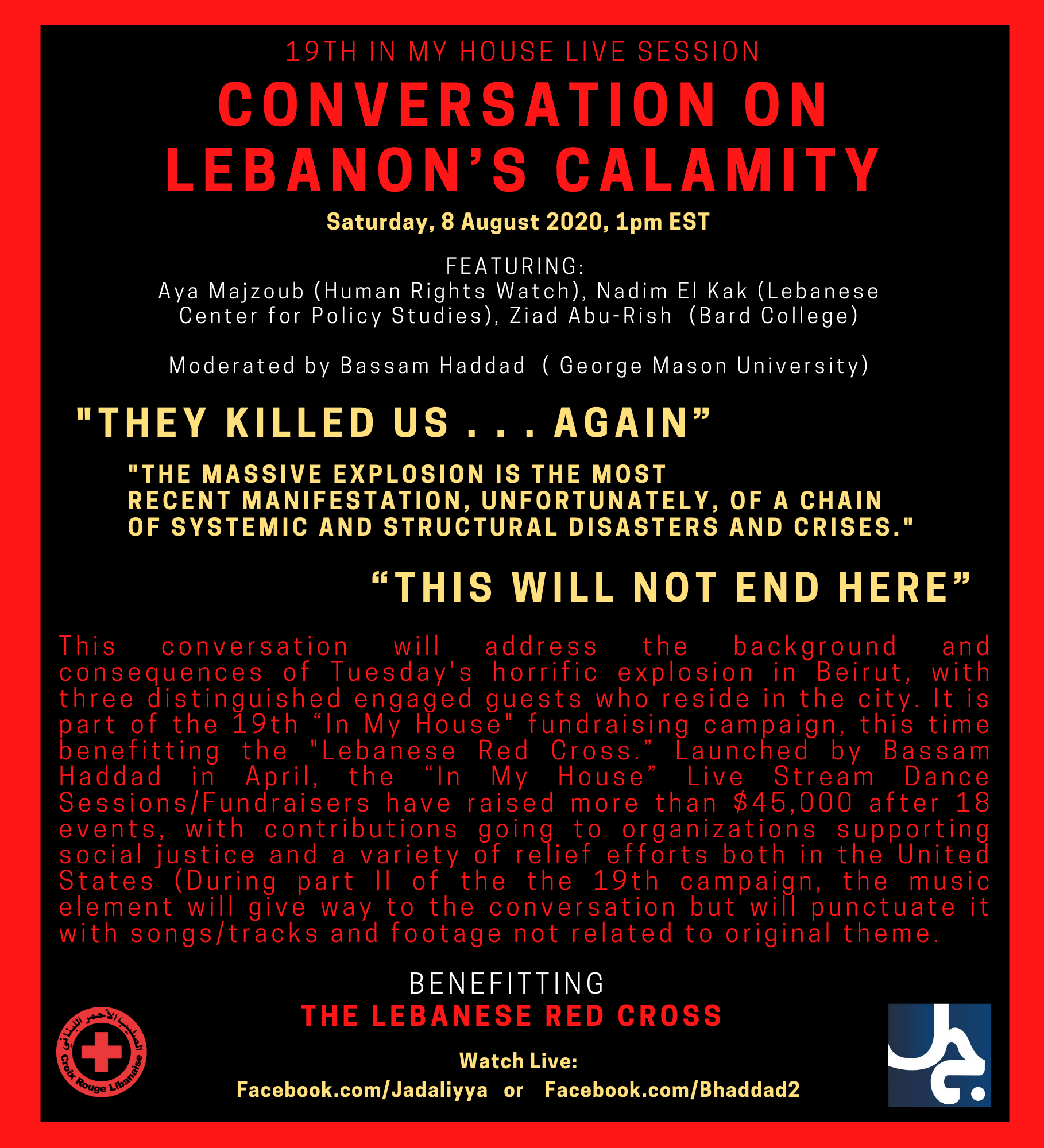 Featuring:
Aya Majzoub is the Lebanon and Bahrain Researcher at Human Rights Watch. She investigates a wide range of human rights abuses in both countries and conducts national and local advocacy. Prior to joining Human Rights Watch, Majzoub was the Deputy Head of Digital Investigations at the Commission for International Justice and Accountability, where she investigated war crimes in the Middle East and built criminal cases against high-level perpetrators implicated in the violation of international criminal and humanitarian law. Majzoub holds an M.A. in Middle Eastern Studies from Harvard University and a B.A. in Politics, Psychology, and Sociology from the University of Cambridge.
Nadim El Kak is a Researcher at the Lebanese Center for Policy Studies (LCPS). He is trained in Political Science and Middle Eastern Studies at Amherst College and is currently a Graduate Fellow at the American University of Beirut's Sociology program. His research focuses on the connections between sectarian politics, social movements, and neoliberalism. Nadim also hosts the Alternative Frequencies podcast, covering Lebanon's ongoing crises.
Ziad Abu-Rish is Co-Director of the MA Program in Human Rights and the Arts, and Visiting Associate Professor of Human Rights, at Bard College. He is a 2020–21 American Druze Foundation Fellow in the Center for Contemporary Arab Studies at Georgetown University. His research explores state formation, economic development, and popular mobilizations in the Middle East, with a particular focus on Lebanon and Jordan. Abu-Rish was previously Assistant Professor of History and Founding Director of the Middle East and North Africa Studies Certificate Program at Ohio University. He serves as Co-Editor of Arab Studies Journal and Jadaliyya, as well as Co-Director of the Middle East Studies Pedagogy Initiative (MESPI) and the Lebanese Dissertation Summer Institute. He is also a Research Fellow at the Lebanese Center for Policy Studies (LCPS). 
Moderated By:
Bassam Haddad is Director of the Middle East and Islamic Studies Program and Associate Professor at the Schar School of Policy and Government at George Mason University. He is the author of Business Networks in Syria: The Political Economy of Authoritarian Resilience (Stanford University Press, 2011) and co-editor of the forthcoming book, A Critical Political Economy of the Middle East (Forthcoming, Stanford University Press, 2021). Bassam serves as Founding Editor of the Arab Studies Journal and the Knowledge Production Project. He is co-producer/director of the award-winning documentary film, About Baghdad, and director of the series Arabs and Terrorism. Bassam is Co-Founder/Editor of Jadaliyya Ezine and Executive Director of the Arab Studies Institute. He serves on the Board of the Arab Council for the Social Sciences and is Executive Producer of Status Audio Magazine. Bassam is Co-Project Manager for the Salon Syria Project and Director of the Middle East Studies Pedagogy Initiative (MESPI).  He received MESA's Jere L. Bacharach Service Award in 2017 for his service to the profession. Currently, Bassam is working on his second Syria book tittled Understanding The Syrian Tragedy: Regime, Opposition, Outsiders (forthcoming, Stanford University Press).