This interview was conducted with Syrian filmmaker Soudade Kaadan following the release of her recent films, Aziza (2019), The Day I Lost My Shadow (2018), and Obscure (2017). The Day I Lost my Shadow won in 2018 the Lion of the Future - "Luigi De Laurentiis" Venice Award for a Debut Film.
Isis Nusair (IN): How did you start making movies?
Soudade Kaadan (SK): I studied theater at the High Institute for Theatrical Art in Damascus. It is one of the best institutes in the Arab world. I did not find myself in theater, and we did not have cinema institutes at the time. I received a scholarship to continue studying for a master's degree in theater at Saint Joseph University in Lebanon. That is when I decided to continue studying cinema instead of theater.
I made a documentary film in 2008 entitled Two Cities and a Prison. My friend was doing an interactive theatrical performance, and the film is based on the work of the group in Qamishli, al-Hasakah, and the youth prison in Damascus.
I directed a television film in 2009 about four distinguished Syrian women entitled Looking for Pink. The film was produced by Al Jazeera Documentary. I made another documentary, also with Al Jazeera, about the city of Damascus entitled Damascus Roof and Tales of Paradise (2010). It is a love letter to the city before the war. This was the last film I made in Damascus, and it was screened a month before the uprising. The city has completely changed since then. This film means a lot to me and to Damascenes. 
When the war started in 2011, I was shocked and no longer able to make movies. I felt I had no right to make a film about all this pain. The pain of reality was stronger than my ability to express it in an image or through a film to be screened in festivals. This prompted me to start making fiction films. 
IN: Let us start with your first fiction film, The Day I Lost my Shadow (2018). It is a road trip film about a broken reality. Do you think the cinema is able to convey the experience of war?
SK: I stayed in Syria until end of 2012 and moved after to Beirut. I established a production company with my sister, and the film came out in 2018. It was a beautiful surprise. It made its debut at the Venice Film Festival and in many other international festivals. I traveled with this film that deals with pain and trauma, what it means to live through war and lose your shadow. 
It was hard to make this film because I had to film in Beirut as if it were Syria. I felt the double loss of my city; the filming location I am used to, familiar with, and that knows me. The location is like a character in the film with its characteristics and distinguished personality. I lost the original place I was talking about. I tried to create another image for Syria, and that took lots of effort and work for an independent film with such a small budget. Lebanon is different in its geography, climate, and architecture from Damascus. We filmed all over Lebanon from Akkar to Beirut and Tripoli.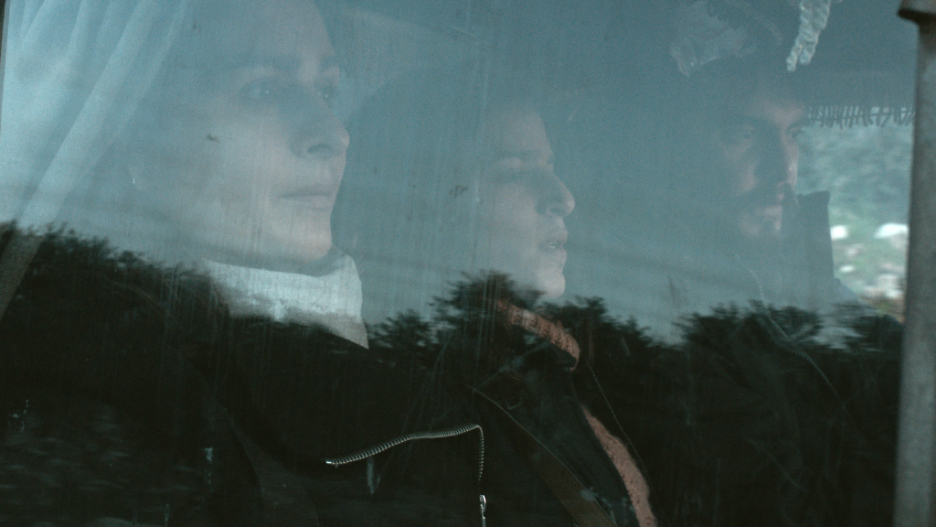 [Sawsan Arsheed, Riham AlQassar and Samer Ismail in The Day I Lost my Shadow]

Magic realism was the only solution available for me to tell this story. Pain was bigger and uglier than the possibility of conveying it on screen. I wondered about the ability of cinema to express what it means to live through war. I was looking at pictures from different stages of wars and found one for Hiroshima on the second day of the atomic bombing. I saw pictures in black and white of people's shadows burnt on the ground. That was similar to what was happening in Syria. People were living as if they lost their shadows. It is an expression of trauma, as if the experience of the person who has lived through war is different from those who have not. You lose your belief in the people who belong to the same place, and intimate relations are turned upside down. In civil wars, the enemy is your neighbor, the one who lives in the same country. Friends with whom you might have gone to university want to end your existence. The relationship is complex.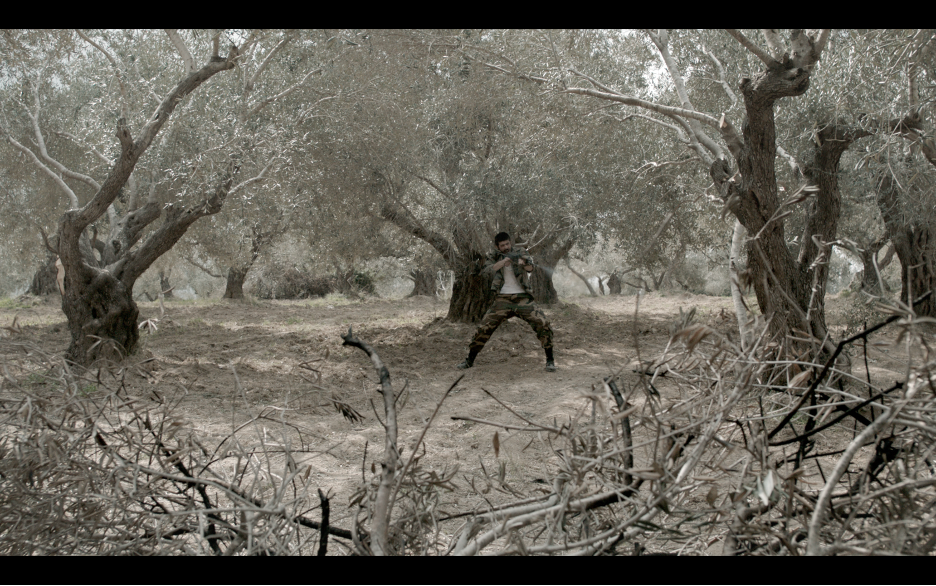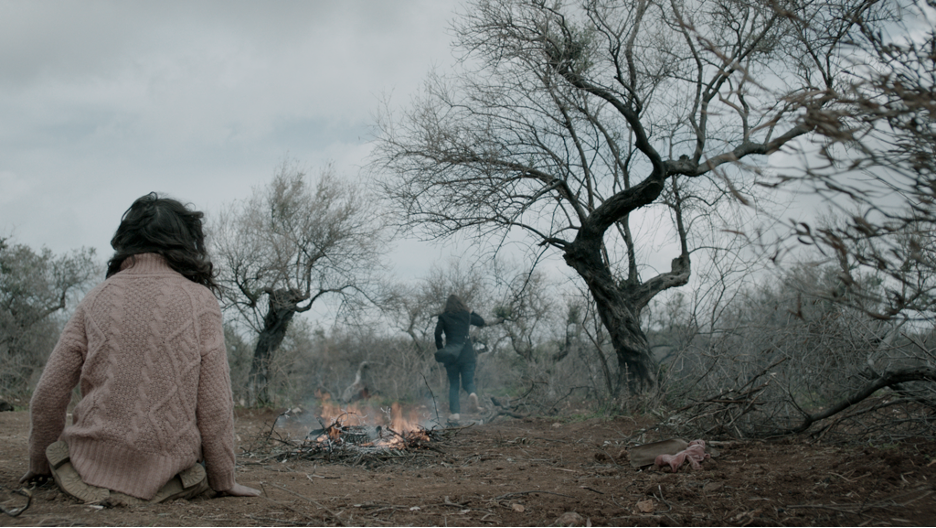 [Scenes from The Day I Lost My Shadow]
The Day I Lost my Shadow is an independent movie and does not present a direct discourse about the war. It poses questions about what it means to be human, to live in a war situation, and share a story about the concerns of people. The film tells the story of a woman (a mother) who meets a rebellious woman who is younger than her. In actuality, the two women speak as if they were one person but from different generations. Their position on the war is also different. The younger woman is unforgiving. Maybe it is the arrogance of youth. We reject each other and do not know how to accept the other. We need to learn how to have a dialogue.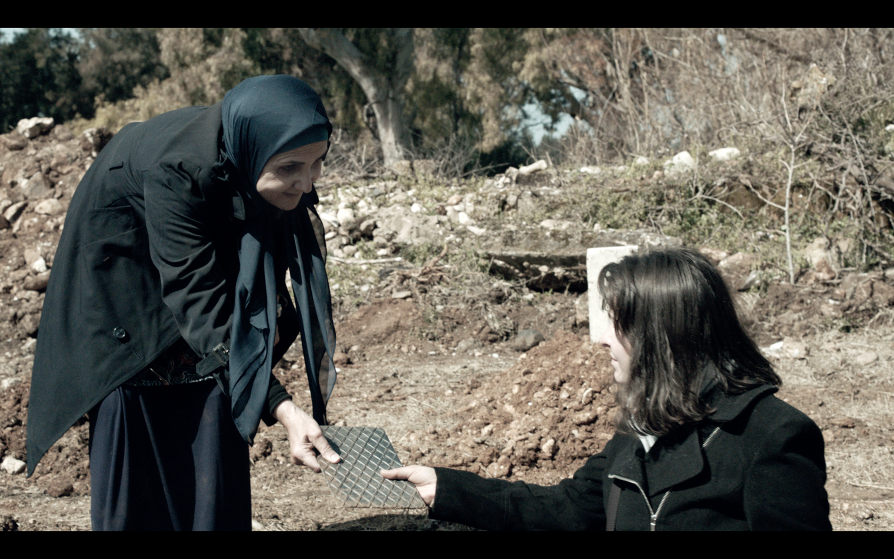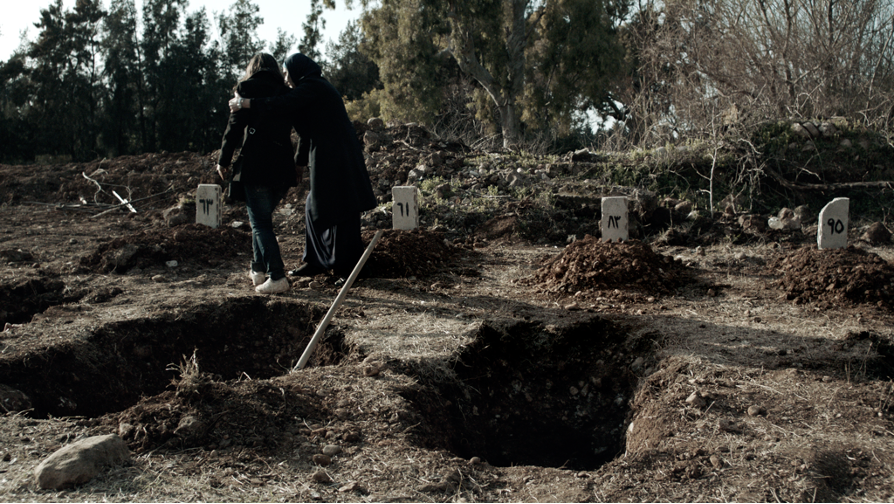 [Scenes from The Day I Lost My Shadow]

The film takes the audience on a road trip. This is the same feeling you have during the war: the feeling that you went somewhere against your will, where you start examining and reviewing your beliefs and convictions. When the woman leaves Damascus to neighboring villages and rural areas, she witnesses the brutality of the war. She also discovers beautiful things and develops new friendships, and slowly becomes more involved with what is happening around her after she initially refused to do so.
IN: Your documentary film, Obscure (2017) is different from other documentary films made about the war in Syria. The camera is present/absent and the film is full of curtains and fog. It also poses the question about the ability of children to talk about war. 
SK: I wanted to document the cruelty of the silence of a child, Ahmed, who lived through the war. I wanted to show silence and not a scream. The audience is usually unable to endure this situation. They feel impotent in the face of the eyes of a young child who chooses to be absent from reality. I started filming in Damascus but was unable to continue; unable to objectively film all this pain. The war traumatized me. The creative process is partly emotional, mental, and aesthetic. That is why I used to film a little then leave the camera for long periods of time. People who did not study cinema were faster to make films about the war. The mental and aesthetic aspects did not constitute a burden that could obstruct the filming process. The emotion was in control and that is why many of these films were like a scream about what was happening in Syria.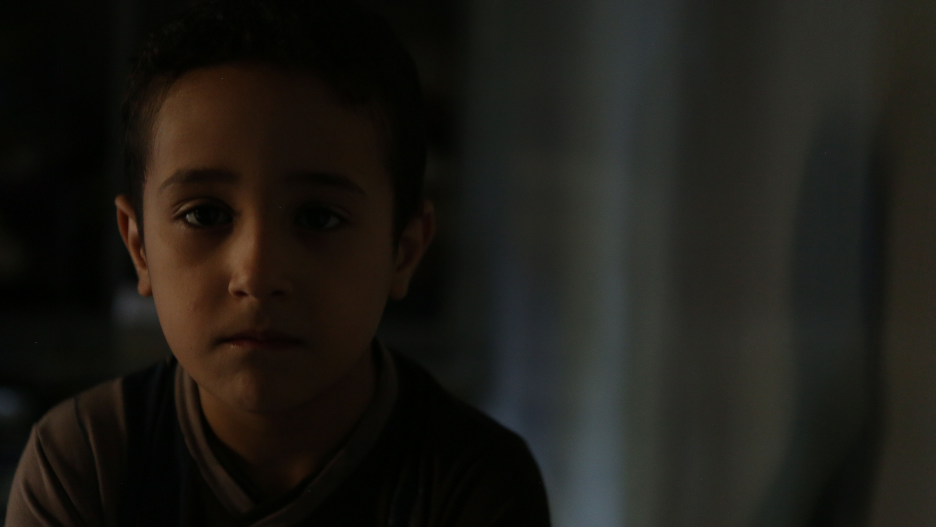 [The child, Ahmed, in Obscure] 
I returned to filming only after I understood the effect that had on me: the silence, the not wanting to film, and the inability to speak. I decided to change the focus of the film to talk about the trauma and silence that result from war. I met Ahmed as we were preparing for the film. In the beginning, I did not take pictures of him. I wanted him to get used to me. His teacher said that he has autism. I felt that something else was going on. I consulted with a psychological councilor during the filming and she confirmed that he was traumatized. The first stage was very hard on all of us. 
The film starts with close-ups of the boy. The boy is silent, and there is no music or color. Neither one of us is moving, and we try through silence to understand what is going on. Despite Ahmed being seven years old, our feelings were similar as if we were one person. Therefore, the questions in the film, "Are you able to sleep? Do you remember? Do you want to remember? Where are you from?" are the same questions I used to ask myself. The child got me to see this. The making of this film was therapeutic for the two of us. These questions are part of the artistic process, of silence, and how to express in words what was going on. Slowly, Ahmed gradually changes.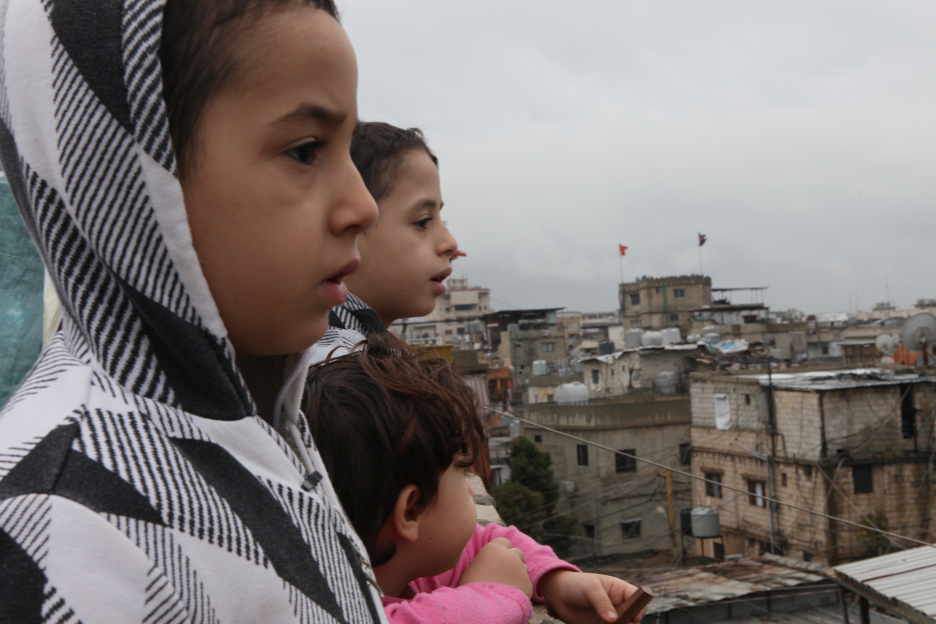 [A scene from Obscure at Shatila Refugee Camp] 
IN: Ahmed lives with his family in Shatila Refugee Camp in Beirut. Lots of Syrian refugees live in the camp, which was originally created to house Palestinian refugees. There are accumulated layers of refuge in this place.
SK: The Shatila Camp in Beirut is like a ticking bomb. People are besieged in this place and have no basic rights, residency permits, work, nor educational opportunities. Ahmed came from Daraa. When you ask him "what do you love?" he says "Shatila." The memory of place, absent from his mind, yet present in ours, makes the answer to this question crueler. For him, Shatila is a beautiful place. He refuses to remember Daraa and the war. He loves the sea in Lebanon, but the sea is distant from where he lives.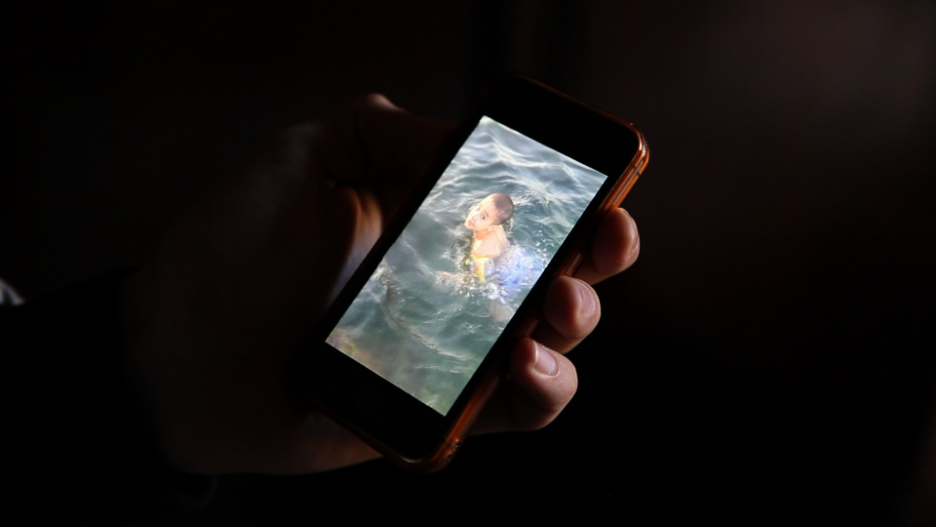 [A scene from Obscure]
We filmed in stages over six years (2011-2017) with a very small budget.
IN: The short film, Aziza (2019) also speaks about refuge and the relationship to time and place.
SK: Aziza is a product of a 2018 film workshop I participated in. Aziza symbolizes the car, home, and longing to the past and to Syria. It talks about adapting to a place and the possibility of being Syrian in Lebanon. The majority of the films that tackled the topic of refuge tried to present a uniform image of the refugee. I try not to stereotype people in my films.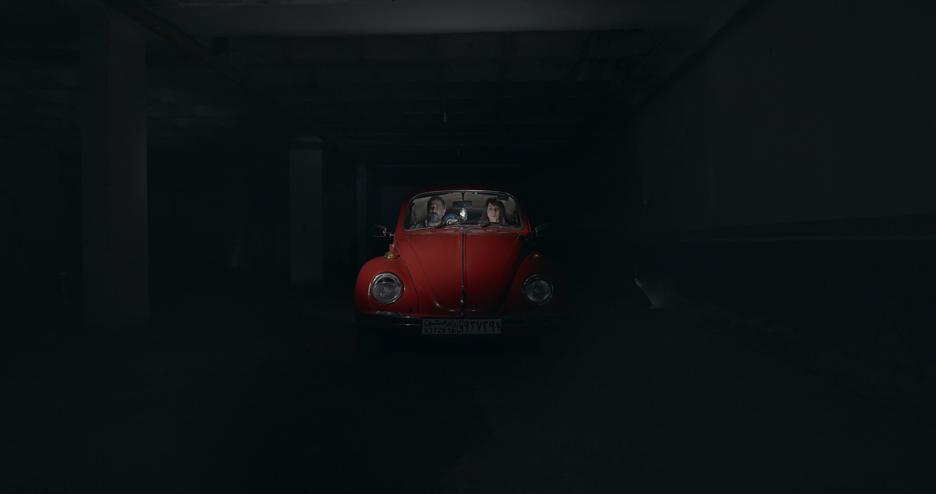 [A scene from Aziza]

There is a spontaneous moment in the film, one of the most beautiful, where Abdel Moneim Amayri stands and talks to the car. He sarcastically assumes that the person they ran over is Syrian. He says, "he looks Syrian!" This moment was far too daring for me to write. In fact, his spontaneity was based on a challenging experience he went through after a car accident in Lebanon. 
The film starts in the parking garage in a building. Ayman is trying to teach Alia (his wife) how to drive because he is afraid to drive the car in Beirut streets with a Syrian license plate.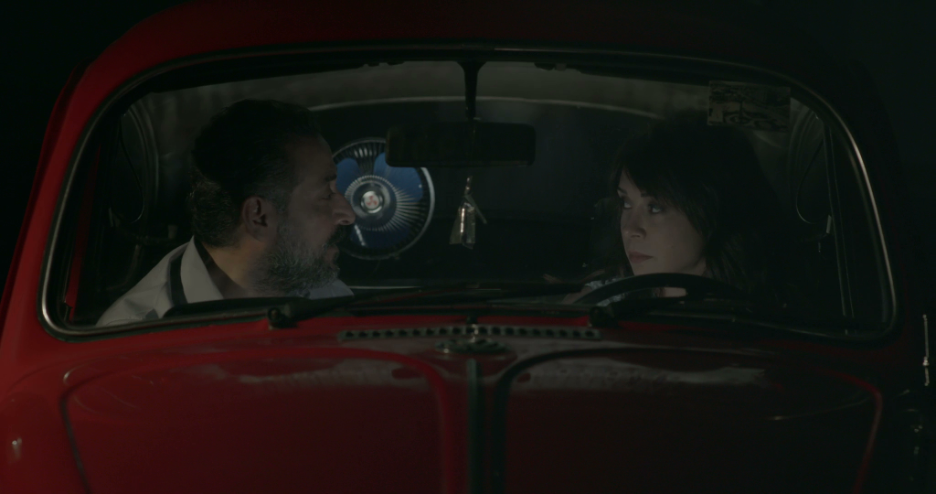 [Abdel Moneim Amayri and Caresse Bashar in Aziza]

The film was well received. Alia (the actress Caresse Bashar) insists on exiting the parking lot and driving the car. Women are more capable than men in adapting to a new place. The car and the possibility of driving express, in part, what is happening to the country (Syria). They are driving in a place with no exit. The car becomes an object that symbolizes the current situation: the loss of the homeland.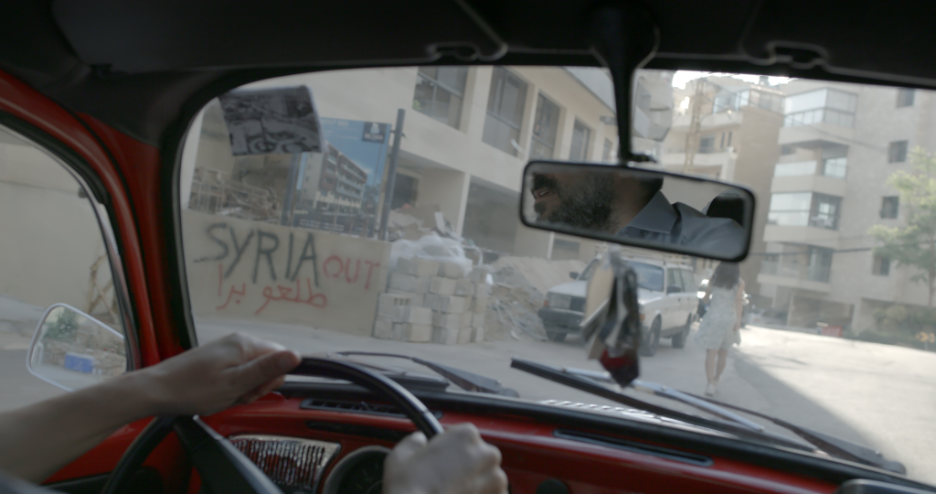 [A scene from Aziza with a picture of Marjeh Square in Damascus]
IN: In your short film, Besieged Bread (2016), you stripped the soldier symbolically and in the actuality of his militarism. 
SK: There is symbolic and visual intensity in this film. The film starts with the two soldiers shooting at the trees. They became part of the killing machinery. Yet, the absurdity of the situation makes one shoot the other. Because of this mistake, the soldier is stripped of his military uniform. The question relates to what it means to be a human or a soldier with or without a military uniform. How do humans change in war when they wear military uniforms? This film is based on a true story. Soldiers used to shoot at trees to be sure that no one was hiding behind them. This story when placed in a film becomes highly symbolic.
IN: There is a debate about the films made during the war inside and outside Syria.
SK: The films are a product of varied positions about the war, death, and life. Time will remove this classification, and only the genuine film that has intellectual integrity and artistic cinematic form will remain. There is, unfortunately, a need for voyeurism when it comes to war and bombings. These films are canceled with time when there is no longer a division between films made inside or outside. The good film is all that remains.
IN: Do you think there is a women's cinema? 
SK: Women have a special sensitivity in making movies. I follow the work of female Arab and Western film directors like Kaouther Ben Hania, Andrea Arnold, and Jane Campion. There is a serious problem in regard to the small number of women filmmakers. Making films is not always possible for women in the Arab world. That is why they produce their own films. I, too, became a producer, in order to make my films. After all the difficulties of making a movie, we find people who say that the film was successful only because it was made by a woman! There is definitely a change in how movies are made, and that is to our advantage. There is more interest in our stories as women of color from the Middle East and Syria. I am grateful that my film, The Day I Lost my Shadow, was well received, and found its place in international film festivals.
IN: What are you working on now? 
SK: I am currently working on a film entitled Nezouh. It tells the story of a teenage girl who lives in a closed-off house where the father refuses to leave Syria and be called a refugee. It traces what it means to be a refugee before you even become one, and the refusal and insistence of the father until it becomes like some kind of madness!