GMU'S Middle East and Islamic Studies Program
Presents the Annual MEIS Keynote Lecture:


Cooking in the Cauldron:
Middle East Studies 1966-2020

Featuring Suad Joseph

Co-sponsored by:
George Mason University's Center for Global Islamic Studies
and the Arab Studies Institute


19 November 2020 | 1pm EDT

Watch on Facebook.com/Jadaliyya or Facebook.com/GMUMEIS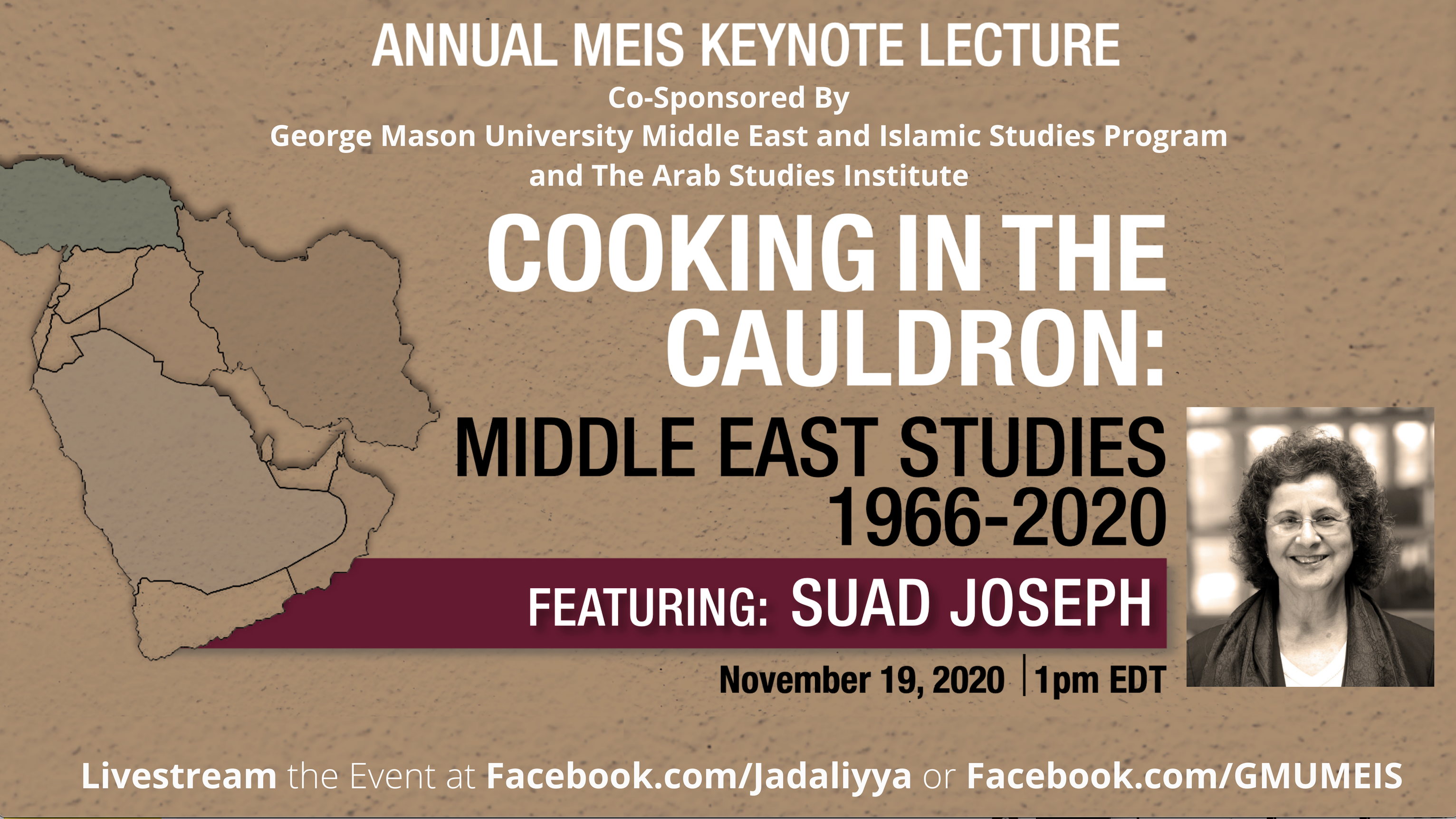 Those without access to Facebook Live may access view the keynote via Zoom. Registration for Zoom access can be found here.
The generation of students that stepped into Middle East Studies in the 1960's found little institutional presence or support in the academy. The 1960's and 1970's taught us the utter necessity to create institutions, to found organizations, to invent spaces for ourselves and for those who came after us to produce knowledge that is historically situated, culturally sensitive, grounded in local contexts and that takes account of race, class, gender, sexuality, religion, ethnicity, and all the markers of the many movements that are afoot.  The talk excavates and analyzes the processes of inventing spaces for rigorous, critical regionally grounded research in Middle East Studies from 1966-2020.
Does this genealogy matter today? Should the generation of students stepping into Middle East Studies in the 2020's care about this history? The lecture argues not only yes, but urgently so. Middle East studies is under threat. Funding for Middle East Studies centers is at risk. Censorship of research, publications, speech is evident even in social media and even in such platforms as Facebook, Zoom, and Twitter. Surveillance of activity is not uncommon, and in some cases, jobs and tenure are tenuous. The weaponization of Islamophobia in electioneering puts lives at stake. Under these conditions, it becomes critical for scholars, especially emerging scholars, to know their histories and mobilize whatever is useful of it into material resources to transform the production of knowledge for themselves and those who will come after them.  
Featuring Suad Joseph
Distinguished Research Professor
University of California, Davis
Suad Joseph is Distinguished Research Professor of Anthropology and Gender, Sexuality, and Women's Studies. Her research has focused on her native Lebanon, on the politicization of religion; on local communities; on women, family and state; and on questions of self, citizenship, and rights. Her current research is a long-term longitudinal study on how children in a village of Lebanon learn their notions of rights, responsibilities and citizenship in the aftermath of the Civil War and on their transnational families who have moved to the United States and Canada. She is founder the Middle East Research Group in Anthropology (name changed to Middle East Section of the American Anthropological Association). She is founder and Founding Director of the Middle East/South Asia Studies Program, UC Davis. She is founder and director of the Arab Families Working Group (AFWG); founder of the Association for Middle East Women's Studies (AMEWS) and co-founder of AMEW's Journal of Middle East Women's Studies (JMEWS); founder and Director of the University of California Davis Arab Region Consortium which includes American University of Beirut, the American University in Cairo, the Lebanese American University, the University of California and Birzeit and American University of Sharjah. She is currently directing three new projects for UCDAR:  Mapping the Production of Knowledge on Women and Gender in the Arab Region; Transforming Refugee Mental Health; Gendering STEM Educatdion. She served as the President of the Middle East Studies Association of North America, 2010-2011.  She is Founding and General Editor of the Encyclopedia of Women and Islamic Cultures. Her edited books include: Arab Family Studies: Critical Reviews (Syracuse, 2018);  Women and Islamic Cultures:  Disciplinary Paradigms and Approaches (Brill, 2013l); Gender and Citizenship in the Middle East (Syracuse, 2000), and Intimate Selving in Arab Families (Syracuse, 1999). Her co-edited books include: Arab American Women: Representation and Resistance (Syracuse, In Press); Building Citizenship in Lebanon (Lebanese American University, 1999); Women and Citizenship in Lebanon (1999) and Women and Power in the Middle East (University of Pennsylvania Press, 2001); and Muslim-Christian Conflicts: Economic, Political, and Social Origins (Westview, 1978). She has published over 100 articles, and won many awards and prizes including the UC Davis Undergraduate Teaching and Research Award, and the Middle East Studies Association's  Jere L. Bacharach Service Award and the UC Davis Edward A. Dickson Emeriti Professorship.   (http://sjoseph.ucdavis.edu )